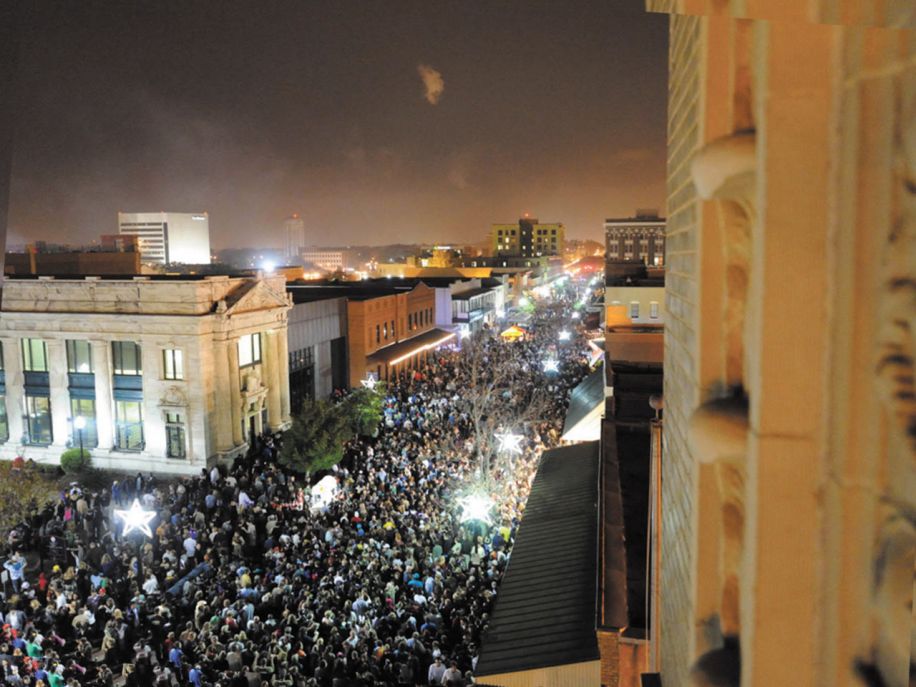 What bird has a wingspan of 20 feet, stands 14 feet high, weighs 300 pounds and can't fly? The New Year's Pelican of Pensacola, of course. The Pelican Drop on New Year's Eve is the biggest event in Pensacola, drawing over 60,000 people last year. a
There's something exhilarating about being in the midst of a crowd in celebration. The energy is contagious. You're shoulder to shoulder with neighbors and for a moment you are reminded you are celebrating not as an individual, but as a member of a community.
The event has grown into a huge community celebration with two stages featuring live entertainment, fireworks, activities, a Ferris wheel, parades and more. This year the main stage and the pelican will be on Garden Street, at the intersection of Garden and Palafox. The new location will accommodate more people, and the pelican will be visible from more areas. There will be two stages: the Levin Rinke Main Stage (North stage) at the intersection of Garden and Palafox and the South stage at Government and Palafox. The event is hosted by the Downtown Improvement Board and produced by Pensacola Mardi Gras Inc. Danny Zimmern is the President of Pensacola Mardi Gras Inc., this is the third year Pensacola Mardi Gras is producing this event.
"We're excited about the expanded footprint," said Zimmern. "We have a big show this year.
We have a fantastic entertainment lineup. Pensacola now has so many great dining and entertainment locations, it looks to be the biggest pelican drop ever."
Some special attractions this year will include the Talbott Law Firm Family Fest, which will be a children and family area presented in partnership with Influence Pensacola. As a prelude to the Pelican Drop, the family-friendly festival will have games and live entertainment, and activities especially for children. Characters on the Go will have an audience interactive show including popular characters like: SpongeBob, Dora, and Spiderman. The Children's area will center on the intersection of Garden and Palafox.  It will open at 3 pm and will close at 8 pm. All activities will be free. At 8 pm the pelican will be lit and raised, at which point there will be a countdown just for kids, with fireworks, confetti canons and a bubble stomp.
After 8 pm the main stage will host live entertainment all evening starting with the local band DLP (Dr's, Lawyers, and Politicians). The headliners are the Chee Weeze, a show band from New Orleans. The south stage will feature country and southern rock with up and coming stars.  There will also be a parade led by Tate High Drum Corps and Gulf Breeze High School Drum Line from the Government Stage to the Main stage.
Some activities and sights presented include: the Pensacola Little Theatre will have live community theatre presentations, Downtown YMCA will have an interactive presentation, poetry readers, the full size Ferris Wheel offering free rides, inflatables (in front of Harvest Church on Palafox), and Pensacon Storm Troopers (characters from Pensacon to mingle with the crowd along with other characters).
Football fans – don't despair. There's no need to stay home to catch the semi-final college games. There will be several areas (street football centers) with TV's set up for people to enjoy the games.
With all the entertainment and activities, you're bound to get hungry. There are many great restaurants along Palafox as well as food vendors that will be located throughout the venue. Food vendors will open at 3 pm and remain open until 1 am.
Times Square has the ball drop, Mobile has the moon pie, and Pensacola has the Pelican.The pelican was made and designed by Emmett Andrews LLC, and local artist Michael Dix. It's made of polished aluminum and decorated with over 2,000 lights. It is cleaned annually, any damaged feathers are replaced, the bulbs are replaced, and the year is changed to reflect the current one.
The Pelican is perched over 110 feet in the air and will drop just above the main stage at the stroke of midnight. The new location this year ensures the pelican will be visible all down Palafox. Garden and Palafox will be a great place to view this year's upgraded fireworks.
Road closures will begin at 6 am, Dec. 31, 2015. Garden Street will close at Jefferson and Baylen Streets. Palafox Street will close from Chase to Main Streets, except Zaragoza Street which will remain open. Baylen and Romana Street (entering from Baylen) will also remain open until 5 pm.
Pensacola has come a long way in terms of downtown growth, developments, and improvements. The Pelican Drop celebrates the coming New Year and also celebrates what makes Pensacola great.
"In terms of the DIB's mission to raise awareness downtown, it's fantastic," said Zimmern about the Pelican Drop.
So get ready to join your fellow Pensacolians for an evening of celebration, music, fireworks and good cheer. 2015 has been an eventful year, full of unity, progress and rebuilding. Let us welcome the New Year; it all starts with a pelican