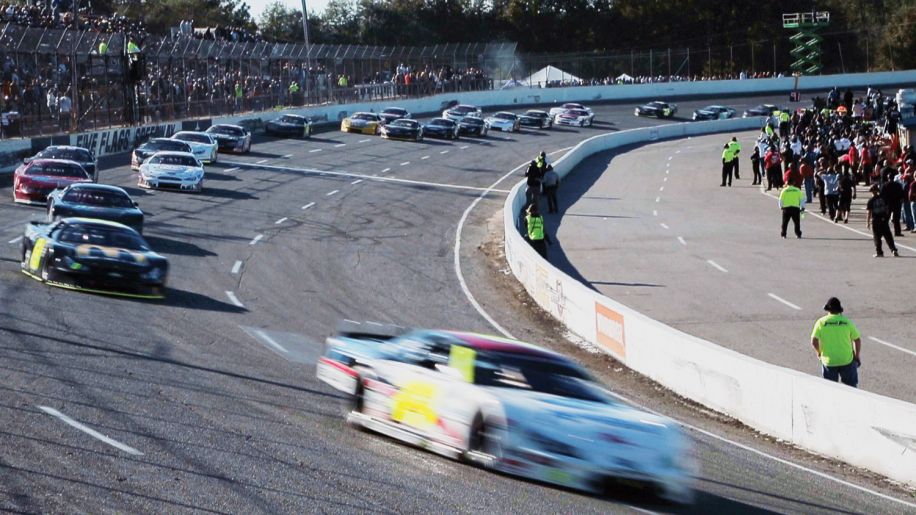 In early December, race car drivers and fans from around the nation will convene at Pensacola, Fla. for one of racing's most prestigious events, the Snowball Derby.
Tim and Randy Bryant are now the curators of this legendary race and owners of Five Flags Speedway.
Jeff Weeks recently sat down for a conversation with Tim Bryant.
How did the Snowball Derby begin?
I'm always quick to point out that Tom Dawson was the originator of the Snowball Derby. He moved from Ohio in 1968 and started the event. That was the first one. They always tell the story about the press box being burnt down the night before the event so they had their challenges back then, too. It started out as a single day, a Sunday afternoon, 100-lap race for late model type stock cars. It has gone on for 48 uninterrupted years, which is almost unheard of in the short track world because a lot of tracks and a lot of cities have had marquee events but for whatever reason they'll be interrupted for a few years, but this one's gone uninterrupted and we're really proud of that.
What do you think the secret has been?
Well I can only say that, for our tenure, this is our 12th year at the track, and we've been able to grow the event with the help of the community. I mean this has really turned into Snowball Derby week. For the first week in December, a lot of businesses reap some reward off of the impact that we feel here and I believe that's what has allowed it to continue to grow. If we get credit for anything, it may be that we control the growth. I mean we could see this thing grow to a bubble that would burst. We want to make sure that the event, even though we want it to grow each and every year, we want to make sure that it's managed growth that we can get people in and out to the parking lot, in and out of the grand stands, end the races in a timely fashion, get the racers in and treat them fairly and have them go home looking forward to next year and, so far, we've been able to do that.
What kind of economic impact does the Snowball Derby have on Pensacola?
There's been somewhat informal studies. Visit Pensacola has done a couple of studies, a group from Atlanta came down last year and I think the number was $3.1 million. But this much I know, the motel and hotel operators are always looking forward to what would normally be a slow time of the season, to filling their places up. The restaurants get a lot of business and I think the local shopping scene even sees some action. We try to make people aware in our marketing for our event that Pensacola has a lot to offer. So we try to get them to visit our beaches, make sure they know about the museum, get them out to the base and that sort of thing. So again it's more than just a stock car race. They're coming for what is ultimately a 2 pm 300-lap race on Sunday afternoon, but the days that lead up to that there's a lot of activities and we've started referring to it as the Snowball Derby experience.
The Snowball Derby has a very strong brand. What would you like to do to build on that brand?
I think more than anything we want to continue to see the path that we've created over the past few years, and that is steady organized growth.
Two women, Tammy Jo Kirk and Johanna Long, have won the Snowball Derby. Do you expect to see more women drivers in the coming years?
I think so. It's a very gender-friendly sport. During our regular season we have as many as five girls competing on any given night in the various divisions, so we'll have two girls in this year's Snowball Derby, Joanna Long being one of them, and Dominique Van Wieringen, who is a Canada-based driver, who drives for the Nemechek team. John Hunter Nemechek was last year's winner, so she'll be at this year's Snowball Derby as a teammate to Nemechek and she'll be a contender, as well. There's no powderpuff derbies anymore, they get in there and mix it up with the other guys.
Jeff Gordon who will end his driving career this year did a lot to bring a new generation of race fans to Nascar. Did that movement trickle down to the local tracks?
I believe it did. I mean, I always said that Jeff Gordon changed the face of racing. He was the first young guy that come along and got to the big leagues and had success at an early age, so from that a lot of dads, much like little league dads, started bringing their kids into racing at an early age. That's evolved. Now we'll have a strong group of teenagers racing at the Snowball Derby this year and in fact, Eric Jones, who's a two-time winner and a future Joe Gibbs racing driver, is 19 years old and by the time this comes to print he may be the Camping World Truck Series champion in Nascar for 2015. But Jeff Gordon I do believe is the guy that changed all that.
Over the years marquee drivers have come to race at the Snowball Derby. In the past, Bobby Allison, Darrell Waltrip, Rusty Wallace, and in recent years Kyle Busch and Chase Elliot. What is it about Five Flags Speedway that appeals to those guys?
The tradition and prestige of the Snowball Derby appeals to those guys.
Do you have a favorite moment from the Snowball Derby?
You know, I don't talk too much about when I raced, but I did race in a few Snowball Derbies. Just being in the race is such an accomplishment for a non-professional racer, a hobbyist if you would, and so every time I sat in my car and they said, "Gentlemen, crank your engines," I mean, that was my favorite moment. It's just indescribable.
What do you foresee for the 2015 Snowball Derby? How big will 2015 be?
Well, it's shaping up to be what could perhaps be the biggest Snowball ever. We're going to have a lot of entries. Racing has gotten even more competitive, and what I mean by that is there's not a few fast cars and a few mid-pack cars, and a few slow cars; they're all fast cars, so you know there will be some surprises on Snowball Derby weekend. There will be some guys who will come into the gate looking to win the race, who in all likelihood won't be in the race, so what I hope we see is five days of Chamber of Commerce weather and just a good experience for our fans and our racers.