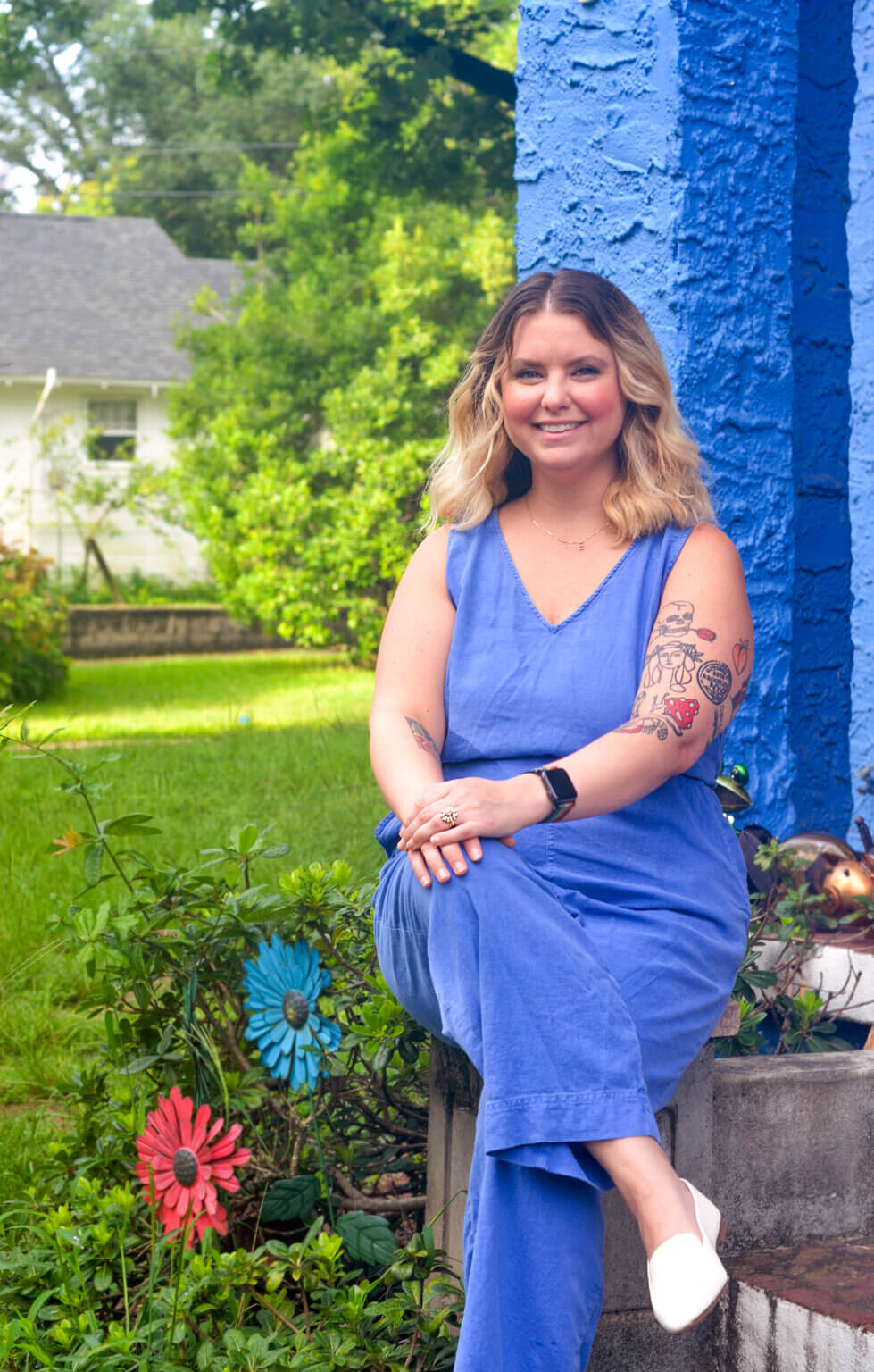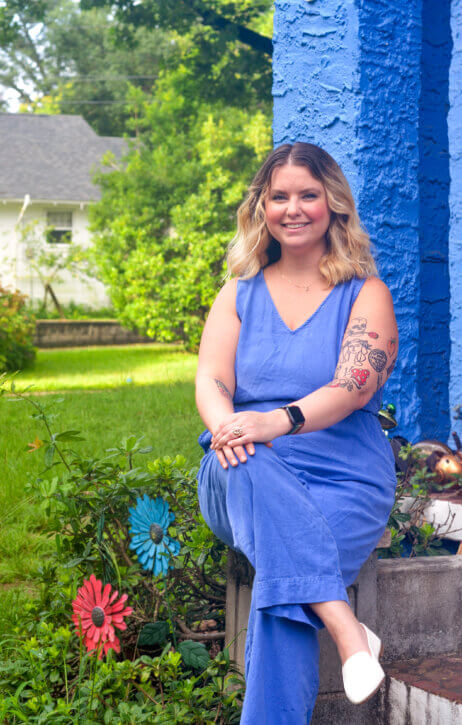 Erin Clancy is a Pensacola local as well as the creator and owner of Blue House Curio. If you've attended an art or community market in Pensacola, you have likely seen the vibrantly colored Blue House Curio display. Clancy creates unique pieces of art, jewelry and home goods by encapsulating organic materials like flowers and seashells in resin.
With a long-lasting interest in art, Clancy studied fine art at Pensacola State College and went on to earn her Bachelor of Fine Arts Degree from the Savannah College of Art and Design in Georgia. She established Blue House Curio in 2021.
Though you can find her work on display at various markets across the city, Clancy will be participating in the Palafox Market as an official vendor for the first time on August 5. Her pieces are also available for purchase at Garden Street Fabrics & Design in Pensacola and on her website bluehousecurio.com. Clancy takes custom orders via her website and email [email protected].
How did you become interested in art and creating, and how would you describe your work?
For as long as I can remember, I've been interested in art. I get emotional just thinking about it. Creating has always been something that I've done to express myself through the tough times and the best times. During the height of the pandemic, I was churning out new art constantly just to cope. That period of time is where my love for resin came from. The media that I most often use are resin and flowers. I used to always have trouble describing what type of art I created until my husband and I coined the terms "floral flare" and "whimsy-ware." No two pieces are alike.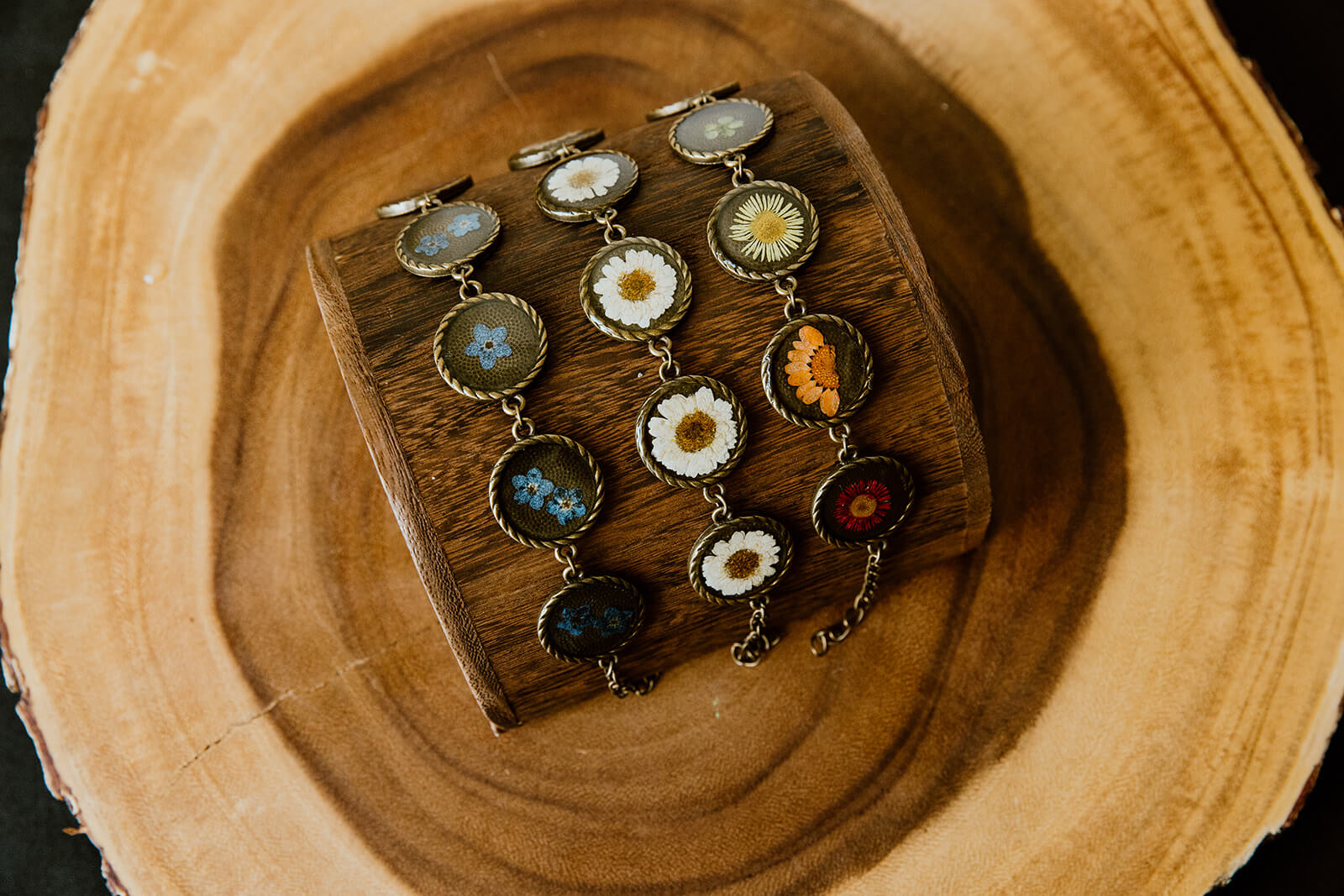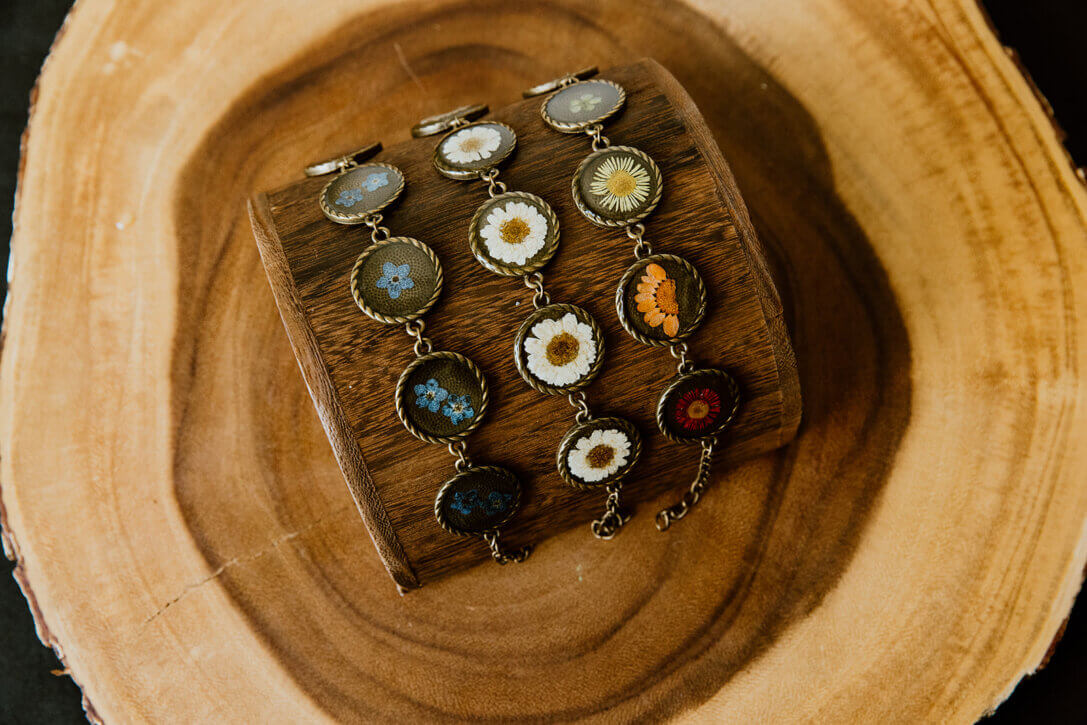 Much of your work features live flowers. Can you tell me about your process with the flowers?
Oftentimes, flowers are donated to us from various sources around town. I then determine whether I will press the flowers or dry them as a whole. Drying flowers takes up to four weeks. After that, the fun begins. If it's a custom order, we begin a design process with the client. If it's an art piece that I created, I let each flower's color and shape dictate what mold, bezel or design we can use. Finally, the tough part comes. I mix the resin, use a vacuum chamber to release the bubbles and then pour. It can take days and weeks to pour each layer. Patience is key throughout the entire process. It's not for the faint of heart.
What types of different pieces do you create?
I create real flower earrings, bracelets and rings, as well as other small wares like magnets, keychains and hair clips. I also do larger pieces such as home decor items, decorative accessories and commissioned pieces. All of our flowers are real, the jewelry is hypoallergenic and every single piece is unique—as no two flowers are the same. Sometimes we are graced with other types of curious media from our clients, such as ethically sourced bugs, seashells and dried fruit. As long as no moisture is present, I can and will try to preserve it in resin.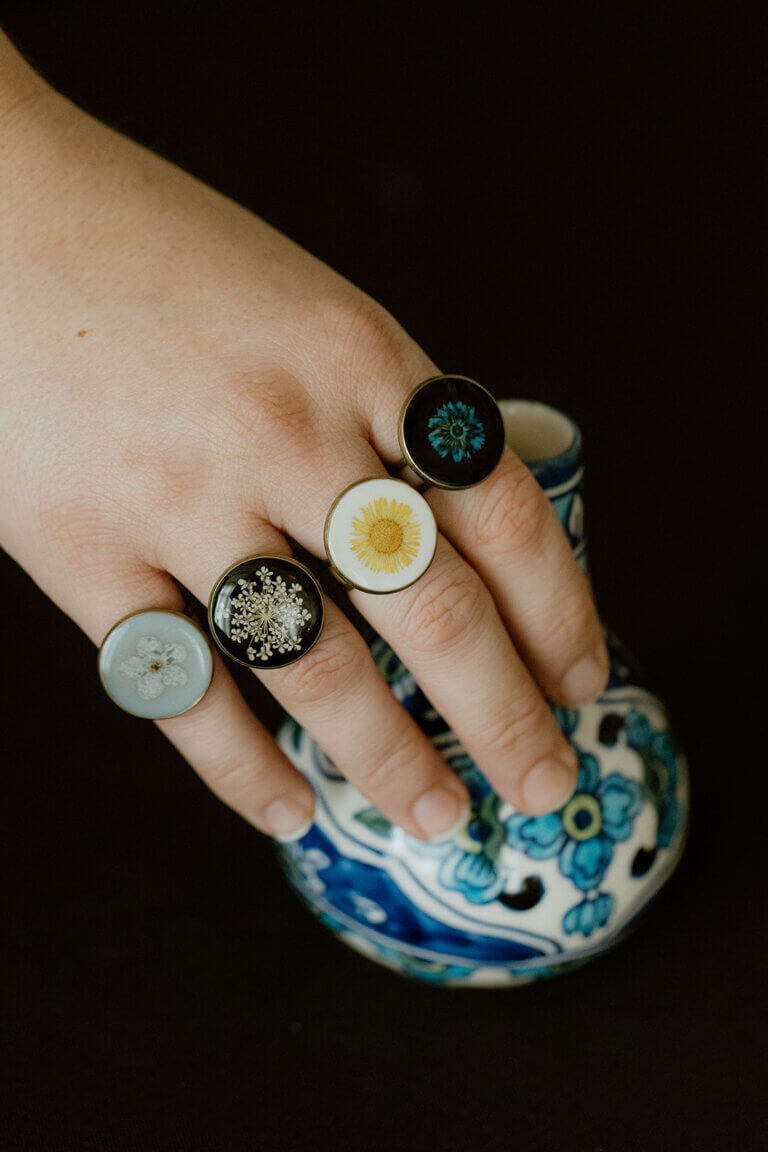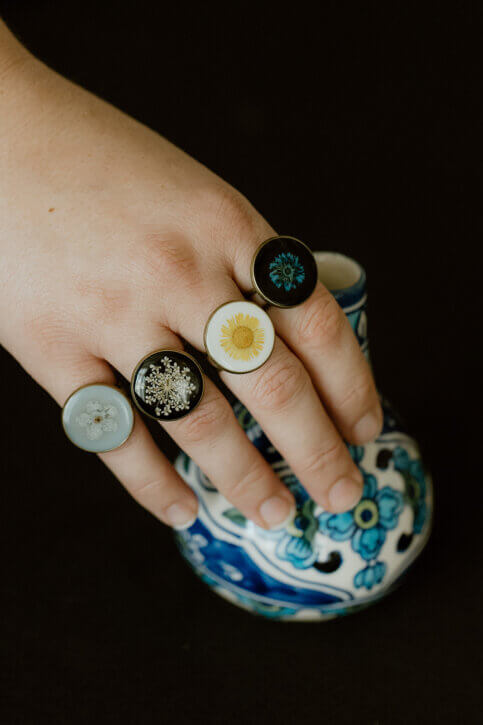 Tell me more about your creative process and what all goes into creating one of your pieces.
I call my creative process "painting with flowers." I try to be as thoughtful as I can with each flower and where it will be placed within a piece. As I said before, I let each flower's color and shape determine the composition. Sometimes arranging the flowers will take time but I want my clients to know that I am mindful of each and every flower I use. After I have my composition determined, I then begin pouring the resin. Sometimes sanding comes next, and usually a top coat is needed. Then voila: a piece is complete!
What are some of your most popular items, and is there a specific piece or design that you receive a lot of requests for?
My most popular commissioned items are my wedding commissions. Most of the time with these commissions, I create three to five designs and I let my client pick their favorite design. My more popular market items are my rainbow pieces. My rainbow pieces are my most prized pieces because they encapsulate and symbolize hope, pride, and not to mention, a wide variety of flowers. Many clients that come to my booth at a market have a story about a rainbow and how they connect with them.