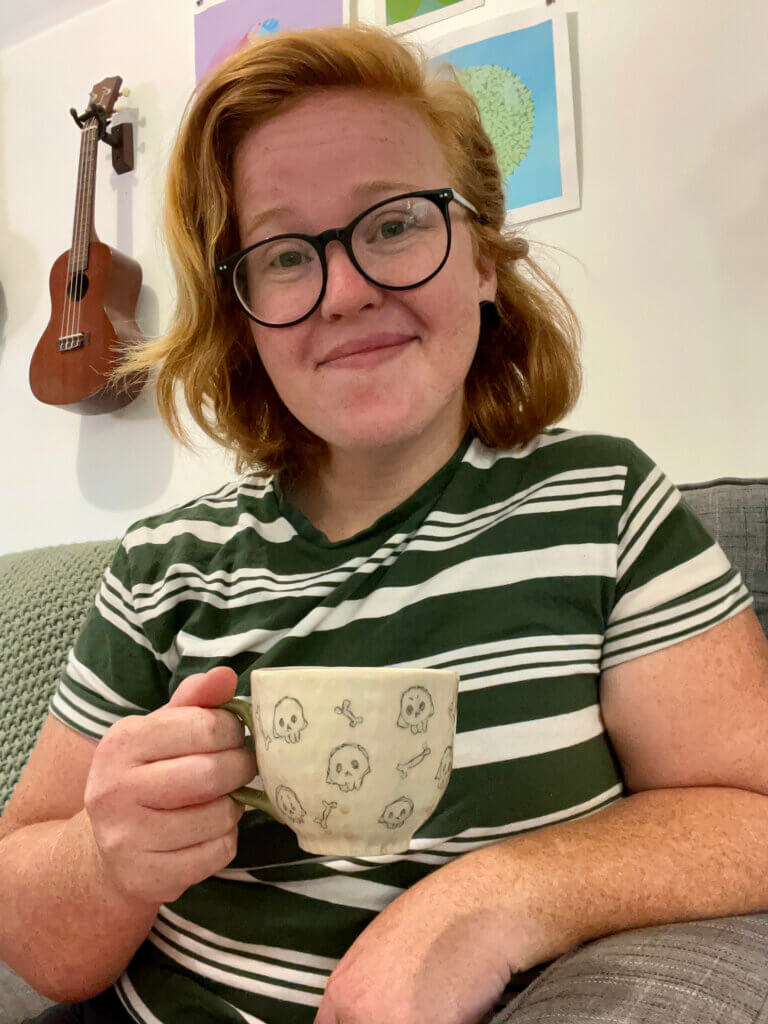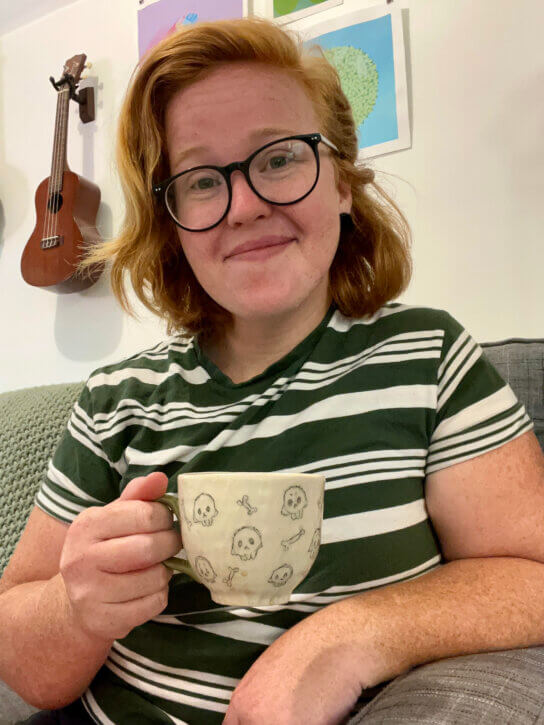 Kellie Hastings is a local glass and ceramic artist and the owner of Worried Bones Studio. With many of her creations inspired by the fall season and Halloween, Hastings has put her own cute twist on what some might consider to be spooky or scary. Her decorative and functional designs include an array of ceramic mugs, blown glass pumpkins and more.
Hastings sells her pieces online through her Etsy shop which can be found at etsy.com/shop/worriedbones. She also sells her pieces in person during Gallery Night in downtown Pensacola and at other local arts markets throughout the year. Hastings announces the events she will attend via her Instagram page, @Worried.Bones.
Let's start with you telling me a little bit about yourself and your professional background.
KH: I grew up here on the Gulf Coast in Fairhope, Alabama. I started studying at the University of South Alabama originally as a painting major, planning to transfer to a school with an animation focus after knocking out some credits. I ended up taking an Introduction to Glassblowing course my second semester, and it did not take long for me to become enthralled with the medium. I ended up graduating with a BFA with a concentration in glass from South Alabama, and then went on to earn an MFA in glass from Kent State University in Ohio.
I went into college not knowing anything about glassblowing, much less that you could get a degree in it. Curiosity led me to take that first class, and I haven't stopped working with the material since. While at South Alabama, I also had the opportunity to try other mediums, including ceramics, which gave me a foundation of knowledge about ceramics.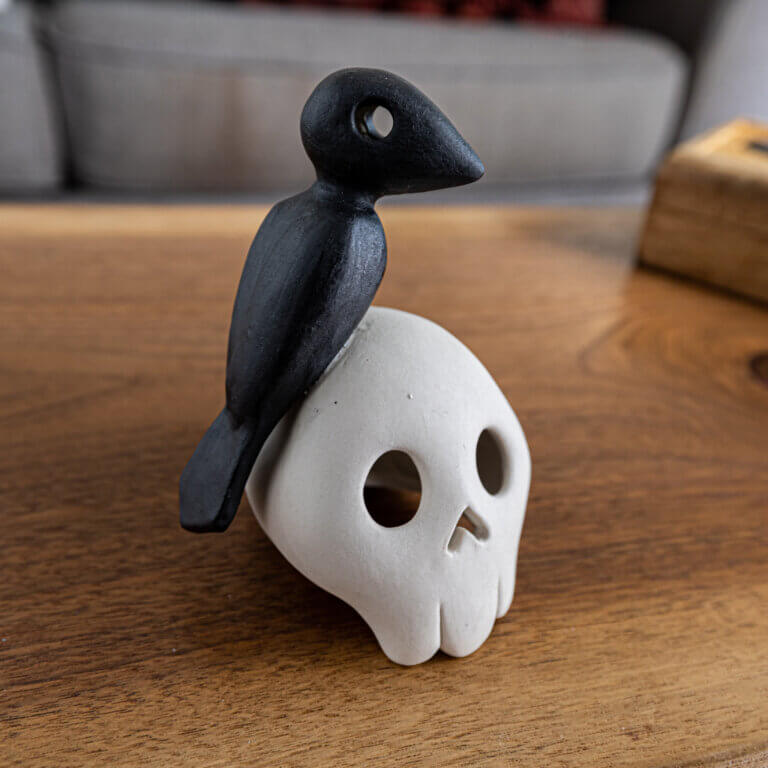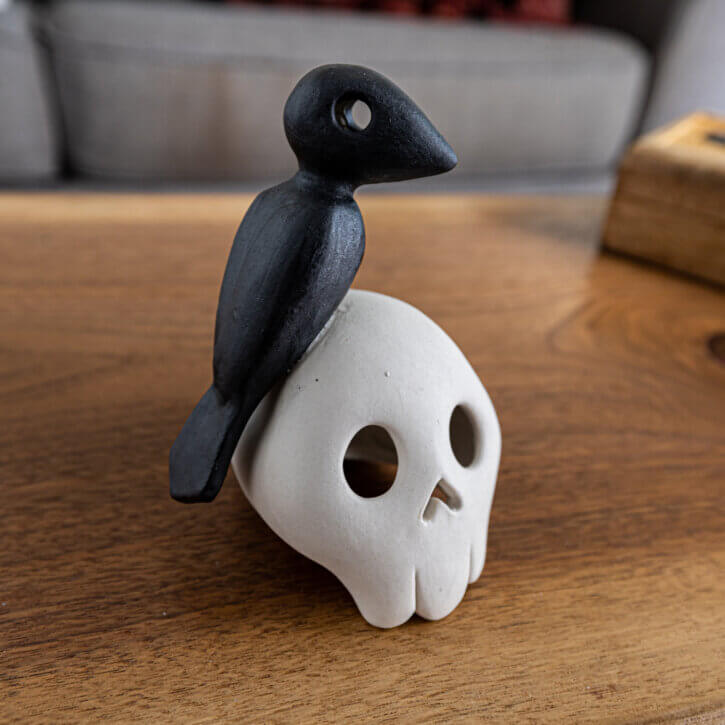 Tell me about the inspiration or influence behind your work and designs.
KH: Oddly enough, I kind of stumbled into the aesthetic of Worried Bones. That is not to say that I am not very proud or excited by the work, because I really am, but more so that it happened more organically. I began making the first ceramic skulls in the fall of 2021 and they have remained a year-round favorite. I kept on making them mainly because they brought me a lot of joy.
I have always held a fond place in my heart for things that are cute, yet melancholy. I try to find the overlap between the two and make work from there much of the time. I make a few intentionally seasonal fall items, but I really try to create well-designed work that can live in the right home year-round. They definitely aren't everyone's aesthetic, but I've been fortunate to find fellow humans who appreciate the unique overlap in my work and have given my pieces good homes.
Tell me a little bit about the different types of pieces you create.
KH: I work in a lot of different processes, and they have some overlap while also being a good bit different from each other. All of the glasswork is handblown and created using molten glass gathered on the end of a hollow steel pipe. It's gathered from a furnace that keeps the glass above 2000 degrees and at about the consistency of honey. It is then shaped, tooled and reheated over and over until it is at its final shape. Glass has to be worked from start to finish—all in one go. To decorate my pieces, I use concentrated color in various forms. Often for cups or bowls this is in the form of frit, which looks and acts a bit like colored glass sprinkles, adding pops of color onto the surface of the glass. For larger and more decorative forms I use color bar, which allows for a solid and more uniform application of color. Clay is a lot slower of a process in comparison, as it requires being left alone at many stages. It's a bit less mentally and physically demanding, but requires careful supervision to work the material in the correct state for different parts of the process, usually over the course of a few days. I use a few different kinds of ceramic processes. I throw many of my mugs and bowls on a pottery wheel and decorate their surfaces with colored slip, a specialty ceramic pencil and/or glaze.
Can you take me through your creative process and describe what all goes into creating one of your pieces?
KH: My creative process is twofold and could be divided between "making" and "thinking." I jump back-and-forth between these two quite often. "Making," whether it's making with glass or clay, is more of an automatic process for me. Both of these mediums lend themselves to a sort of physical rhythm. While I'm making, my thoughts tend to be more focused on my movements and the material in front of me. Much of my "thinking" happens separate from the making, but is still deeply informed by the process of making. I sketch a lot to get ideas out of my head and somewhere physical. I tend to get shapes and colors stuck in my head. I try to transfer this onto paper and then transfer the ideas on paper into glass and clay.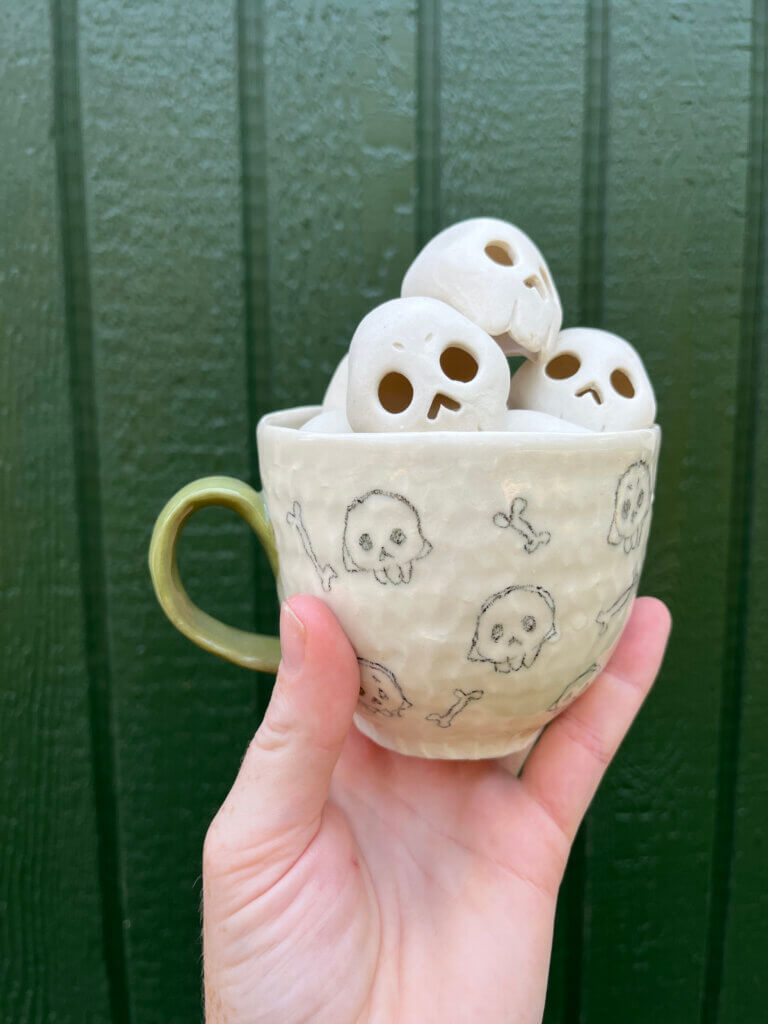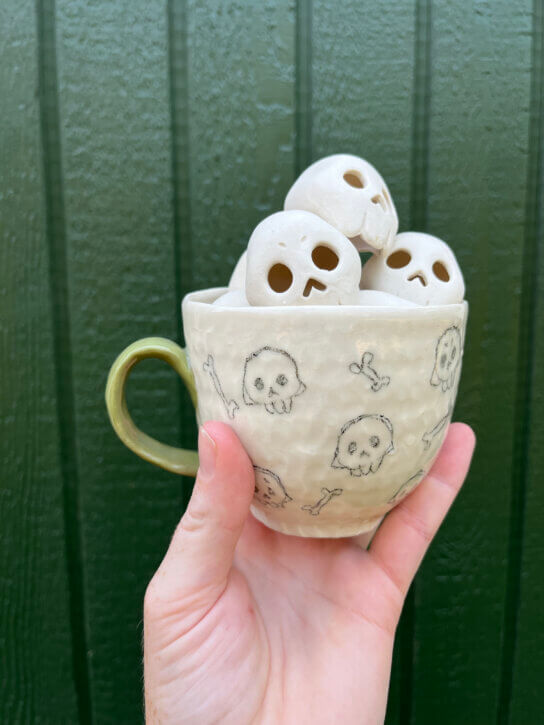 In all honesty, a good chunk of my creative process begins with a stream of consciousness given to Siri to translate into a note on my phone when I'm not in a position to actually draw or type out an idea that has come to me. I then decipher the gibberish later on. Makes for a fun game of, "What Was I Trying to Tell My Future Self?"
What are some of your most popular items, and is there currently a specific piece or design that you are receiving a lot of requests for?
KH: The porcelain skulls I make, or "skullies" as I often refer to them, remain my most popular item year round; so much so that I've had to adjust my entire workflow in order to make them more efficiently and to keep them at a price point that I think is fair and approachable. The joy of watching people see and process a table full of adorable skullies never gets old. It makes my day everytime. I really wanted them to be different from just any other skull, and I think I've struck a cuteness that you don't often find in most skull-themed decor. The most popular of all of them is my skull with a black bird. It's one of my personal favorites. I think it hits the overlap of playful and stylized, while also feeling slightly melancholic.