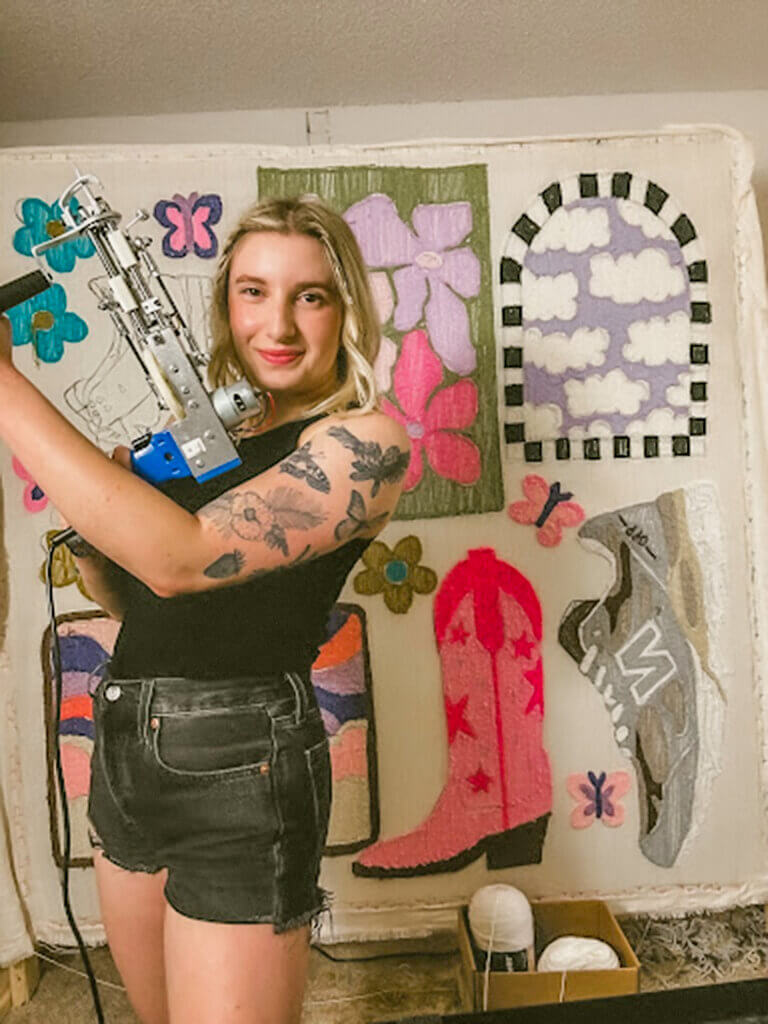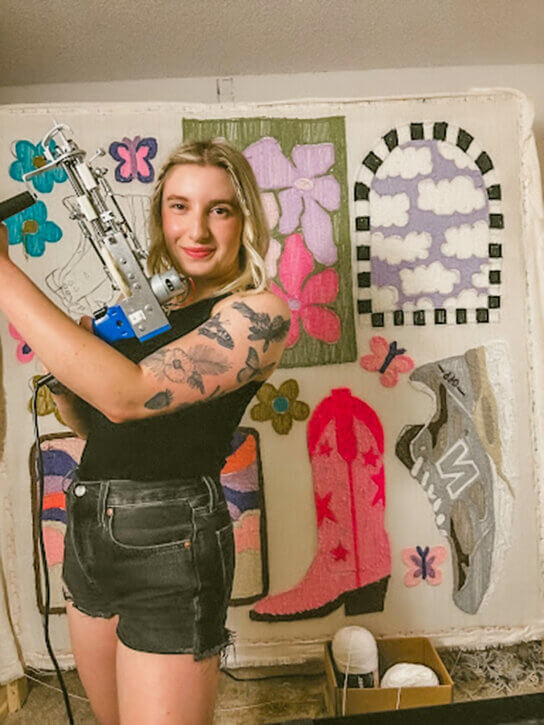 Sunnyside Rugs by Josie Jackson
Josie Jackson is a local textile artist and rug maker who is tufting soft and adorable pieces of art. As the owner of Sunnyside Rugs, Jackson creates rugs in all shapes and sizes. From cute iconic characters like Hello Kitty and Animal Crossing animals, to rugs featuring the works of famous artists like Keith Haring, Jackson has tufted it all.
As a fairly new face to the Pensacola arts scene, Jackson has recently begun to showcase her work at various local arts markets. You can find her work on her Instagram page @sunnysiderugs, where she also shares information about upcoming markets and events. Jackson also takes custom orders through her Instagram and email at [email protected].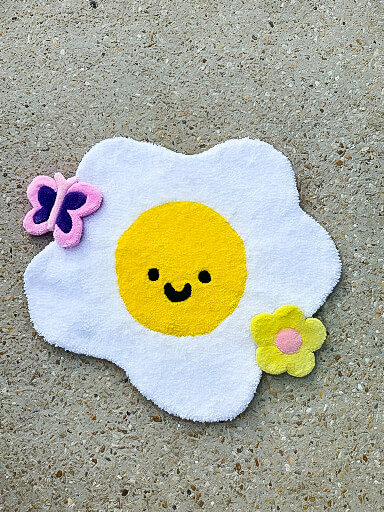 Tell me a little bit about yourself and your professional background.
I was born and raised in Pensacola. Growing up, I wanted to live anywhere but here, and now I can't picture myself living anywhere else. I love how our city has developed over the years, especially downtown and the artistic community. I originally went to UWF for Marketing, but after a few major life events, I realized the traditional college path was not what I wanted. Over the next few years, I traveled a lot and worked in many different industries and eventually did end up in a marketing and communications role through the work experience I was able to get outside of college.
How did you become interested in the arts and tufting rugs?
I've been interested in the arts since I was a kid. I was very into drawing, music, writing and pretty much any creative outlet I could find growing up. In the past few years, I landed a job where I can use my creative strengths for work. My day job is as a communications manager, so I get to dabble in graphic design, but I didn't want to lose the joy I got from creating just for the sake of creating. Around the middle of last year, I started seeing videos of people making punch needle art, and then discovered full rugs being made with a tufting gun. I researched for weeks, figuring out the full process and all the tips and tricks I could find while I waited for my supplies to arrive, and the rest is kind of history.
I skipped over punch needling completely and instead went straight for a tufting gun. It's a hefty list of supplies to get started, and I knew if I jumped in head first, it would be way harder to talk myself out of it or let my perfectionism get in the way. Thankfully, it worked. I do, however, plan to experiment with punch needle art next! I look forward to adding that to my creative skill set in the near future.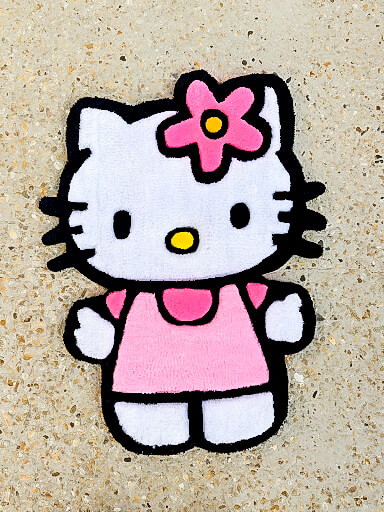 Tell me about some of the different types of pieces and designs you create.
The pieces I make range from regular rugs and wall-hanging art pieces to more functional pieces such as coasters, plant holders and rug mirrors. One of the things I love about rug making is that there are so many possibilities. A character from your favorite cartoon growing up? Absolutely. A rug that looks like a cup of iced coffee? You got it. A random funky retro pattern? Done! Any shape and size, anything you can think of— it's really fun.
Can you take me through your creative process and describe what all goes into creating one of your rugs?
The process starts by coming up with the concept for the rug, making it into a graphic, and using a projector to draw it onto my frame. I use tufting cloth, a tufting gun, and acrylic yarn to make all of my rugs. I have a big frame, so I will usually be making multiple rugs at one time. Once I find the exact colored yarn I'll need, it's time to tuft. When I'm done hand-tufting the images (this takes days depending on how many rugs I'm making), I secure the back of the rugs with carpet glue. Then, I cut each rug out and glue the felt backing fabric on. Next, I trim and carve details into the rug to add dimension. I add non-slip backing if it's for the floor, or hooks if it's a wall-hanging. The final step is lots of vacuuming and lint rolling. There's so much that goes into it, so I like making videos that show parts of the process to post on Instagram.
What are some of your most popular items, and is there currently a specific design that you are receiving a lot of requests for?
Some of the most popular items are my mini flower rug coasters and my character rugs; people love to see any sort of character rug! I'm in the process of making a batch of "cute food" rugs that I'm really excited about. I'm always open to suggestions and I'd love to hear more of what people want to see!