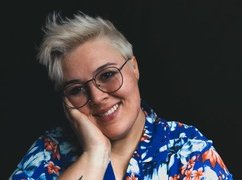 Morgan Cooper: Cat Colony Studio
Morgan Cooper is an LGBTQ+ artist who is new to the Pensacola arts scene. As a charcoal and watercolor artist who dabbles in photography, Morgan captures a variety of subjects in her works. Some of her work depicts popular pop culture icons like horror film favorite Michael Myers and the beloved Baby Yoda, while other times, she takes photos capturing the natural beauty of our gorgeous beaches. Morgan has attended a variety of local arts markets throughout town. You can find her work on her Instagram page, @cat_colony_studio, where she also takes commissions. While she has slowed down on participating in markets due to pursuing her Bachelor of Fine Arts degree, Morgan hopes to return to vending locally in the near future.
Tell me more about yourself and your professional background.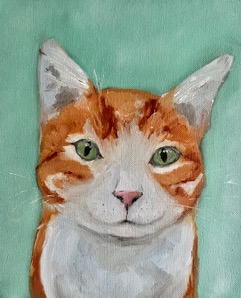 I grew up a military brat; I was born in Georgia, but moved all over the country until we ended up in Navarre, FL, where I attended Navarre High School. After graduating, I moved to Tallahassee to attend the Aveda Institute for Cosmetology. I graduated top of my class, but after a year or so in the field of cosmetology, I realized it wasn't my passion. I moved back to Navarre and have had many different jobs from working at Michaels, the USPS and now making parachutes for the government. Right now, I am in school and am working toward my Bachelor of Fine Arts degree.
How long have you been interested in drawing and painting?
I have always loved art—it was my favorite hobby, my favorite class and I always collected any and every artistic thing I could get my hands on. I really clung to art after my mom passed away when I was six. I was going into first grade and the passing of my mom made me very shy. I refused to talk to other kids and I refused to talk to my teacher. It got to the point that every week they would bring in people that would try and get me to talk and help me with the passing of my mom. They didn't have too much luck, I was very stubborn—that was until they brought me my own bag filled with paper, markers, crayons, colored pencils, paints, paintbrushes, etc. It really opened the door for me and eventually I started to talk. I would draw as I talked to them.
Tell me a little bit about the different types of pieces you create. What are your favorite subjects to showcase in your work?
I try to create a variety of pieces. I like to test myself and see what I can do. I have dabbled in portraits; I'm not the best at portraits, but I find them very fun. I also love to depict weird stuff like ghosts doing things like chores. I would love to get into more impactful art—really dig in and create pieces that have deeper meanings that make you think. As for my favorite subjects to capture, I really go through phases, especially during different seasons. I love taking close-up pictures of waves crashing and catching the movement of clouds. I enjoy painting ghosts, painting my pets or family pets, popular characters and animals in general.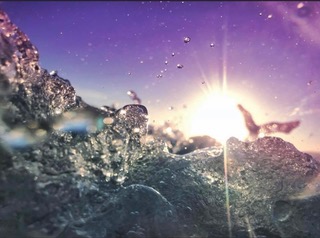 Can you take me through your creative process and describe what goes into creating one of your pieces?
I would say the vast majority of my creative process comes in moments. I'll get an idea and establish the beginning stages of it and I will keep coming back to it just so I can take a moment and come back with "fresh eyes." Sometimes that really helps my brain figure out the next steps I want to take. Of course, I am always listening to music, and I very rarely paint in a "serious" manner—I want my art to reflect me and I want it to be fun and invoke happiness.
Is there anything else you'd like to add, or that you'd like readers to know that I might not have asked?
I'm so honored to be a featured artist, especially for the pride-focused issue. I would like to add that if you have been wanting to try art, but get frustrated that you aren't good enough, or that you "aren't an artist," don't let that stop you. Go out and get messy, try and try again. Art is an amazing outlet, and you can be an artist no matter your skill level or experience.