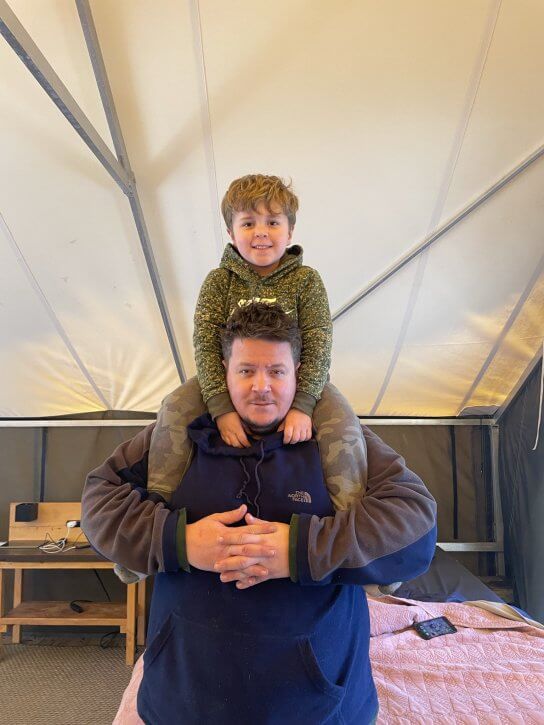 Local chef and artist, Ben Connor, has turned his passion for shoes into an art form and a business. Ben established his company, Handcrafted by Ben Conner, to share his hand-carved wooden art pieces with the community. The Gulf Breeze native attended culinary school in Gulf Shores, Alabama, and went on to become sous-chef at Global Grill for fourteen years. He now works in the same position for Eurest at Navy Federal Credit Union. In addition to being a full-time chef, Ben also designs and sells his uniquely-carved wooden cutouts. You can find Ben's one-off pieces at Garden Street Vintage in downtown Pensacola. To check out more of his work and for purchase inquiries, visit @handcraftedbybenconner on Instagram.
What medium/type of art would you consider your work to be?
I would consider the style of art to be intarsia, which is a form of woodworking where you create a mosaic-like picture from wood, using no stain or dye, only the natural colors of the wood. Because I do not use a stain, paint, or dye, the natural color and grain pattern of the wood are what make the art piece. I select the woods I use based on their natural characteristics, as these characteristics help to create the image that I have in mind.
How did you first get into designing this type of art, and was there something that inspired you to start creating these pieces?
I started creating my wood art pieces in 2017. Many intarsia patterns depict animals or nature and I wanted to put my own twist on it by trying to make an intarsia-style shoe. The first piece of shoe art that I made actually came from a printable coloring page. I got the shoe's pattern from this coloring page, modified the pattern to size and got to work!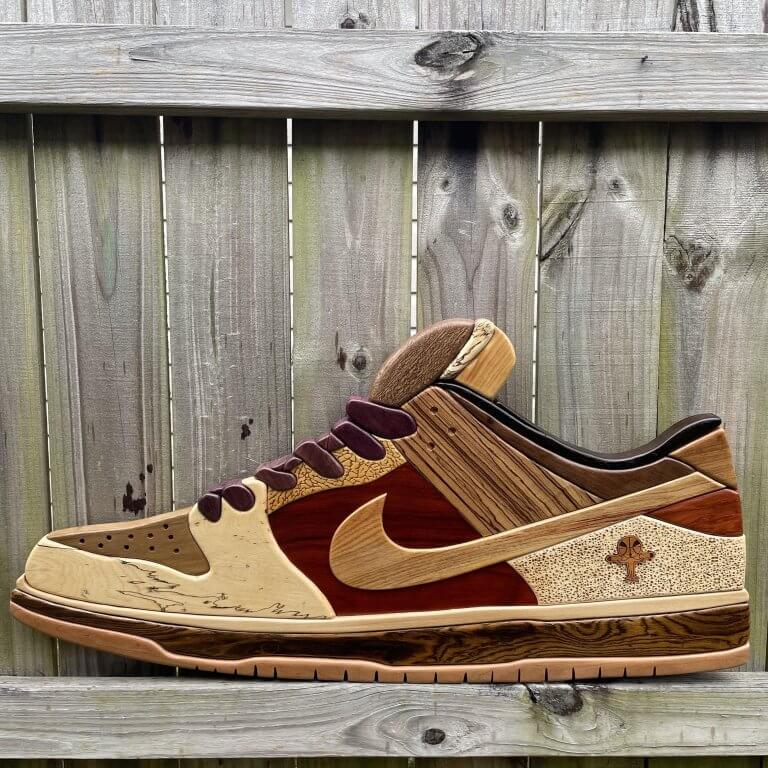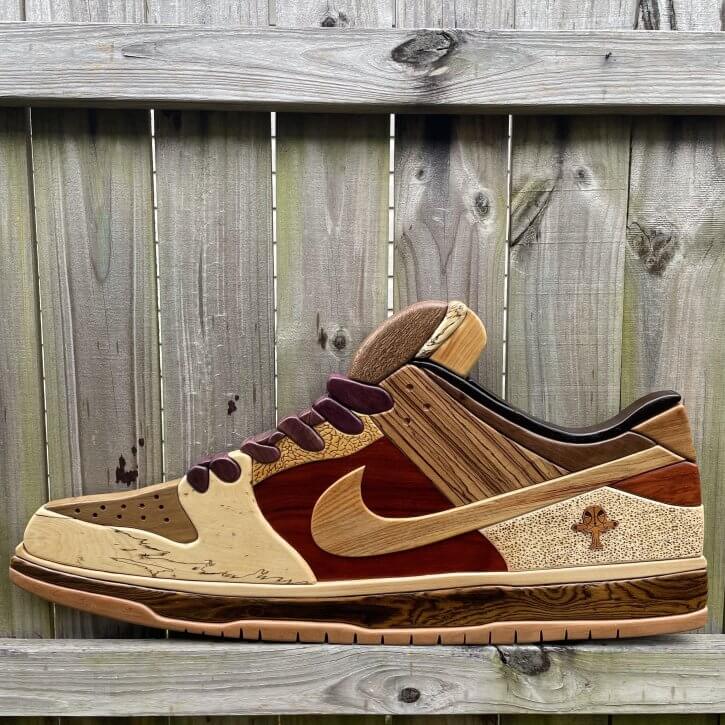 Can you take me through your process and describe what goes into creating one of your pieces? What types of wood do you use and where do you source your wood?
Wood art starts with, well, wood. I get a majority of the wood that I use from Peeble's Exotic Wood, which is located just north of Cantonment. It is awesome having a selection of exotic lumber to choose from that's so close and readily accessible. I mainly use hardwoods and exotic woods because those woods have the desired color and grain patterns necessary to achieve a specific type of look for each of my projects. Once I have the wood, I start my projects by printing out the pattern of the design I am going to use. I then place the pattern on the pieces of wood that I have selected. Once the pattern is laid out on the wood, I cut out every shape with a scroll saw. After I get all the pieces cut, I make sure they all fit together. From there, I shape and round the pieces over to give each piece depth and that 3-D effect found in intarsia-style woodwork. Once the pieces are shaped, I glue all of them together. Finally, I add a backer so that the work of art will be ready to hang up.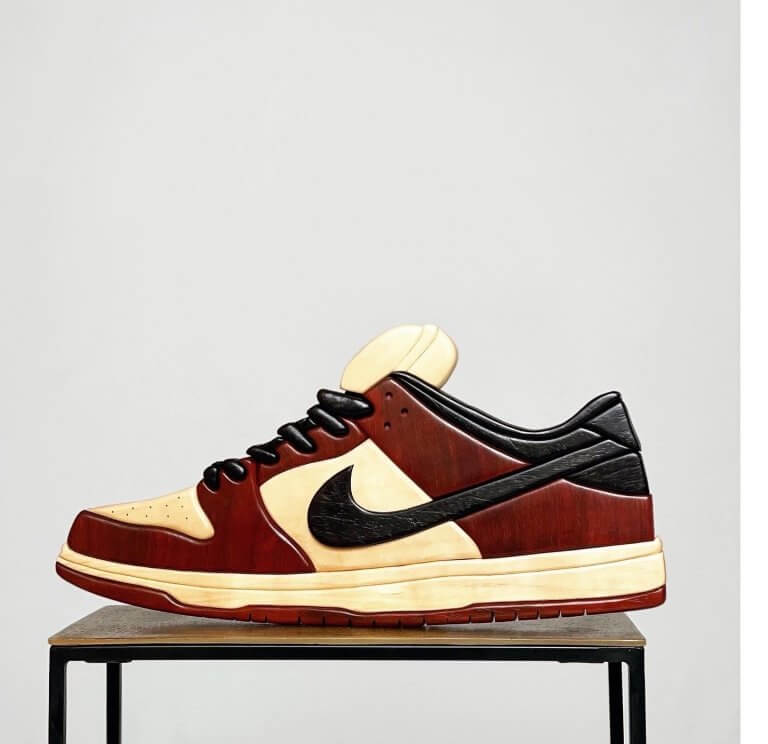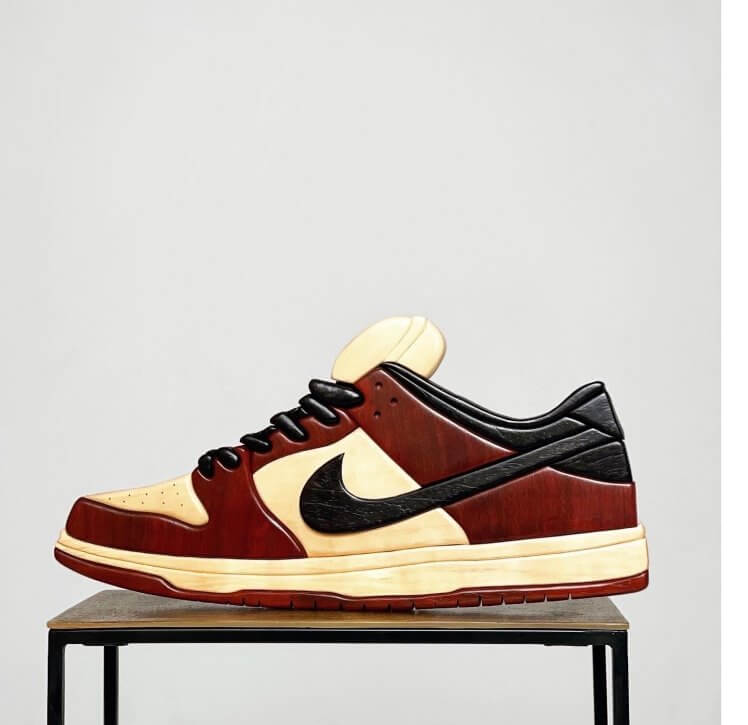 Tell me a little bit about the different types of pieces you create. What are some of your most popular designs?
My most popular designs would probably be the shoes—specifically Air Jordan 1s, 3s, 4s and, my personal favorite, Nike Dunks. I mainly spend my time creating shoe pieces, however, these pieces are not the only pieces that I make. I have made several small side tables where the table top is the Wu-Tang Clan "W" logo which is obviously made out of wood. I have also made several tree of life pieces, bulldogs and a Teenage Mutant Ninja Turtles piece for my son. Sometimes I'll even just get creative and see if I can turn an idea from my head into a project.
What inspires you to turn an object into an art piece?
My love for sneakers sparked the idea of turning my shoes into art pieces. Different shoe silhouettes and colorways inspire me. When I see a shoe design, I want to create pieces that resemble the actual shoe as much as possible. Ten years ago I would've never thought I would be making these pieces, but I love doing it. Keep an open mind and try new things, you never know where it will take you.