By: Dakota Parks
Armed with her controller and a friend on lookout for birds and power lines, Emily Bailly, a local drone pilot and photographer scours the skies around Pensacola looking for the perfect shot. Bailly grew up in Milton and has been a hairdresser for 11 years.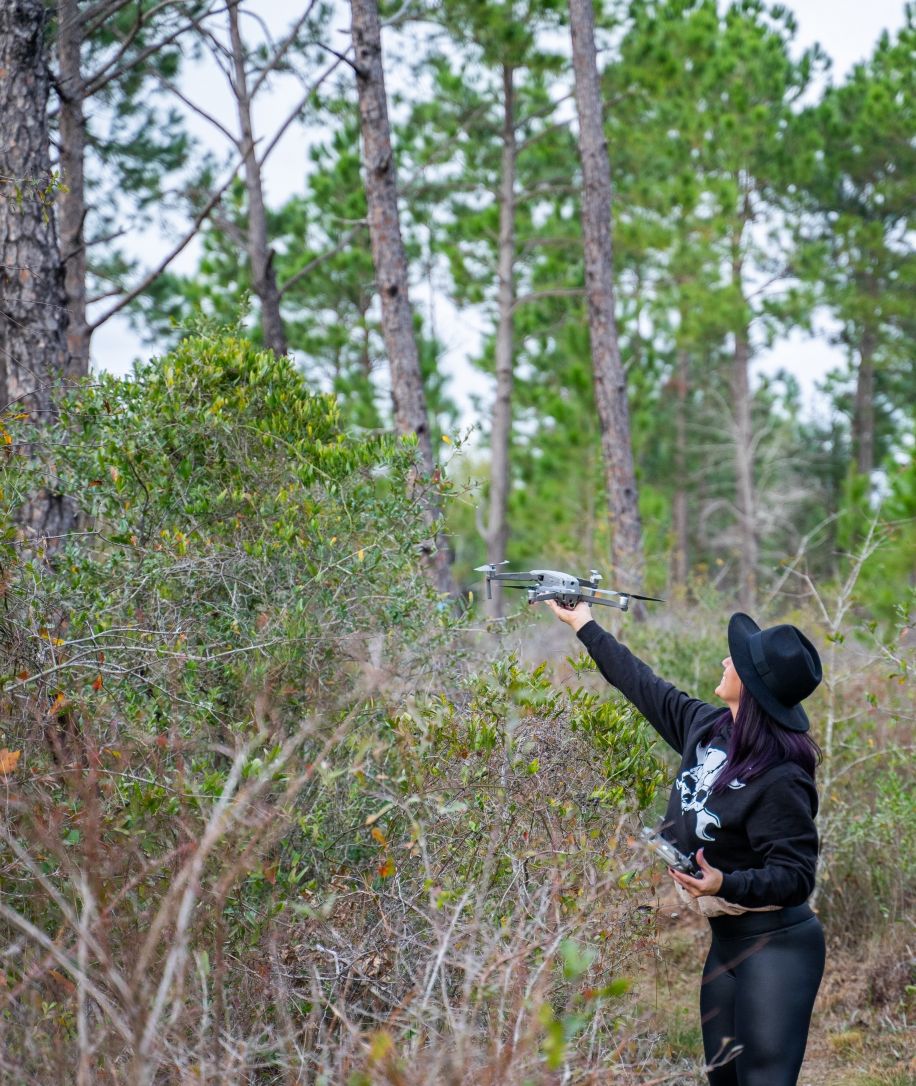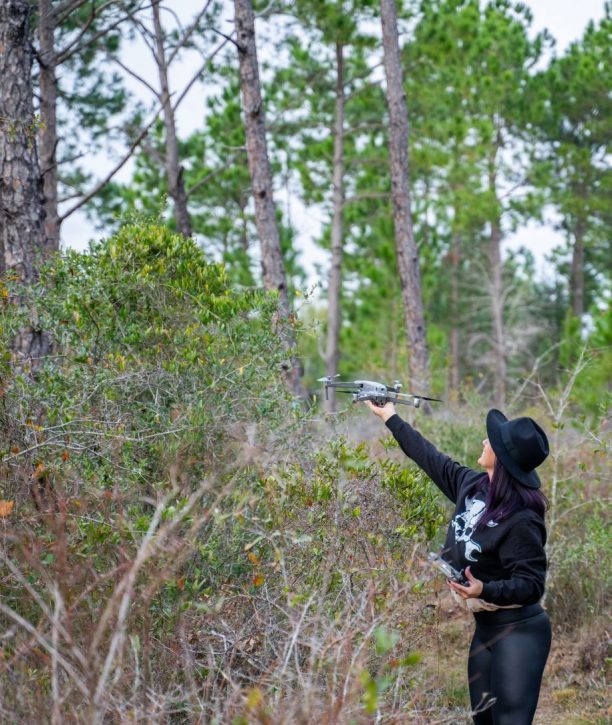 After dabbling in photography and not quite finding her niche, she was looking for a creative outlet outside of the salon when she discovered drone photography. As a travel enthusiast, visiting around 30 countries, Bailly was always drawn to travel videos with aerial footage. A year later after biting the bullet and buying her first drone, she is FAA 107 certified, fills her free time with drone work and exploring the Panhandle for new areas to photograph. Keep up with her on Instagram @thedroneprincess. 
What kind of work have you done as a drone pilot?
The FAA 107 certification allows me to legally do commercial drone work. Hobbyists can fly drones for fun but can't legally charge money. Now that I'm certified, I've done weddings and real estate photos and videos. I recently worked with two ground photographers and did the videography for the Pensacola RV Resort. Last week, I was in Colorado up on a mountain and randomly met these people that wanted their photo taken with the drone. It was a beautiful location and they paid me right there on the spot.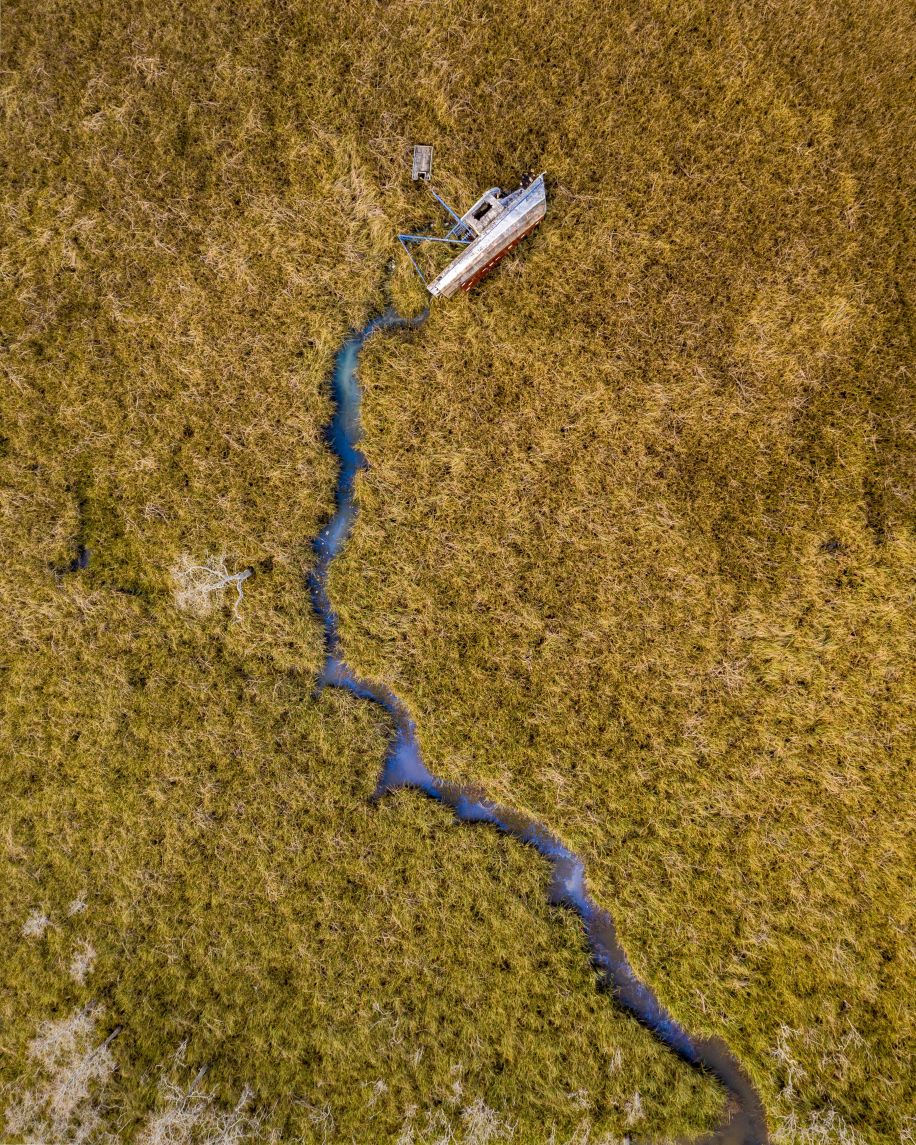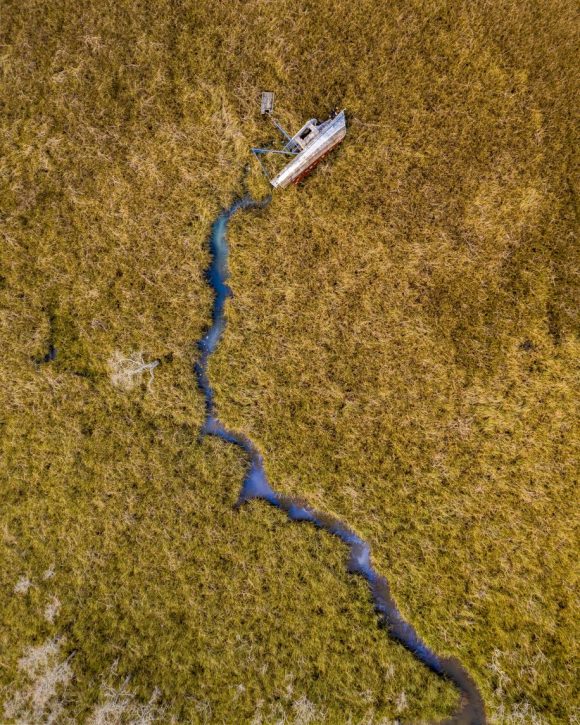 Your photos all have a natural element to them. How do you choose where you're going to photograph?
It's funny actually—before bed, I look at Google Maps pretty much every night. I know that sounds so nerdy, but I look at the maps and wonder 'what would this look like from the sky?' It's like a top down perspective. One of my favorite locations is the abandoned Escambia River boats that have been there since Hurricane Ivan just deteriorating. Once I find out that a spot isn't located in restricted airways, a friend and I will kayak out to them so I can photograph. It's like a treasure hunt. You're not supposed to fly over crowds or anything like that, so locations can be limited. But nature is readily available, and you can't beat the beauty of the Panhandle waterways.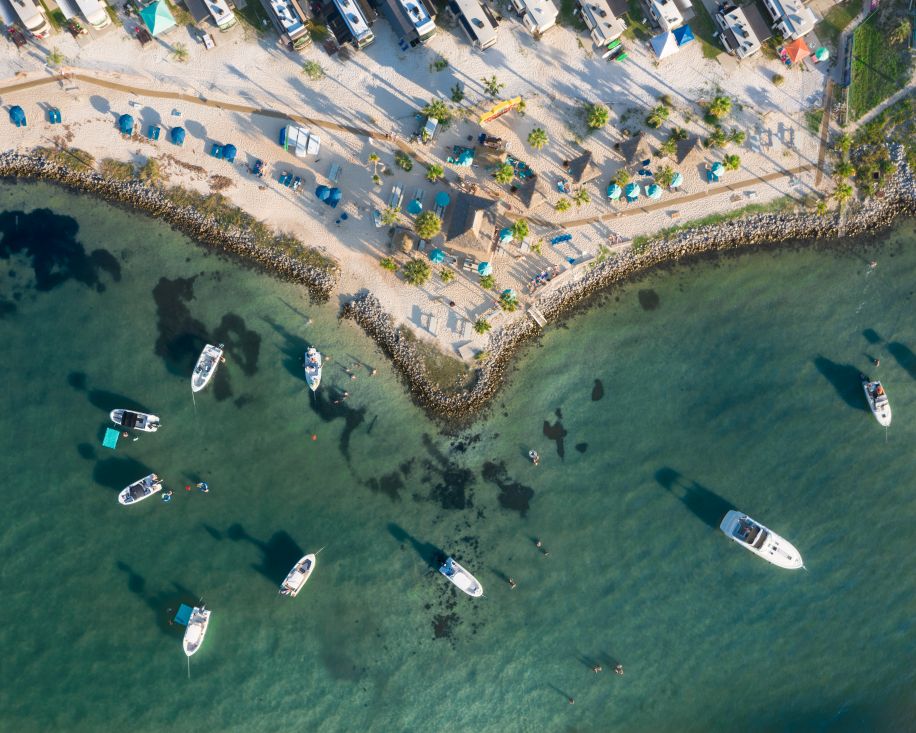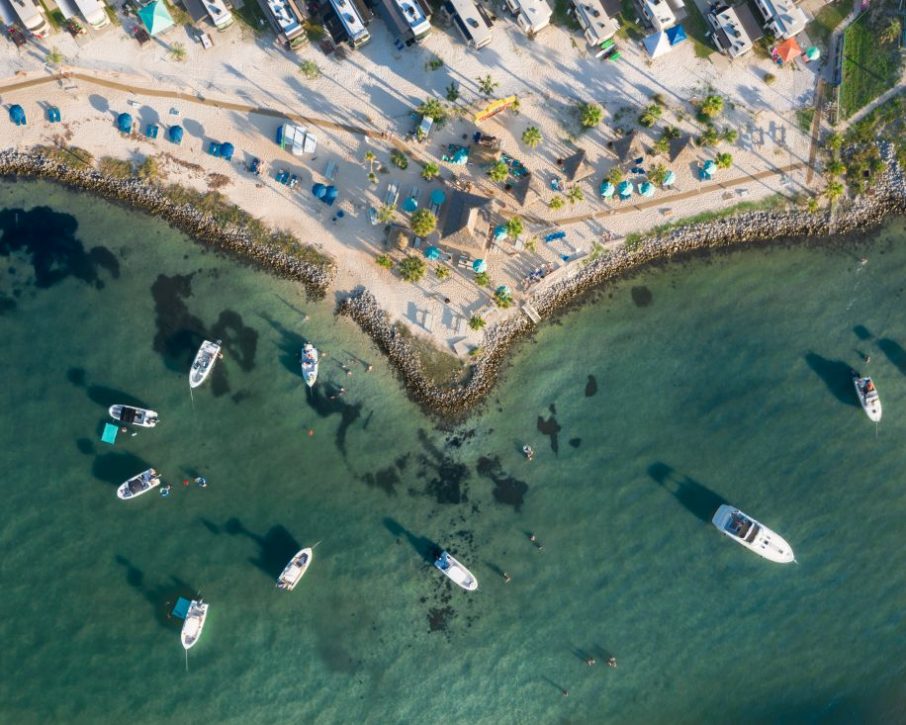 What are some of the biggest obstacles and technical details that come with flying drones?
Power lines, birds, lighting. No one realizes how many things there are to crash into up in the sky. On the weekends, I will wake up at 4 am to go film because sunrise and sunset lighting is always the best. Everything revolves around my drone now. I first taught myself how to use the drone through YouTube videos, then I took a photo tour class up in Raleigh, North Carolina. The instructors actually teach for DJI, the company that makes my drone. I also hired a mentor on Instagram to teach me more about editing and settings. Another detail is that you don't know what you have until you get home. The drones have a cache so you can see the image but it's like a grainy, poor quality version of that. So, you can see what you're doing, but you don't really know what your photos and videos look like until you upload them to your computer.
Tell me about crashing your drone—what is that experience like?
I've hit a light pole one time. There are also geofences up in the sky around businesses and airports that you can't actually see, but it causes a drone to automatically land. I had to wade through a swampy sewer line with my dad to retrieve my drone one time. The craziest experience was in Colorado. My friend and I were fly fishing and she hooked my drone with her fishing pole and pulled it down into the water then out like a giant fish. We kind of did CPR. We pulled it out of the water, dried everything off, freaked out a little bit and prayed for the best. It's nerve wracking because even though my drones are insured through State Farm, you never know what's covered, and that was two thousand dollars in the water.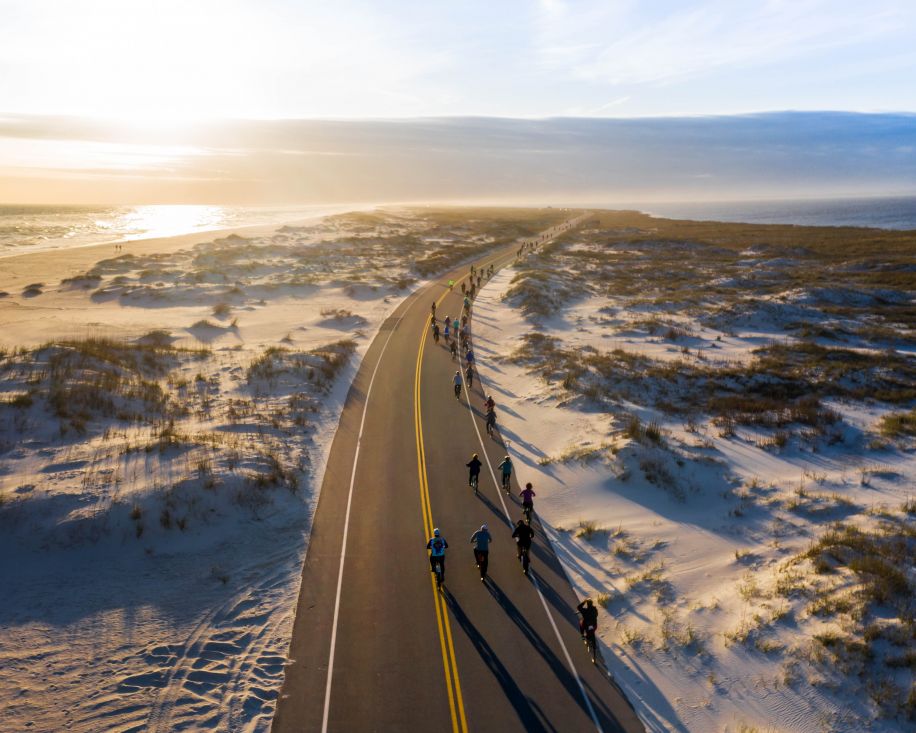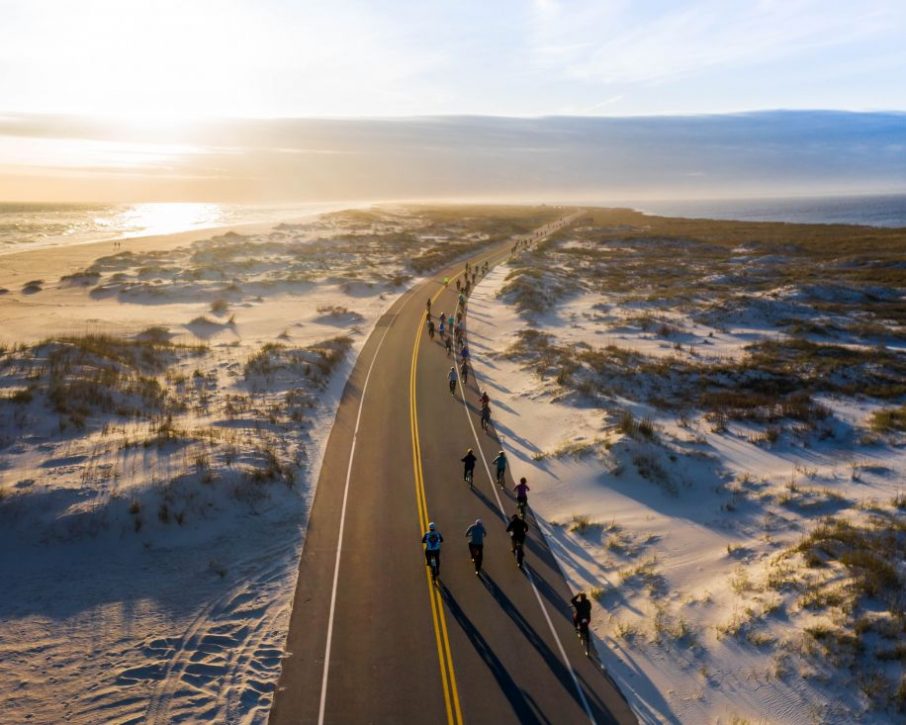 What is your biggest goal with your photography?
I think one of my biggest goals is getting the word out about women creatives in this industry. It's such a male dominated industry. But it's so much fun, and I need more girlfriends to do this with. I'm also excited to take the drone traveling with me. COVID-19 has halted my travel plans and my honeymoon. I usually travel every three to six months and go out of the country. But really, I just enjoy sharing different perspectives that people don't always get to see. Everything looks different from the sky.