by Morgan Cole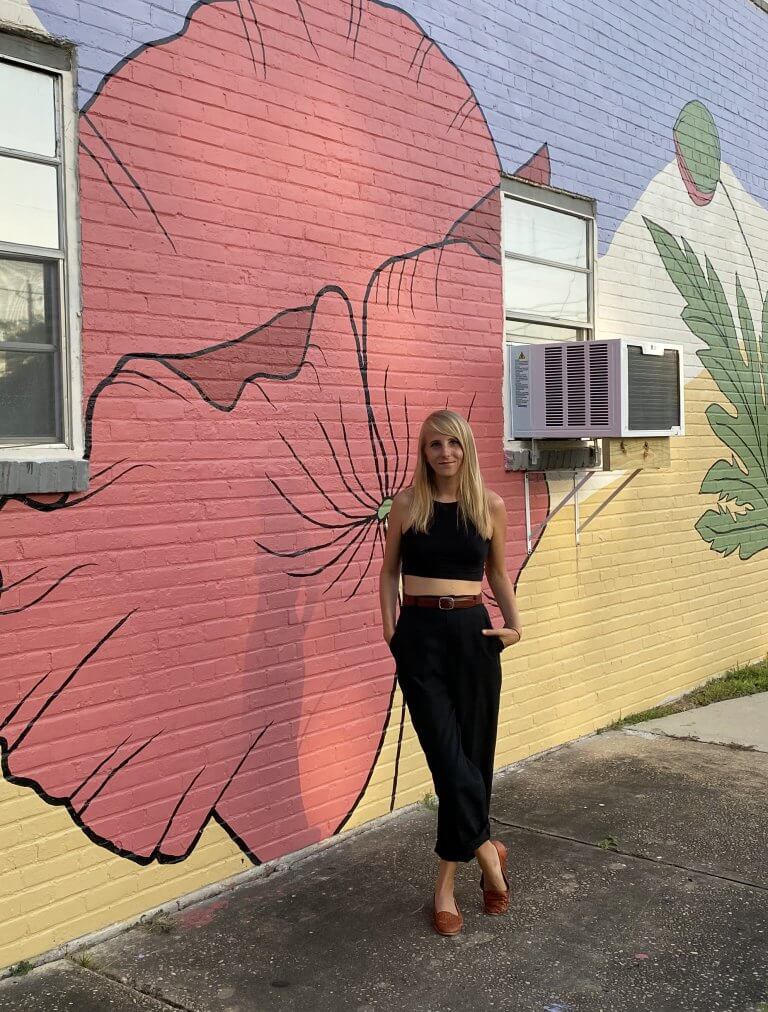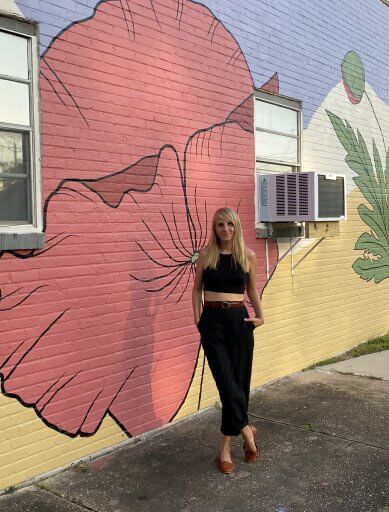 Thoughtful splashes of color, vibrant patterns and larger-than-life pink camellias. You've more than likely seen some of this local artist's work on building facades throughout the city.  Her name is Eniko Ujj and she's literally painting the town. Her colorful murals, mostly inspired by nature and local flora, bring new life to the city streets. DTC had the opportunity to chat with Eniko about the inspiration behind her mural designs and some of her latest artistic endeavors. Follow Eniko Ujj on Instagram @enikoujj.
First, let's start with how you became an artist. Can you tell me a little about your background?
I have been drawing and painting since I was a small child, and I got my BFA in Painting at UWF back in 2013. I then moved to Chicago, and later to Denmark, working gigs in the service industry and the brewing scene to support my art habit. I always made art, typically portraiture and sculpture, but only recently have I been able to do it full time again and support myself through it.
How did you get into painting murals and why are you drawn to this particular form of art or subject?
When the pandemic hit, I ended up losing my job at a brewery in town. The owners of Cypress, a restaurant I'd previously worked for, were familiar with my art and reached out to ask if I would do a mural for their new business, Emerald Coast Bread Company. They wanted to use their massive exterior wall to advertise it. I had never done a mural before, let alone one that was 96 feet long, but was more than up for the challenge. I've always admired murals for their potential for inclusiveness and accessibility. They're available for anyone who wants to enjoy them and can reinvigorate neighborhoods and communities, bringing color and life and joy to places and things that might otherwise go unnoticed. They also can have the effect of making people slow down a little and find some beauty in their day—I'm all for that.
Tell me a little about your artistic style and what other artistic mediums you practice?
My background is in oil painting and portraiture. I recently did a series of portraits of women writers because I believe redefining the "Western literary" canon is necessary and overdue. I also wanted to put faces to the wonderful women I've been reading. Lately, I've been taking commissions for portraits of pets and children. I also love doing abstract conceptual sculpture, woodworking and alternative ceramics because it's such a different way of approaching creativity that ultimately inspires my 2D work. For my mural painting, I've been very drawn to plants and flowers, inspired by some free time I've spent studying forageable plants and plant identification. Defining my artistic style has always been difficult for me, but I seem to be drawn to bright, contrasting colors and circular motifs.
Is there someone you look up to in the industry or that has served as an inspiration for your work?
I started getting into mural art when I was living in Denmark. Every city I went to seemed to have huge, amazing murals everywhere. I later learned it was because the country provides a lot of funding for public art. Unfortunately I didn't get any of the names of those artists, but their influence is there nonetheless. I'm very into Gagosh, ChemiS, Swoon and the Hungarian group called Neopaint Works, but there are so many amazing artists out there. I'm also really inspired by local mural artists Hand in Hand Creative and Daniela de Castro Sucre.
I recognized some of the work featured on your Instagram page from murals I've seen on building facades throughout downtown Pensacola. Can you tell me more about these projects?
When I finished the Emerald Coast Bread Company mural, I signed it with my Instagram handle, which is how people have been contacting me for inquiries. I did an interior mural for Empathic Practice's lounge of plants, which are considered weeds but actually have medicinal properties. Most recently, I painted a mural for The Daily Squeeze/East Hill Plaza across the street from the East Hill Publix. I wanted something to really pop and be noticeable, so I chose to paint bright pink Camellia flowers intertwined with the limbs of oak trees.