by Morgan Cole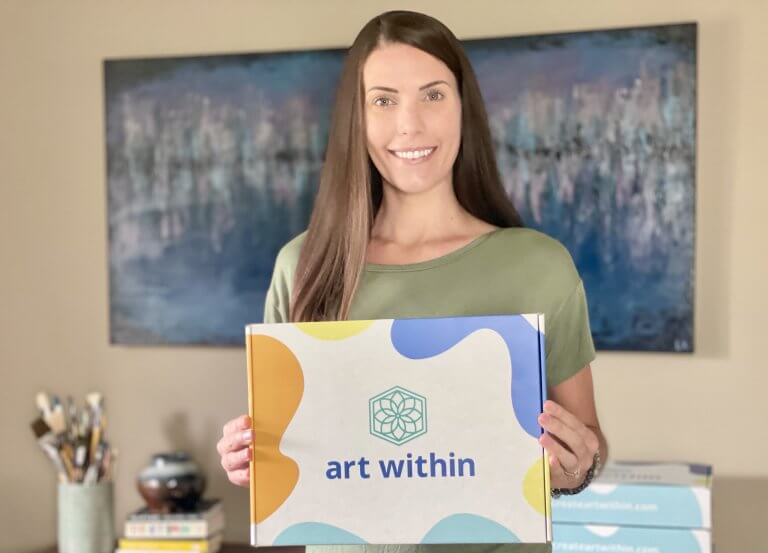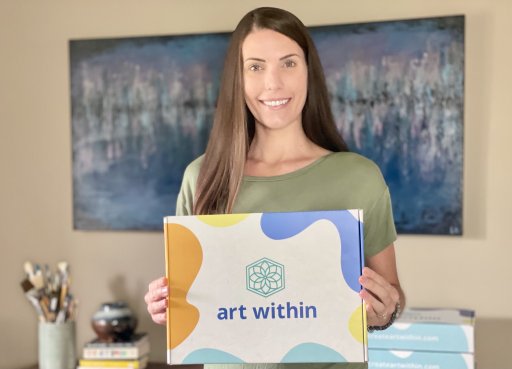 After moving to Pensacola from Chattanooga, TN eight years ago to obtain her MBA at University of West Florida, local artist and entrepreneur, Lindsay Keeling, decided she was ready to pursue her passion as a full-time career. During the pandemic, Keeling found herself with more time to connect with her creative side and became inspired to work on a concept for a new business idea. Little did she know, in less than a year, she'd be launching Art Within, a monthly art subscription box service.
As a lifelong artist, Keeling began taking lessons at an early age and learned foundational skills. Her work became more abstract as she grew older, and she began showing her paintings in local galleries throughout Tennessee and Florida, including her own art show at Artel Gallery in 2019. Keeling wanted to share her passion for creating and launched the art boxes to encourage individuals to 'create outside of their comfort zones.' The monthly art boxes are designed to help aspiring artists, ages 8 and up, find their own unique style and understand the basics of different art mediums and techniques.
Downtown Crowd had a chance to catch up with Lindsay Keeling to learn more about her new business endeavor and what inspired her to launch Art Within. For prices and to view the complete line-up of monthly art boxes, visit createartwithin.com or follow @createartwithin on Instagram.
What made you decide to launch your own business, specifically an art subscription box?
The idea for Art Within sparked sometime during the pandemic. I wanted to live more in alignment with my passion and values, and everything started falling into place once I decided to take the leap of faith. I have been working on the business behind the scenes for several months. Art Within officially launched in July 2021, with the first round of subscription boxes shipping in August.
After a career in marketing, project management and risk management, I decided to take the leap and pursue my passion as a full time job. I have always dreamt of running my own business, especially one related to my passion for art. Mental health is also a huge priority for me, and I believe creativity and art can have a positive impact on a person's wellbeing. Painting is a way to escape from day to day stress and focus on something positive and productive. "Busy your hands to keep your mind calm." I launched Art Within to encourage creativity and make it convenient for individuals and their families to bring art into their daily lives.
What comes inside each subscription box, and how do you decide on the items and what projects to feature in each month's box?
Each box includes all the materials required to complete the project(s) of the month, simple step-by-step instructions and access to a short video for extra inspiration. The instructions include learning concepts to help you understand the materials and basic techniques. The "Standard" box includes art supplies for up to two artists and "Family" box for up to four artists. All boxes include free shipping and sustainable packaging. Some of the upcoming projects will even include the packaging as an art material to encourage re-use and recycling!
The "Me, Myself, and I" art project is available as an individual purchase outside of your subscription. This box includes art supplies for up to two artists to complete an abstract self-portrait series in mixed media, pen & ink, watercolor and collage. Supplies include watercolor paper, drawing paper, graphite transfer paper, assorted colors of cardstock and construction paper, watercolors, paint. The items and materials featured in each month's box are centered around the specific project. Art Within projects are tailored to anyone ages 8 and up, and no artistic experience is required. I get inspiration from art projects I completed in school, and ideas from fellow artists and teachers. I hope to collaborate with other local artists for special projects in the future.
Do you have another occupation or has operating your new business become a full-time job?
I currently handle all aspects of Art Within and also sell my abstract landscape paintings. My husband, family and friends have been incredibly supportive throughout the journey to launch this business. I'm grateful to them, and I'll need their help packing subscription boxes soon.
How much is a subscription box and how do I purchase one?
"Standard" subscription boxes include materials for up to two artists and start at $36 per month. The "Family" subscription boxes include materials for up to four artists and start at $46 per-month. There are also individual project boxes available (while supplies last) in case someone missed out on a previous month's project box or just wants to give one of the boxes a try without committing to a monthly subscription. You can purchase a subscription for yourself or gift it to a loved one by visiting our website at createartwithin.com and simply select your box size and payment plan at checkout. To celebrate the official launch of Art Within, I will be giving my first 50 art box subscribers a free full-sized sketchbook and 2B pencil with their first month's box!
What makes your box unique compared to other monthly art subscription boxes?
Art Within provides more than just art supplies. Learning concepts and a variety of projects and mediums give you the tools to build a solid foundation. Abstract art projects help you create outside your comfort zone, and the Art Within creative community on social media gives you the opportunity to share your work with likeminded aspiring artists. Our mission is to conveniently bring art into your daily life to build creativity, focus and wellbeing.