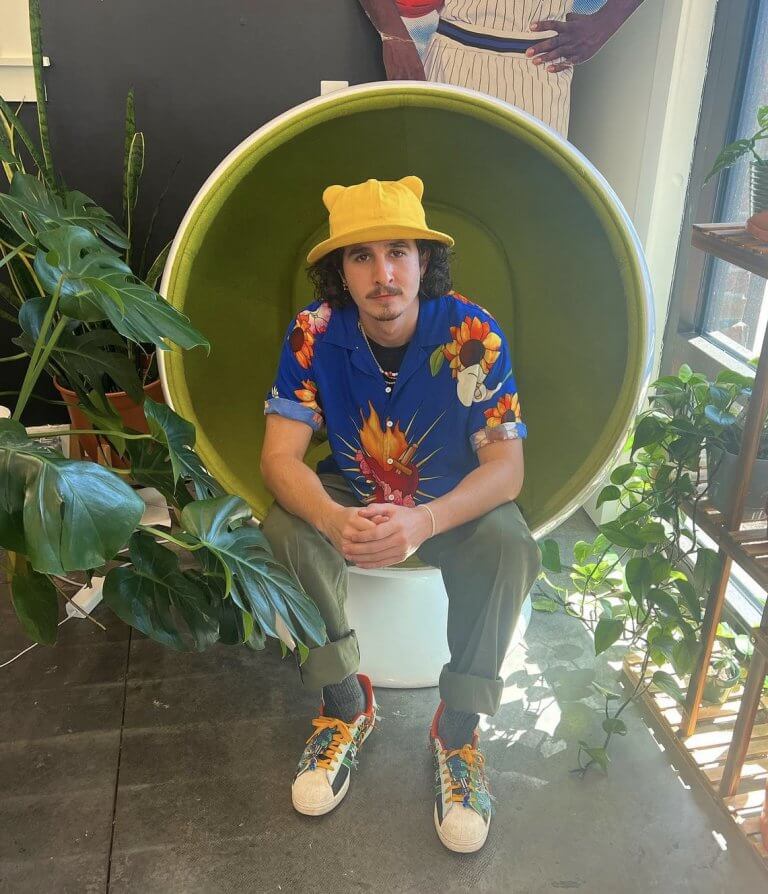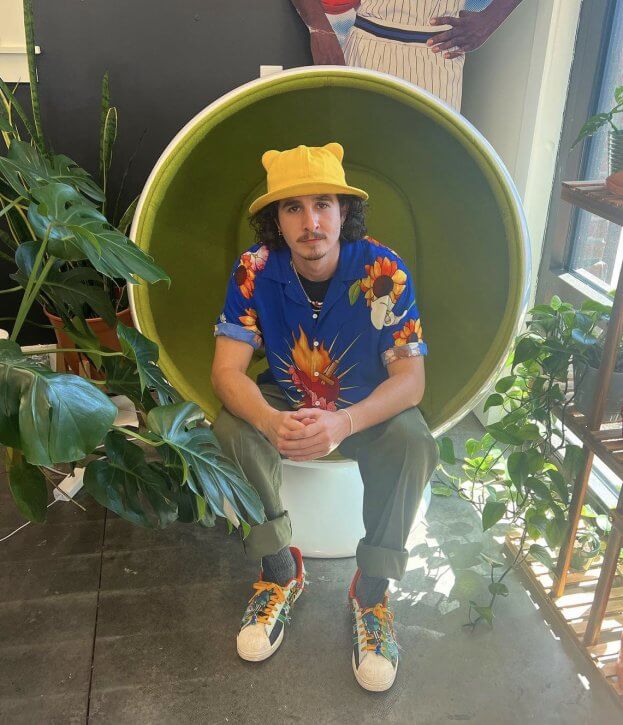 Local creative Parker Thornton brings pop culture characters to life in his painted wood pieces. He combines visual arts and woodworking to create vivid and intricate pieces of art. Whether you're into superheroes, anime or music, Thornton has probably encapsulated one of your favorite characters or symbols in one of his pieces.
Thornton is active in the Pensacola arts scene; you can find him every Saturday at the Palafox Market in downtown Pensacola. If you are interested in commissioning him to create a custom piece, he also takes commission requests through his Instagram page @_sparker.
Let's start with you telling me a little bit about yourself and your professional background.
I was born in Naples, FL. I moved to Pensacola in the late 90s and lived here for a few years as a child. I grew up and spent my teenage years in Tampa Bay where a lot of my influences in music, art and pop culture were solidified. After graduating high school, I moved to Gainesville, FL and studied fine arts at Sante Fe College among other things for three years. In 2016, I moved back to Pensacola to be closer to family.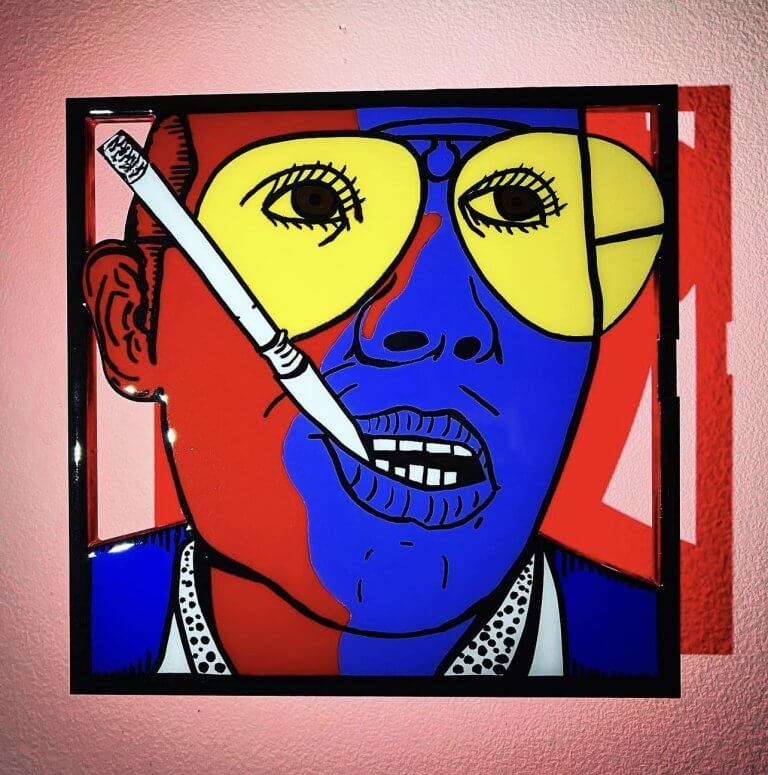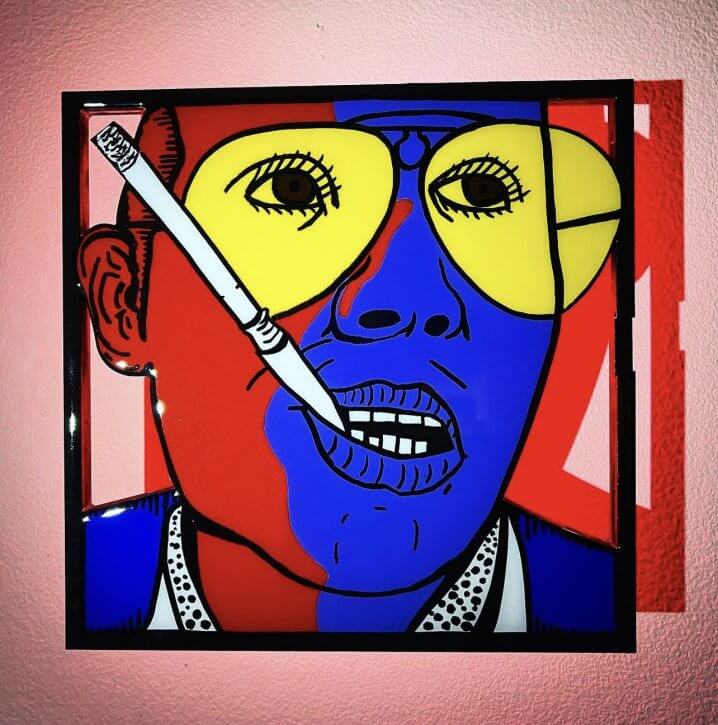 Tell me a little bit about your medium of art and the different types of pieces you create.
The mediums I use most are wood (specifically birch plywood), canvas, acrylic paint and spray paint. My work is a mix of visual arts and woodworking; I like to consider my work wood pop art. My pieces and art style have largely been inspired by pop culture, beginning with comic books specifically. I have always been obsessed with and inspired by Spiderman and other superheroes. Cartoons and comics were a huge part of my childhood. My parents would supply me with many comic books growing up. The many different cartoon shows on television in the 90s and 2000s were an infinite source of inspiration. Another huge influence on my art is music.
I had a wide variety of music played in my household, and I was always inspired by how artistic and musical expression go hand in hand. Most of my pieces reflect the comics, cartoons, music and musicians that had an impact on me growing up.
How long have you been interested in painting? How did you first get into it?
I have been interested in drawing and painting for as long as I can remember. I have been drawing and creating my whole life, but I never took it too seriously. In middle school and high school, most of my friends were very creative, and that helped kindle my interest in drawing through the years. I refined my drawing and my painting while studying at Santa Fe
College in Gainesville, FL. My first influences in drawing were from my older brother; he was always a very creative person and would draw a lot growing up, which inspired me to do the same. My parents were also extremely supportive of me creating and would always supply many materials and the tools to keep me inspired.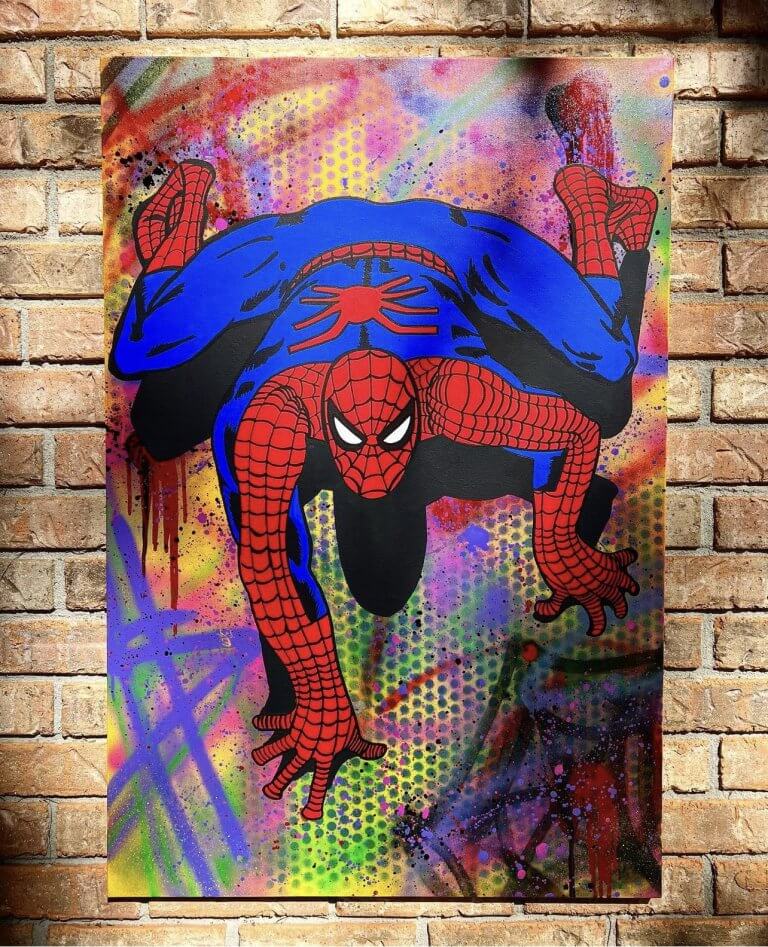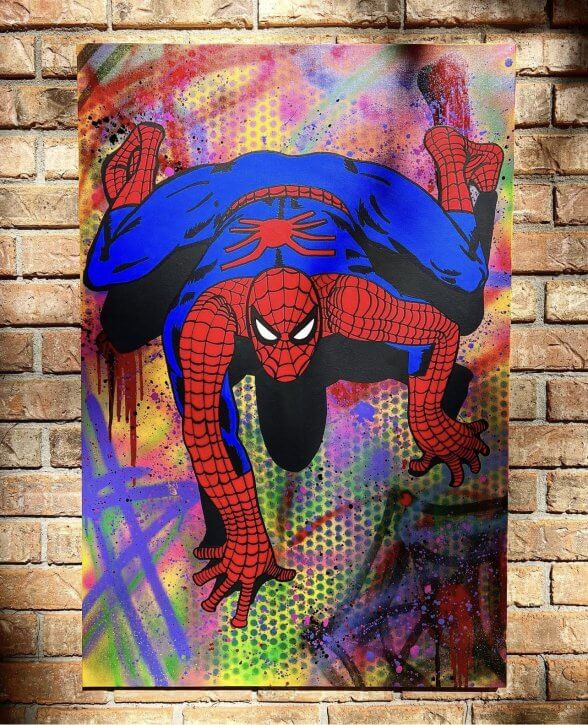 Can you take me through your creative process and describe what all goes into creating one of your pieces?
My creative process for my wood pieces always begins with seeing a form of comic or cartoon imagery that I want to bring to life, mostly combining elements of pop art and contemporary arts. I will begin my process with a rudimentary stencil silhouette shape. I will then input that design into a computer software and proceed to clean up the design into a more finished shape. Then, I cut the plywood using a scroll saw CNC cutting table. With the cut pieces I sand down the tops and edges. I will then sketch and draw the designs of the characters onto the wood. Next, I will paint on the wood pieces with acrylic paints. Finally, I coat the tops of the pieces in an epoxy resin to seal the paints and brighten the colors. The finished cured epoxy gives the pieces a beautiful glossy shine. Lastly, I add hardware to the backs of the pieces so they can hang on the wall. The canvas pieces also begin with a concept sketch, but it allows for a lot more creative freedom. My canvas pieces allow me to explore more imaginative and unusual designs. The ideas will change and flow a lot, so I try not to box myself into one set design. A lot of the time the painting will transform into something completely different, and that's what I love about creating with a blank canvas.
What is your favorite character to showcase in your work? What are some of your most popular pieces or designs?
My favorite character to showcase in my work would definitely be Spiderman, as well as other heroes. I am a comic book fanatic. My most popular items are the wooden character pieces, specifically anime and comic book characters. Anime and superheroes are now more popular than ever, and everyone has their favorite character. The majority of requests I receive are someone's favorite character made into a wooden art piece.