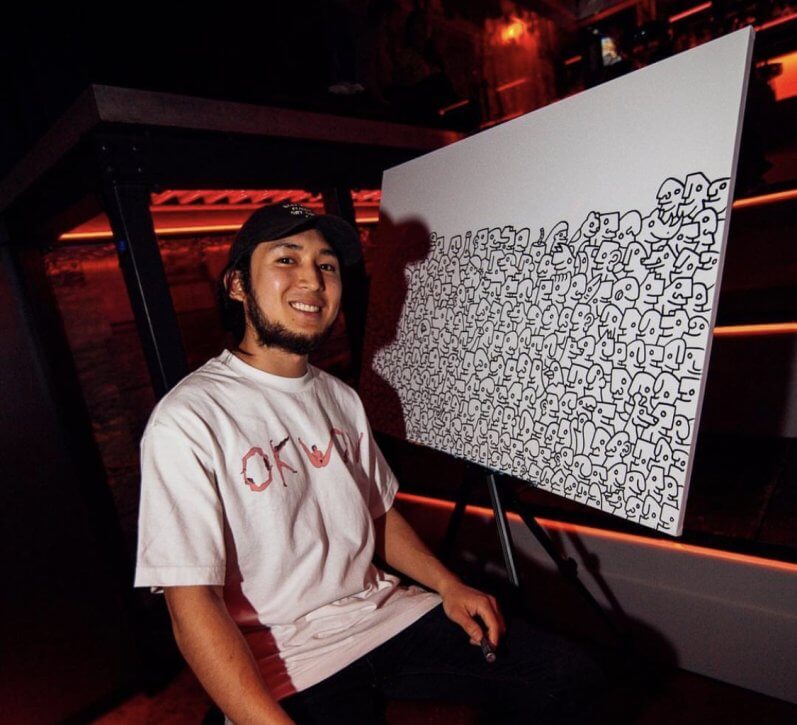 Brian Tan, Visual Artist
Visual artist, Brian Tan, creates quirky and fun mixed media artworks. Tan took his childhood love of art into his studies, and now, into his career. Born and raised in New Jersey, the first-generation Filipino-American studied Fine Art at St. Michael's College in Vermont. Tan then went on to live and work in Brooklyn, New York for five years until COVID-19 shut down the city. After the shutdown, Tan and his partner decided to move down South and join the Pensacola community. Since then, his work has been popping up in local galleries and markets throughout the city. You may have seen some of Tan's work on display at the Easy Going Gallery or Gallery Night in downtown Pensacola. Tan regularly participates in local arts markets throughout the region and is an active member of the local arts community. In the upcoming months, he will be exhibiting in group art shows in New Orleans and for an artist collective based out of NYC called Barangay Bois (@barangaybois). Check out more of Tan's work online at btanart.com, or follow @btanart on Instagram.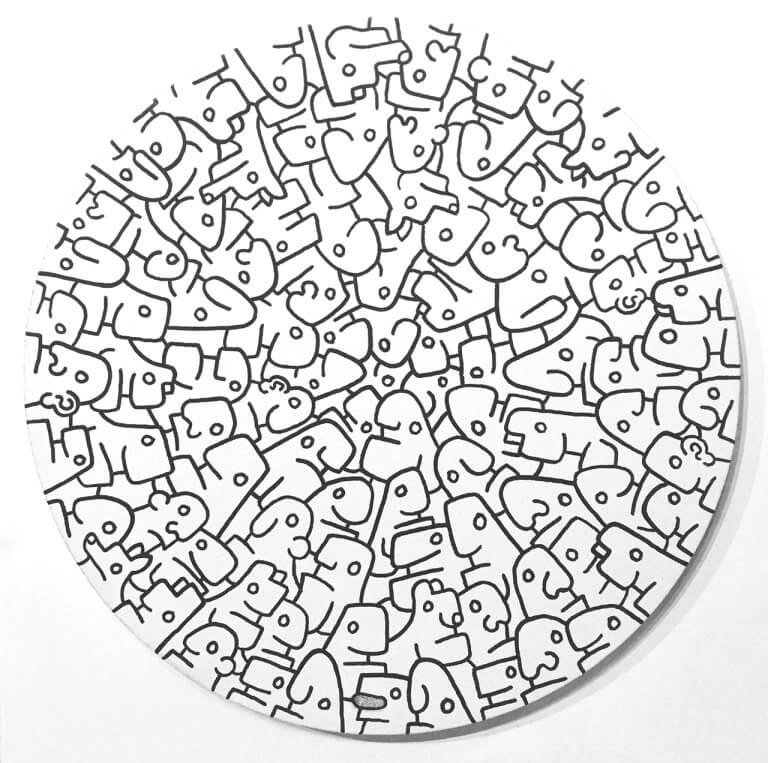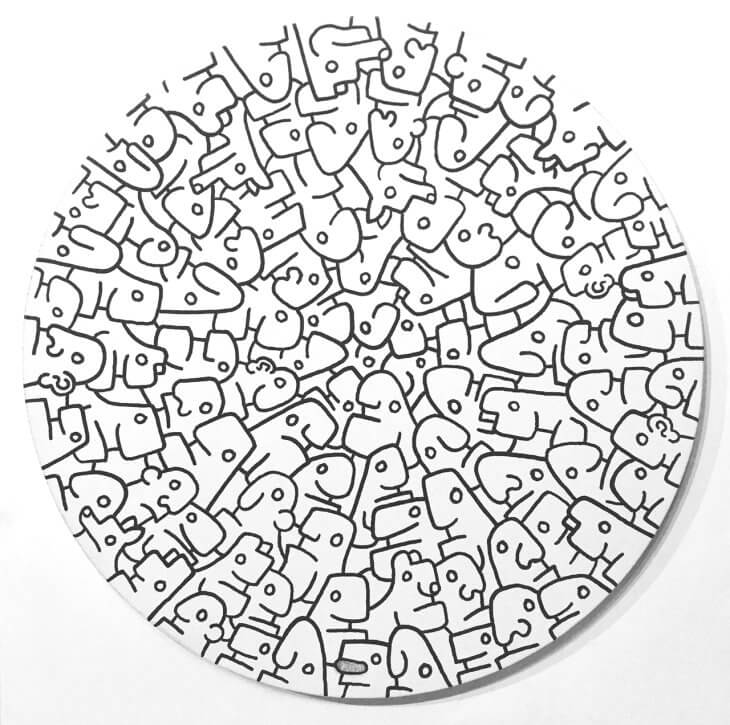 How long have you been creating your art pieces and how did you first get into it?
Was there something that inspired you to start working on these pieces? I have been creating my art for about seven years. I first got into it when I was very young. I was always drawing everywhere that I went and my parents were supportive of my interest in art. I remember in 1st grade I would get into trouble for not paying attention in class because I would always be doodling. I specifically remember how my doodles would make my classmates laugh (especially my 1st grade crush!) and sometimes even my teachers. I believe these early responses to my drawings inspired me and made me realize this is what I want to do. My current work is a result of that same inspiration– getting people to laugh and enjoy my doodles.
What media do you work in and can you tell me a little bit more about your creative process?
I generally create mixed media monochrome drawings using marker, paint, pencil, or charcoal. The style of my work lends itself to being an almost repetitive or pattern-like design, so the first decision in my process must be the size of the piece. Once I decide on the size, I block out the space and size of my "heads" on the surface in pencil. I then begin the work in paint or marker from the bottom up until all empty space has been filled. Additionally, I turn on some music. Music is a very important part of my creative process because it helps get me into a meditative rhythm while I draw.
Tell me about the different pieces you create. What are some of your most popular items, and what's the biggest piece that you have created so far?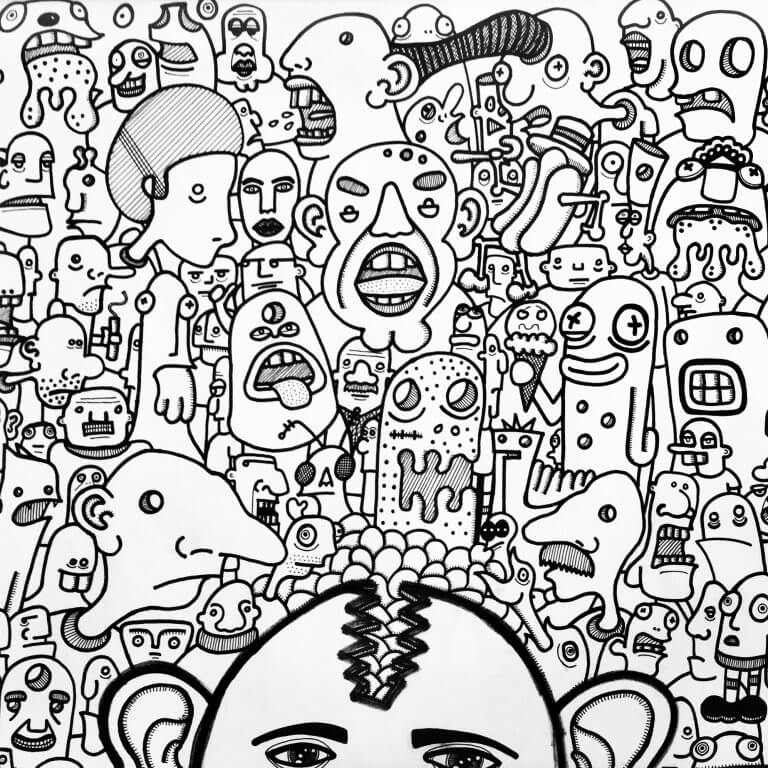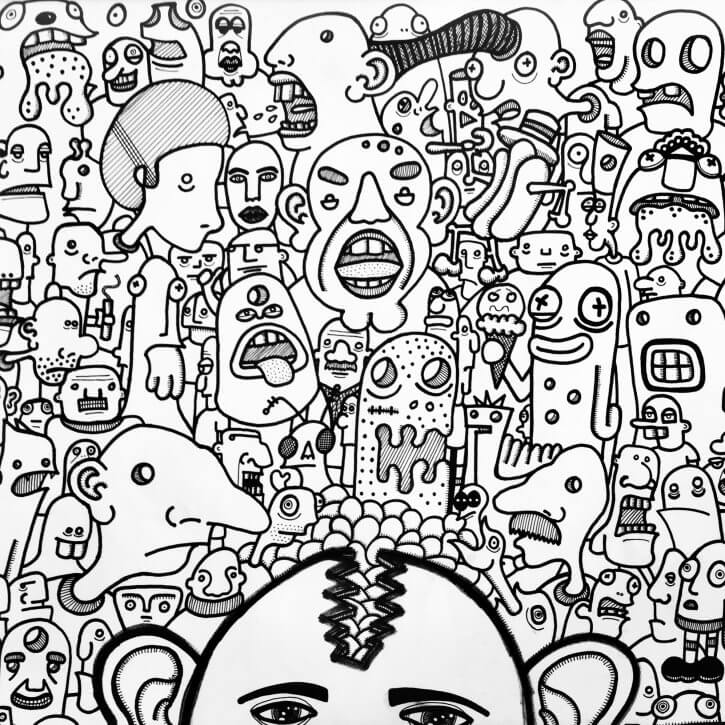 Round canvases in varying sizes are my most popular pieces. While I most commonly create canvas and paper pieces, I'm always willing to draw on any kind of found object. I have had people send me everything from clothes and shoes to mirrors and rollerblades to decorate with my art. I've really enjoyed drawing directly onto clothing but I am working on getting my designs screen printed. I am also into collages. I create collages by incorporating my artwork in with old fashion magazine clippings. I also collaborate with other artists by drawing directly onto their artwork to create something new. The largest pieces that I have created so far are my hand-drawn bathroom murals. The first bathroom I did took me about three days to complete. I am always looking for any opportunity to work on large-scale projects and my dream is to one day cover an entire building.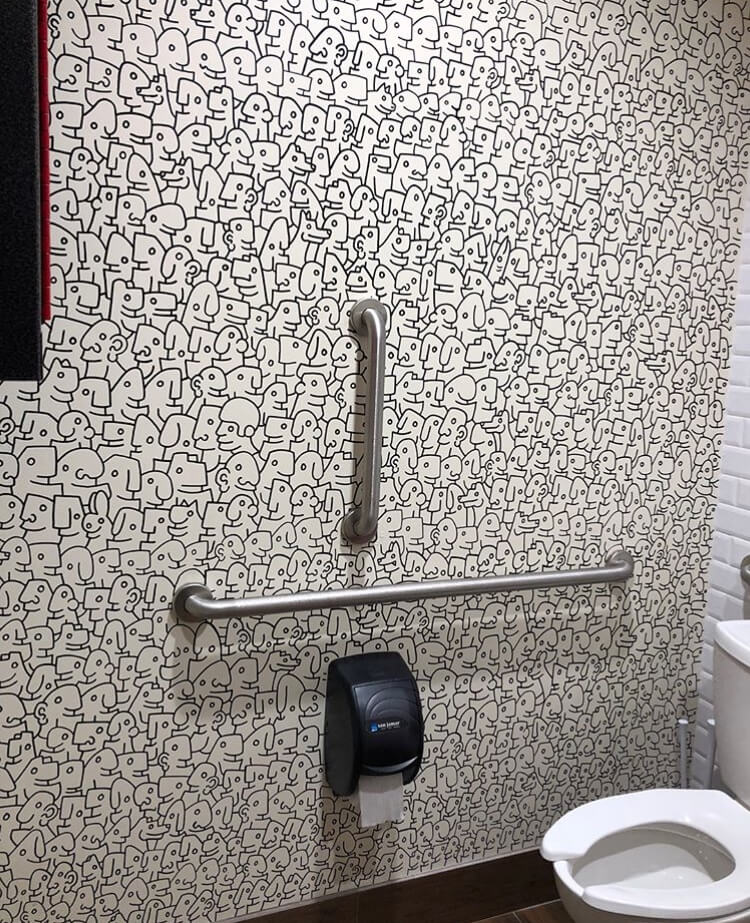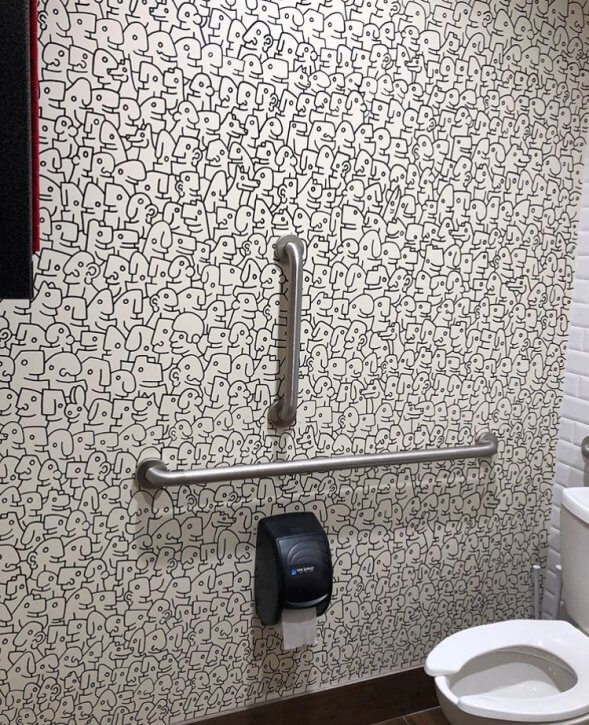 On your Instagram page, I see several different people drawing on your work. Can you tell me more about how you get other people involved with your art and what this process is like?
While living in Brooklyn, I worked with a group that hosted pop-up dinners along with live music around the city. I would create my artwork throughout the evening while guests would watch and recommend to me characters and illustrations to incorporate into the drawing. On multiple occasions, I would hear somebody say, "I really wish I could color in your artwork!" So, one night, I brought a box of crayons and once I completed that night's artwork, I invited attendees to color in the work to finish the piece. I've continued that practice till today and it has become an important part of my shows and market events. I believe by inviting viewers to collaborate with me on my work not only creates a lasting impression, but also memorializes the community and environment that each piece was created in.
What would you tell others about the importance of art in your life and the importance of the growing arts scene in Pensacola?
I'm so appreciative of the people of Pensacola and its burgeoning art scene. I implore everyone, especially young people, to support local and living artists – whether visual artists, musicians or anything else related to the arts. I wholeheartedly believe it is vital for the health of the community to have people supporting local venues, galleries, shows, etc., and growing the culture for future generations. Art has the power to create the change we wish to see in the world, to expand the mind, and to create opportunities for people to challenge themselves and their surroundings for the betterment of our world. Thank you to anyone who has supported my work and I'm excited to witness the evolution of Pensacola as a destination for the arts.