By Gina Castro
As the threat of COVID-19 moved closer and closer to the Pensacola community, we at Downtown Crowd remembered the comforting words of our friendly neighbor Mister Rogers: "When I was a boy, and I would hear about something scary … my mother said, 'Always look for the helpers. You'll always find somebody who's trying to help.' To this day, especially in times of disaster, I remember my mother's words and I am always comforted by realizing that there are still so many helpers — so many caring people around this world." So, we did as Mister Rogers advised us to do– we looked for the helpers. And Pensacola, you made that job easy for us. There is such a surplus of kind-hearted individuals, families, businesses and nonprofits in this community that we're convinced Pensacola can survive anything thrown its way. We aren't sure how long COVID-19 will affect the health and wallets of our community, but we do know you can always rely on this neighborhood. So, here's a collection of our helpers doing what they can during this difficult time.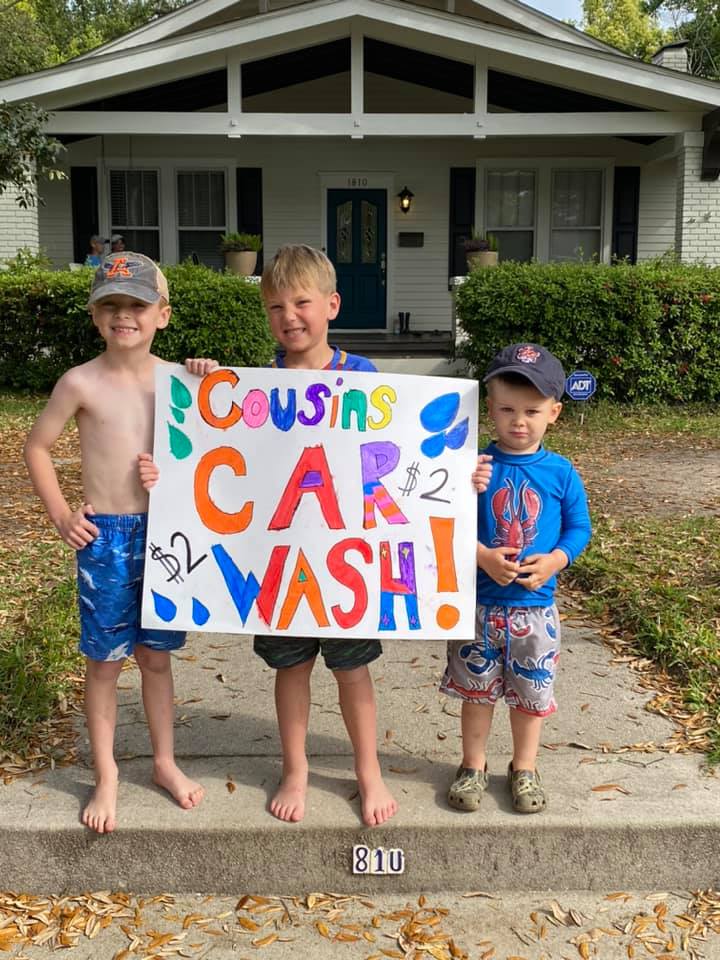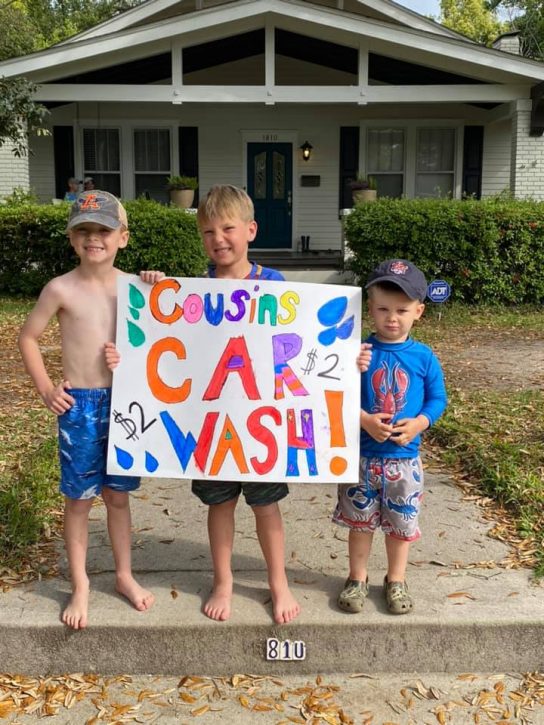 Cousin Carwash: 'Stay Where You Are While We Wash Your Car'
Sisters Creagh Proctor Ekelund and Catherine Proctor Jehle were looking for something to entertain their four boys, aside from a television screen, while also helping the Pensacola community. "This was a combination of wanting to give the kids something to look forward to and taking this opportunity to do something good with the time we have sitting around all day," Ekelund said. So, the cousins Brody Ekelund, 6, Gannon Davis, 12, Patrick Jehle, 7, and Chapman Jehle, 3, formed the Cousin Carwash. Together the boys washed cars in their driveway and collected donations, which they later donated to local organizations. Jehle explained that the boys followed social distancing guidelines by having the people stay in their vehicles as they washed the cars. "The boys got really into it," Jehle said. "Their motto was 'Stay where you are while we wash your car.'" The first organization the Cousin Carwash donated to was the Pensacola Humane Society. They raised more than $140. "Our initial idea was to raise money to give to the Pensacola Mask Sewers, but we started talking about animals and how many animals have been abandoned because their owners can't afford to pay for them," Ekelund said. "So, the four of them unanimously decided that they wanted to donate to the Pensacola Humane Society." The Cousin Carwash will be fundraising for a different local organization each week until the shutdown is over. If you would like to get your car washed or donate to the Cousin Carwash, message Ekelund on Facebook.
Emerald Republic Brewing Gives Water to Those in Need
Although the Emerald Republic Brewing Company has been a part of the Pensacola community for less than a year, it is helping the area in a big way. When bars were ordered to shut down on March 17, Emerald Republic immediately started thinking of ways it could help the community in its time of need. "We're the only brewery that uses a reverse osmosis system in the brewing process. The water coming from the city has calcium, magnesium, sodium, chloride and a lot of different chemicals," Emerald Republic owner Phil Zayas explained. "Not everyone can use that water. People with medical devices require water that's as pure as possible for some of their machinery. If it's anything like the toilet paper situation or hurricane season, water disappears fast, so we're using our system for people who need water." The brewey's reverse osmosis system produces about 1,000 gallons of chemically pure water a day. All that the brewery asks in return is for a $1 donation for every five gallons of water to help them maintain the reverse osmosis system's maintenance costs. The brewery set a limit of 10 gallons of water per person per day. Zayas said that they have about 10 to 15 people coming to the brewery in need of water each day. They have given hundreds of gallons of water to the community. "If you go to the store, they're charging $4 a gallon, and we're giving five gallons for a dollar," Zayas said. "As money gets tighter for people, they're going to need all the help they can get." Emerald Republic will be giving free water for as long as the shutdown persists. Emerald Republic is open from 4 to 10 pm Monday through Thursday, noon until midnight Friday through Saturday and noon until 10 pm every Sunday.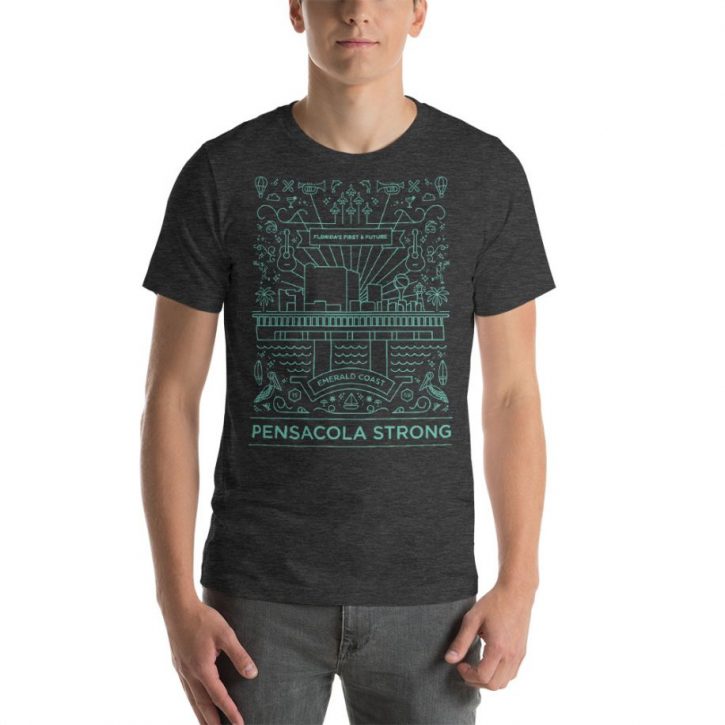 HatchMark Studio Raise Money for Manna Food Bank
HatchMark Studio, a design studio in Pensacola, had considered starting an ongoing project that gave back to the community several times. "We thought this was a perfect opportunity to launch that and see what the response would be," the Founder and Creative Director of HatchMark Studio Veronique Zayas said. "So, we took the time to create some pieces and set up an online store to make everything on demand." So, they launched the Art for the Upside project. They will be donating 100 percent of the profits from this project to fund different local organizations in need– starting with the Manna Food Bank. "It's not going to just be for Manna, but they are definitely the group that has the most need right now, so we're going to keep doing this one for now," Zayas explained. For 37 years, Manna has provided food for vulnerable children, seniors and families in Escambia and Santa Rosa counties. Since the pandemic, the community's need for Manna's support continues to increase. As of April 15, HatchMark has been able to donate 407 meals to Manna. "It's been really great," Zayas said. "We'd love to hit over a thousand if we can or even more." The Art for the Upside store features a single design with aspects of Pensacola along with the phrase "Pensacola Strong," which has become a popular hashtag on social media since the NAS shooting. HatchMark is selling T-shirts, which come in a variety of colors and sizes, mugs, pillows, tote bags and posters with the same inspiring design. "Even if people aren't able to donate or make a purchase, they can share the information about the project. The more people see it, the more money we can raise," Zayas said. Visit hatchmarkstudio.com/art-for-the-upside/ to make a donation.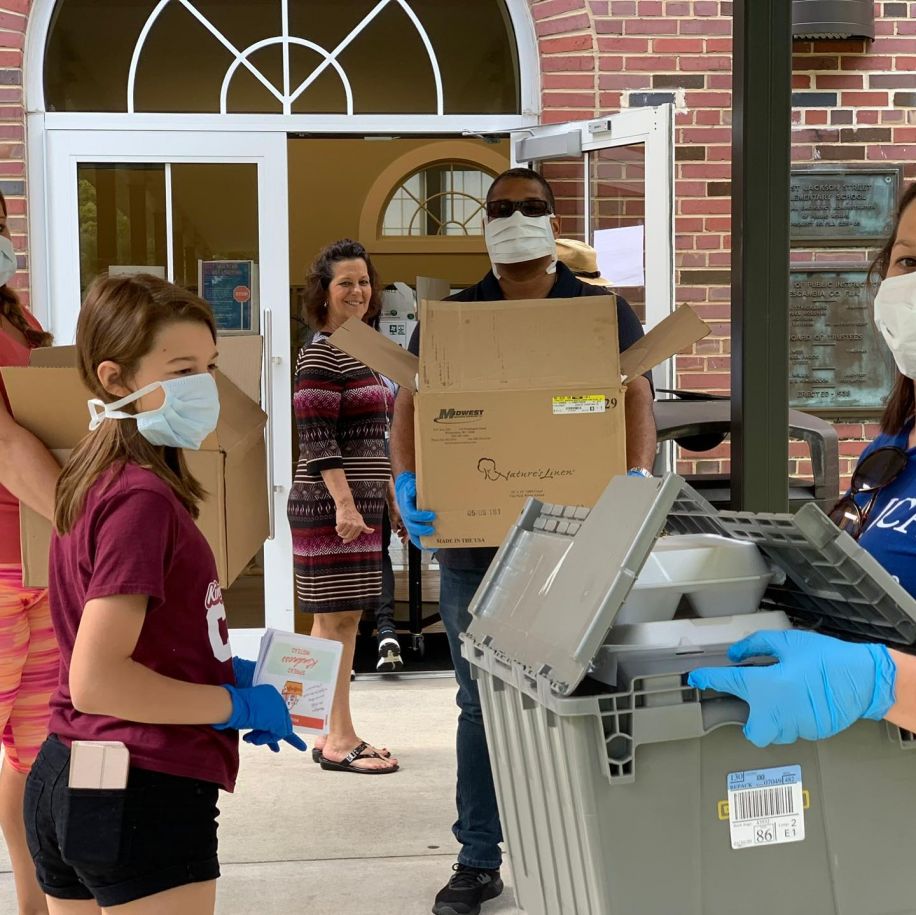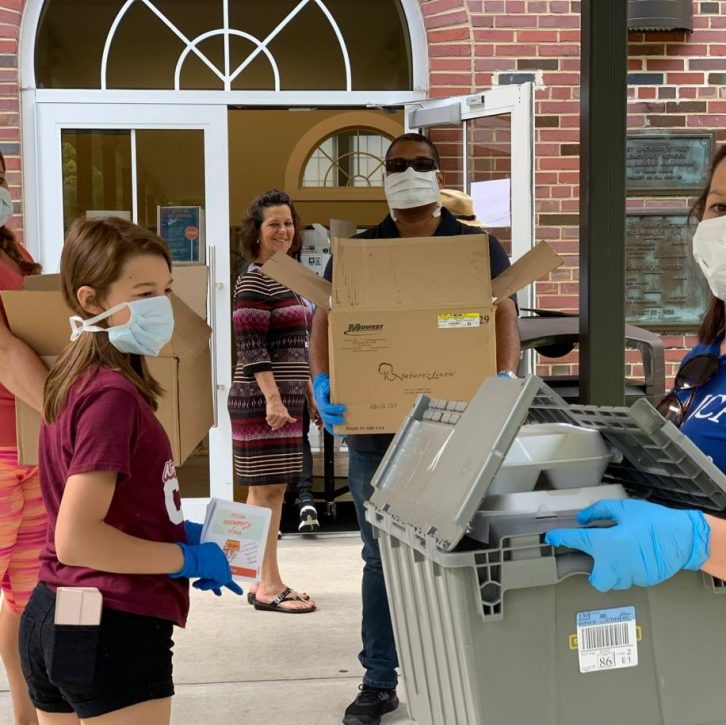 Jubilee Church Unites with Local Nonprofits to Donate 10,000 Pounds of Food
On April 4, Jubilee Church partnered with Pensacola Caring Hearts to distribute 10,000 pounds of food, 1,040 rolls of toilet paper and 1,450 cases of water to the Pensacola community. "We were extremely thankful for the people we were able to help on Saturday, but there were a lot of people we were not able to help," Jubilee Church Pastor Tim Fox said. While Jubilee Church put the food drive together, Pensacola Caring Hearts collected the food from Feeding the Gulf Coast. The rolls of toilet paper were donated to the church by an anonymous donor. Fox explained that this food drive is part of the church's two-prong strategy. "The first part of our strategy is all about helping those that are in most need," Fox explained. "The second part is for the folks who may not want to sit outside for a banana box worth of food and water; however, they still would like to be blessed." During the month of April, Jubilee Church made 250 lunches, which they distributed across the city to locations such as Council on Aging, the Alpha Center and Northwest Florida Health Care. "We feel that if the church is able to step in and meet the needs not only physically but spiritually, what a time to be stepping up," Fox said.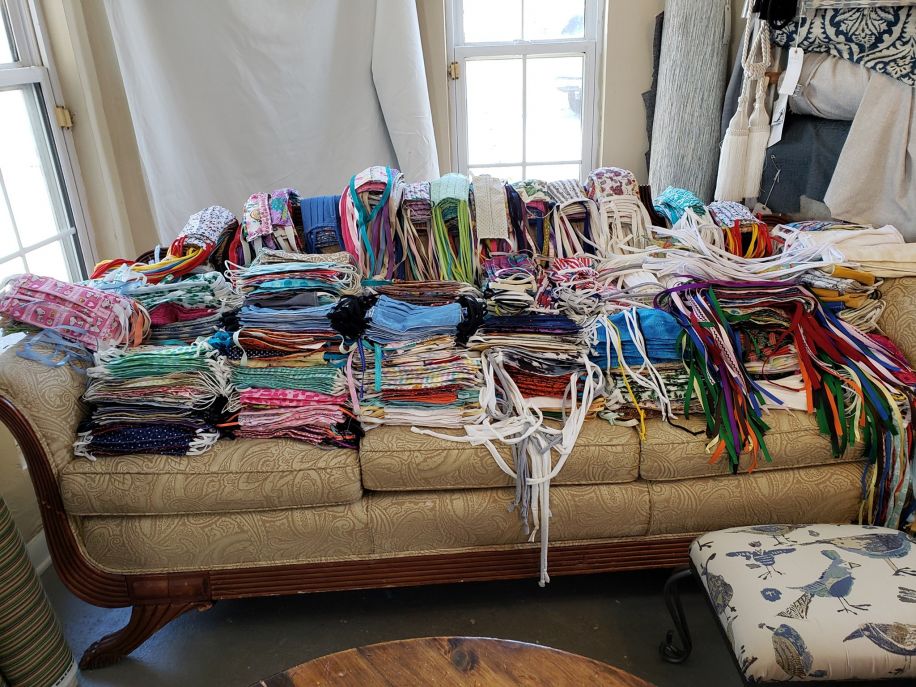 Pensacola Mask Sewers Make 20,000 Masks and Counting
Although this Facebook group is rapidly growing, it started with a single member. Jess Patton saw a clip on the news of a person asking for viewers to sew face masks to help replenish health care facilities' shortages of masks. "They gave a link to instructions on how to sew the masks, and it was really easy," Patton recalled. "So, I went to the sewing machine and I made one, and I realized I'm sure there are other people who have a sewing machine and some free time and could make masks." On March 21, Patton created the Pensacola Mask Sewers Facebook group, and almost instantaneously, she was receiving requests for masks from healthcare agencies and nurses. Each day since, Patton received 300 plus requests from users wanting to be a part of the group. Within the first week, the sewers in the group used up all of their own fabric to make masks, so Patton reached out to Fabric Zoo owner Jenna Pitts. "She allowed people to call the Fabrics Zoo and say 'Hey, I want to donate $100 to the mask group,' and then she would donate a hundred $100 worth of materials to us at cost." But within another week or so, the sewers used up all the fabric they could use to make masks and surgical gowns from the Fabric Zoo. "So, we started accepting donations, and we raised $4,000 within three days to buy fabric." As of April 24, the mask sewers have donated 20,000 masks to health care workers and other essential service workers and another 225 surgical gowns to local hospitals and facilities throughout Escambia and Santa Rosa counties. "We have 42 volunteer coordinators and team leaders working together in harmony everyday to lead this effort, which does not include every single woman and man who is sewing tirelessly day in and day out, going on five weeks now," Patton said. Patton recently started another initiative that benefits local businesses and mask sewers. Patton will be partnering with businesses to give citizens masks in exchange for a $6 donation. One dollar from that donation will go toward the business, $2 will go to supplies for the sewers, and $3 will go into a fund to give a mask sewer a $100 grocery gift card. Patton said that members of the group will nominate the gift card recipient. Search Pensacola Mask Sewers on Facebook to become a member, donate or request for masks.
Innisfree Hotels Donates 6,300 Rooms to Florida Healthcare Workers
Innisfree Hotels is making rooms available without charge to doctors, nurses, EMTs, paramedics and other frontline medical staff who need a place to sleep, recharge or isolate from their families through the end of May. Innisfree Hotels is Northwest Florida's largest owner of beachfront hotels. They will have rooms available at several locations including Hilton Pensacola Beach, Hampton Inn Pensacola Beach, Hilton Garden Inn Orange Beach, Hampton Inn & Suites Orange Beach, Hilton Garden Inn Fort Walton Beach, Hampton Inn & Suites Panama City Beach and Embassy Suites Sarasota. This initiative is part of Innisfree's partnership with Hilton and American Express's commitment to donate up to 1 million hotel room nights across the United States. "In the spirit of hospitality, Innisfree is opening our doors to medical workers and first responders who are courageously and selflessly serving on the frontlines of the gulf coast," said Ted Ent, President and CEO, Innisfree Hotels. "The concept of helping those who help us has long been ingrained in our company culture, so the decision to join Hilton in providing relief for thousands of medical staff enduring long hours under challenging circumstances was an easy one." Innisfree is communicating with local organizations who represent healthcare workers in Pensacola, Gulf Shores and Orange Beach, Fort Walton Beach, Panama City Beach and Sarasota spread word about the program. Innisfree team members received training on relevant health and safety measures to safeguard their own and their guests' well-being. All common areas at each property will continue to be sanitized using industrial-grade cleaners and updated cleaning protocols. "It is an honor to offer the healthcare heroes in several of our communities a place to rest and recharge during this time," Ent said. "Our goal is to support individuals who would otherwise have to spend their own money on accommodations as a show of both thanks and compassion." For more information on this program, visit hilton.com/en/corporate/coronavirus/.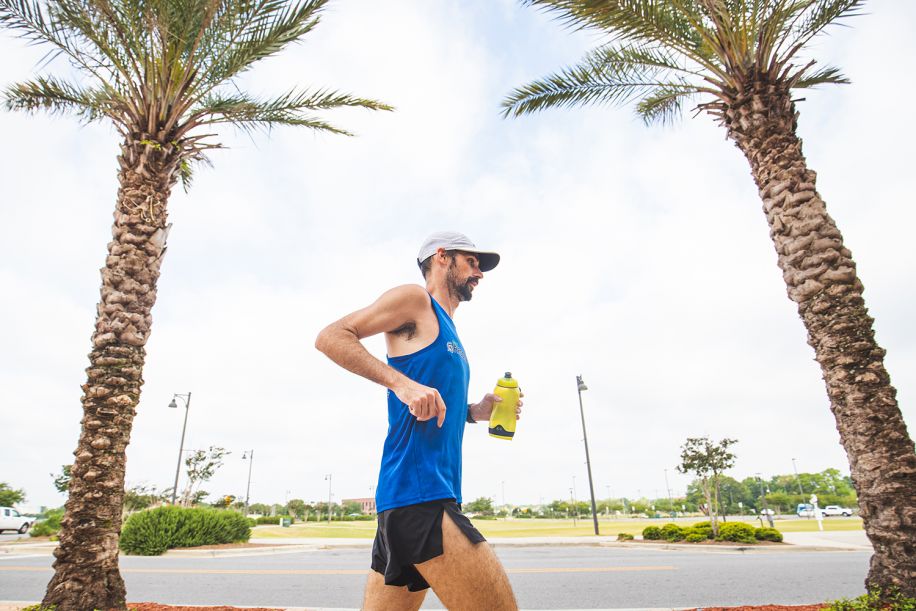 UWF Coach Runs Seven Marathons in Seven Days as Fundraiser to Help Feed the Community
Since the spread of COVID-19, many people in the area are facing financial hardships. Food pantries such as Feeding the Gulf Coast are seeing an increase and people's need for food. Feeding the Gulf Coast reported a 500 percent increase in food assistance. Many students employed at the University of West Florida have had to utilize the Argo Pantry since the campus has shut down. UWF cross country coach Caleb Carmichael was looking for ways to help the community during this challenging time when he heard about a runner from Palm Beach, Florida, who ran 100 miles in a single day to raise money for COVID-19 relief funds. So, Carmichael decided to challenge himself for the benefit of the community. At 5 am April 6, Carmichael ran his first of seven marathons, which is about 27 miles, in three and a half hours. From April 6 to April 12, Carmichael ran a total of 186.2 miles, which is a first for him. "As a community we're going to have a lot of people lose jobs and not be able to feed their kids and we need to do something about it," Carmichael said. "It needed to be something crazy enough for people to take notice. Doing seven in a row is a monumental task." As of April 23, he has raised $4,779. 59. Feeding the Gulf Coast's website explains that for every $25.00 raised, it can provide 125 meals to individuals and families in need. So, the seven marathons Carmichael ran raised approximately 23,897 meals! To make a donation, visit app.mobilecause.com/vf/Marathons4Meals.
Community Officials Work Together to Make Easter Special for Children
On April 11, community leaders and local celebrities distributed 2,000 Easter goody bags to local children as part of the Grab-N-Go Easter Celebration. District 3 Commissioner Lumon May, retired NFL guard Josh Sitton, retired professional boxer Roy Jones Jr. and retired NFL defensive tackle Fred Robbins gave children free boxed lunch, fresh vegetables and fruit at Legion Field from 10 am to noon. "The last few weeks have been a difficult time for all of us as we adjust to the new normal of limiting gatherings and social distancing amid COVID-19," Commissioner May said. "We wanted to give kids and families a sense of normalcy and provide a fun way to get out of the house and still celebrate the holiday." Mayor Grover Robinson and the Pensacola Police Department were also supporting the event by providing resources from PPD for traffic control and distribution assistance. The Easter Grab-N-Go event was sponsored by the Sitton family, Troy and Ashley Rafferty of the Levin Papantonio Law Firm, Cindi Bonner, Dave Sharruf and Sandy Veillet from the Farm.
Gulf Winds Commits $100,000 to Combat COVID-19
Gulf Winds has committed $100,000 through the Gulf Winds Cares Program to combat COVID-19 and its many effects on our society. "There are countless people in our community being directly or indirectly impacted by the pandemic," Gulf Winds' CEO/President, Chris Rutledge said. "We are fully committed to helping our members and team through this event, but we also want to do our part to support the broader community." Gulf Winds is also donating to health care facilities. The credit union donated $65,000 to Ascension Sacred Heart Hospital in Pensacola to help the hospital purchase personal protection equipment. Gulf Winds explained that this donation is equivalent to the cost of one month's worth of PPE under normal circumstances at Ascension Sacred Heart Hospital. "During this difficult time, we are grateful to have companies like Gulf Winds who are willing to use their resources to fund support of Personal Protection Equipment," Carol Carlan, President of Ascension Sacred Heart Foundation said. "Their gift will help hundreds of employees and patients who are impacted during this time of greatest need." Gulf Winds donated another $15,000 worth of protective equipment to first responders, including gloves, cleaning products and 84 gallons of hand sanitizer. The remaining $20,000 is committed to partners in Alabama and Tallahassee, Florida. The specifics of these partnerships are still being finalized and will be updated at GoGulfWinds.com/COVID19.
United Way of West Florida Distributes $246,266 in Phase One of COVID-19 Response Funding
United Way of West Florida (UWWF) is helping the community during the pandemic by distributing $246,266 to nonprofit agencies providing direct support to impacted individuals and families in Escambia and Santa Rosa counties. This donation is phase one of UWWF's COVID-19 Response Fund, which will aid ALICE (Asset Limited, Income Constrained, Employed) households that have been economically impacted by the pandemic with expenses such as rent, mortgage, utilities and childcare. "The ALICE population has been significantly affected by this pandemic," said President and CEO, Laura Gilliam. "These are hardworking individuals, but one missed paycheck can lead to financial crisis, which is where many of them are now." The $246,266 is roughly 70 percent of the response fund, and it is being disbursed via an expedited grant process to current UWWF Certified Partner Agencies. Some of the nonprofits that will be receiving funding are Big Brothers Big Sisters of Northwest Florida, Community Health Northwest Florida and Manna Food Pantries. Businesses are also contributing to UWWF's relief fund. The Gulf Power Foundation donated $250,000 to the fund and Florida Blue donated $30,000. The fund also received $11,000 from 66 individual donations. "The outpouring of support from our community has been inspiring," said UWWF Board Chair, Jack Lowrey. "We've had significant corporate contributions, individual gifts, and some folks have donated their Economic Impact Payments to us," he added. "No matter the size, they all make a difference in our ability to respond to this unprecedented time as a community." To make a donation to United Way of West Florida's COVID-19 Response Fund, text 850Respond to 41444 or visit www.uwwf.org/covid19fund. Businesses considering a corporate contribution are encouraged to contact Director of Development, Bart Hudson, at [email protected].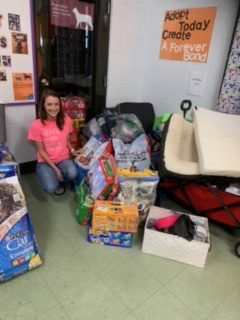 Pensacola Humane Society Pet Pantry Offers Assistance for those in Need
Although the Pensacola Humane Society is temporarily closed for adoptions, the Pet Pantry, which provides dog and cat food for pet owners in need of temporary assistance, is still operating. The Pet Pantry is open seven days a week from 10 am to 3 pm. "We are the only organization that offers these times. The other two are only one day a month," Jennifer Bitner, Executive Director of PHS said. "I do not feel that we are ever taken advantage of. I truly feel we are providing a needed service to our community." The Pet Pantry provides dog and cat food, litter and treats at no cost to pet owners who come to the shelter and present an acceptable form of identification, such as a driver's license.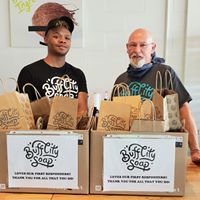 Buff City Soap Delivers Care Packages to Health Care Facilities
Buff City Soap is a handcrafted soaps and bath products franchise that recently opened in Gulf Breeze. The Buff City Soap corporate office had all of its stores post on social media about its $5,000 giveaway to healthcare workers. The giveaway asked followers to tag an inspiring healthcare worker they know to enter the worker into a chance to win a $50 gift card. The company then gave 100 gift cards to the workers who were randomly selected. After participating in the giveaway, co-owner of Buff City in Gulf Breeze, Jennifer Nolan said that she and her husband, who she co owns with, wanted to do more. So, their store started making and delivering care packages to nearby health care facilities. "We've definitely delivered more than 100," Nolan said. "We've taken them to the Gulf Breeze Baptist, Navarre Urgent Care, Aspen Dental, Twelve Oaks Recovery, and the Gulf breeze Fire Department. It's an ongoing process. We try to find a different clinic or hospital to give to each week." To learn more about Buff City, visit its Facebook page @BuffCityTigerPoint.