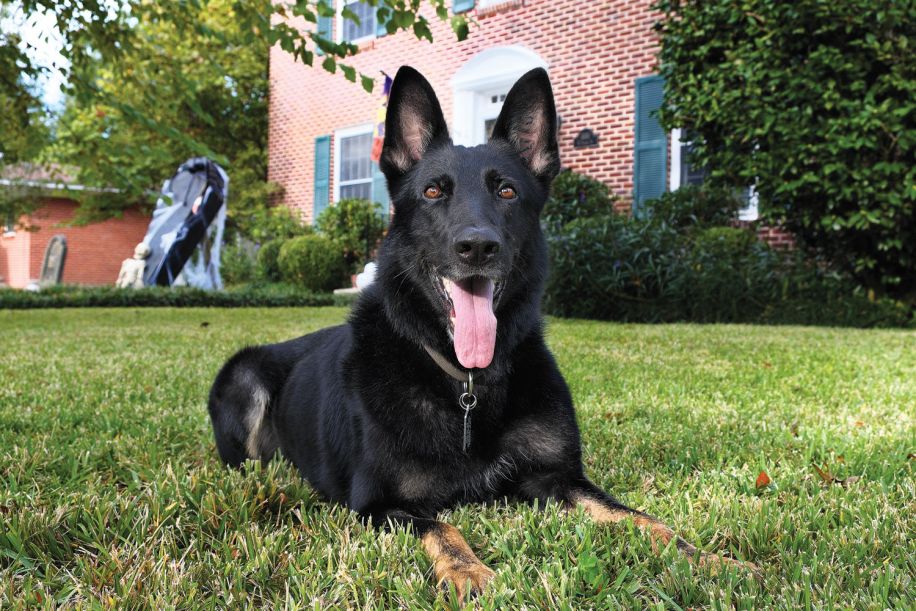 To meet Cleo is to love Cleo. This retired Military Working Dog (MWD) will steal your heart. A playful, highly intelligent and extremely friendly German Shepherd, Cleo was recently adopted by Bridget and Steve Fluegge when a back issue caused Cleo to be medically discharged from the Air Force. Bridget and Steve have always loved German Shepherds and they had been considering adopting a retired police dog for some time when a friend mentioned a German Shepherd who was coming out of the Air Force on a medical discharge.
"He had some back issues and was not able to fulfill what they call mission requirements," says Steve. The two were very intrigued by the idea and after talking to the kennel master at Hurlburt Field, they set up a meet and greet with Cleo.  "We drove down to Hurlburt on a Friday. Bridget was worried about whether or not the dog would like us, but Cleo immediately jumped into Bridget's arms. After a couple of minutes of loving on Bridget, he came over and jumped into my arms and that pretty well made the decision up for us in terms of whether or not we wanted to adopt him," recalls Steve.
Fast forward two months and the couple says that Cleo has been a dream. Cleo went through rigorous training, so he is house trained and well behaved. As a working dog, Cleo wasn't really used to having his own toy. When he arrived at the Fluegge's, they gave him a red rubber toy and he has barely put it down since. "He slept with that toy in his mouth the first couple of days he had it," says Steve.
Cleo does need to stay active and "working" or he gets a bit restless, so they continue to work with Cleo using the commands his military trainers used. "He served four years active duty—two years with Air Commandos out of Hurlburt and two years with the Secret Service. Then he came back to Hurlburt where they discovered his medical problems and was given a medical discharge. His service records are classified due to his time with the Secret Service," says Steve. "I don't think that we rescued him so much as we are his caregivers. We feel honored to take care of him." And so they should. Cleo is a hero and a truly special soul. While Cleo's records are classified, MWDs usually receive training in patrol, drug and explosive detection, and specialized mission functions. It is likely that Cleo has flown in helicopters and even parachuted out of one!
Interested in adopting a Military Working Dog? Military Working Dogs typically serve 10 to 12 years working for the Department of Defense. Before 2000, when it came time to retire, many of the dogs were euthanized, but in 2000 "Robby's Law" was passed. This law allowed retired military dogs to be adopted out. Now hundreds of dogs are adopted out each year.  While the Fluegge's were fortunate to adopt Cleo locally, most MWD adoptions occur out of Lackland Air Force Base in San Antonio.
The most recent handler has first dibs when it is time for a dog to be put up for adoption. Next, law enforcement has the option to adopt a dog and after that the option goes to civilians. Civilian applicants are carefully screened to make certain the dog is placed in the right kind of home.
There are several categories of dogs available for adoption: (1) dogs that served in the field, (2) dogs used for training new handlers, and (3) younger dogs that have failed to meet training criteria and may have little to no training. The dogs are usually German Shepherds or Belgian Malinois as well as quite a few Labrador Retrievers or other sporting dog breeds. The dogs range in age from one to 13 years and include both males and females. Older dogs may have medical issues (like hip and back problems) that prevent them from continuing their work for the Department of Defense, but make them ideal companions.
The wait to adopt a military working dog can take up to 18 months, so plan ahead and be patient. Lackland typically has 300 applications on file and only a handful of dogs available at any given time. They do not place the dogs on a first-come, first-served basis. Rather, they do their best to match each dog's temperament and needs to that of the adoption applicant's desires and abilities.
Adopting a dog through Lackland is free; however, you will have to cover all transportation costs to and from Joint Base San Antonio-Lackland as well as all costs the dog incurs after adoption. However, there a number of charitable groups that cover the cost of veterinary care when the dog is medically discharged.
For more information on adopting a MWD through Lackland Air Force Base, visit www.37trw.af.mil/units/37traininggroup/341sttrainingsquadron.