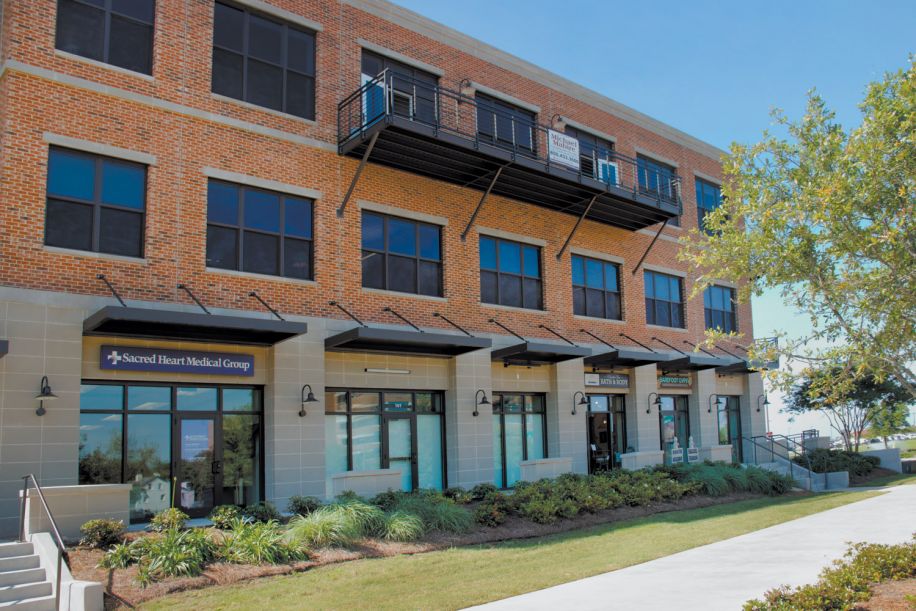 There's a new heart in downtown Pensacola: a Sacred Heart, that is. The Sacred Heart Medical Group opened the doors of its new family and sports medicine clinic last month at the corner of Spring and Main streets, near the entrance to Blue Wahoos Stadium and Maritime Park.
The grand opening of the Sacred Heart Family and Sports Medicine Clinic took place on April 1 when a crowd of 100 gathered inside the 3,000 square-foot facility to witness the rise of the first Sacred Heart branch to be built in downtown Pensacola. After serving the area for over 100 years, this is Sacred Heart's first clinic branch in downtown.
Before opening officially on April 4, the downtown family and sports medicine clinic was in construction for roughly a year. Sacred Heart Medical Group met with Beck Properties in January of 2015 to determine what would be the best spot to build the clinic.
Following the explosive economic growth and developmental expansion in our metropolitan downtown, Sacred Heart Medical Group saw a bigger focus on heath care as a natural response to the growing population and development of more apartment complexes and condos.
In addition to serving as a family medicine clinic, which within convenient walking distance for the many residents of downtown, the clinic is also equipped to treat some sports injuries. For this reason, beyond the walls of the waiting room you'll find six patient rooms decorated with athletic memorabilia from seven athletes hailing from the Pensacola area.
Each of the six patient rooms contain souvenirs from seven famous Pensacola of various athletic fields:  Doug Baldwin, Jr. (NFL wide receiver), Derrick Brooks (NFL linebacker), Justin Gatlin (Olympic sprinter), Fred Robbins (NFL defensive tackle), Buck Showalter (manager of Baltimore Orioles), and Michelle Snow (WNBA center).
Each athlete donated at least ten items of athletic memorabilia, including autographed footballs, basketballs, helmets, and jerseys. In fact, Fred Robbins donated a game helmet he had worn through four New York Giants games, while Derrick Brooks gave the new clinic five jerseys autographed by the entire team of the Tampa Bay Buccaneers.
"Patients ask if they get to choose the room they see their doctor in," said Justin Labrato, vice president/COO of Sacred Heart Medical Group. "The answer is yes! That is the charm and uniqueness of this clinic. Depending on what high school you went to in Pensacola, or what sports team you might follow, you'll be able to pick the room. If I went to Woodham High, for instance, I'll want to check out the Justin Gatlin room because he went there and I can relate to him because of it."