Abigail Spencer, star of such television hits as Timeless and Rectify and movies like This Is Where I Leave You and Oz the Great and Powerful, is a native of Gulf Breeze who has made it big time. With an infectious smile and a buoyancy that can only come from spending one's formative years on the best beaches in the world, Spencer is an instant charmer, moving effortlessly from drama to comedy, from talking about her upbringing to discussing her ambitious future. Her father, Yancy Spencer III, was a well-known surfer who instilled in his value of hard work, commitment, and staying true to your roots. We in Northwest Florida should be proud that she has taken those values to Hollywood and is lighting up both the small and big screens.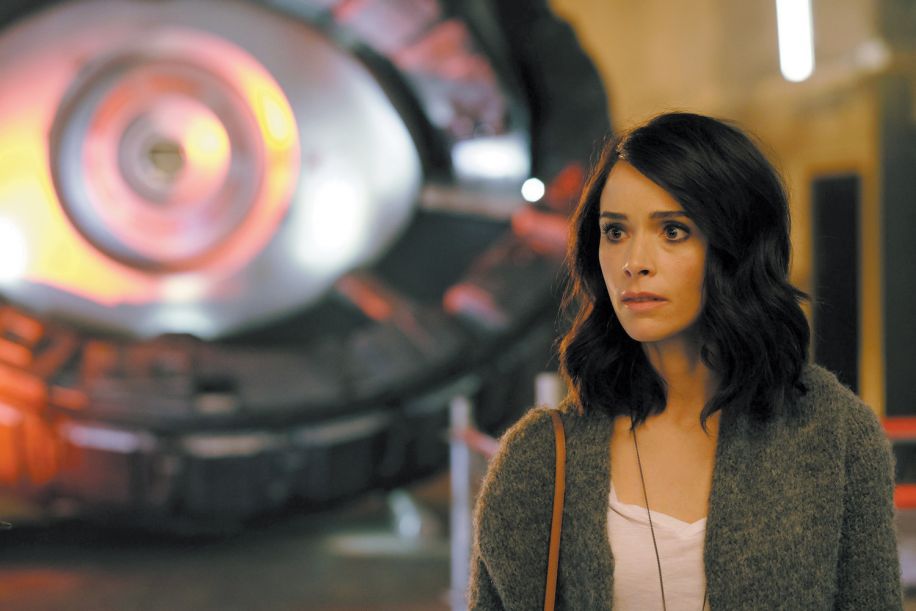 Tell me about your life in Gulf Breeze.
I miss Pensacola and Gulf Breeze. And the weather this time of year is just perfect. Some of my most fond memories involve feeling that slight chill in the air, hearing off in the distance the sound of Friday night games. I don't guess I had a typical upbringing because of my dad. Having Innerlight as our family business really integrated us all into the community. Our complete existence was based on having the community in our life. If it wasn't for the area, we wouldn't have food. I'm very grateful for an experience like that. I loved living and being in that area.
As a surfing family, we should've lived somewhere else, honestly, but we loved being on the Gulf Coast. My dad visited me a couple times in LA, and he always said he couldn't wait to get back to Pensacola. I'm proud of being from the Gulf Coast, dedicated to these roots. He made us ingratiated in the area, and he wanted that for his kids.
When you live a counterculture life, like surfing, there's not a separation from who you are and what you do. It's the same thing with acting. My dad actually thought I was going go be a surfer (I started when I was 3) but my mom wanted to save my skin, so I traveled with him to surf contests, but I went to dance classes and did high school theatre shows. And so that became my life, like surfing was his life. The hours are so weird that it has to be your life.
I learned from my dad to follow the surf. You know, he would have to travel where the surf is. In a way, I'm still doing that. I'm following the surf, following the work. It takes me all over, but Gulf Breeze is still with me and is still a huge part of who I am.
How did you get involved in acting?
I lived the life. As a young kid, I thought I was the real deal. So there was really no separation between amateur and professional. The only transition was people started paying me to do it.
The Pensacola area is very supportive of arts, with places like the Little Theatre, Saenger, Children's Chorus and more.
One week I was playing Rizzo in Grease, the next week I started on All My Children. This industry is sink or swim, and I've sunk plenty. So I just grab it and see what happens.
You said your dad engrained in you the values of community. How has that translated to showbiz?
To me, community is everything and I remain a community with everyone I grew up with. They are a huge part of what made me. I still keep in touch with people like Katy Mixon (American Housewife) who of course has her own show now which is so cool. That's what I look for in my work now. My community is my other actors and other creatives. You know, acting is a team sport. You can't do it alone, though that would be very interesting. So I bring my ever-growing community with me. I have a pretty tight group of friends since I was in my formative years and we're still friends.
Tell me about Timeless.
I've been acting professionally for 18 years now. It's just another chapter of that. I was in Rectify for four years. Before Mad Men, I was in eight different network pilots, so I knew what I was getting into with this. I felt like the team behind Timeless was a good time to try network television. It is very challenging, but it's all story telling. And I feel like the character is worth it. I love my character Lucy. We get to go to a different era every episode, so it's easy to stay energized and stay inspired. I'm certainly never bored.
You've done some alternative comedy too. What is attractive about that?
I've done Children's Hospital, Comedy Bang Bang, Burning Love, and honestly that community asks me to do stuff. I don't know why they keep asking me. I guess I'm not really an outside, but it started with David Wain and Children's Hospital. The whole concept behind that world is that you get into the sandbox and you become immersed in that humor. It's very cool. I'm completely obsessed with comedy.
So do you come back to the area often?
Well right now I'm in Vancouver shooting Timeless. I was in Georgia with Rectify. I honestly don't come back that often, though I was there twice this past summer. You know, for a while, it was very painful to come back. I lost my dad and my grandparents about five years ago. I'd come back and see the surf culture, the shops, the Innerlight stickers, and it was all just a brutal reminder that he wasn't here. But now I'm grateful for those things. The entire Pensacola area is like one big homage to his life. I hope there are far more opportunities for me to come home in the future. My son loves it. So as soon as they make it a little easier to fly to and from Pensacola, I'll be there.