by Christian Wagley
They go by many names: Granny flat, In-law cottage, Bump out, and Backyard cottage. Building codes refer to them as an accessory dwelling unit (ADU). While they are often separate and detached from the main home, they can also be connected to or part of the main structure.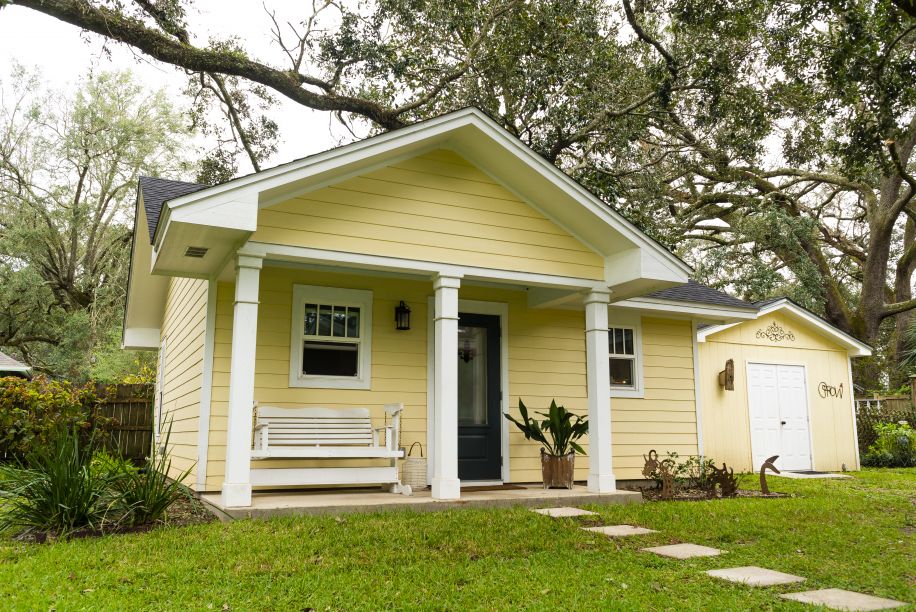 Among their many benefits, these small residential units provide more housing diversity and affordability, bring additional residents to urban neighborhoods seeking to infill, and can generate income for homeowners. As with so many trends in housing and neighborhoods (think front porches and walkability), the interest in ADUs is a rekindling of a historic element of our cities and towns. 
ADUs are part of the fabric of nearly every American neighborhood built prior to World War II. After the war, older neighborhoods were left behind as the government incentivized new suburban construction, and modern zoning codes created rules that favored large lot development and mostly banned ADUs. 
But inside the City of Pensacola, residents are fortunate that the local code is very permissive of ADUs, with just a few requirements that must be met. The maximum square footage allowed is 60 percent of the size of the main home, up to 1,500 square feet, though most are much smaller and best suited for one to two residents. 
They're easy to find in Pensacola's East Hill neighborhood, where a walk around leads to dozens of ADUs—many in the form of backyard apartments above garages. Some are said to have been built to help house the influx of young men who came to the area for pilot training during World War II. But the greatest local concentration of ADUs is in Aragon, the walkable downtown Pensacola neighborhood where project designers encouraged such diverse housing as part of the original neighborhood plan.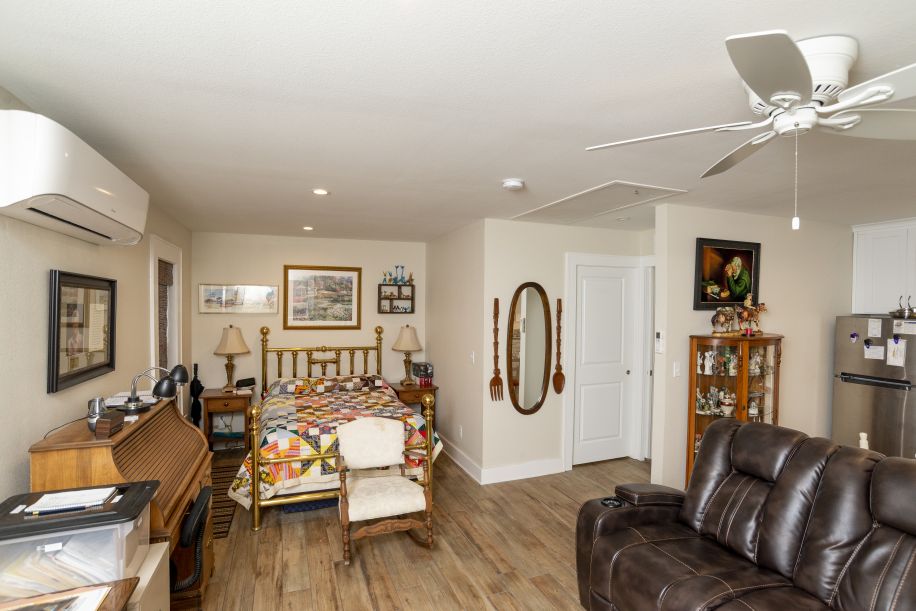 The benefits of ADUs are apparent in the full range of neighborhoods. Mike Kilmer and wife Rivka are musicians and community advocates in the very diverse Brownsville community of Pensacola, where they live with their two young daughters. They initially invested in a backyard ADU so that the rental income would help to support their family and allow them to pursue their personal and professional passions. 
 "Being artists, our income was limited, and we wanted to devote time to our creative work,"  Mike said. 
The 480 square foot cottage saw a series of long-term renters until Mike's aging parents moved-in, trading New Jersey winters for Florida.  The proximity allowed Mike to help care for his father prior to his passing, and seven years later, his mother continues to live there. His mother is a classically-trained pianist, so a baby grand piano is at the center of the cottage. Choices in décor and varied flooring materials help to distinguish different areas within  the cottage's open floor plan.
This multi-generational living makes it easy to share—child care, utilities, the hosting of mutual friends, the backyard garden and also meals. Mike speaks of the joy in inviting his mother over for regular tea times inside the main home, which is just a short 15 second walk.  
Christina Leavenworth Brunet-Sabastia and husband Milan built a garage with an apartment above as part of their new home, initially to house long-term renters. But with their convenient downtown location near Community Maritime Park pushing demand from visitors, they switched to renting through Airbnb during the busiest spring and summer months, with longer-term rentals in the fall and winter.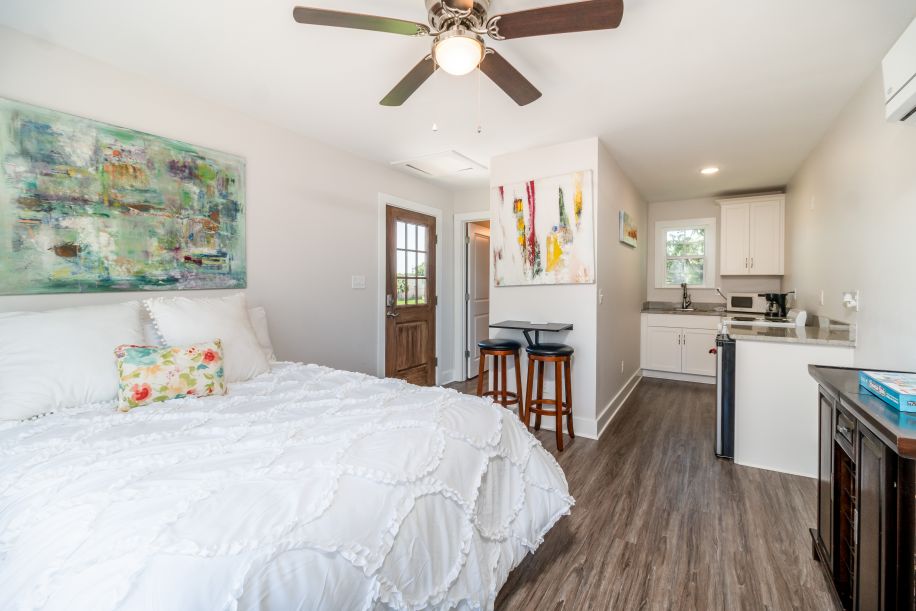 She notes that it was a bit of a challenge at first in having other people on their property, but they adjusted quickly and embraced the communal nature, as their Airbnb listing even invites guests to join them for social time in the backyard. 
"As a homeowner, it's been a fun experience, and if we were to build again, we would do it in a heartbeat," she said.  
Brunet-Sabastia is also a realtor, and she recognizes the financial advantages that ADUs can bring. 
"As a realtor, I can say it adds immense value to your home because it's money coming in every month. Many people are wanting to buy properties that have ADU's already on them," she said. 
While actual construction materials and techniques are the same with ADUs as with larger homes, there are some design considerations that should be made on the front end. 
Architect Scott Sallis of Dalyrymple|Sallis Architecture recommends making sure that the unit is well insulated with spray foam insulation. Sallis also recommends that the unit is built as "one single space that serves as a place to sleep, eat, cook and relax." This avoids the added expense and loss of space that comes from additional walls.  He also suggests using packages of small rather than full-sized appliances, and if doing the work oneself, finish walls with wood in order to avoid the expense of hiring a sheetrock contractor.  
When asked about the challenges of building an ADU, Sallis pointed to the same issue plaguing all new construction: "Construction costs. Construction costs. Construction costs," he says. There is no magic answer to this dilemma, but  Sallis notes that he has seen some residents take-on more of a do-it-yourself role with ADUs. their smaller size makes the work more manageable. 
Including an ADU as part of a new construction or renovation project brings the costs down through the economies of scale of a larger project. For Brunet-Sabastia, the ADU was another $75,000 on top of the cost of the home, which was less than if they had built the ADU on its own. 
Unfortunately for those looking to add an ADU to their property, most local jurisdictions outside Pensacola severely restrict the use of ADUs. ADUs are usually allowed on larger properties only. Nationwide there is a huge movement pushing local governments to relax their rules on ADUs so that more can be built. Advocates include those interested in smart growth and environmental protection, affordable housing, neighborhood revitalization and more.
AARP is one of the biggest advocates for ADUs. AARP recognizes the value of a diverse housing stock and specifically how ADUs can provide for senior residents who don't need a lot of space and may be looking to live in a more walkable urban location closer to needed services. Some recognized local barriers to ADU construction that advocates hope to have lessened include requirements to provide off street parking and size limits related to required rear yards. 
For Pensacola, it appears that the rediscovery of ADUs will make them even more a part of the local housing stock and bring  diversity in living choices as the city revitalizes and grows.  
Additional resources:
The ABCs of ADUs: A Guide to Accessory Dwelling Units and How They Expand Housing Options for People of All Ages
Accessory Dwelling Units: A Step by Step Guide to Design and Development 
Both guides are available free from AARP at: https://www.aarp.org/livable-communities/housing/info-2019/accessory-dwelling-units-adus.html