It's no secret that downtown Pensacola continues to flourish with redevelopment. Every day it seems a new restaurant, shop or office is opening on Palafox Street. Recent months have a seen a handful of new businesses open their doors in the downtown core. We've compiled this roundup of downtown Pensacola's newest attractions.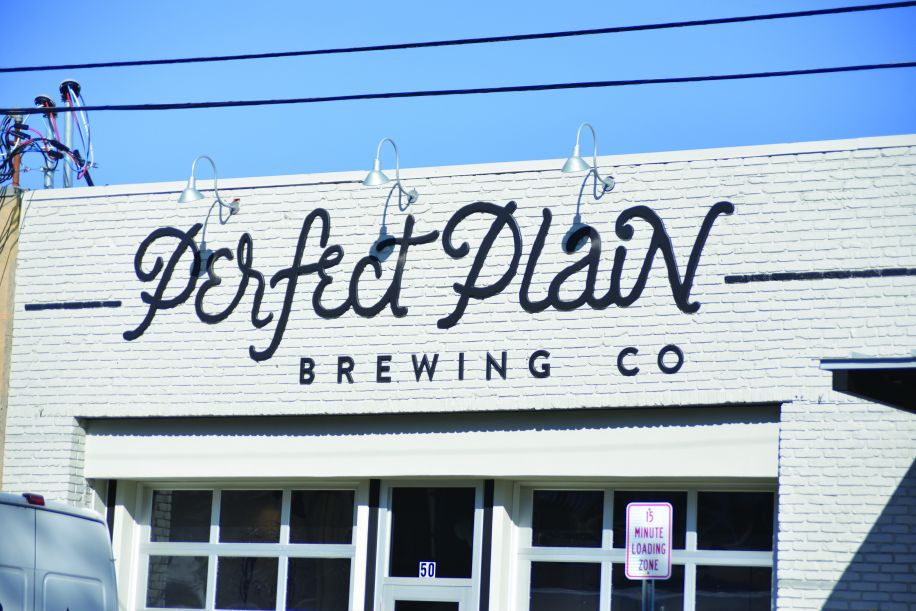 Perfect Plain
Pensacola's newest brewery received a warm reception at their grand opening on Nov. 21. The brainchild of local entrepreneurs D.C. Reeves and Reed Odeneal, Perfect Plain is downtown Pensacola's fourth brewery alongside Pensacola Bay Brewery, Gulf Coast Brewery and McGuire's Irish Pub.
The brewery derives its name from a letter written in 1821 by Andrew Jackson's wife, Rachel, in which she described Pensacola as, "a perfect plain: the land nearly as white as flour."
Perfect Plain is located at 50 East Garden Street, one block east of Palafox Street in the former Vowell's Print Shop building. The taproom doubles as the main bar area and features an open floor plan with family-style seating with long tables and metal chairs.
Exposed brick, steel rafters and overhead lights give off an industrial feel. Roll-up garage doors open onto Garden Street and allow for easy coming and going and ample fresh air. Steel fermenting tanks line the east wall where the beer is brewed.
The brewery currently has 10 beers on tap and many of their ingredients are locally sourced. Taproom manager Bryant Liggett said the goal has been to create a community gathering place.
"With everything we do, we try to be as locally driven as possible," Liggett said. "We really wanted to create a community access off Palafox."
Bluejay Bakery
A Pensacola native returned home from a life in the San Francisco restaurant scene, building her name and a mountain of sweets along the way. So goes the story of Justine Gudmunson McCain, founder and owner of Bluejay's Bakery. Justine began Bluejay's Bakery in 2016, selling her cupcakes, tarts, macarons and other goodies at events like Hot Glass Cold Brew and Palafox. At the end of November, McCain opened her first brick-and-mortar location inside the breezeway at One Palafox Place.
McCain said she's glad to finally have permanent location,
"It's been a roller coaster of an experience but it's great to be somewhere where everybody can find us pretty easily and to have everything out of the house," McCain said.
Bluejay's Bakery offers its signature treats like brownies, cookies, truffle tarts, macarons and cake pops and has an expanding breakfast menu. McCain said she plans to host a grand opening on February 9.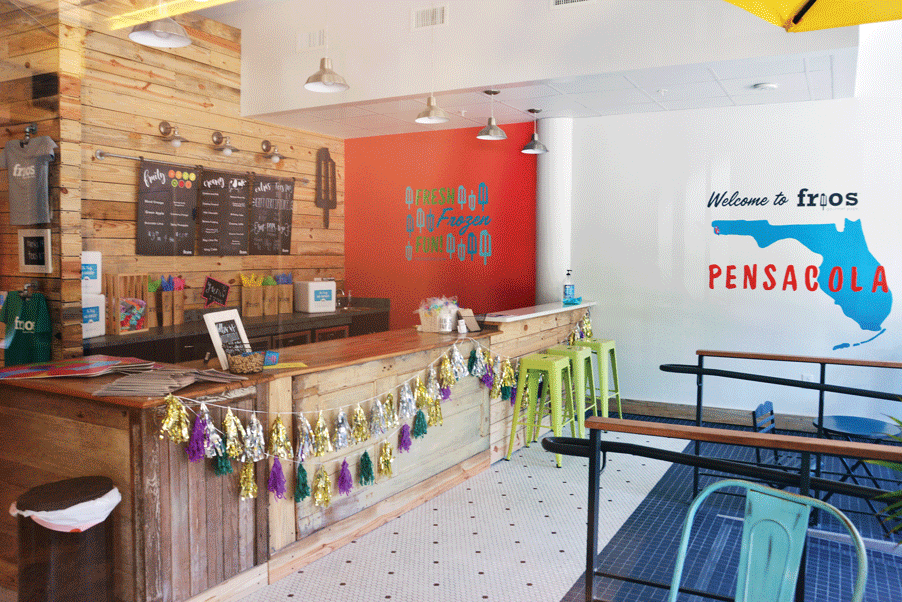 Frios

With the exception of very recently, Pensacola is usually a great place for a popsicle. Hot summer days are made bearable with a cold, delicious treat. Now the gourmet popsicle trend has made its way downtown.
Frios uses local ingredients sourced from dairy and produce farmers in Northwest Florida and South Alabama to create its signature gourmet pops in flavors like blueberry cheesecake, blackberry ginger lemonade, Satsuma orange and many more.
Frios owner Kari Benson said the new Pensacola store, located at 7 Palafox Place in the Brent Building, is her third permanent location in addition to stores in Daphne and Fairhope.
Benson said she first came to Pensacola to participate in Gallery Night and was impressed with the crowds and vibrancy she saw downtown.
"It's aesthetically pleasing; there's always people walking the streets, you just want to be a part of it," Benson said.
Frios popsicles are priced at $3.75 each. Discounts are available for larger purchases and the company is available for weddings, events and fundraisers.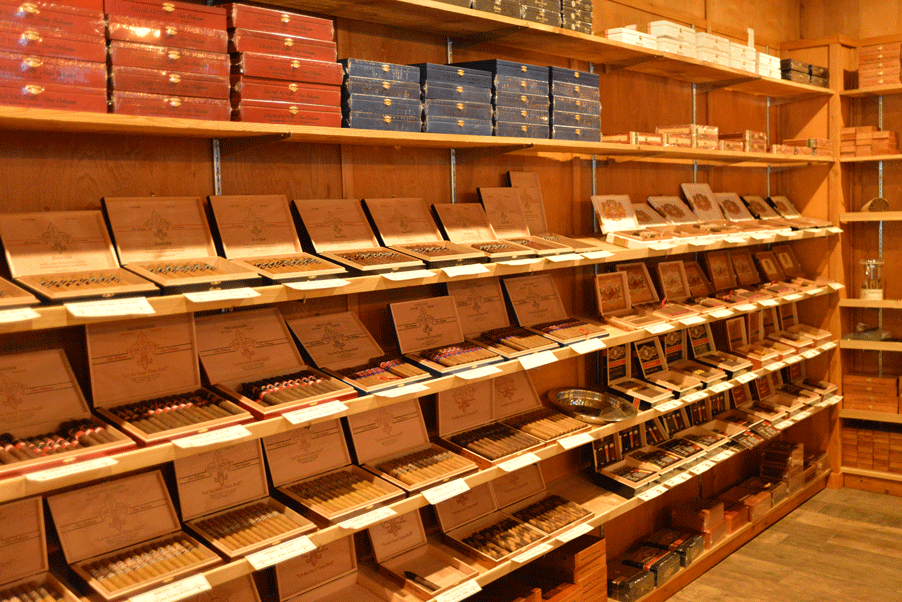 Cigar Factory
Cigar aficionados rejoice, now you too have a place to relax in comfort in downtown Pensacola.
New Orleans-based Cigar Factroy opened its latest location at 14 South Palafox Street, between Hopjacks and Play, on Halloween. The lounge features a luxurious wood and leather interior, a full bar, a walk-in cigar closet and big flat screen TVs.
Cigar Factory offers its exclusive hand-rolled cigars rolled in New Orleans, as well as a selection of others.
Construction is still underway on the building's rear courtyard and second floor, which will feature a balcony overhanging Palafox Street.
"Everything you'll find here has a real New Orleans style feel to it," said marketing manager Anthony Wilcox.
Wilcox said Cigar Factory plans to host live jazz and and blues bands, and will be available for events and parties during the week.
Innerlight
Pensacola's leading surf shop, Innerlight, joined the downtown scene in early December.
The surfboard and beach apparel retailer opened for business at 114 Palafox Place, next to the Saenger Theater.
The location is Innerlight's sixth in the Panhandle, and is focused more heavily on apparel than other locations. As the shop is built out, it will also carry surfboards and other equipment.
Innerlight has had several Pensacola locations over the years. General manager Shannon Gardner said the company has wanted to open a downtown location for some time.
"It's been something that's been on our mind for a while now and we've just been trying to find the right property that would suit us," said Gardner.
Gardner said the store will carry a large selection of Innerlight branded merchandise aimed at a younger audience and out-of-town visitors.
Innerlight plans to host a grand opening in March, when the new store is complete.
Rusted Arrow Mercantile
Looking to outfit your home with some classic style, pick up a unique gift or maybe just get inspired? Then stop in to downtown Pensacola's Rusted Arrow Mercantile, located at 130 Palafox Place, across the street from World of Beer.
Rusted Arrow is the creation of Sam Breedlove and her mother, Ruth. Breedlove grew up in Chicago and was selling furniture in St. Petersburg, dreaming of opening her own small business when her father brought her and her mother to Pensacola.
"He took my mom and I down Palafox and it was all lit up with Christmas lights and we were like, 'This is the spot'," Breedlove said. "The second we saw it, it all felt right."
Rusted Arrow Mercantile was the result of that visit, and the store now offers vintage furniture, home décor and gifts.
Breedlove said all her furniture is professionally redone by herself and her mother, and is at least 30 years old. Rusted Arrow also offers restoration services if you've got an old dresser or sofa in need of an update.