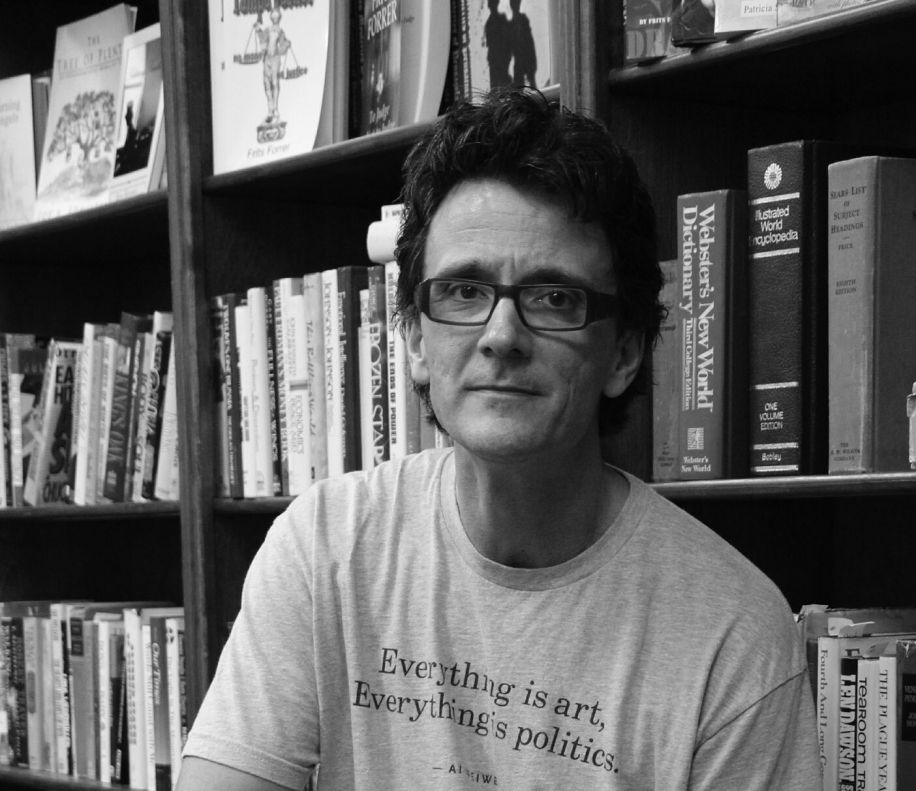 By Andrea Walker
You've been Poet Laureate of Northwest Florida for two years now with one year remaining. How has this title affected you as a poet?
It's been an honor, first of all. I had the philosophy going into it that I would say yes to every opportunity that came up, not having any idea how many opportunities that might be. There have been quite a few and so far I haven't turned anybody down. I've spoken to the Rotary Club, read at the New Year's Eve Pelican Drop, which was a thrill and delight, talked to a Girl Scout troop, read at bars, gave book talks, taught a poetry workshop for most of a semester at Ferry Pass Middle School and was the keynote speaker at their Dream Flag Project, something I started ten years ago when I taught there. I also organized a collaborative reading at Artel Gallery called "Beyond the Quiet Desperation," which required writers to respond to the works of Henry David Thoreau. I've always been a public poet, but it's been even more so since becoming Poet Laureate.
It's also made me aware of my own time and that I probably need to be a little more thoughtful of that and take more time to write. I'm a teacher already, so I'm talking to students all the time and trying to help them. I see the Poet Laureate position as representing the face of poetry in Northwest Florida, so hopefully I'm succeeding at that.
How do you describe the emphasis of your work?
The emphasis of my work is really on how I engage with my daily life, so there's a strong emphasis on process. In fact, I'm more interested in process than I am in the final product, so a lot of times my poems won't have a specific meaning necessarily, but hopefully they represent the process of thinking or even getting beyond thought.
I talk about process a lot, not only in my poetics, but in my pedagogy as well. I emphasize it a lot in all my classes. Of course you want the grade, you want to do well, but honestly it's bigger than the grade; it's about accurately describing the dignity of your own experience.
Where does your process start?
Every morning I write in my notebook. I used to write full poems, but that rarely happens any more. I get up and write throughout the day. It might be ideas. I often write dreams. My journal is a combination of dreams, thoughts, ideas, found language, without struggling for any one meaning. I'm just writing as a practice every day. I go back later and cull through the notebook and say okay, out of those three or four pages, that's mostly kind of sloppy, but there's one jewel right there. So I build on that.  Sometimes I take bits and pieces and construct some sort of poem out of that, and often it exceeds anything I was thinking and takes me to another level. So it's ongoing.
Last year I taught at PSC's Warrington campus and had a lot more driving time. I get my clothes dry cleaned, so I end up with a lot of these clothes hangers with paper on them. They're really a pain; I never know quite what to do with them. They're everywhere, tangled up together in the closet, bedroom and backseat of my car, so on my morning drive to school I'd want to write, at a stop light or pulled over on the side of the road, and there they were—these paper triangles ready to be filled in with words. So I started writing on them, which was fun.  It made me write in a very different way, and they look really amazing. But the deal was, and this is the way I work anyway, I'm not trying to mean any one thing, no pressure; I am simply just writing. Get it out first. It's a daily process. If the clothes hangers aren't there and the notebook's not there, I write on my hand. Really.
Can you speak on the importance of poetry in our lives as a society and as a community?
To me, poetry cuts through the noise of social media, daily news, 24-hour networks, newspapers, etcetera, that's constantly coming at us from all directions. A lot of that's important, but we're bombarded with it. Poetry is really a different language, like a second language, compared to prose. It has the possibility of leading our minds to a healthier place by helping us be more in tune with our existence. It's also a vehicle that allows us to honestly engage with daily life in a more authentic way. Poetry says what can't be said in prose and points to something beyond what we know. The poet Alice Notley said, "We know more than we think we know."  Sometimes we don't realize what we're thinking until we write it down. There are many ways to make sense, and poetry can get us to that. I believe it's spiritual, at least for me, and it gets us beyond limited thinking. Also, poetry, like art in general, when we connect with it, can make us feel less alone, and that's powerful.
In society and at the community level, I think of public readings and open mics such as the ones we have at the Cultural Center, Sluggo's, End of the Line, to name a few. Poetry involves a stillness and a silence. When we listen to people read, it makes us stop. We're probably not going to get everything we're hearing, but we're going to get snippets of what's going on. We're watching and listening to the poet read. It's not just what they're reading. It's the way they look, their body language, their eyes, the sound of their voice and the way they breathe. There's a lot more going on up there. Those are terrific events and they have the power of bringing us closer together as a community and as citizens of the world. On the individual level, it makes us more attuned to ourselves; we all could use that. I could certainly use it. The more we are in tune to ourselves, collectively, that cannot be anything other than beneficial. If we're just watching the news all the time, especially now with this circus of a presidential campaign, that would make you go insane. Nothing silent about it.
Reading and writing anything involve imagination. I tell my students this in my Early American Literature class. In order to understand these Puritans, these early conquistadors who kept journals, you have to imagine what they were up against. They were human, after all. If they were in Florida, they were dealing with intense heat, humidity, mosquitos, snakes and alligators. You have to imagine that for the words to really mean something. Furthermore, a better reality can happen if we can imagine it first. Poetry is an art form that can steer us positively into the future.
What is one community project you would like to pull off in the future?
I'd love a project that involves the community writing together at different geographic locations around the city, focused on place. We all write together where the emphasis is not on any one of us but all of us together as poets of this Panhandle region. That would be wonderful. We'll see.