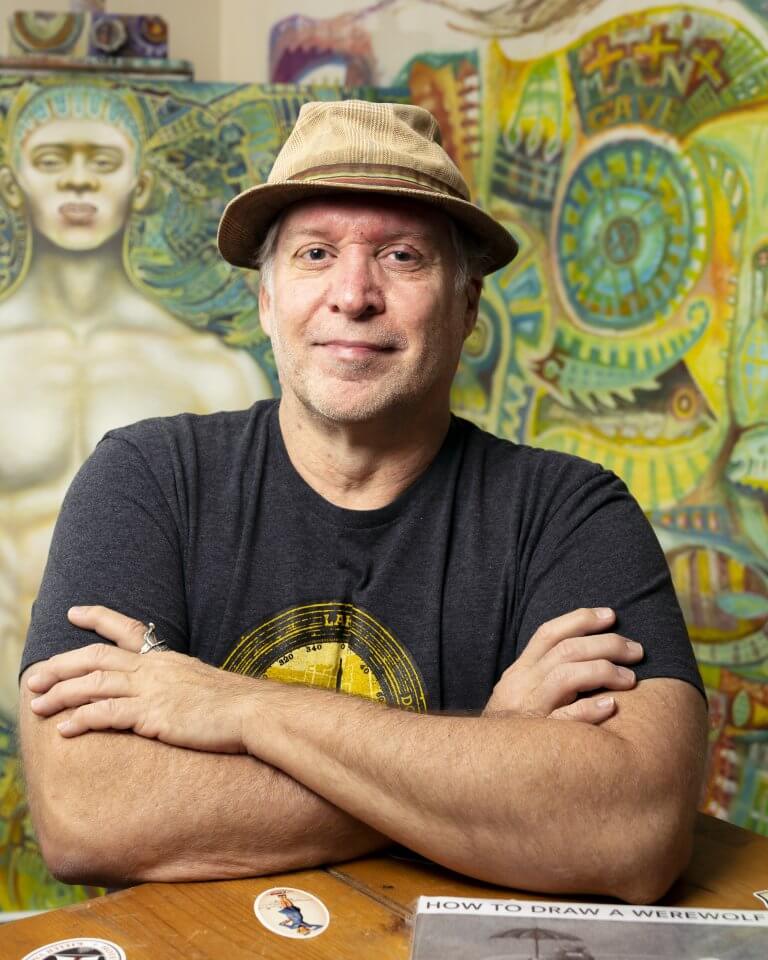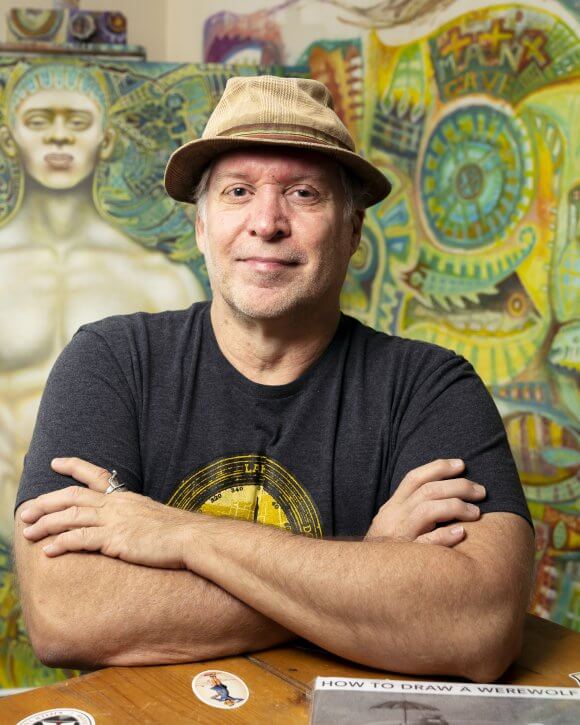 It's hard to describe the style of art Géza Brunow creates because his body of work is both prolific and widely varied. Working in different mediums including casein, water-based pigments and oils, scratchboard and pen and ink, Brunow creates portals into lush inner worlds. From whimsical dreamscapes and surrealist mindscapes to metaphysical soulscapes and his most recent amorphous paintings, his work seems to harness both a sense of his emotional terrain and the universal human experience as a whole.
Brunow sees himself as both a visual artist and a storyteller. His work is free-flowing but often informed by conversations, fleeting images and a narrative that emerges throughout the process. "I just like to hit a surface and attack," he explained. "More often than not, I might not even have an idea. I'm just moving color around and all of a sudden, there's the narrative. I'm working on two or three pieces right now and with one of them, I have no idea what the narrative is yet. Not at all. If I can finish it and find that narrative, it takes the work out of the decorative and into the actual storytelling."
Brunow's passion for painting is evident in his work ethic as well. He paints about 30 hours per week in stretches of eight to ten hours at a time. "Once I get started, I just can't stop," he said. "I've got the vision and the longer it goes, the better I get. By the tenth hour, when I'm just drained, I'm also in the pocket. I don't want to stop, but I have to because I'm beat. But that's when the magic really happens. I don't know what it is. You're in the flow. You're in the hard trance."
Born in Germany to an American military father and a Yugoslavian mother, Brunow has lived and traveled "everywhere." His formative years, however, were spent on the idyllic Whidbey Island in Puget Sound. "It was bliss because we were allowed to roam anywhere we wanted on that island—and it's a big island," Brunow recalled. "There wasn't any of this having to be careful or worry that a predator might ask you to get into the car with him. We had so many special spots on that island. There was this glade on a cliff overlooking the water and we used to meet there and play and nobody knew about it but us. I found a washed up killer whale once and I pulled a tooth out of its mouth. It was rotting and stinky, but I needed to have it. Those were some great years. They really informed me."
Brunow started drawing as a kid and in high school, he created a portfolio to submit to a prestigious summer art school in Washington, D.C. Before he could submit it, the portfolio was stolen from the school. "It broke my heart," he said. "It was years of drawings. It was a big portfolio. It kinda killed me. It killed my spirit. My art teacher gave me time to draw another one because the submission time wasn't up yet. I hurriedly drew another one and that one was stolen, too." The experience was so painful for Brunow that he swore off art for ten years.
Brunow attended the University of Wisconsin at Madison and earned a degree in journalism. After college, he was living in Minneapolis and working part-time at the Minneapolis Institute of Art. "I just sort of fell back in love with art," he recalled. "I was seeing all these great artists come through the doors, like Chuck Close and all these French artists. We had some big names coming through and I just thought all of it was really good. I was reading all the Art Forum magazines during my breaks and I kind of went into it again through the backdoor." Géza started helping out with faux finishes for exhibit sets, which eventually led him to form a successful faux painting company with a few friends.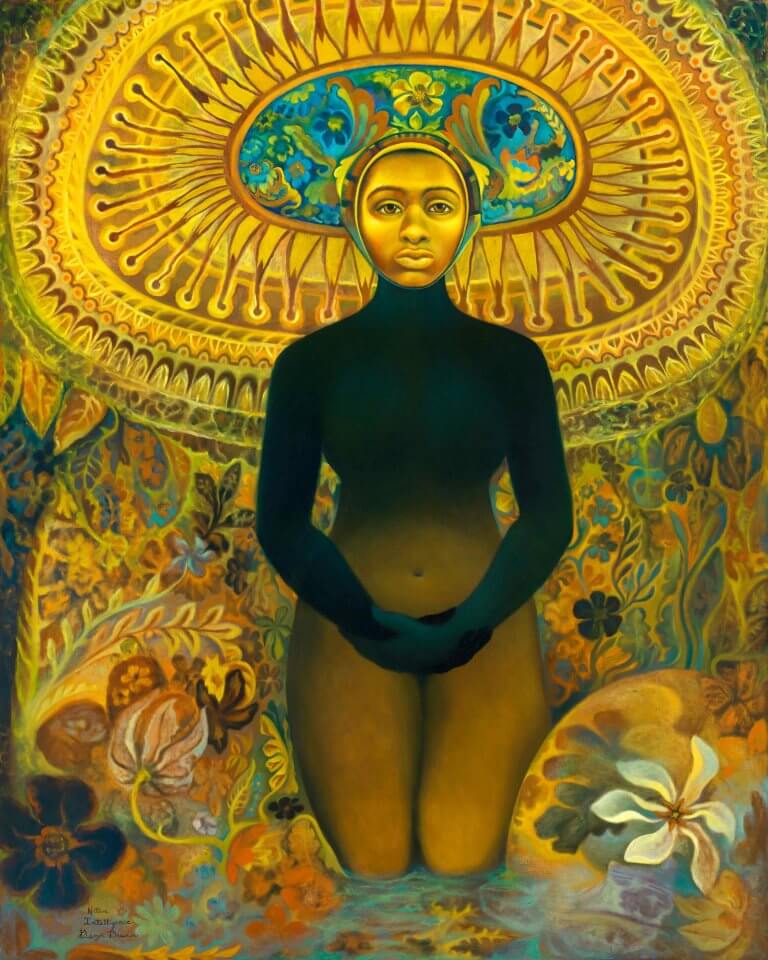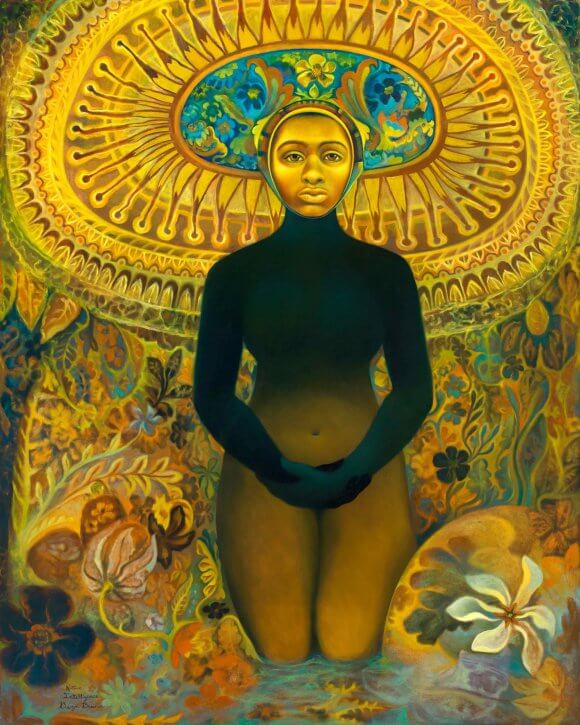 At that point, it hadn't occurred to Brunow that he could make a living as a fine artist. "I love America, but especially the United States, being an artist isn't considered a real occupation," he said. "Everywhere else you go they're so welcoming to artists." It was a trip to Italy that made him realize that he could have a career as a professional artist. "I was watching this woman paint the Ponte Vecchio on the River Arno in Florence. She was doing an impressionist piece. It was all sort of swirling and goopy. She really captured it." The two began talking and Brunow learned that she made her living as an artist and he was blown away. "She was sort of the fin de siècle," he said. "She clinched it for me. That was a turning point for me in terms of my art."
Brunow later lived in New Orleans for ten years and the city's love of art and culture served as a muse for his work. "New Orleans gave me respect," he explained. "New Orleans respected me as an artist, which was really novel. New Orleans loves culture. They love the arts. But in other parts of the country, a lot of people look down on you if you're a creative individual unless you're famous. New Orleans was the first place that really made me feel like I was home."
Inspired by his time in New Orleans, Brunow created a book of ink drawings titled, How to Draw A Werewolf. "I started working with these really fine nibbed pens and I started doing these doodles of this guy named King 4-A-Day," Brunow explained. "Mostly things aren't going great for him, but every once in a while he's king for a day. Because that's what it felt like in New Orleans—today I'm king for a day, but most of the time, it's kind of hard here. He's sort of like a whimsical everyman, but also a part of that whole Cajun folklore of the loupgarou. I originally did the book as a gift for a collector who has been really good to me. And then I did all these other inks of this character. I got carried away and swept up with the good humor that this loup-garou has. Pratfall after pratfall, situation after situation, he kind of just keeps pressing on. That werewolf is also an idea I have of myself. There's a part of me that's wild and perhaps unpleasant. And then there's a part of me that's very fun-loving and wonderful and happy. So, when the full moon rises, it's the loup-garou coming out. That's where this guy came from. It was kind of a synthesis of the New Orleans experience."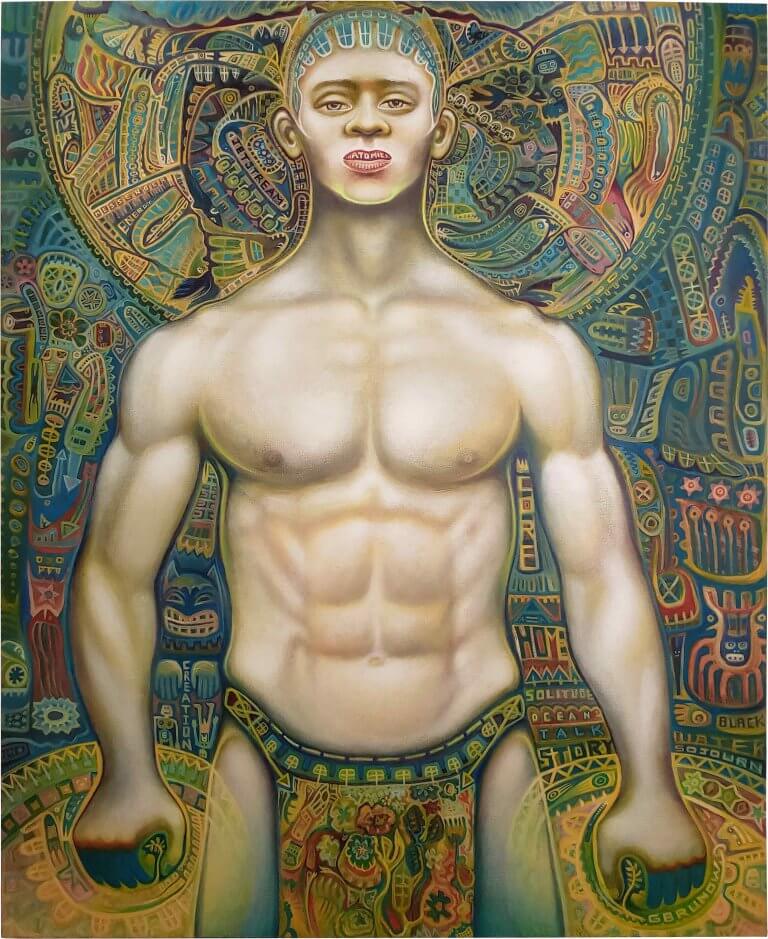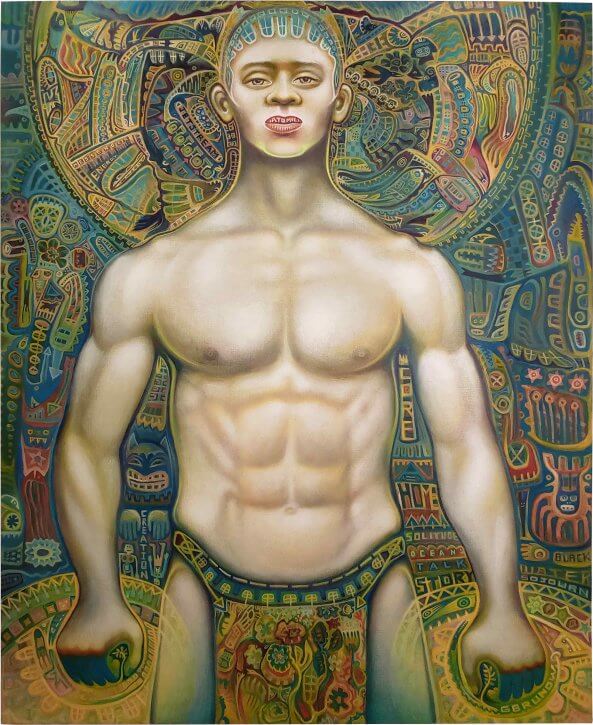 While Brunow loved the artistic climate of New Orleans, life in the Big Easy didn't always live up to its nickname. "It was a struggle the whole time, too," he said. "It wasn't easy. I was having a lot of issues with noise and in New Orleans, you're all on top of each other. Hurricane Katrina just compounded everything. I stayed for two years after Katrina and then I blew a gasket and I had to get out."
After spending some time in Asheville, Brunow was looking for a change and a collector of his work suggested he check out Pensacola. Brunow was skeptical, but the surfer in him decided to give it a shot. "The minute I landed, I fell in love," he said. "That's the God's honest truth. I thought, 'This is it. It's got 18 to 20 miles of dedicated beach path to bike on—how come nobody ever told me about this place?' I've been to every beach in this country and this place is amazing. It's the closest I've come to that feeling of freedom I had on Whidbey Island."
With this newfound feeling of freedom, Brunow has been channeling the muses in his studio, churning out work that is more positive in theme. His most recent major work is titled Prometheus (Metamorphosis). The large-scale work is a casein painting on a 60-by-40-inch canvas. It features what Brunow calls an "archetypal everyman" that represents all races in one being. While the final piece is powerful and positive in message, Brunow said it didn't start out that way. "I was doing a self portrait," Brunow explained. "I was gonna do this tattooed guy and all of his tattoos were of all the things that had gone wrong in his life that formed his character. That was originally the idea. He was gonna have scars and stitches. I have a lot of physical pain, so that was gonna be worked into it. But it was too negative—too dark. I'm trying to be more affirmative. It still has a moodiness to it, but I'm trying not to be too maudlin."
To view Géza Brunow's work, visit gezabrunow.com or follow him on Instagram @gezabrunow.