By Kelly Oden & Josh Newby
Six years into his tenure as Mayor of Pensacola, Ashton Hayward remains as energetic and optimistic as ever. In 2016, Hayward successfully focused on bringing more jobs to the city, creating solutions for an aging infrastructure and providing an overall higher quality of life for Pensacola citizens. However, the year was not without its controversies and disagreements. Pensacola Magazine sat down with Mayor Hayward to talk about the successes and challenges of 2016 and his vision for the future of the city.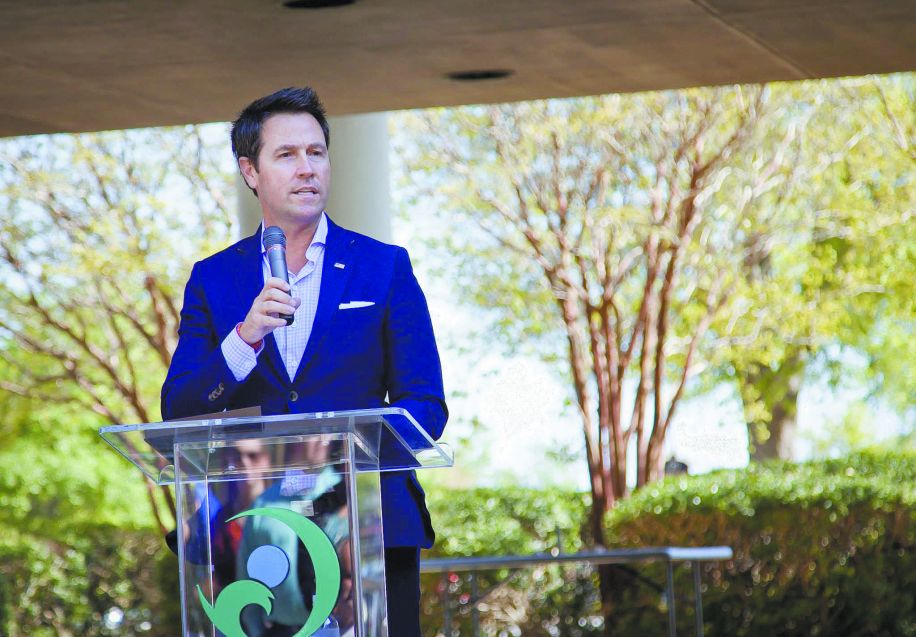 What would your ideal process be for demolition or renovation of historic properties? What role does owner input play in decision? Where do you draw the line on what is culturally significant?
The owner plays a big role in it. We have property rights. We are very fortunate to be America's First Settlement and I take that very seriously. When you think about the Pensacola Historic District, where the UWF Historic Trust and a lot of historic homes are, there are definitely strict guidelines that every smart city should have from an architectural guidelines standpoint and in terms of coming in front of our Architectural Review Board. We also have the Governmental Center Overlay District, created in the early 70s for the city, county, federal and state buildings in the overlay district.
When the John Sunday House issue came up, people started looking at it through a different lens. There were some discrepancies on that as well. The City was sued by the person who was buying the property. The judge ruled that the structure could be taken down. Every situation is going to be different. I'm not for having structures in which the owner can't take down their own property. If there is historical significance there, we need to look at it. We have guidelines that we go by for that. I think the lines became a little grey in those areas. We have the Old East Hill District and we have the North Hill District and the Pensacola Historic District, which are both on the National Register of Historic Places, which we take very seriously. But we represent 50,000 people and I can't just start putting in regulations for the sake of regulations. You have to have a process in place. Could we potentially make that more clear? Maybe, but with the Governmental Center Overlay District, where this conversation started, people didn't have all the facts.
I wasn't for the Historic Structure Moratorium because I think our city is small enough that you can go case by case. We don't have that many historical structures outside of the historical districts that would become an issue.
What about a neighborhood like Belmont Devilliers, which has great significance particularly in the African-American Community, but many people feel like it has been overlooked.
I think it's exciting that you have a group of investors who really want to celebrate the historical and cultural significance of Belmont Devilliers. Since I've been in office, some things have changed. Five Sisters is a great success and University of West Florida is leasing property, but you need more density there. You need more activity there. There is a big push for more activity and you have to be able to meld new and old and work together. If there is a structure that is significant, that might not come down. You also have to have people who are willing to invest those dollars to bring those properties back to where they need to be.
I think you have to work with public/private and have both public and private investment. You have to have collaboration and communication. From the private sector, there has to be a want to invest in that. From a private-investment standpoint, we cannot afford to have the reputation of anti-growth because long before the new form of government, that was our reputation. We have to be pro-growth, pro-business and there has to be processes in place. You have to adhere to the historical districts. But from my office, from my administration—I am pro-business, I am pro-growth. When you start putting moratoriums and wanting to change land development codes and have these big ideas with not enough money or people to support that, you run the risk of turning people off. We are in a great tilt right now where we feel great about our community and we are doing great things, but we can't afford to go backwards.
Much has been said about the panhandling and homeless issues, particularly in the downtown area. Local business and civic leaders have proposed creating an ordinance or expanding license to use rights to businesses other than bars and restaurants so that essentially all sidewalks would become private property. Do you think this is a good idea?
They are two different issues. People who are homeless are looking for shelter, for food. They are just trying to survive every minute of the day. Homelessness is something we will all manage as a country or a state or a city. I think we can always be better. That's something we are going to have to manage. Fortunately, there are so many people in our community who want to help the homeless.
The panhandling is different. They move from different counties throughout the state, throughout the country. They are out there on the streets and they have a strategy. We are a great, friendly community so they feel comfortable. You see that with growth in a community. We need to get better ordinances on the books to handle panhandling. That's one thing we are working on. We need to address the needs of the investments of business owners, too. The license to use is what other cities do. So, if you pay for a license to use, you can't have people panhandling on your property. We want to be intelligent and we want to be good neighbors to our investments that are going on in the community. I do think the ordinance needs to be stronger when it comes to panhandling. As government, it's our job to do that.
From your perspective, how has your dynamic with City Council evolved over the last six years?
I bet many think that I go home and stew about it, but I don't. I ran for mayor. I never ran for city council. This is my first time in politics and the citizens of Pensacola took a risk on me. I'm a big believer in under-selling and over-delivering. I feel like we've accomplished great things as a community. It's been a team effort, but I had big decisions to make in the Executive Branch and those are difficult decisions. I think you always reach out to collaborate. We did that countless times. They are great people and I have all the faith in them. You don't agree on everything, but at the same time, I made sure we had the votes we needed in order to pass what we needed to pass and to get done what we needed to get done. I feel very fortunate that we've done a lot in six years for the community and for the people of Pensacola who took a risk on electing me. I see my council members all the time. City Council has a voice and they feel a certain way and I have to respect that. If you look back in time and think about how difficult it was for our forefathers, it hasn't been that crazy. I try to keep it in perspective. We've never been disrespectful to each other and I think that's important. We have to have diplomacy. I think if you are going to take it personally, whether in business or politics, you are not going to win. To a degree, things are very personal because we all want to be successful in the role that we are in—whether it's a mother or father or business owner or politician, but we have to respect other people's opinions.
I have learned a lot in this job. I was green, obviously, when I started in terms of being a mayor. I think you use a lot of your life skills and your personality. I've also had good people around me who have helped me navigate that. I think sometimes when you want to bite, you have to back up, reflect, take 24 hours and don't react.
One of the lines I use a lot with City Council is "take a bow." I mean, really, we've done great things. The legislation City Council has passed or the things we've gotten approved to benefit the citizens—the Council has been a big part of that. That's success in my opinion: We've done a lot.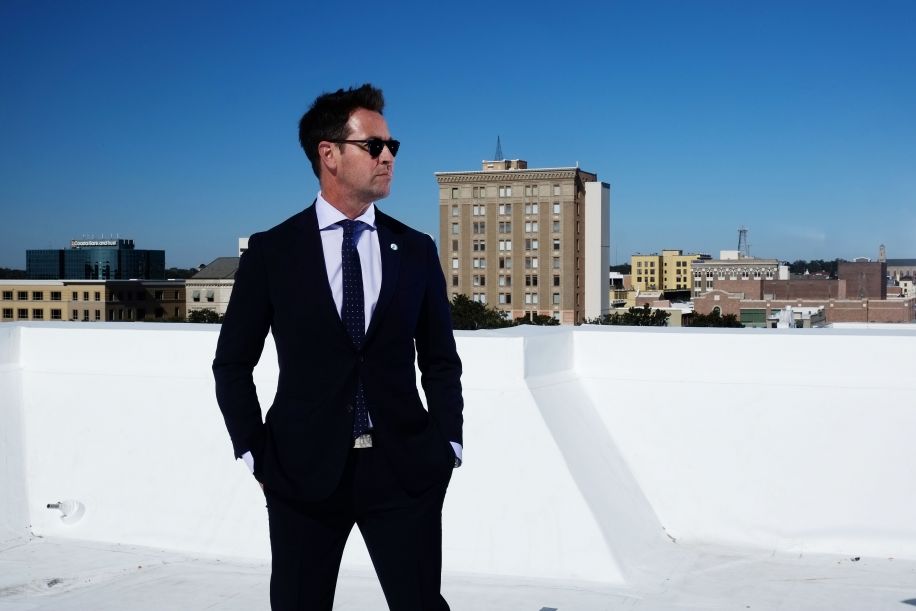 What do you think the next phase of the Downtown Improvement Board (DIB) should look like and how can it work with the city to improve downtown business and recreation?
The Downtown Improvement Board's original goal was to alleviate blight. The folks who live within the DIB district pay an extra two mils. It definitely has a role. I think it has evolved with the growth of Pensacola and the investment of the private sector in downtown. So, their role will evolve into where we need to grow as a community. I think the DIB is a voice outside of City Hall that is important to speak to business owners. Obviously, as the mayor I am always talking to business owners, but I think it's also a different eye and a different ear. The new DIB Director, Curt Morris, has run a business himself. He understands the importance of the client. The customer is always right. We are a governmental agency. We work for the public. We have to make sure it still has the role downtown residents and business owners want. I would like to see citizens and downtown business owners offer their opinions more on what they feel and what they think. I'm a big believer that they are paying the freight. So, maybe they should get involved more to make sure the value is still there.
They did a great job with Gallery Night. I've always heard more positives than any negative about Gallery Night. But things evolve. You change the dynamics and you don't want to be stale. I applaud the private folks who stepped up to continue Gallery Night. People have energy and they are motivated to create the next kind of excitement. This allows the DIB to be focused on other things. Parking is going to be a big issue. We've talked about doing parking decks and they can help with that. I think it's very important for them to evolve. The question should be, "How is it going to benefit the people who pay those extra two mils?" You always have to have that voice for the people who are paying the freight.
I understand the City may be helping to support the Pelican Drop financially. What is your position on the City financially supporting downtown events, particularly when the streets are closed?
I definitely think there is a role that cities play. It's no different than in Times Square. They shut down Broadway and they have law enforcement out there. Obviously the Pelican Drop was very successful and people love to come downtown on New Year's Eve, where there is a great environment and great energy. I think there is role we can play whether that is policing or being able to offer some funding. What I heard from the citizens and from business owners is that they definitely want the Pelican Drop and they want a New Year's Eve celebration. We are going into a new year and I think people really enjoy celebrating their town. What I really like to see is that the ownership of the private sector is coming together and saying, 'we want to have this.' We are all collaborating and working together.
There seems to be some reluctance for some business owners to partake in the financial burden of these events, particularly in regard to Gallery Night.
I think that's just part of it. I think every business that wants to be successful is going to have to take some risks just like they did to open their business. They know that they have to have some skin in the game. I think when you have some skin in the game, it makes you work a little harder to be successful.
There's been some discussion about better coordination with emergency services between the City and the County. How would that happen and what would the ideal situation look like?
We've had a great relationship with Jack Brown and his team over there and the collaboration between Eric Olson and Jack has been terrific. The good thing is that they want to have collaboration. It's easy to paint the picture that we do not because we have so many agencies for a town of our size. To your point; a horrific accident happened. Our lines are so on top of each other some people don't even know if they live in the city or the county. I think coordinating better together is very important. We've put an interlocal agreement together with the Escambia County Fire Department and the City Fire Department. We did that so we could work together because for me, public safety is number one.
The Port of Pensacola is located on prime waterfront real estate and many people argue that it is not earning its keep and should be relocated in order for that land to be developed into a source of private economic development. 
When we got into office we had a port advisory committee and we looked at what would benefit the community. We are America's first settlement. We are an historic city and the port is in a historic district. You have a lot of people who are sensitive to the port being there, as it has some historical significance. We looked at the market and the market was oil and gas. The price of a barrel of oil was around $111 when we first started focusing on it over there and we had some success. Then, as we all know, the price of oil hit rock bottom. We have to rethink it. We have two ports that are bookends to us on the Gulf Coast. We have Mobile and we have Panama City. There are 15 deep water ports in Florida and we are a boutique port. Has the game plan changed for that port in the 21st century and 2016? I think we owe it to the tax payers to say hey, do we want to be a port town? We get Florida Seaport Transportation and Economic Development (FSTED) grants from the state, but can we be successful in today's market? Do we need to rethink what we are doing with that 50 acres?
What do you think of the idea of moving the port to NAS?
I like that idea. I've heard it floated around since I've been in office. I think so many cities to the east of us toward Tallahassee don't have what we have—a downtown community on the water that is accessible and walkable for the citizens. Our grid system sets up perfectly for people to live, work and play. So, all of these cities that we complete with don't have this asset. We need to look at this whole picture again through a different lens and see the growth we are having in Northwest Florida. Pensacola now, in my opinion is the driver; we are the hub for Northwest Florida. We have the healthcare, the population, the historical city, the beaches, the National Seashore, the Navy, the military—we have all of these great assets. And most importantly, we have human capital. We have talented, smart people, so we need to look at every asset differently. That's the taxpayers' asset. Is it paying a dividend for them and for our kids and grandkids futures? People know where we are now, meaning big investment, so maybe there is opportunity there to develop that in a different way than we've used it.
At the time that the Pensacola Young Professionals Quality of Life Survey was taken, you were entangled in an issue with the City fire department. How do think that affected the outcome, specifically your numbers?
As we talked about earlier, you can't harbor bad feelings about things that happen, but I am sensitive to things because my personality goes to: how can I improve? How can I be better? So, when I saw those numbers, I backed into when that survey was done and what the news of the week was at the time. But listen, I have to respect the data and I've got to do better if those are the numbers. I want to be better.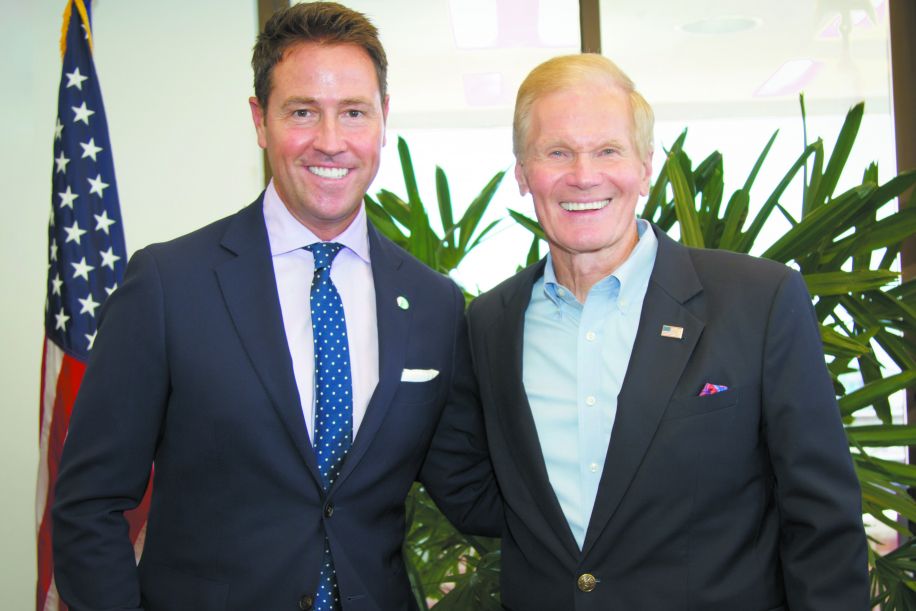 When you look at those numbers do you look at yourself personally or at the system that you control?
Well the buck stops with me. I think any leader understands that. If you're a football coach and the offensive line is not blocking the quarterback, then coach has to say the buck stops with me at the end of the day. So I look at myself and I think what am I not perceiving when I am out publicly? I'm out all the time and if people don't like you, they are not going to come up and give you feedback. But again, I'm very proud about what we've done in the last six years. I think I'm one of the most available politicians we have in our community, whether that is in City Hall or out on the streets.
As Pensacola becomes more tourist-centric and as more people live in and around its urban core, do you think things like ferries and trolleys will serve some of the transportation needs?
Robert Rinke saw the success of the trollies out on the beach and he sees the value of what is going on downtown and how we can benefit and work together. It's another asset, another amenity. People think it's a fun experience and you see it in other cool towns. Robert worked hard on that and Mr. Studer stepped up and was a part of it. It's another example of the private sector partnering with government to have a win for the citizens. It's a pilot project. We'll see what the feedback is and we will make a decision.
We tend to focus a lot on downtown. What is happening in other parts of the city?
When we ran for office, we really wanted to go into those areas that were underserved. I said I was going to focus on the West Side. We built a new community resource center over there. Woodland Heights was a neighborhood that felt underserved, so we focused on that neighborhood. I knew that if we collaborated with all citizens we could do a lot. Being 39 square miles, our footprint as a city is not large. But there were neighborhoods that didn't feel like they had a relationship with City Hall. I think we did a tremendous job getting out there and doing that. One of the areas that we focused on was west of A Street. We are going to do a really cool project, I hope, on the Blount School building site. That school sat there for 30 years. Immediately when we got into office, I said I can't have a dilapidated building in the middle of this neighborhood that is a few minutes from downtown, from the water. Now, we are hoping to do a really fabulous single family development there and we are trying to figure out the best way to do that on the public/private side.
When I came into office, they wanted me to do a disparity study. We did that. We wanted inclusion. We've done that. The face of City Hall has changed. Things that are important to me— we have our city's first female port director, first female city attorney. We've got a lot of diversity in city hall. The face of what we are has changed. For 80 years, there wasn't much change before the new form of government. We went after the Natural Resource Damage Assessment (NRDA) dollars right after the BP oil spill. We got the restoration money. We got the fish hatchery. We created an environment for jobs. We are creating an environment for people to want to live in our community. My big thing is giving opportunity.
How important is it to attract companies like VTMAE and what are the biggest things our city government can do to continue bringing those businesses in?
It's huge. We had 200 plus acres to develop there. Before I came into office, we were never focused on growing and that was why we were getting beat out by other places. And that's why we got a big grant last year from the Department of Economic Opportunity—an extra million dollars to purchase that property on 12 Avenue across from Pensacola State College. We accelerated that and we worked tirelessly as a team for the VTMAE project, which helps to create an aviation cluster. Those are jobs people can get trained for that don't have a four-year degree and may not have a two-year degree. Our school district, Pensacola State College and UWF have partnered with us. That is the modern culture of the American worker again—let me learn how to do a different trade. I think many of us who were formally educated started to appreciate that when the economy crashed and we were envious of the plumbers and electricians. What we did with VTMAE is a big deal and I think the community will continue to feel the benefits in the future. That put us on the world map. To have a big time international company in Florida, in Pensacola, and in the city limits. Again, it was a team effort with the city and the county. We were determined to get it done.
The city recently contracted NAI Halford for the marketing and sale of unused city properties. Are their particular industries you are looking to sell to?
There are assets the city might need to retain, but I don't think the city needs to be in the real estate business. We provide services. We pick up your garbage, we fill your potholes, and we provide gas. We do essential services that are critical. I'm not talking about selling the airport or anything like that. One thing that is critical here is that City Council has to approve the sale or lease of city property. This is not a unilateral decision by the mayor. I don't have the authority to do that. But I do think we need to put it in the private sectors hands, much like Hawkshaw. Obviously there will be questions of zoning, how it will look. Those things will have guidelines as to what can be done.
With the recent elections, how do plan to work with Tallahasse to make sure Pensacola is represented.
I think one of the biggest wins we've had is our ability to build a relationship with Governor Rick Scott. I've been very fortunate. We just clicked. So, I obviously work with the legislature as well and we have great relationships with the Department of Transportation (DOT). A lot of storm water and beautification projects came from money that we went after and DOT wanted to work with the municipality. Take something as benign as painting the I-10 Bridge—I was obsessed with that and we worked with them to get it done. The $3 million storm water grant we got at the airport was a big win. We have a great relationship with Tallahassee. All these little projects that you see like Martin Luther King south of Cervantes, Main Street, Bayfront, the I-10 Bridge—I'm pushing hard to get our project done with a roundabout when you come off the Three Mile Bridge. So yes, it's incredibly important to work with Tallahassee and DC. You brought up the ferries. I was at the Department of the Interior telling Eileen Sobeck that we needed ferries after the oil spill. The fish hatchery is coming to life. That was grant money. All of these things just show how important is to work with everybody.
What do you see as the three best things to happen to the city in 2016?
VTMAE was a huge win for our community. I feel we will see lasting benefits from that. It gives people who live here an opportunity and it gives us an opportunity to have more eyes on Pensacola from a business perspective. We were under a microscope from their leadership. They were looking at us in terms of how we interacted as a city and county government—the city council, county commissioners, the mayor's office. That was a big deal. Obviously the growth of Navy Federal was big because that has a ripple effect for all of us. The University of West Florida coming downtown to play football is huge for the community. That's another amenity that drives people downtown. It gives a bounce to the restaurants and businesses downtown. I'd also say getting the Urban Land Institute Award for the Community Maritime Park was big. That's a huge world organization that puts us in the minds of land planners and architects.
What do you see as the three most challenging things to happen to the city in 2016?
A heartbreak for the community was the loss of Captain Jeff Kuss with the Blue Angels. He was one of our heroes and I think it broke America's heart. Other than that, I don't focus on the negatives much. I keep moving forward. I think you are always going to have challenges, but it's about how you manage those challenges.
What's on your Agenda for 2017?
Well, it's been six years and I'm really excited to get the construction of the fish hatchery going and the collaboration with Florida Fish and Wildlife. I think there are some opportunities to partner with some research institutes and that could evolve to a bigger space and more educational options in the aspect of research. Obviously we'd like to get something going at the Maritime Park. Leveraging that asset would be really nice. I'm really excited about the new Holiday Inn hotel going up on Main Street. That shows continued investment. What I'm going to really focus on is getting outside investment into our community. We have so many people in our community who have invested heavily in the last six years. The southeast corner of Main and Palafox with the Woodbury family, the investments from Mr. Studer, and Ray Russenberger's development—these are big wins. Outside investment is good, too. I think getting more and more people attracted to Pensacola and bringing their businesses here is very important. I think any CEO is looking for a quality of life and our quality of life is hard to beat. The affordability, the assets, and the people are all great. I think you'll see a lot more restaurants coming on the scene and more young people investing in staying here. For me it all about being relentless about going after business, but also pleasing the citizens. I think it's important for us to know that we are the driver in Northwest Florida and we have to own our market. We have to attract people from other parts of the state and from around the country and the world for that matter.