By Tanner Yea
Matchbox Twenty burst on the scene in the late 90s. Their beginnings as a small post-grunge band in Florida to becoming international superstars in under a year, drummer Paul Doucette can hardly believe how fast it all happened.
"It happened so quick that we had to learn how to be a band," Doucette said. Now, Matchbox Twenty is set to play on August 18 at The Wharf Amphitheater in Orange Beach to celebrate the band's 20th anniversary.
Doucette began drumming at age 13 in his hometown of North Huntingdon, Pennsylvania. "Me and my friends wanted to start a band, and the other guys had guitars. You hear all these romantic stories about other musicians when they realized this is what they wanted to do, but mine wasn't really romantic."
Once Doucette turned 20, he moved to Orlando, where he spent his days working at a record store. This was until he answered an ad in the paper for a drummer in 1990. It was through this ad that Doucette joined the band Tabitha's Secret, which contained future band mates Rob Thomas and Brian Yale.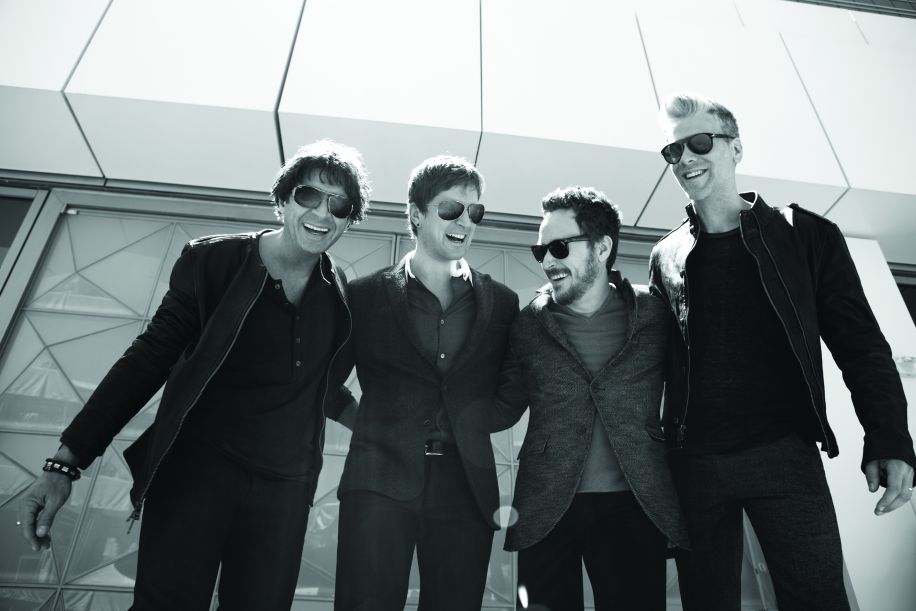 Tabitha's Secret played together for a few years, but was eventually dissolved when Doucette, Thomas and Yale left the band and signed a seven record deal with Matt Serlectic of Atlantic Records. The trio was introduced to guitarists Adam Gaynor and Kyle Cook, and Matchbox Twenty was formed in 1995. A year later, they released their freshman album, Yourself or Someone Like You, which has sold over 15 million copies since its release.
"We just wanted to be successful enough to have another record. We went from playing bars in front of three people to selling out Madison Square Garden, all on our first record," said Doucette. "We were surprised at how successful it was, and we still are."
Before their second album was recorded, Rob Thomas helped write and perform the now infamous song, Smooth, off of Carlos Santana's 1999 comeback album Supernatural. "We weren't really worried about what would happen to Matchbox after Rob did Smooth – we had already sold 12 million before that – but it did kind of obscure our first record. It was still an important step in the history of the band," said Doucette.
After recording their next two albums, Matchbox Twenty went on hiatus as Rob Thomas began to pursue a solo career and guitarist Adam Gaynor left the band. Doucette took a slight turn in his path, as he began scoring for films such as Shredderman Rules and Just Pray. He also formed his own solo musical project called The Break and Repair Method in hopes of finding his own sound separate from Matchbox Twenty's. In 2007, the band reunited and has been performing since.
"We all have different lives outside of Matchbox, but every time we get together, it's the exact same," said Doucette. "The dynamic is always the same and always works. We have the same energy now as we did when we first started."
Doucette attributes a lot of the band's success to being in the right place at the right time, but also knowing when to let fate take control. "There comes a time when you can either step up or blow it, and we stepped up. After that, it was something beyond us and out of our hands," he said.
As for the mysterious origins and meaning of the Matchbox Twenty name, Doucette originally pitched it when the group was in its early stages and trying to think up a name. It didn't stick at first, but a random encounter cemented the name.
"Rob and I were in a bar in Orlando, and we were talking about the band name, and it was between Matchbox Twenty or something else. We were sitting next to this drunk guy, and Rob turned to him and asked, 'Which band would you rather see, the one band name or Matchbox Twenty?' The drunk dude was like 'Matchbox Twenty!' so I guess he kind of decided on the name."
Matchbox Twenty will be performing at The Wharf Amphitheater in Orange Beach, Ala on August 18, with support by Matt Nathanson. For more information on the band, visit matchboxtwenty.com. To purchase tickets and to learn more about the event, visit alwharf.com.