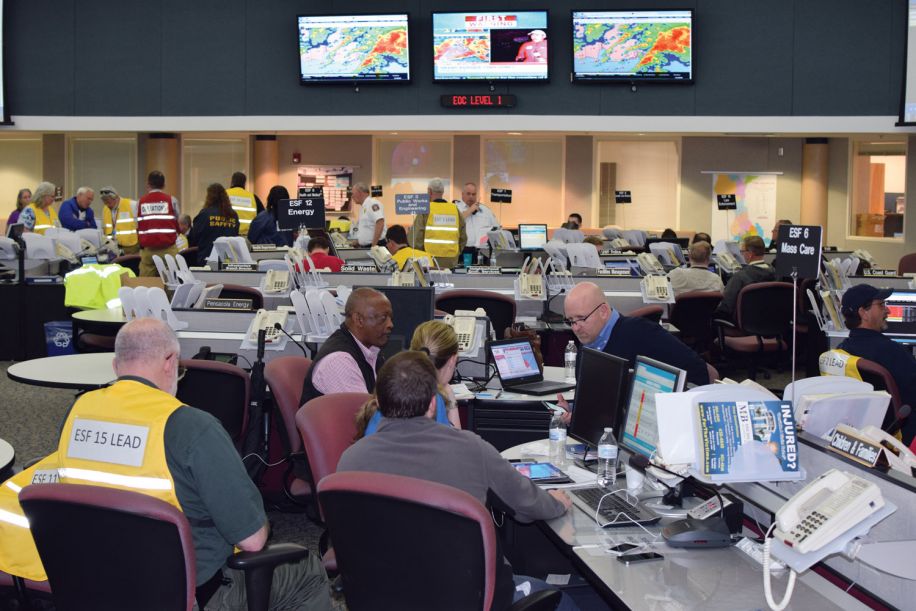 Who do you call when floods, hurricanes and tornadoes are coming? What about when a truck filled with hazardous materials spills over the highway? When we think of emergency situations, those who often come to mind are first responders like our local law enforcement, firefighters and emergency medical personnel. However, what emergency personnel do in the field is all based on the important operational decisions and planning formulated first by the Emergency Operation Center (EOC).
Our local Division of Emergency Management, also called the EOC, is responsible for coordinating mitigation, preparedness, response and recovery efforts for emergency events in the Escambia County community. The EOC's all-hazard approach to emergency planning includes threats from hurricanes and other weather emergencies to either man-made or technological emergencies, such as hazardous material spills and acts of terrorism (though these instances are low in our area).
The EOC makes decisions according to the data collected in house, as well as data sent to the EOC by agencies the center works with closely, such as the National Weather Service.
In short, the EOC relies on its communication with as many as 90 local agencies to determine the appropriate course of action depending on what type of emergency is facing the community.
"The EOC brings all players to the table to work as a single cohesive team when dealing with community-wide disaster response," said emergency management director John Dosh. "Outside of the EOC, we have a lot of participants who we communicate with because they have the right tools to address the situation. These participants include utility companies (power and water), emergency responders, hospitals, as well as search and rescue teams."
The staff for day-to-day operations at the EOC consists of four members, including Dosh himself. Other staff members include a GIS specialist and IT personnel.
The GIS specialist helps by drawing a picture of an event to help with intelligence and putting together a map to better inform responders and others dealing with recovery efforts, so they may better address the situation at hand, whether it is a weather-related threat or otherwise.
The data the EOC receives from other agencies is crucial to emergency operation, which is why communication is of the utmost importance.
For this reason, the EOC always has an IT specialist on staff to ensure the center's technology is running smoothly.
The EOC uses a web-based operating system called Win DOC, which allows the center to communicate across different agencies. Win DOC allows the EOC to pass messages, as well as import and export data and imagery from other agencies. Another program the EOC utilizes is a software package called HURREVAC, a FEMA VAC program for projecting a hurricane evacuation decision model.
The EOC is ready to respond to an emergency on a minimal level all the time. When an emergency situation arises, all it takes is one phone call by Dosh and the EOC is kicked into high gear and fully activated within 10 to 15 minutes (the time it takes for the rest of the staff to travel to the EOC). But, as many as 150 people get involved, including National Weather Service meteorologists from the regional office in Mobile, law enforcement, and other experts outside the immediate vicinity of the EOC.
The main stage for EOC operations is a command center-like room: a large, open area that encourages open communication. While the Win DOC software is for documenting communication, face-to-face communication is encouraged since the EOC finds they get the best results when information is relayed in person.
Support rooms include a media room, where media can set up and establish a communication path to the general public. The room encourages media presence, and, as decisions are made and directions are given, there is a direct link to the community through the media room.
As emergency management director, Dosh is responsible for both managing and maintaining EOC operations, as well as ensuring the community government is prepared for any kind of disaster.
"When people ask what we do at the EOC," explained Dosh. "I often describe myself as a conductor in a very fancy band. I stand up there and wave my wand and make sure everyone plays their wonderful instruments at the right time and at the right tone. Other than that it's not me, but them, making the music."
To better inform the public of incoming emergency situations, the EOC has initiated an Emergency Notification Program called Alert Escambia. This is a free service available to those who sign up online at bereadyescambia.com. The site will prompt you to enter contact information so can be notified of any emergency alerts in the area.
Alert Escambia is a joint effort by the EOC, Health Department, ECUA, Gulf Power, Ascend Performance Materials, and International Paper, who also help fund the service at a cost of $70,000 per year.
This program works through the EOC's subscription to Everbridge, an agency selected to provide automated notification systems and provide emergency recall services to not only EOC staff but to the general public, as well. So, in the event of an emergency, locals will be notified and told what steps to take.
Similar to the services provided by Everbridge is WEA (Weather Emergency Alert), which is embedded in every new cell phone as a federal standard. Basically, WEA allows the National Weather Service to use your cell phone as a weather alert radio, activating your emergency notification tool when severe weather, such as tornadoes or hurricanes, are headed in your direction.
It works like this: WEA communicates with the tower that communicates with your mobile device. In this way, once the EOC and National Weather Service have determined the potential path or area where severe weather will hit, WEA alerts residents who are at risk.
Without knowing it, you might have seen WEA in action during the devastating February tornadoes that swept through Escambia County. If your phone set off an emergency alert tone about the tornado, then you witnessed just what WEA can do.
According to Dosh, those who headed to local shelters during February's tornadoes did so because of the WEA alert that notified them.
To stay ahead of the game and prepared for emergencies, Dosh encourages residents of Escambia County to visit bereadyescambia.com. The website has links where you can sign up for Alert Escambia, and stay up to date on Florida 511 traffic information and reports by the National Hurricane Center, and provides access to important telephone numbers, evacuation routes, crisis alerts and more.
"If you're prepared for a hurricane with resources to last at least 72 hours," explained Dosh. "Then most of the same things that help in the case of a storm will also help with short-term emergencies like tornadoes and wildfire evacuations. If you're prepared and ready to go with the major disasters, then preparation for smaller ones should fall right into place."