by Bradley "Beej" Davis, Jr.
The mission of the Pensacola Symphony Orchestra (PSO) is to promote the well-being of the greater Pensacola community through excellence in live symphonic music and lifelong learning through engaging musical activities. With the introduction of PSO's Beyond the Stage program in 2015, the organization has seized the opportunity to ensure music continues to touch each member of our community, from the young to the young-at-heart.
"Music adds vibrancy to every community," said PSO Board Chair Bentina Terry. "The PSO endeavors through Beyond the Stage to make sure that, no matter what walk of life you come from, the beautiful vibrancy of symphonic music can enrich your life." This belief is the cornerstone of the organization's new program, and it's certainly picking up steam. Volunteer board members and PSO staff alike are excited to bring Beyond the Stage to the Greater Pensacola area.
"Fundamentally, we believe that everyone has a right to the benefit of music and music education," said PSO executive director Bret Barrow. "Programs like Beyond the Stage are simply ways to help put that belief into action. By making music accessible through empowering and equipping our musicians to serve others with music, we are able to go beyond a foundation of wonderful performances." Barrow further explained that the real benefits lie in having a relationship with music such that it means something to you wherever you are. Beyond the Stage fills the musical gap with musicians performing for those who would otherwise not have the opportunity to experience it. And with the inclusion of sending musicians to local schools, nursing homes and end-of-life care facilities, PSO is truly taking its music beyond the traditional performance stage.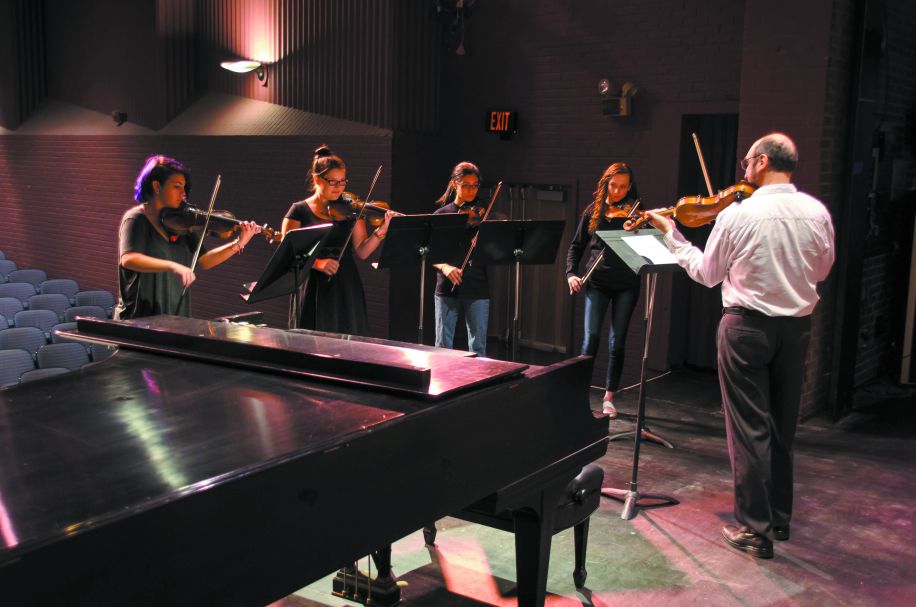 Health benefits of music
In 2013, USO Today published an article showing research that suggests music has a direct effect of easing pain, especially in geriatric and intensive care as well as palliative medicine. Additionally, it has also been shown music has a tremendously positive effect on mental health.
"Music is an important therapy for our patients and their loved ones at Covenant Care's inpatient units," said Covenant Care Volunteer and Community Relations Manager Amy Stamey. "Music can help unlock memories and provide a positive focus for our patients; the musicians who play for us through the Beyond the Stage program provide comfort, and combined with the interventions of the hospice team help improve the quality of life for our patients." Stamey said that most of her patients are bed bound and unable to participate in some activities in the communal area where the PSO musicians perform, but when the sound carries to their rooms it brings them joy and comfort. "Music is suited to the challenges faced by our patients; physical, psychosocial and spiritual. We receive positive feedback about the program from patient family members and visitors to the unit." She said the patients aren't the only ones who benefit from the music—music helps reduce stress, anxiety and agitation for the families and staff as well.
But Beyond the Stage provides music to other groups besides our beautiful aging community. In the heart-wrenching event that our youth is burdened with severe illnesses, PSO is right there to provide comfort.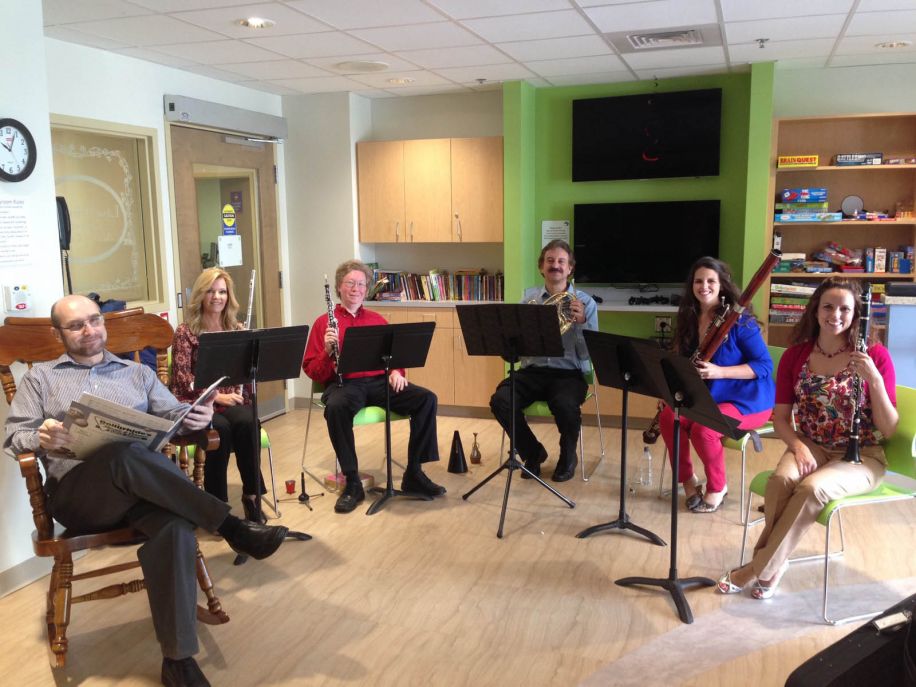 "It is amazing to witness the power music can play in the lives of our patients, many of whom have complex medical conditions, such as leukemia, Type 1 diabetes, and heart complications," said Ashley Cole, Site Practice Administrator for Nemours Children's Specialty Care. "These children come to Nemours on a regular basis and their visits can be scary. So, when I walk through the waiting rooms and see them playing instruments and getting engrossed in the music, it brightens my day." Cole said not only are the children having fun, but they and their guardians are now less stressed, making their doctors' appointment much more effective. Additionally, the children begin to view Nemours as a place where they can do fun things versus a clinic in which they have to see the doctor. She added the feedback has been resounding.
"Recently, a mom shared that her daughter is now incessantly talking about wanting to play an instrument based solely on her experience and interaction with the symphony volunteers," said Cole.
Herein lies the multifaceted approach to Beyond the Stage: its ability to sooth and comfort as well as to enlighten and educate.
Molding musical minds
With continued and looming budget cuts for extracurricular and arts programs in the schools, it has been left up to other organizations to fill the gap of these vital aspects of primary and secondary education. PSO's Beyond the Stage is precisely the program that makes sure no child is left in silence.
"Firstly, music itself is so important to our community. Music, as well as other arts, provides a lifelong enrichment for aesthetic beauty. Not only do students of any age learn more efficiently, they appreciate the educational process more," said Marshall Corzette who heads community engagement for Pensacola Symphony Orchestra. "Since music is a language, studies have shown increased enjoyment of literature; increased ability in foreign languages as well as increased GPAs."
In just under two years, PSO has established nearly a dozen viable relationships with local organizations including two schools—Ransom Middle School and Tate High School in addition to the Lamont Community Music School (formerly Belmont Youth Band). However, the organization is excited to announce the expansion to Brown Barge Middle, Pine Forrest High, Bellview Middle, and Woodham Middle School in 2017. It's obvious the one-on-one time students get with an orchestra professional with Beyond the Stage is effective in musical growth.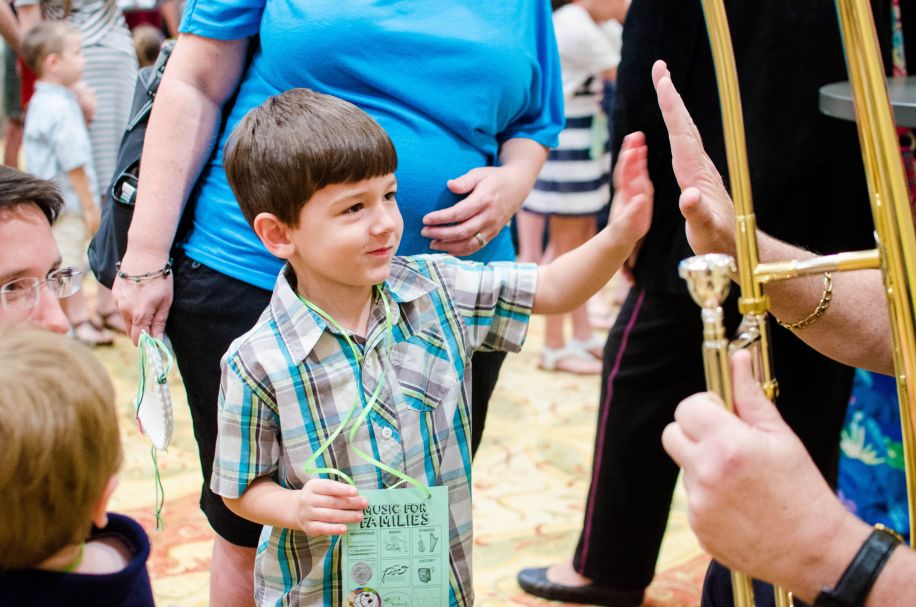 "I always wanted my students to have the same advantages as orchestra students in more metropolitan areas in the country, who have easy access to professional coaching, high-quality music performances, and exposure to musical life beyond the school orchestra. Beyond the Stage has done just that for the Ransom Middle and Tate High orchestras," said Catherine McConnell, Orchestra Director for Tate High and Ransom Middle. "Through this wonderful partnership, the orchestra students receive world-class coaching on their individual playing, advice on coping with nerves, words of wisdom on the importance of technical study as well as important feedback on our balance and sound as an orchestra." McConnell, who has been directing middle and high school orchestras in Escambia County since 1999, said the challenge of making sure every student receives the support he or she needs in their musical growth hinges around building programs and working hard to ensure the students thrive. Beyond the Stage helps with that challenge as well as provides students the opportunity to come out of their shells with the one-on-one interaction with the musicians.
"Frequently, more introverted students feel shy about asking for help in a large orchestra class, and it is so significant for students like this to have the opportunity to perform in a smaller, more intimate setting, where they can receive additional musical support," said McConnell.
The number of success stories for all of these organizations is expansive. From relieving stress and tension for the elderly to providing one-on-one support for music students and terminally-ill youth is precisely the goal of Beyond the Stage. For some PSO leadership, this goal can be summarized with a more global approach.
"Increasingly, some of our most important work has taken place out in the community; in schools, hospitals, hospice settings, retirement homes – quite literally Beyond The Stage," said PSO Music Director, Maestro Peter Rubardt. Rubardt is currently celebrating his 20th anniversary with the organization, but his desire for community impact has only grown in those two decades. "At the PSO we have a deep and passionate belief in the capacity for music to be a powerful force for good in people's lives. Beyond the Stage is our channel to act on that belief by making music present throughout the community."
Naturally there is a cost associated with the implementation of Beyond the Stage. The cost for each musician is $100. When PSO sends a group of musicians to perform, it can add up pretty quickly. Pensacola Symphony Orchestra will be presenting its annual "Center Stage Gala" on March 11 at Skopelo's at New World Landing. Proceeds from this gala, complete with live and silent auctions and world-class entertainment by the John Pizzarelli Trio, go directly to supporting Beyond the Stage. For more information on how you can support or attend the gala or Beyond the Stage, call the PSO office at 850-435-2533 or visit www.pensacolasymphonyorchestra.org.