By Tanner Yea
The Gulf Coast has always been known as a vacation destination, and part of that reputation comes from the small water and amusement parks that run up and down along the coast. However, the closest large-scale amusement parks require a weekend trip to central Florida or further west to Louisiana or Texas in order to enjoy the spills, thrills and chills.
That will all change in mid-summer 2017, as OWA finally opens to the public. Located in Foley, Ala. and owned and operated by the Creek Indian Enterprises Development Authority, or CIEDA, in conjunction with the city of Foley, OWA is designed to further cement Foley as a vacation destination across the Southeast.
"We are taking a great deal of pride turning this vision of OWA into a reality," said Kristin Hellmich, OWA's Marketing and Public Relations Director. "It could not be possible without the efforts by our exceptional construction and design teams as well as local and state governmental agencies."
OWA is derived from a Muscogee word meaning 'big water,' an appropriate name as a majority of the entertainment complex is built around a 14-acre lake.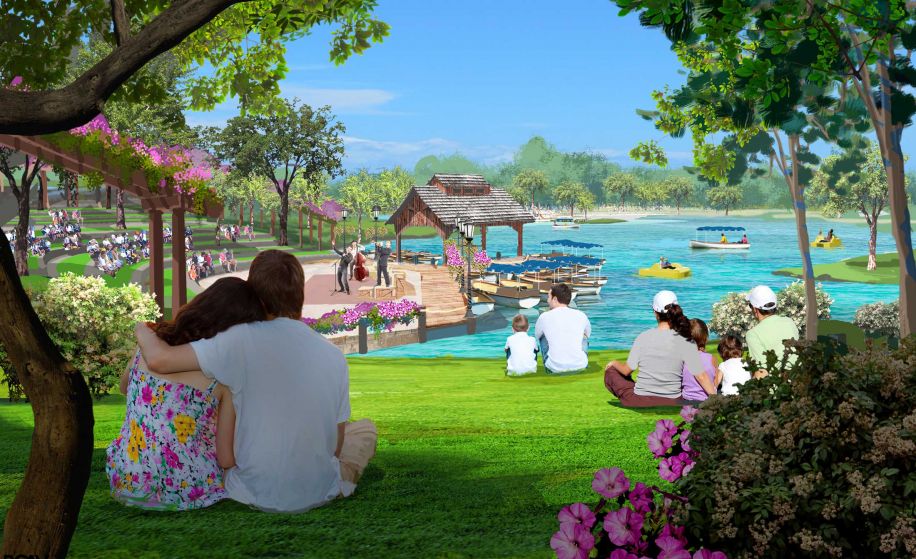 Since the groundbreaking in 2016, CIEDA has been working with PGAV Destinations of St. Louis for much of the park's design – they have previously worked on theme parks such as Busch Gardens, SeaWorld and Universal Studios. They have also contracted STOA Architects in Pensacola for other design needs and the actual construction of the facility.
"We knew that over 6.2 million people visit the beaches and Tanger outlets yearly, so we wanted to make it into a destination," said Veronica Bishop, the Public Relations Coordinator for OWA.
OWA is set to be divided into three themed areas, each with its own feel and purpose. The first is called the Warehouse District – modeled after turn-of-the-century cotton mills and processing plants. Being mostly retail space, these large buildings are meant to evoke a time of industry and progress. The Warehouse District will also contain a new Marriot TownePlace Suite, containing 150 rooms and designed to fit the feel of the industrial area.
Next is the Downtown District, which emulates the style of a Southern main street, with its intimate shops and broad avenues. "We modeled it after our Baldwin County heritage," said Bishop. "We went to Baldwin and used elements of downtown streets from cities like Atmore, Foley and Fairhope."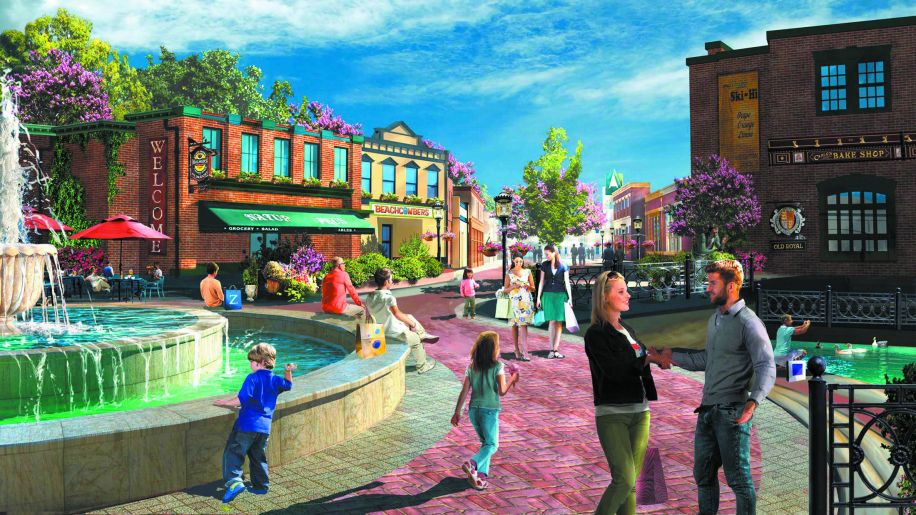 The final area is the Amusement Park, and it may be the most anticipated portion of OWA. Containing over 20 rides designed and constructed by Italy-based ride manufacturer, Zamperla. The rides range from swinging chairs to tea cups and beyond.
The highlight of the amusement park will be a brand new steel rollercoaster called Rollin' Thunder. With around 681 meters of track, four inversions and a top speed of 56 miles per hour, USA Today has called the ride one of the most anticipated coasters of 2017. "The only other type of its kind is in Coney Island," said Bishop.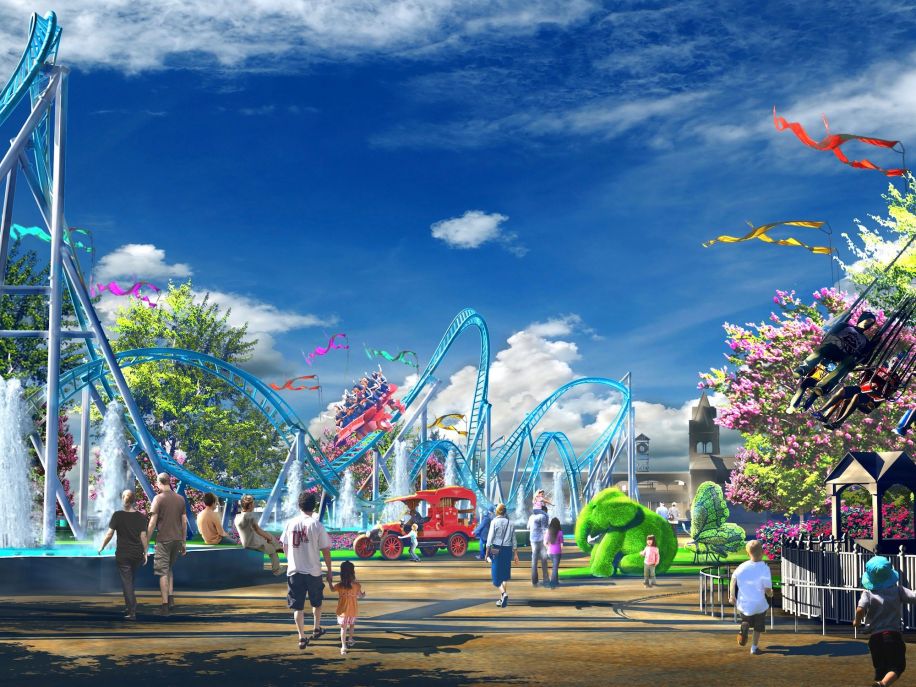 In addition to the parks, OWA will contain a 90,000 square foot event center, 44,000 square feet of initial retail space, a 400-seat amphitheater and a two acre island in the middle of the 14-acre lake. This entire phase of construction is set to cost $260 million, and is nearing completion.
This is not the end of the line for OWA, however. After the initial opening, work will begin on Phase Two of the construction. This will consist of a second hotel, a full water park, condominiums and an RV park. Though construction on Phase Two hasn't yet started, plans are underway.
"The whole theme of this destination is one of 'Southern Hospitality'," said Bishop. "We both wanted to keep it very authentic, but reinvent the ideas and modernize it."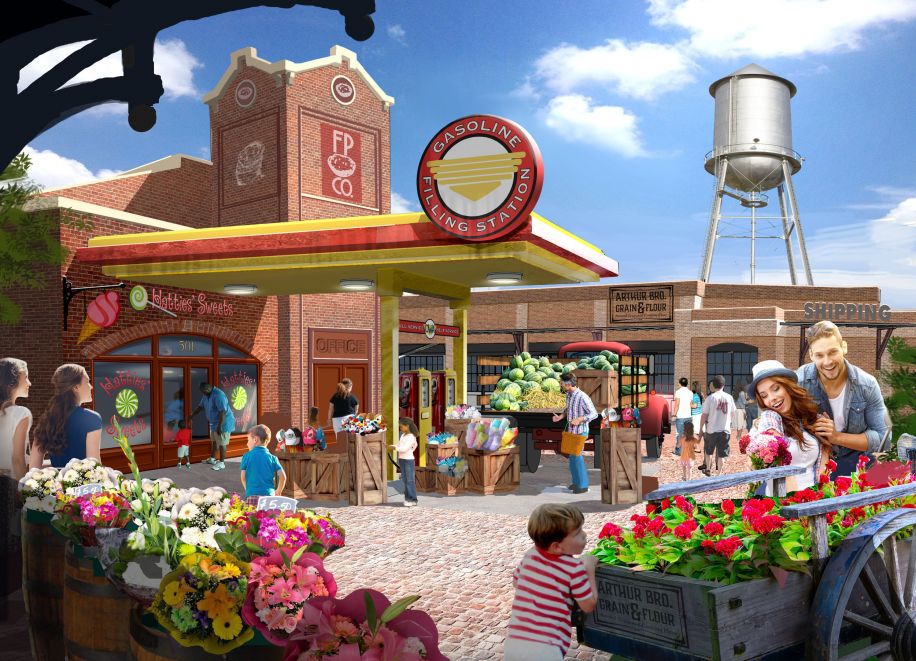 Luckily, OWA will be low cost to enjoy. Admission is free to the OWA property and parking will be complimentary, but the Amusement Park will have a general admission that allows access to all the rides and fun within. There will be other charges for activities like boat rentals and similar events, but park organizes ensure the cost will be light on your wallet.
Bishop said that OWA is designed to be an extension to what Foley already has to offer. For example, the event center is set to open adjacent to the Foley Sports Tourism Complex – an existing structure that houses 16 state-of-the-art multi-use sports fields, including TV-ready lighting and a 1,000-seat stadium.
"All hands are on deck to ensure OWA's opening exceeds the expectations of visitors and residents of Coastal Alabama alike," said Hellmich. "And it's all orchestrated by CIEDA, an authority of Poarch Band of Creek Indians."
OWA is set to open Phase One in mid-summer of 2017. Phase Two is expected to follow soon. For more information on OWA, including its features, construction progress and employment opportunities, visit visitowa.com or call 251-923-2111.