By Kelly Oden
One of Pensacola's most unique galleries is celebrating a milestone this year. For 20 years, Blue Morning Gallery has provided a cooperative gallery space for local artists and a unique shopping experience for Pensacolians and visitors alike. A pioneering presence in the Pensacola arts scene, Blue Morning opened in 1997 as place to showcase the work of local artists and to encourage the development of new creative talent within the community. Twenty years later, Blue Morning Gallery has become a mainstay of the downtown art scene.
Originally started with around a dozen members, the cooperative has grown to more than 50 artists and even has a considerable waiting list.
"I don't think those 12 artists ever envisioned it growing to be so big," says Jim Sweida, member artist and board president. "It was dream of the artists to have a place where they could meet, paint and maybe sell some of their work. It was very casual in the beginning."
Current artist members pay a fee for their wall space and a small commission on each piece sold. This money is used to pay the bills and promote the gallery. Artists also spend a number of hours each month working at the gallery, so shoppers have the unique opportunity to meet the artists and talk about their work. Gallery artists work in a variety of mediums including painting, photography, fine woodworking, iconography, sculpture, glass, pottery, jewelry and much more.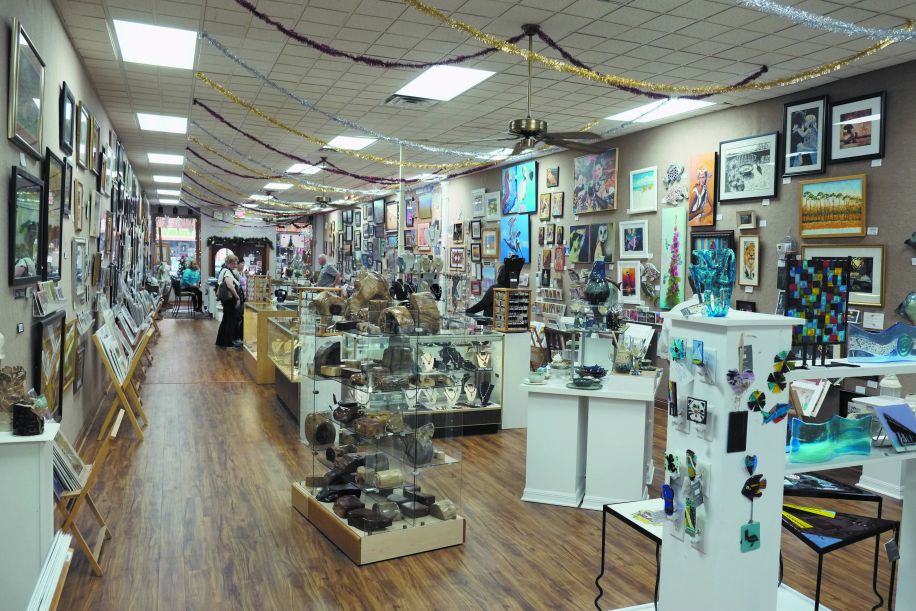 The members run the gamut in terms of experience from emerging to award-winning and established artists. While many are full-time artists, others have former or current careers in fields ranging from education to science and psychology. This wide range of experience comes in handy for the administrative duties of the gallery, as it is run entirely by members with no paid staff.
Blue Morning also strives to keep prices affordable and they pride themselves on offering something for everyone from high-end-large-scale pieces to smaller sculptures and jewelry and even greeting cards. "We call ourselves a working gallery," explains Sweida. "We're an experience gallery. We do more than just sell art here. We try to promote the arts and do fun things for the community and for downtown."
Seeing the importance in supporting young artists, Blue Morning established a scholarship program six years ago.
"We've had some real success as a gallery over the last five or six years," says Sweida. "We felt that it would be appropriate to help some struggling visual arts students. We started an annual scholarship over at UWF. We don't involve ourselves in the choosing. It's up to UWF to choose a deserving student. The gallery members each contribute to the scholarship and the student is also invited to display work in the gallery. There's a big difference between academic art classes and the real world. We give them a whole month to exhibit to learn the ins-and-outs of showing their work."
Located in the historic Blount building, which is currently under major renovation, the gallery's lease runs through 2019 with the possibility to extend and Sweida says they have no plans to move. However, the renovations of the building will result in the gallery losing roughly a third of their space. That means they will no longer be able to offer education classes on site, but they are looking at options for remote classes.
The gallery has many fun events in store for 2017 and their 20 th anniversary year. Be sure to check out their website at bluemorninggallery.com and follow them on social media. The gallery is located at 21 S. Palafox Place and they are open Monday through Wednesday from 10 am to 5 pm, Thursday through Saturday from 10 am to 8:30 pm, and Sunday from 12:30 pm to 4 pm. They also have a table at the Palafox Market every Saturday.