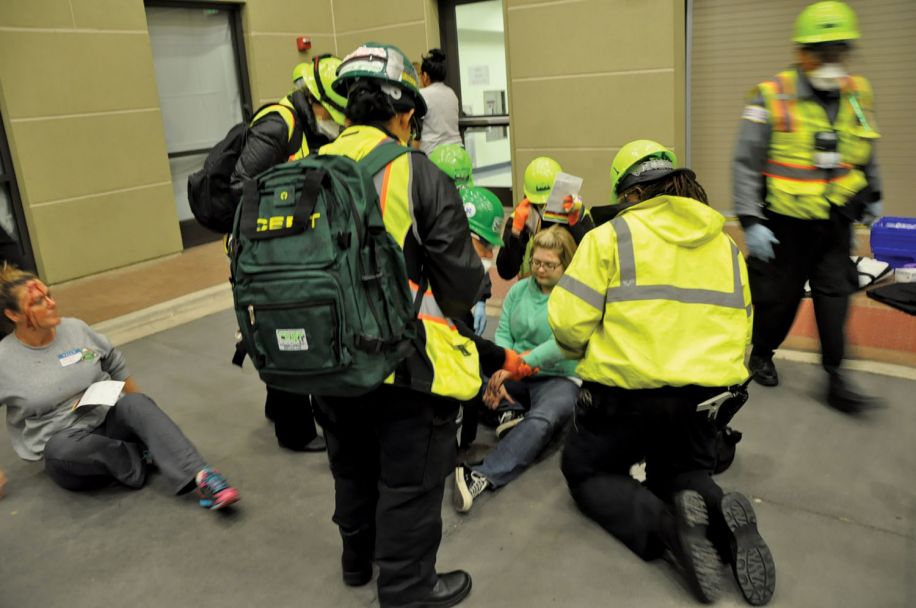 Hurricane season may only stretch from June to November, but for BRACE (Be Ready Alliance Coordinating for Emergencies), it is hurricane, flood, fire, and disaster season year round. The behind-the-scenes heroes who mobilize at a moment's notice to prepare for and recover from catastrophe, BRACE works with community organizations and volunteers to be ready and vigilant for whatever may happen.
BRACE is the successor to a long-term recovery committee that was formed after Hurricane Ivan in 2004. When Dennis hit the following year, the non-profit worked with 38 organizations to support 800 families, including 144 families who needed permanent housing resettlement. BRACE works throughout the year to keep companies, parents and children aware of what they need to be properly prepared.
BRACE is funded in a variety of ways, including state and federal grants, and by working under contract for local governments to dispense much needed services and workshops.
For example, they contract for Escambia County on the Citizen Corps program, which encourages individuals to embrace the personal responsibility of being prepared; get training in first aid and emergency skills; and to volunteer to support local emergency responders, disaster relief and community safety. Citizen Corps involves the CERT (Community Emergency Response Team) program, which educates people on basic disaster response skills like search and rescue. It also involves Fire Corps (assisting local fire departments), Neighborhood Watches, Medical Reserve Corps (to supplement public health initiatives), and VIPS (Volunteers in Public Service, which enhances the capacity of state and local law enforcement). There is a version of the 21-hour curriculum available to teens who wish to get involved too.
"We deliver that curriculum with the help of the sheriff's office and law enforcement and fire departments," said Greg Strader, executive director of BRACE. "We have a team of willing volunteers ready to step up and supplement official activities in the wake of an emergency. Over a thousand individuals in the area serve as members of Citizen Corps."
Following the 2014 flood, BRACE coordinated with over 500 partners that put in more than 92,000 hours of work, which translates to a $2.1 million impact. They mopped out 592 homes and did some major construction, including reconstruction on 113 homes, thanks to over $700,000 in funding.
BRACE makes such a tangible impact in the community that city councilpeople have given to the organization from their $10,000 discretionary funds. The county also realizes all the BRACE does, and provides an array of services that the county would otherwise have to take the lead on.
"It's hard to measure prevention," said Buzz Ritchie, vice chair of the BRACE board. "You often don't see the results and the value until after disaster strikes. We react to floods, tornadoes, fires, and even terrorism—so much more than hurricanes."
After a disaster, individuals and communities will come forward who want to help, but they are unsure how. Often, these untrained individuals will do more harm than good as they attempt repairs, medical care and more. BRACE ensures that neighborhoods have people who are trained and know what needs to be done. Instead of looking around for something to do, they can supplement activities and help respond more quickly than emergency services may be able to.
"We do off-the-radar, behind-the-scenes kind of work, but you'd definitely notice if we weren't there," said Strader.
BRACE has a chair at the Escambia County Emergency Operations Center, a huge hub that serves as a concerted effort by the county's health, law enforcement, utilities, and recovery organizations to work through the storm and recover afterward.
"When we understand the scope of what has happened, we deploy our volunteers and work with our organizations, be they churches or even regular businesses," said Strader.
"Our community is truly extraordinary," added Ritchie. "We learned from Hurricane Ivan that an organization had to be in place to take the lessons learned and apply them by engaging the community and helping with mitigation efforts. We do a lot of outreach. We work a lot with the community, many of whom have reached out to us. Because of our partners, we are able to do so much."
On the BRACE board sit experts from various fields and industries in the Pensacola area. With this expertise, BRACE is able to harness different perspectives and make sure all their bases are covered. This is also a method of community outreach, ensuring represented businesses have a plan in place and employees and their families understand the importance of always being on alert.
As if that were not enough, BRACE also provides disaster response childcare for first responders. For example, in the days and hours before, during and after Hurricane Ivan, firemen and policemen were faced with the difficult choice of responding to those who needed help or staying home and comforting their loved ones. BRACE stepped in and identified childcare needs of 185 families and worked to find a survivable facility for sheltering in partnership with the school district.
They also work with businesses, many of whom may never reopen after a storm, to provide a best practices tool to enhance disaster readiness. They provide free training where CERT trainers will come to your organization, business, school or church and provide guidance.
Homebound individuals are those who may have disabilities, need help evacuating, do not speak English as their first language, or have other impairments that may make it especially difficult during a disaster. During Ivan, there were 57,000 homebound and disabled persons who were underserved. In response, BRACE assembled a committee with 44 current participants dedicated to helping these people, in addition to 37 partner organizations that currently serve them. They also established a HIPPA-compliant database that identifies the location of these individuals so that exact plans could be developed for next time.
Believe it or not BRACE even helps with non-disaster related needs. In times of unexpected desolation or discontinuation of vital services, the non-profit will step in. Heritage Oaks, a mobile home and RV park, is one such example. After the former owner deserted the community, leaving residents without water, sanitation or garbage services, Escambia County Public Safety asked for BRACE's help. BRACE LLC took over and now operates the facilities, providing affordable workforce housing to individuals and families in the west side of town.
"Our alliances really are the best part of who we are," said Ritchie. "We are in constant communication with partners. There are people who live here who have never been through a hurricane, so we need to reach out to them and educate them."
Storms are unexpected and disaster always seems to strike at the most inconvenient times, but BRACE is dedicated to working 24/7 behind the scenes to ensure that the unexpected is not the end of the story. By working with community partners and volunteers, Escambia County is always well-prepared for the next storm or disruption to our way of life. If you are interested in volunteering, contact [email protected].