By Kelly Oden
You may not recognize Barbara Resler Weeks' name, but it's very likely you've seen her work. Her paintings of Pensacola's historic homes and landscapes hang in many local collections—in car dealerships, condo buildings, law offices and universities. Weeks' large body of work encompasses everything from watercolors of her beloved Pensacola and other cities she has visited to large scale abstract acrylics, genome inspired block prints and portraits. Looking through the multiple stacks of her work you'll encounter many familiar faces—hundreds of Pensacola's most prominent and historic buildings, but you'll also find some wonderful surprises hidden in the works that span decades.
Born in a remodeled barn amidst the potato fields of West Hills, Long Island in 1929, just a stone's throw from Walt Whitman's birthplace, Weeks grew up watching her Nana paint and was quickly captivated by the process. "Nana painted and she lived with us because her husband had divorced her in the late 1800s," says Weeks. "She had no way of making a living. She did lots of things, but mom and dad took care of her. I would just watch her painting, but she really got my interest going. I still have her easel in the back room."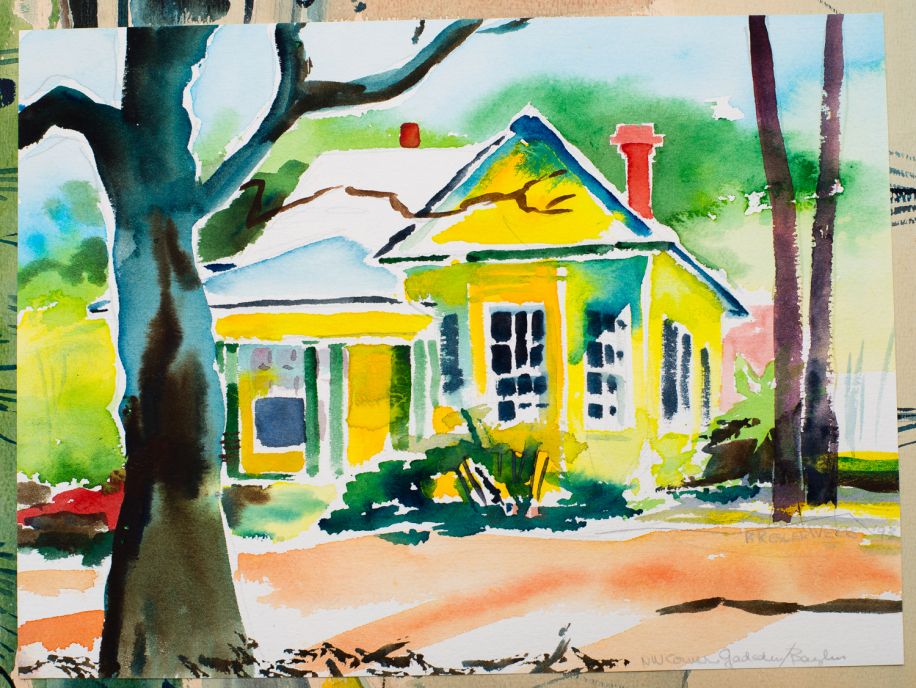 Weeks knew she wanted to be an artist from a young age and her father was very encouraging. "He had been brought up in Brooklyn and visited the Metropolitan Museum of Art and The Brooklyn Museum frequently," says Weeks. "He always talked about the things that he had seen in those museums. And, of course, growing up there and going in with him on the weekends was an education. Even though it was the height of the Depression, he did have a good job. He worked in the Chrysler building, which influenced my work. I remember his office was right above the gargoyles and I remember looking out at them. First I wrote a little story about dreaming that I flew away on one. That later influenced my husband to do a wonderful sculpture of a girl sitting on a gargoyle, which he eventually sold."
Over the years, Weeks has experimented with a variety of artistic styles and mediums. "Growing up in the 30s to 50s—this was the time of all the "isms"—expressionism, impressionism, hard edge, color studies—like Joseph Albers, the Bauhaus, etc… ," explains Weeks. "I experimented with both architectural design and painting. Jackson Pollock was a big influence on me. I remember seeing his work in the 40s before he showed at Betty Parsons. It was at a gallery in the Hamptons, were he lived."
Although she admired her Nana very much, seeing her struggle financially made Weeks realize that she might need a career to fall back on. She was accepted into the architecture program at Syracuse University and her family sold their barn in order to pay for college. While there, she met her late husband Roger Weeks who was also in the architecture program. The two met "across the drafting table" at a church function and were married in 1950. Although Weeks remained registered in the school of architecture and continued to take classes, she never finished the program.
After living in Massachusetts for a couple years, the Weeks moved to Pensacola in 1955 and raised their three children here. Roger worked as an architect and eventually opened his own firm in the Thiesen building where Weeks worked as a secretary and draftsman. She also helped with design work and she fully designed the Air Force Armament Museum at Eglin Air Force Base. Her husband worked on many homes and buildings in the Pensacola area including many apartment buildings, the AAA building on Brent Lane and the "landing pad" for the U.F.O house on Pensacola Beach. Many of Weeks' Pensacola paintings were done on her lunch breaks during these years. "I would take my lunch break and go out and paint. I drove around and I'd paint on the hood of the car—as you can imagine, it was a mess."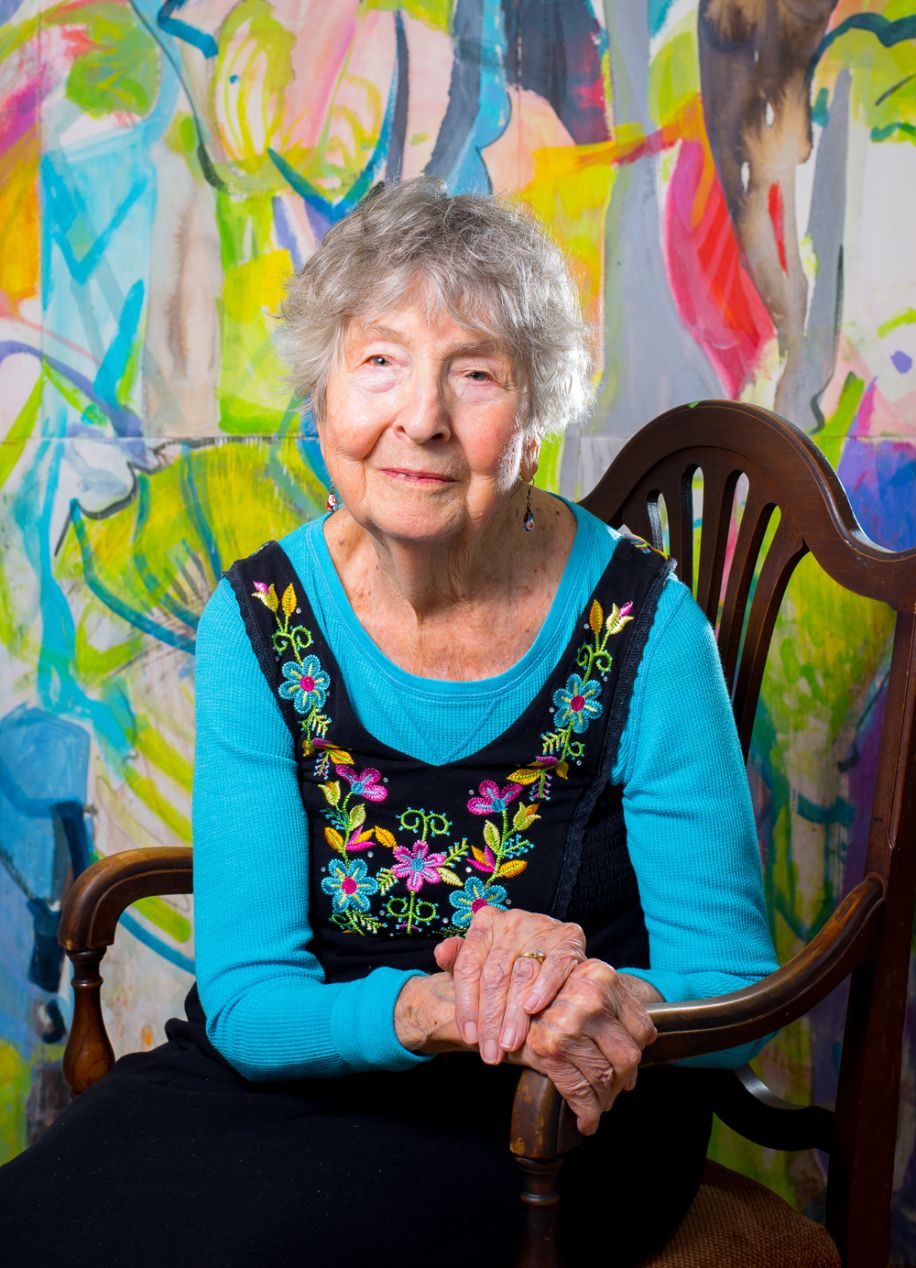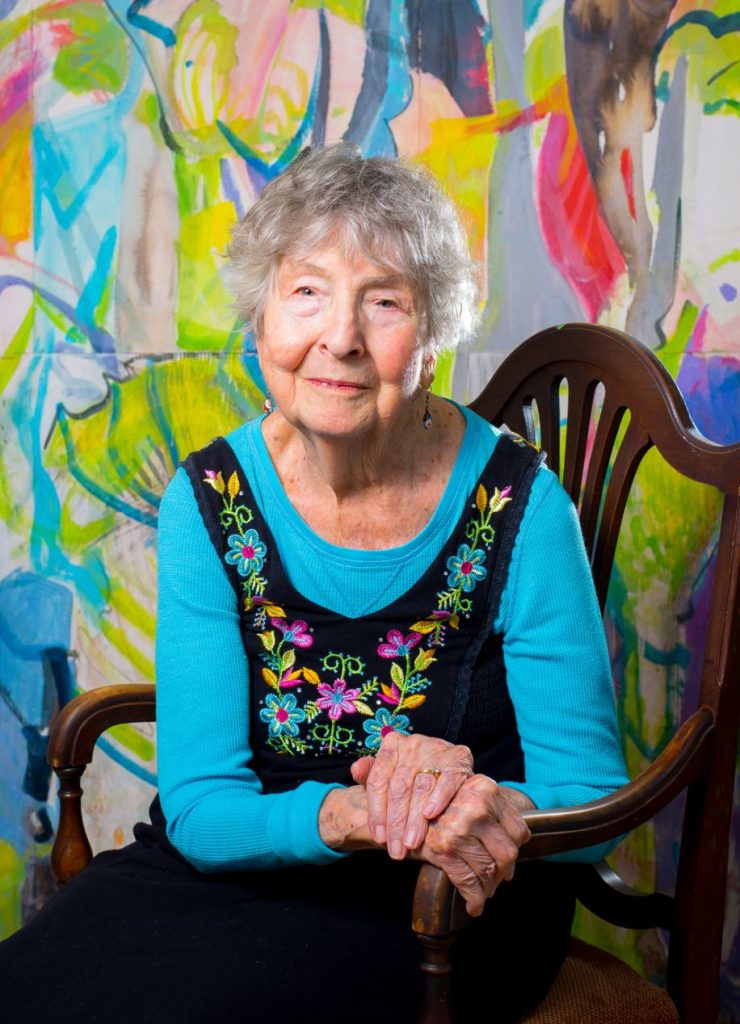 Painting has always been a natural extension of Week's life. In Pensacola she was attracted to the historic architecture, but she and her husband painted all around the world on their many trips—everything from fields in Wisconsin to street scenes in Hamburg, Germany. They would paint what they saw—particularly the architecture. "We didn't take too many pictures," says Weeks. "We'd just paint. It was so much fun. I sat on curbs and painted all over Europe."
Weeks obtained her Bachelor of Science in Art and her Masters in American History from the University of West Florida, where she taught art for about 10 years. "I don't have a favorite piece or a favorite artist," says Weeks. "After teaching art and art history for so long, from the Dordogne caves to today, there are so many interesting things being produced. I don't think we should rule out anything. Just try to be encouraging. Art comes in so many different ways."
It's important for Weeks to give back as well. Off and on since the 1950s, Weeks has been volunteering at the USO, drawing portraits of the young service men and women. "I can't cook," Weeks says. "I can't sing or dance or perform, but I can draw. And they are so wonderful. You hear all kinds of stories and you learn so much from these young people. It's really an education."
If you own a historic home in Pensacola, there is a good chance Weeks has painted it. You'll have a chance to view her works and meet the artist at An Evening with Barbara Weeks, which will be held on June 26 from 5:30-8:30 pm at Lucy's in the Square. The show will feature many of Weeks local paintings, which will also be for available for sale.