Press release provided by City of Pensacola
Drivers and bicyclists can now take advantage of the new and improved multi-modal Spring Street, part of the City of Pensacola's ongoing efforts to create a more bicycle and pedestrian friendly community and provide additional parking for visitors to downtown Pensacola.
The City of Pensacola Public Works and Facilities Department has completed the Spring Street Road Diet Project, adding 46 new on-street parking spaces by reducing the four lane road between Main and Garden streets to two lanes. The project also transformed this section of Spring Street into a multi-modal and shared roadway for motorists and bicyclists.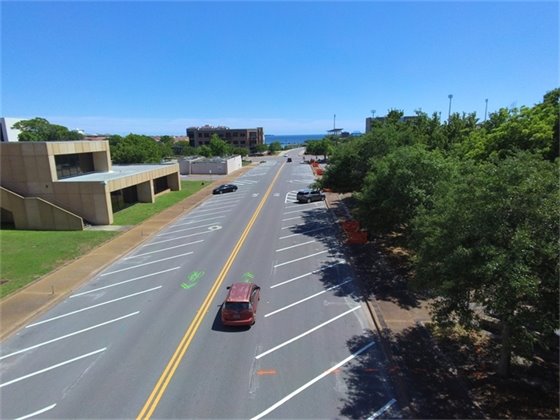 "It's a great feeling to see these parking spaces completed and know we're providing something our citizens and visitors need in order to enjoy downtown," Mayor Grover Robinson said. "This is just the beginning of our goal to better connect our community. I'm looking forward to completing additional projects throughout the city as we work to increase parking options downtown and make Pensacola more bicycle and pedestrian friendly."
Through the Spring Street Road Diet Project, Spring Street between Main and Garden streets was restriped to convert the outside lanes into on-street angled parking stalls in both directions in addition to the pre-existing parallel parking. Bicycle shared lane icons were also added to enhance safety by reminding drivers to share the road with bicyclists.