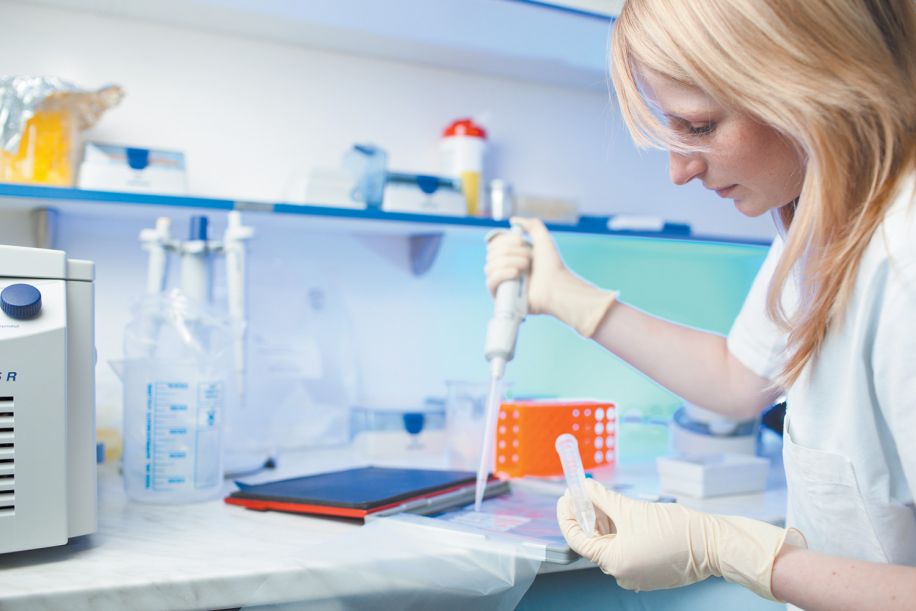 Sometimes clinical trials get a bad rep: we hear horror stories of medical malpractice and misuse, as well as mistreatment of patients, and we're quick to assume the worst. But, do these negative examples give a clear picture of what clinical trials aim to accomplish? To gather up the facts, Pensacola Magazine reached out to local medical facilities engaged in clinical trial research to find out more on protocols for open trials and procedures for signing up. While there are several open trials at Andrews Institute, Baptist and Sacred Heart hospitals, we honed in on a select few that focus on lowering bad LDL cholesterol, finding new treatments for Chronic Lymphocytic Leukemia (CLL), and a non-invasive treatment for helping those with osteoarthritis, all aimed at bringing us closer to a cure.
In a clinical trial, volunteers receive a specific intervention, such as a drug or device, according to the research protocol, or plan, created by the investigators. A trial is typically headed by a principal investigator, often a medical doctor, who may oversee a research team including other doctors, nurses and other healthcare professionals. These trials can be sponsored (or funded) by pharmaceutical companies, academic medical centers, voluntary groups, and other organizations. Although an informed consent document, which contains all pertinent details of the trial, must be signed before a participant enters a trial, the document is not a contract; a participant may withdraw from a trial at any time regardless of whether or not it has concluded. Additionally, to ensure the health and best interests of all patients are a priority, all trials must be reviewed and approved by the IRB (institutional review board) and the FDA, who are actively involved in adequately protecting all research participants.
The Andrews Research & Education Institute (AREI) of Gulf Breeze is a special, non-profit division of the Andrews Institute, which was established to advance the science of orthopaedic care and sports medicine to educate not only the professional community but the general public on issues affecting daily health and well being.
Currently, there are as many as ten on-going clinical trials at AREI, including OrthoCor—a prospective, double blind, and placebo-controlled study on patient satisfaction outcomes with the use of an OrthoCor PEMF treatment for osteoarthritis, especially in regards to the knee.
The goal of the OrthoCor clinical trial is to significantly decrease a patient's pain due to knee osteoarthritis, especially if the patient has tried other treatments, such as intra-articular corticoseteroid injections, which have failed to reduce pain.
"We are always looking for less invasive ways to treat our patients," said Dr. Joshua G. Hackel and Dr. G. Daxton Steele of the Andrews Institute. "The OrthoCor brace is painless and will hopefully prove to be an additional treatment method for our patients suffering from osteoarthritis. We know the device works; it's already been proven in previous trials. So, the goal of the current trial will be to quantify how well it works."
OrthoCor Medical sponsors the OrthoCor brace trial at AREI, and OrthoCor's patented Pulsed Electromagnetic Field (PEMF) technology is used in the brace to relieve pain and reduce edema. PEMF is a low-level, time-varying electromagnetic field that penetrates superficial soft tissue, helping to accelerate the body's natural anti-inflammatory and recovery responses.
Those who are eligible for the trial include patients ages 45 to 75 who have on-going pain after receiving traditional therapies, and Andrews Institute uses a Kellergren Lawrence scale to see if patients rank high enough (between Grades 3 and 4) to be included in the study.
The OrthoCor trial lasts six weeks and requires that patients wear the brace at least two hours a day starting in the morning. Laura Schubert is the research nurse for OrthoCor under AREI, and she attends to the patient's care during the six-week trial. There are a total of four visits to Andrews Institute during the study: two visits with the doctors and two with the research nurse.
Other trials at AREI include prospective treatments for plantar fascilitis, rotator cuff tears, chronic diabetic ulcers, rheumatoid arthritis, and more. To learn more about current clinical trials at AREI, or how you can volunteer, visit andrewsinstitute.com/arei, or call 850-916-8575.
You may not know it, but Sacred Heart Hospital has a full-fledge Cancer Center that participates in clinical trials sponsored by the National Cancer Institute and pharmaceutical companies. Sacred Heart's current cancer research studies include several prospective treatments for breast and lung cancers, multiple myeloma, and many others including supportive treatment trials to address symptoms, such as mouth sores, caused by traditional radiation therapy for cancer affecting the neck and head.
Clinical coordinators and research nurses Betsy Brou and Toni Hyatt are overseeing as many as 20 trials at the Sacred Heart Cancer Research Center, including three trials on CLL (Chronic Lymphocytic Leukemia). All three are randomized studies with a similar goal: keeping CLL patients in remission for as long as possible.
Here's a breakdown of each study: the first trial is for all CLL risk types that are either newly diagnosed or failed other lines of therapy, the second is for CLL high risk types that failed other lines of therapy, and the third is an observational rather than interventional trial that focuses on collecting data on CLL rather than administering experimental treatment.
The new treatment being tested is Ublituximab, compared to an approved treatment, Ibrutinib Patient visits to the cancer center for treatment vary anywhere from two weeks to a month.
"We encourage more to participate in clinical trials," said Toni Hyatt, research nurse at Sacred Heart Cancer Center. "Without research we don't get the answers to the burning questions we're asking about cancer. We continue to make advances in cancer treatments because of research and we need participants from all walks of life to consider a clinical trial."
Trial eligibility depends on factors like whether or not you've been treated for CLL before, or whether or not you are considered high risk. Screening tests to determine risk status and eligibility are created by a clinical trial sponsor, who outlines what defines a patient's eligibility to participate in the clinical trial. However, determining risk status also helps determine treatment modality, or the way a treatment is administered according to a patient's individual needs.
Although the research nurses do not administer any of the treatment, they are still very much involved in patient care and well-being on an active basis.
"We're there every step of the way," said Betsy Brou, research nurse at Sacred Heart Cancer Center. "From walking patients to meet with doctors to making sure they get to appointments, we're there so each patient receives exceptional care."
Patients may remain on the clinical trial for as long as the treatment is working. Signs that the treatment is working includes measuring patient blood counts, as well as patient accounts of feeling better and visible reduction in lymphnode swelling within 15 days of starting treatment.
If you're interested in Sacred Heart Cancer Center and research trials, don't hesitate to call research nurses Betsy Brou and Toni Hyatt at 850-416-4611, or visit sacred-heart.org/cancer-center for more information.
Baptist Clinical Research conducts research in all areas of medicine and participates in drug, device and psychosocial clinical research projects. Research studies coordinated by Baptist Clinical Research come from a variety of sponsors including the pharmaceutical industry, the federal government and academia.
One such study is a clinical trial for lowering LDL cholesterol—better known as the "bad" cholesterol. The study is examining a treatment that can inhibit PCSK9 receptors in the liver from producing LDL, which would effectively lower LDL cholesterol.
The treatment contains an antibody that attaches to LDL receptors and essentially deactivates them.
"If you get a flu shot, it stimulates your body to make antibodies against influenza," said Dr. Doty of Baptist Clinical Research. "The medication we're testing is very advanced. It contains antibodies selectively made to intervene with LDL cholesterol receptors in the liver."
So far, the PCSK9 receptor-blocking treatment has helped reduce LDL cholesterol production by 50 to 70 percent. The drug is injected every two weeks and it can be used in conjunction with statins like Lipitor and Crestor, which are drugs that can also lower your cholesterol by blocking HMG-CoA, an enzyme your body needs to make cholesterol.
Volunteer eligibility depends on your level of LDL cholesterol. For example, one trial looks for participants with LDL over 100, while others look for those with LDL greater than 70.
In addition to testing the efficacy of the new treatment to lower LDL cholesterol, the newer LDL cholesterol lowering trials at Baptist are geared toward looking at outcomes of whether or not a lower LDL will also reduce risk of cardiovascular events like stroke, heart attack, tachycardia and so on.
Patient follow up for LDL cholesterol lowering trials continue up to five years after the trial ends. For more on the current LDL cholesterol trial at Baptist, you may call the Cardiology Consultants at 850-484-6500, or visit cardiologyconsultants.com.
However, Baptist's clinical research stretches beyond LDL cholesterol. Other trials include those on finding new ways to treat Chronic Obstructive Pulmonary Disease (COPD), diabetic foot ulcers, hypertension, diabetic neuropathy, and using Dermacell to treat chronic wounds in the lower extremities of diabetic patients. If you'd like to know more, call 850-469-2491, or check out ebaptisthealthcare.org/clinicaltrials to view current trials or fill out an information request form.