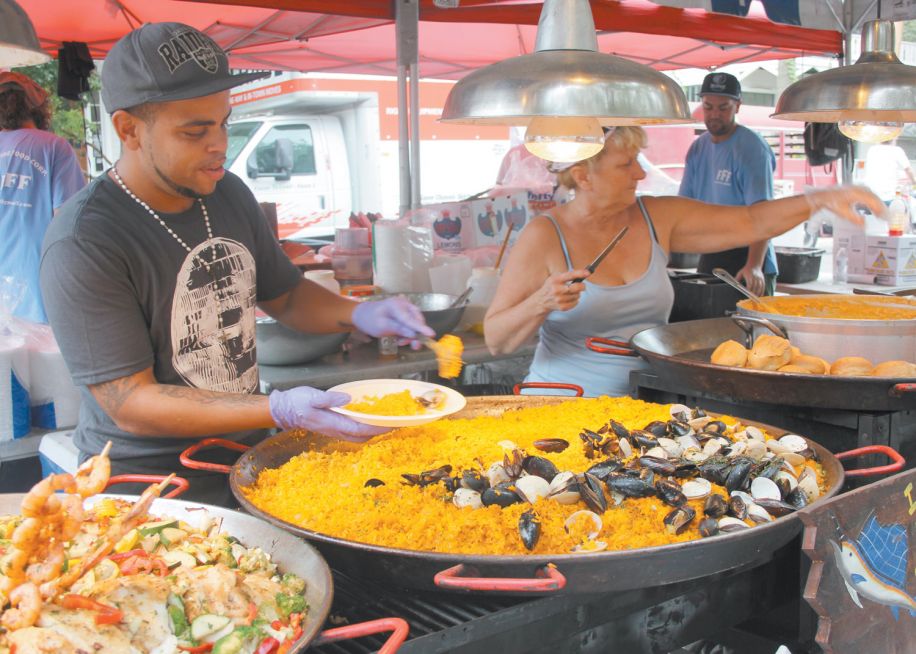 The beauty of Pensacola's annual tribute to coastal cuisine and culture is that you don't have to be in love with seafood to have fun while getting a taste of Pensacola living. So, whether you're just visiting or here to stay, the festival is guaranteed to introduce you to something new in Pensacola; you might meet a local artist, learn about the perfect caterer for an upcoming event you're hosting, or you just might find a restaurant to add to your list of places to try. So, go ahead: dive into Seafood Fest and sample from offerings as colorful and plentiful as the people and places of Pensacola.
Let's be honest: food is the first thing we consider when attending an event, especially when it's a foodie paradise like Pensacola's Seafood Festival. So, we want you to know just what you can expect at this year's Gulf to Table and Fiesta Seafood Grille.
Fresh from the gulf to your table, restaurants and caterers are serving up tapas-sized portions of their signature seafood dishes from Flounder's Chowder House, Boneheads Fire Grilled and Sons of Italy Buona Fortuna Lodge to The Fish House and Nancy's Haute Affairs.
As for the Fiesta Seafood Grille, you can look forward to best-selling dishes by celebrity chefs from Wind Creek Hospitality, The Point Restaurant, Taco Mez, Union Public House, Boneheads Fire Grilled, Broussard's Bayou Grill, Shux Oyster Bar, V. Paul's Italian Ristorante, Skopelos at New World and McGuire's Irish Pub.
The Children's Area will be slightly different from last year's event with new attractions like the Hermit Crab Races in which children get to pick out a crab from the tank to race against others. The SeaMobile will also be making rounds, encouraging kids to interact with a diverse selection of marine animals from starfish, coral, sea sponges and urchins to all types of shells in a touch pool.
This year, Pensacola Seafood Festival is partnering with Feeding the Gulf Coast to support Hunger Action Month. Festival-goers are welcome to bring canned goods and other non-perishables to donate to the cause, which you may drop off at the Feeding the Gulf Coast booth or in designated collection barrels around the festival.
The music lineup kicks off at 5 pm on Friday with performances by Josh Door, Smithfield and Old Southern Moonshine Revival. On Saturday night, Quaker City Night Hawks, The Hip Abduction and Moon Taxi will be jamming out. Then local musicians will take the stage on Sunday.
As many as 150 artisans and craftsman will set up at the festival. Locals include Tobbe Byrd (handmade metal art), Kil'n Time Studio of Pensacola (coastal-themed ceramics), and Truth Soap Company of Pensacola (hand-crafted soaps, lotions, lip balms, candles and much more).
Additionally, there will be 15 food and cart vendors offering their specialty items, including Cajun Specialty Meats of Pensacola, Go Greek Events of Cantonment, and McGuire's Irish Pub of Pensacola—who will be serving up their delicious root beer and floats.
This free, three-day festival is set for Sept. 30 through Oct. 2, spanning across Downtown Pensacola's Seville Square, Fountain and Bartram parks. So bring your favorite people for a weekend filled with flavorful food, great live entertainment, and local flair from artists near and far.