By Dawn Gresko
What is design? Well, that depends on who you ask. Some might tell you that design is the creation of a plan (e.g. blueprints, mock-up drawings and sketches, and even sewing patterns). Others might say it's the direct construction of an object, such as in graphic design, screen and letterpress printing, or metal and wood working—all of which fall under the category of design work. Either way, we're not here to tell you what design is or isn't. Instead, Pensacola Magazine gathered up a handful of area artists and dedicated designers who were more than happy to show us just what design is—from its various forms in letterpress and screen printing to wood-working and beyond.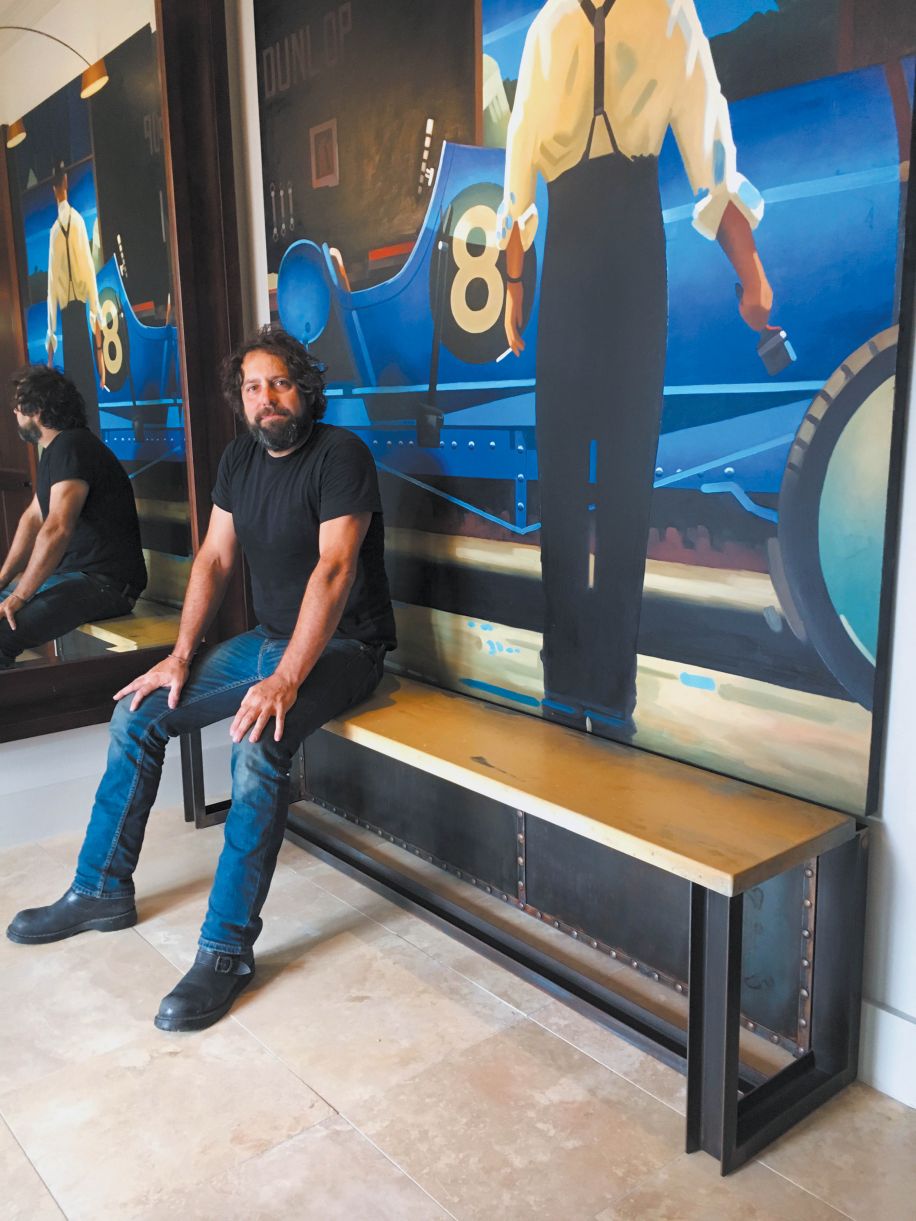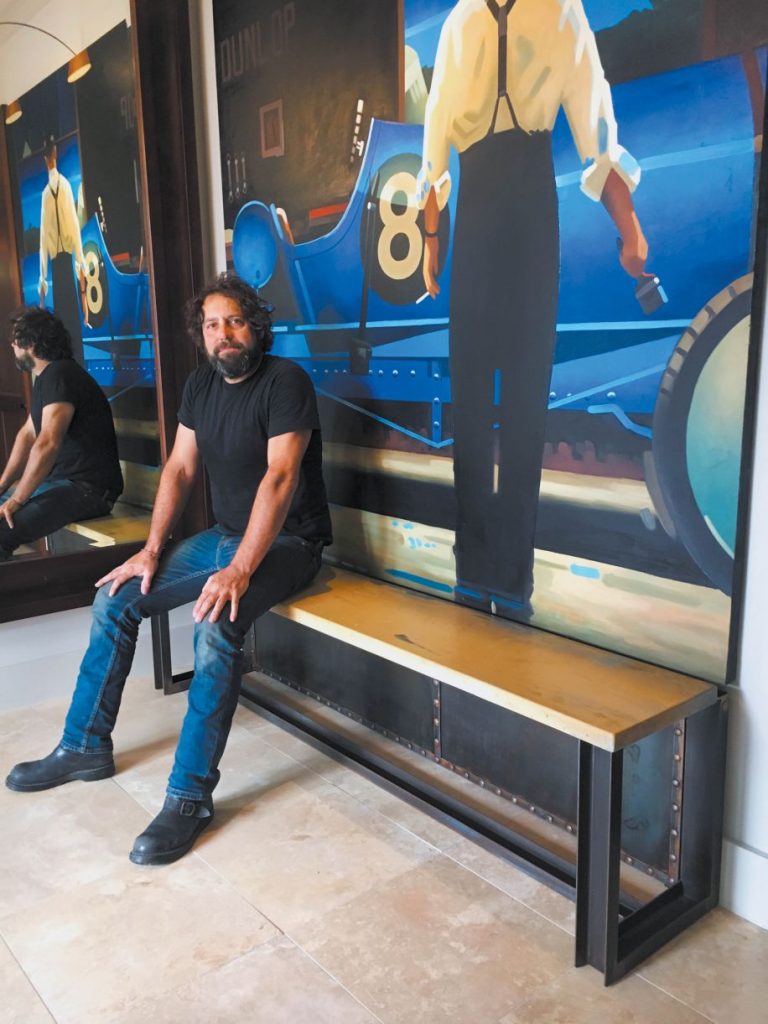 Ben Bogan, Ben Bogan Designs
You might recognize Ben Bogan as one half of the well-known "Bogan Brothers," who have worked together on innumerous commercial interior and exterior ideas as well as branding and product design for local clients in Pensacola. Although he still collaborates with his brother Chris, who specializes in graphic design and illustration, Ben has branched out into furniture design with a focus on metal-based custom furniture, as well as architectural elements and sculptural art pieces for clients located locally and throughout the country. Over 20 years ago, Ben first began metal fabricating in his mother's garage with a 50s-era stick welder. Ever since, Ben has been developing the style of his work and has always found furniture to be very appealing and practically unlimited in scope, hence the origins of Ben Bogan Designs. The metal pieces he creates today are usually simplistic yet detail-oriented, and they are meant to fit in well with their surroundings. For example, he created a custom steel bench with a C4 polished concrete top, specifically designed to enhance and become a part of a Roland Renaud painting in a client's new home. Occasionally, to bring an extra sense of uniqueness to a piece, Ben utilizes old metals or woods by repurposing and giving them new life, and he also collects antique items like old serving trays to make bar stands out of, as well as wooden Chinese ceiling tiles to make interesting coffee tables from. Some of Ben's most notable works include the stainless steel promise knot sculpture for Covenant Care, which tops their new sign in front of the Pensacola headquarters, as well as a sculpture for the national Marine Corps Reserve Headquarters in NOLA, and several fireplace screen door sets and accompanying tool sets for his friend, Anne Stringfield and her husband Steve Martin (actor and musician).
benbogandesigns.com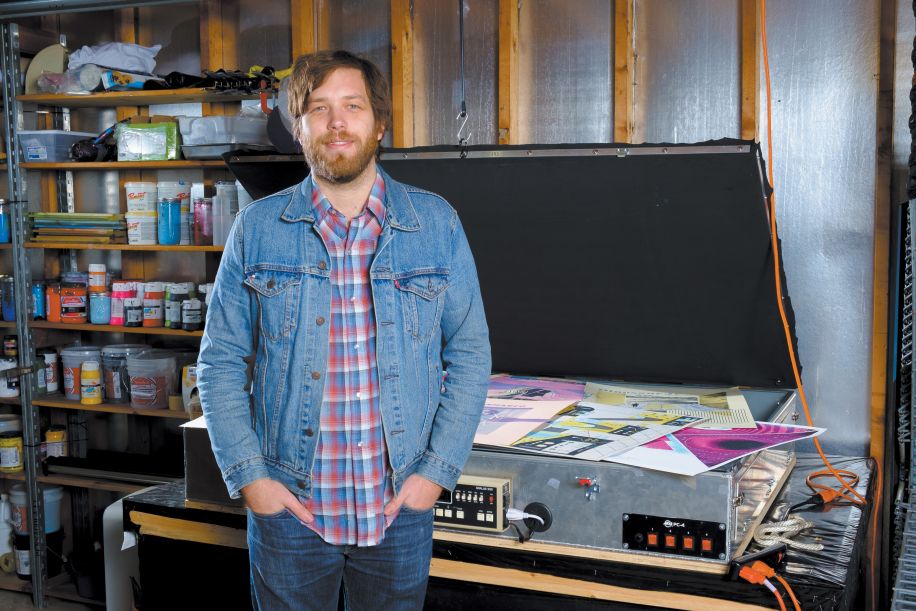 Richard Humphreys, The WorkWeek
What started out as an interest in making band flyers for friends during his free time in high school turned into a full-blown fascination with the world of poster design for Richard Humphreys, owner and artistic mind behind The Work Week Design & Printing Studio. For close to six years now, Richard has specialized in various aspects of design, including everything and anything from packaging design, editorial illustration and logo design to poster design and printing. Although he went to school for design, Richard taught himself how to screen print through trial and error, experimenting with style while perfecting the screen printing process. In fact, Richard has dabbled in making his own printing equipment, including a UV light box for "burning" an image into a screen, and he even made his first poster press from materials easily found at the hardware store. After creating posters and flyers for local shows and touring bands, and after devoting a lot of time to creating an extensive portfolio, Richard started receiving work requests from regional acts, which eventually garnered interest from some larger performers in the music industry. This allowed him to successfully reach out and secure poster projects for prominent names like Wilco, The National, Tame Impala, Elvis Costello, Dinosaur Jr., and more. When working on a poster project, Richard likes to listen to a band's music and notes what sticks out lyrically or sonically, then he utilizes abstract imagery (e.g. shapes, textures, overlapping colors and lines) to reference subject matter and relate it back to the band in a unique and subtle way. On an interesting side note: not only is Wilco Richard's favorite band, but they have become one of his most regular and favorite clients to work with. In the new year, Richard hopes to start offering printing services to others, as well, such as taking on contract work for designers and artists who want to have screen-printed editions of their work.
wrkweek.com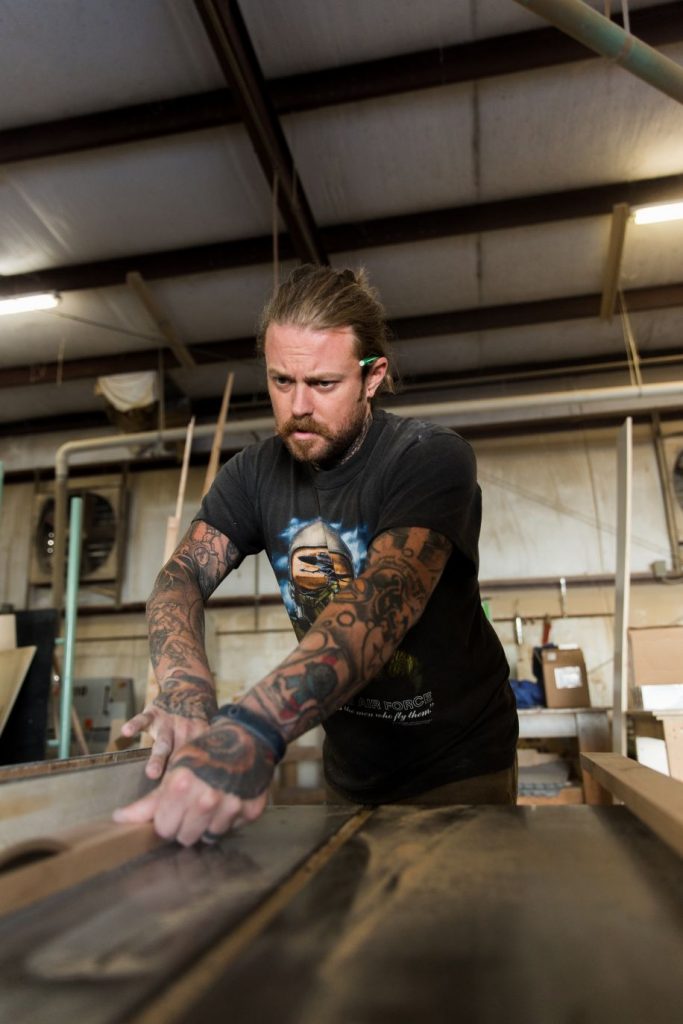 Jeff Bere, Losobe Woodworks 
Jeff Bere is the one-man team behind Losobe Woodworks, a venture into custom woodworking with a focus on functional furniture fashioned out of wooden material. If you're wondering about the name "Losobe," it's just Bere's play-on-words with his daughter's name: London Sophia Bere. Bere has been woodworking in one form or another since his teenage years. In fact, he was between the age of 14 and 15 when he built his first piece of furniture, a wooden hutch built for his mother (which can still be found in her home today, as a strong testament to the quality of his work, nearly 20 years later). Although by day Bere's work takes place primarily in houses, installing wooden cabinetry and other additions to rooms like kitchens and bathrooms, by night Bere takes to designing his specialty: custom, wooden furniture. According to Bere, the key to custom furniture is the customer; typically, a client comes to Bere with a vision or need in mind and from there Bere can work in his own creative ideas for a piece. As a first step, Bere usually sketches out his idea for a piece then keeps an open line of communication with his client to ensure everyone is on the same page with the design. You might have already spotted Bere's woodworking in the form of unique tables and barbershop furniture found in Wilfred's, as well as inside Volume One Salon and Hula Moon Tattoo Studio. He's also made custom pieces for two homes in the East Hill neighborhood, one of which includes Bere's favorite project to date: a hidden bookcase door, which Bere designed, built and installed all himself. But that's not all: keep an eye out for Bere's work to be displayed in Union Public House, he's in the process of collaborating with owners Blake Rushing and Patrick Bolster on creating custom pieces for the popular, modern-rustic gastro pub.
instagram.com/losobe.llc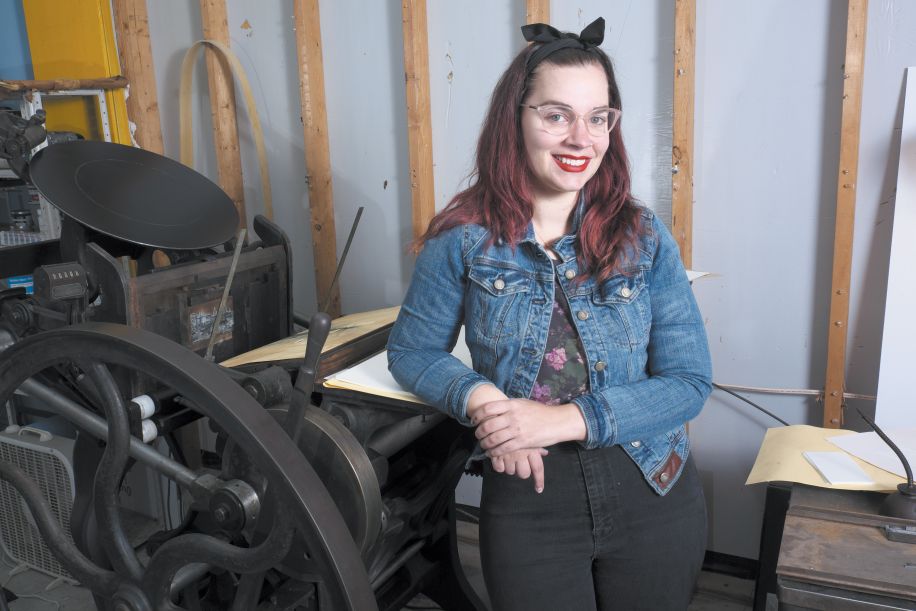 Caitlyn Cooney, Charlotte Mason Printing Company
Meet Caitlyn Cooney, a modern maven of fine arts printmaking and graphic design who is bringing a new take on the historic form of art called letterpress, which she specializes in as owner and printmaker at Charlotte Mason Printing Company (CMPCo). If you're wondering why "Charlotte Mason," it's the name of Caitlyn's grandmother—whose traits Caitlyn says encompasses the qualities of her work. That is, "organized, classic, hardworking, Southern and a bit feminine." Although she's a lone wolf on a mission to promote and preserve the letterpress printing process in Pensacola, Caitlyn welcomes the opportunity to educate others and join forces with other area artists, especially those who might be fellow pioneers of modern letterpress. While CMPCo is still in its infancy, Caitlyn's experience with printmaking is not; she has over 10 years experience practicing letterpress and a variety of other printmaking techniques. However, at CMPCo she specializes in letterpress and relief printing, as well as graphic design. If you catch her at the right time, you'll find Caitlyn in her studio engaged in her favorite part of the process: cranking out prints with her two leading ladies, her "iron beauties" Black Betty and Roxanne, which are two Chandler and Price platen presses from the early 1900s originally used in the production of newspapers. Today, Caitlyn and her iron beauties work together to produce various print projects from greeting cards to holiday gift tags, posters and so much more.
Charlotteprintingco.com.