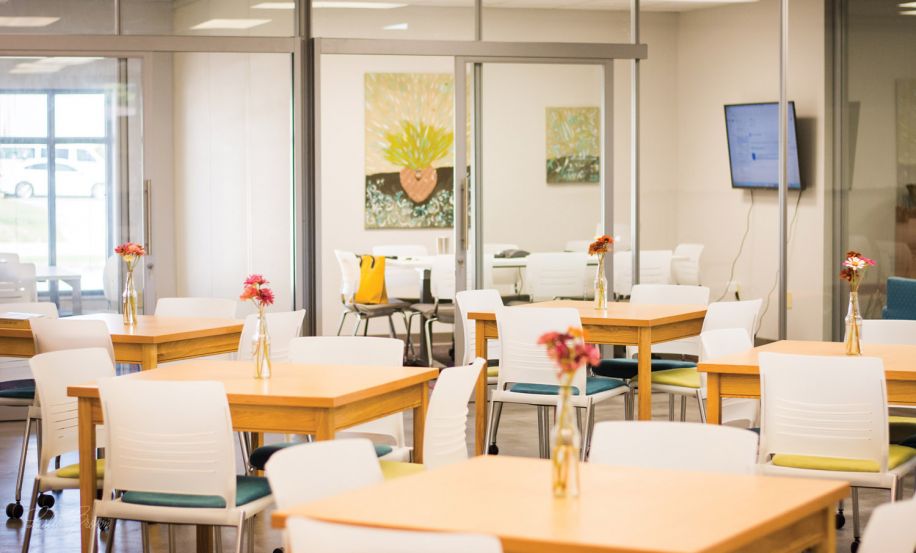 If you're an entrepreneur looking to start a new business but don't have the funds to rent a commercial space, or you're simply a freelancer looking to carve out a time and place to hunker down for a productive work session on the fly, a co-working space might just be the answer for you. Essentially a shared office area where like-minded individuals are able not only to network and build lasting relationships with other professionals, a co-working space is also where you can rent out a desk (and sometimes a private room or suite) and enjoy bountiful amenities—from access to free WiFi, office equipment and supplies to opportunities for business-boosting events and more.
Many progressive co-working spaces offer a combination of "hot" and "dedicated" desks; hot-desking refers to different tenants using the same work space but at different times during the day or week, while dedicated desks are reserved for the same person for an allotted amount of time. If you're more productive at night than during the day, don't fret: most co-working spaces are open 24/7 to accommodate both night owl and early bird schedules.
CIE
If you're an early-stage company with an established business plan and you are income producing, the Gulf Coast Center for Innovation and Entrepreneurship (CIE) might be the perfect grounds on which to lay the foundation for your business venture. The CIE began as a partnership between Pensacola State College and Greater Pensacola Chamber of Commerce in 2008. Since then, the CIE has fostered growth in budding companies, including well-known success stories like Hixardt Technologies, AppRiver, TechSoft, Actigraph, and many more. Although a business incubator rather than a coworking space alone, CIE does offer shared office space for accepted tenants, including private office suites in lieu of open floor plans with cubicles or coworking stations. The CIE facility sprawls two stories inside the Pensacola State College building on Garden and Devilliers streets, taking up a total of 15,000 square feet.
Being a CIE tenant also means discounted rates on consulting and legal services, entry to CIE entrepreneurial enhancement events (e.g. Tech Forums), opportunities to network with other area tech-based professionals, exposure to international and regional markets, as well as access to key commercialization and research partners such as the Florida Institute for Human and Machine Cognition, Andrews Institute for Orthopedics and Sports Medicine, University of West Florida, and Small Business Development Center. But being a tenant means more than getting access to all that square footage, especially when the location puts you in the downtown hub of innovation and among other entrepreneurs. In fact, these successful entrepreneurs, local business leaders, and advisory service providers are known as "Friends of the CIE" and they offer top-tier services (some at discounted rates) to support the CIE's early-stage companies by providing marketing, legal, accounting, and human resources as well as advisory services to assist companies with their growth needs. This includes the development of goals and benchmarks, finances, business planning, advisory boards, and more. Tenants are long term, often staying for a minimum of three year, but there is a five year limit.
When CIE is at maximum capacity, you can still apply to be virtual tenant at a lower cost gaining all the perks of an on-site tenant–just without the dedicated desk and office space.
---
Coworking Annex
As you might have already guessed from its name, Cowork Annex is a place to cowork and an annex, or addition, joined to a main building–the Blount Building–at One Palafox Place. Although the Annex's temporary home is in Suite 300 of the Blount Building, it will eventually move to its much larger location, approximately 10,000 square feet of the former Kress Department store on the second floor of the Brent Building, which could be open as soon as summer 2017.
In addition to a larger space, the new layout will be drastically different from the old; while the old space had an open cowork area that held 20 hot desks, no dedicated desks and six private offices, the new will have 18 private offices (which allow for single or double desks), seven meeting rooms, six collaboration zones, 60 hot desks, 12 dedicated desks, and an event room that seats 100 or 65 for training and/or lunch and learn set up. Don't worry about bringing your own chair and desk; office furnishings are provided. There will also be a full kitchen with free coffee, a lounge area, and exercise room. Did we mention the Cowork Annex has the fastest Internet in Florida? At 20 gig fiber, the Annex anticipates tech-savvy startups and entrepreneurs will definitely find their home here.
Memberships will range from daily drop-in and on/off visits to part time membership Mondays through Fridays from 9 am to 6 pm, as well as full 24/7 access in hot desk seats to dedicated desks and private offices.
---
Pensacola Social Desk
Take a seat at Pensacola Socialdesk: conveniently located in mid-town Pensacola, this innovative hub for entrepreneurs and freelancers alike officially opened on Oct. 21. The idea for the coworking space arose after Peter Nowak, owner and operator of six local McDonald's restaurants, realized a need in the community for a place for freelance- and micro-businesses to work more productively than from home or a coffee shop. Peter and David Musselwhite met shortly after Entrecon 2015 and teamed up to refine Peter's idea, beginning the process of designing and renovating the old Gulf Winds Credit Union building.
The building is two stories and approximately 10,500 square feet, containing a total of eight dedicated desks, two day-use offices, four conference rooms as well as a collaboration counter with seats for 20, coworking tables that accommodate 24 people, and a classroom space that seats 40 to 50 individuals. The first floor is dedicated to coworking with flex desks, dedicated desks, conference rooms and relaxation areas–including basketball and ping pong games. On the second floor you'll find a multi-purpose classroom along with another collaboration area and an exclusive executive dining room. Unique features include a real bank vault for file storage, coffee and espresso bars, plus a New Orleans-style outdoor patio for taking your work outside to enjoy the beautiful weather. Other perks include already furnished work stations, a bike rack for those who like to ride to work, as well as janitorial and cleaning services, plus standard office benefits.
But that's not all Pensacola Socialdesk has to offer: it's location allows for easy travel being 10 minutes to Downtown Pensacola and IMHC, as well as a short distance from University Town Plaza, University of West Florida, and the Naval Aviation Station. Also, never fret being late to a meeting again; the facility has its parking perks, since there's virtually unlimited free parking. Pricing depends on whether or not you'd like flex desk or dedicated desk options; if you'd like all the benefits of being a member, but don't actually need to reserve a work space, virtual membership can meet your needs. To reinforce working as a team, both on-site and virtual members receive an account on teamwork.com for project management as well as an easy to use Teamwork Chat application, which allows for online collaboration and coordination.
---
First City Art Center
Are you an artist who needs a space to get creative in and doesn't mind sharing? First City Art Center (FCAC) offers working artists private and shared (work-only) studios available at low-cost rent in an accessible downtown facility.
The concept for the studios arose after FCAC moved to the old Habitat for Humanity building; after FCAC took it over, they decided the individual offices could be converted to studios, which took a heroic amount of effort from a dedicated team of volunteers and paid contractors. Once completed these studios provided a space for artists and artisans who were interested in being part of a collaborative environments that offer a chance to tap into many opportunities, including classes and volunteering. Renters are called studio keyholders, who can be emerging or established artists, or groups of such artists.
The low cost of rent comes with an easy-to-meet caveat; reserving a studio means becoming a member of FCAC's Studio Artist Guild and membership entails at least 10 hours of volunteer time each month (if you're familiar with food cooperatives, this is no more time than the average rate for co-op members).
There are six studios available to artists, studios A through G, and you are more than welcome to share a studio with another artist–as long as you both meet the selection criteria (artistic merit, evidence of critical merit, statement on the purpose of the studio, willingness to engage in community efforts). Studios are self-contained spaces with standard electrical fixtures and single-phase power and WiFi internet. Keyholders must provide their own furniture and equipment. You'll have nearly 24/7 access to the studio, which is good news for night owls; while certain meetings may restrict access the keyholder will be notified ahead of time.
More benefits to being a studio keyholder include getting your name posted on a marquee next to each studio door, participating in exhibitions of work in the FCAC gallery, as well as opportunities to curate a show during year if concept is approved by other studio artists, opportunities to participate in promotional events like open studio days, Second Saturdays, special events and workshops (e.g. Hot Glass Cold Brew, Pumpkin Patch), and opportunities to benefit from the center's marketing including a listing on the FCAC website.