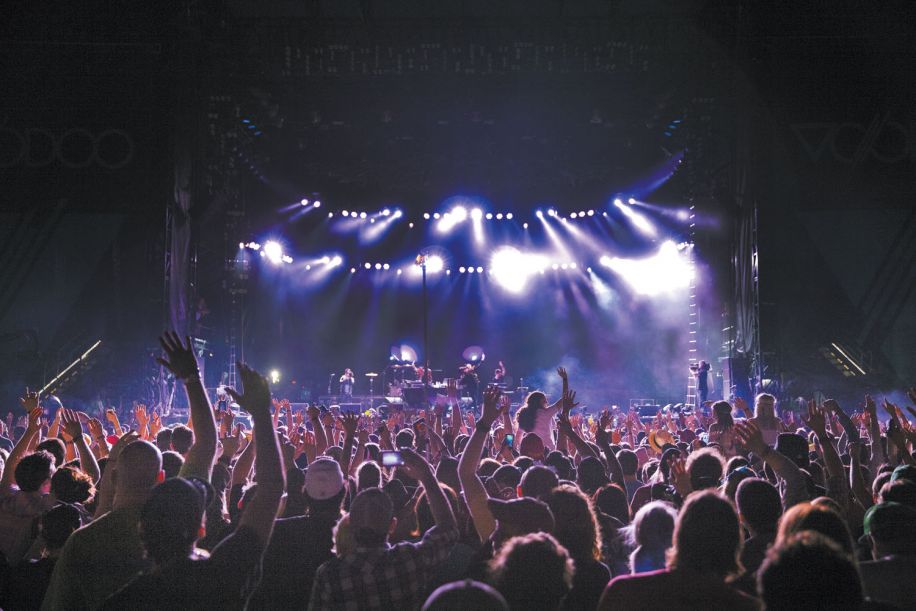 There is arguably no better way to spend Halloween than by infusing yourself with the mysterious magic of Voodoo. No, we don't mean that age-old practice involving shrunken heads, zombies and old chicken bones—we're talking about the Voodoo Music + Arts Experience, also called Voodoo Fest, one of the Gulf Coast's most unique festivals that combines music, art and food into one unforgettable experience. This year's event boasts a lineup of over 65 bands and musicians with headliners like Tool, Arcade Fire and The Weeknd, who are set to perform on the festival grounds in City Park over the course of three days from Oct. 28 to 30.
While City Park spans a whopping 1,300 acres, the venue for Voodoo Fest is laid out on the park's festival grounds, covering an area of roughly 55 to 60 acres—all of which Voodoo Fest will utilize to offer festival-goers the optimal music and arts experience.
"This year we're changing up some things that haunted us (no pun intended) in the past," said Sig Greenebaum of C3 Presents, co-director of Voodoo Fest. "To improve sound and how people maneuver around the park, we've moved and re-directed some stages, which we're thinking is a real game changer. We've also made the site bigger by extending fence lines out so there's more room for people to travel."
In addition to four stages featuring non-stop music, this year Voodoo Fest partnered with Spin Magazine and Toyota to offer a special fifth stage—where fans will have close access to artists from the Voodoo lineup in a more intimidate, possibly acoustic and stripped-down, DJ-booth setting.
More tweaks to this year's festival include the use of radio-frequency identification (RFID) in all registered wristbands, a technology that uses electromagnetic fields to automatically identify and track tags attached to objects (i.e. your Voodoo Fest wristband). Each person is assigned a pin with their wristband, which allows you to track friends and family at the festival—as well as your children—so no one gets lost.
Speaking of children, did we mention Voodoo Fest is family friendly? Kids under the age of 10 get in free and there will be a parking lot near Storyland in City Park for parents to drop off/pick up children under the age of 18 during festival hours.
In addition to RFID technology, your wristbands will also allow you to go cashless; as long as you have a good card on file, you can pay for food, souvenirs and just about anything else you see at the festival with a quick scan of your wristband, so you don't have to worry about the tricky task of keeping tabs on your wallet and credit/debit card.
Another convenient feature Voodoo Fest is promoting is the MyFest account, which allows you to sign up using either an existing Facebook or Spotify account. All you have to do is make sure your first and last names along with your email address are accurate, then you can begin to customize your schedule. MyFest allows you to share your schedule with friends, so they know when and at what stage to meet you, plus it reminds you of when your favorite band is going to take the stage so you don't get sidetracked for too long.
And it's pretty easy to get sidetracked from sensory overload at Voodoo Fest. There's a plethora of activities from which to choose, and in fact, while waiting for your next band to hop on stage, you might take a stroll through the scenic venue of New Orlean's City Park and explore the many winding trails and admire trees older than the park itself.
"It's really incredible how the festival grounds change after the sun goes down," explained Sig. "It's like you're in a whole new venue by night. We have the trees in City Park decked out with lights that come on after dark and coupled with the beautiful fall weather—the setting really shows the spirit of Halloween and the season."
For all you thrill-seekers, there will be amusement park rides for you to conquer: from a towering ferris wheel offering breathtaking aerial views of City Park to an additional three to four rides all about high-velocity, adrenaline-inducing entertainment.
As for food, you can expect to treat your tastebuds to lots of local flavors from the likes of restaurants such as Boucherie, Dat Dog, Regionelli's, Blue Dot Barbecue, and Big Cheezy to name a few—who will all be serving up their versions of traditional NOLA dishes.
Whether you appreciate art, or simply appreciate snapping a picture of yourself in front of cool art installations for your social media, there will be a variety of new and returning interactive art for you to immerse in. From the 20-foot art piece called The Cone, which spins and swirls in two different directions while you stand inside it, to giant "Voodoo" letters positioned where you can easily snap a quick pic for your Instagram or Facebook page. Don't forget to #voodoofest!
When you're not romping around festival grounds from noon to 11 pm each day, feel free to go out on the town: enjoy an exhibit at the New Orleans Museum of Art (NOMA) within walking distance from the festival grounds at City Park, or perk up with some caffeine fuel at Morning Call (where you can find the expected NOLA café items like beignets and café au laits 24 hours a day).
On Friday and Saturday, Oct. 28 and 29, select participants from Voodoo Fest will have the chance to enter a special, spooky contest: Voodoo Fest will ask a select few to stay a night in The Mortuary, a famous haunted house and historic grand Victorian mansion that once housed a mortuary. Equipped with ghost-hunting gear, those who agree to stay the night will have the chance to document their experience and reveal any ghostly findings. Winners earn exclusive bragging rights to say they braved The Mortuary on the days leading up to All Hallows' Eve.
Also, Voodoo Fest is partnering with The Mortuary to create an especially spooky scene on festival grounds; there will be a scary, Halloween zone complete with ominous fog, fully-costumed actors and mortuary-themed art with which you are welcome to interact.
Between the amusement park rides, Halloween costume and contest fun, local flavor in the form of NOLA's signature food staples, as well as musical performances by some of the most popular artists around—Voodoo Fest will cast a spell on you, but we promise you won't mind.