So you're going to get hitched, but haven't decided on details like where to do the deed? Pensacola and its surrounding areas are teeming with beautiful wedding venues from which you and your significant other can narrow down potential locations to exchange vows. The options are practically limitless, so we've taken it upon ourselves to highlight just over a dozen venues, some of which offer reception areas and honeymoon suites, too. Knock out two birds with one stone, right? The majority of venues listed here have both indoor and outdoor settings to accommodate whatever your preference may be.
Are the outdoors your (second) great love? Then consider the white sandy beaches at Paradise Beach Homes and Hilton Sandestin Beach Golf Resort & Spa, the picturesque Fountain Park, or rolling hills of green surrounded by gorgeous oaks at one of Pensacola's fine country and golf clubs. Should you prefer a climate controlled area, there's always the lovely ballrooms at Pensacola Yacht Club, the classy interior of downtown's Barkley House and 5eleven, or the Terrace event center at Coldwater Gardens.
Go for the traditional route with one of Pensacola's historic churches, Old Christ Church. Or, are you more of a trendsetter than follower? Then stray from the beaten path with a nontraditional venue, such as the tip-top of Pensacola Lighthouse, the rustic barn at Holland Farms, or the water-bound Portofino I vessel at Portofino Island Resort. While planning your wedding might seem like an overwhelming task, albeit with a great reward, we hope our list will make your venue hunting that much easier so you don't have to sweat finding that special spot to the tie the knot.
Pensacola Yacht Club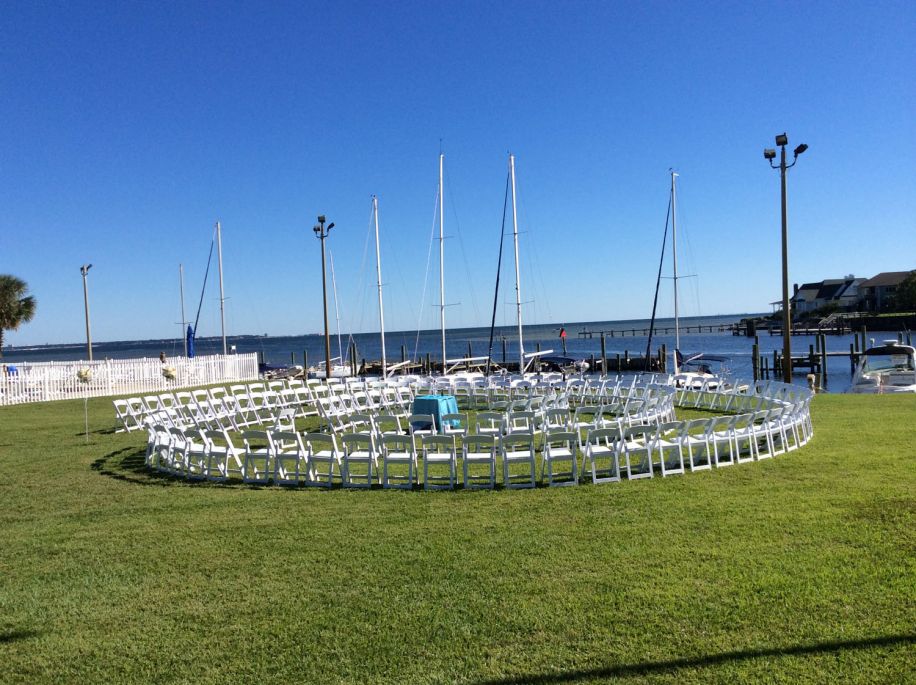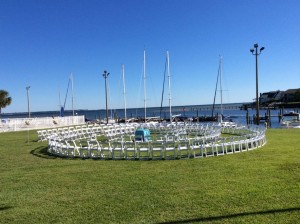 Downtown Pensacola, Fl
Have your guests talking for years after they witness your exchange of vows at the grand historic house of Pensacola Yacht Club. Pensacola Yacht Club has been the premier venue for weddings and events for at least 109 years and the full service facility is prepared to cater to your every need—big or small. With two indoor and three outdoor locations, you won't be short of areas to choose from for your ceremony and/or reception. Two ballrooms accommodate up 140 guests each, and one may be opened up to accommodate as many as 280 people. In addition, there are two lawn areas for larger wedding parties: one situated closer to the bay, and a separate venue for smaller gatherings that overlooks the marina with a spacious wrap-around deck offering jaw-dropping views of Pensacola Bay. Interested in hosting your wedding at Pensacola Yacht Club? Contact event coordinator Scott Segers at 850-433-6773 or [email protected]. pensacolayachtclub.org
Old Christ Church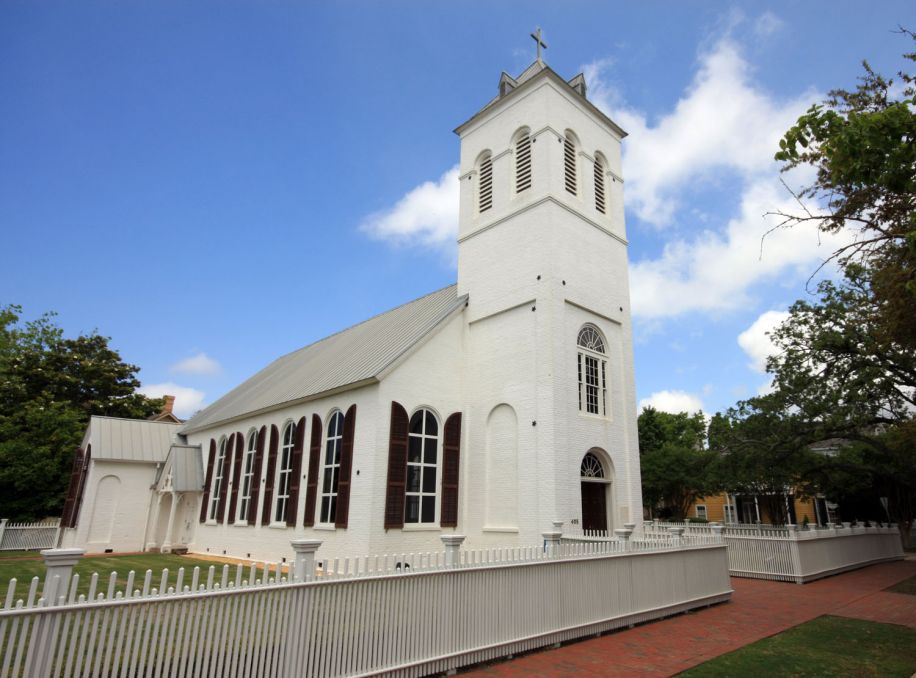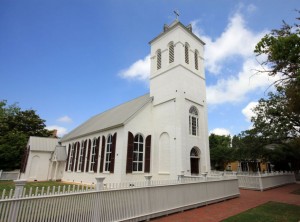 Downtown Pensacola, Fl
After the extensive work to restore Old Christ Church in 1998, which returned the interior to its original Victorian appearance, you wouldn't know it was one of the oldest surviving church buildings in Florida. From its Norman Gothic arches and Venetian windows to early stained glass artistry, there's plenty of reasons why Old Christ Church would make for a venue with great, old fashioned charm. The church can seat approximately 185 guests and, because of the church's popularity and affordability, dates fill up fast—so make your reservations ASAP. A digital piano is included in the cost of renting the church, but all instruments and vocals sound great thanks to the natural acoustics created by the vaulted wood ceiling. Also included in your wedding package is the Pfeiffer House, where couples may dress and prepare for their walk down the aisle. Going down the traditional path and wanting a wedding at Old Christ Church? Reach out to coordinator of public functions Casey Campbell at either ccampbell@uwf.edu or 850-595-5985 ext. 107. historicpensacola.com/rentals
Paradise Beach Homes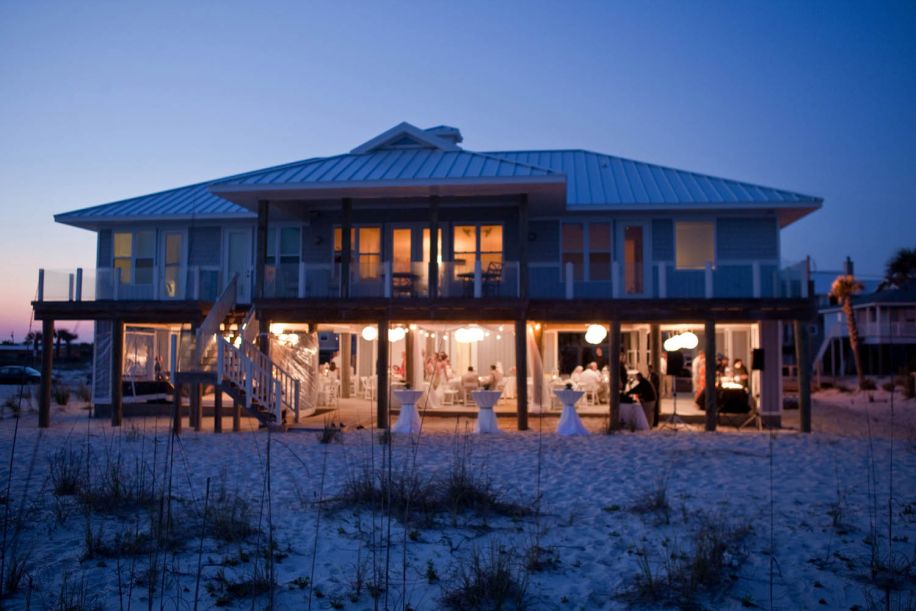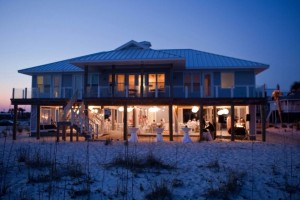 Pensacola Beach, Fl
Looking for a heavenly coastal setting for your wedding? Just try any one of the 50 divine abodes by Paradise Beach Homes, host to over 100 Pensacola Beach weddings per year. With homes ranging from three to 11 bedrooms, your choice can even double as a honeymoon location for the bride and groom, for those who can't think of anywhere else they'd rather spend their first days as a Mr. and Mrs. The home can hold up to 50 guests and, while events with over 35 people require a permit, Paradise Beach Homes is happy to help you attain the correct credentials so everyone from your wedding guest list can attend. From dune walkovers to large decks, private pools, and pet-friendly dwellings so your furry family can come along, too, there's nothing more special than exchanging vows on the sugar white sands of Pensacola Beach then celebrating with family and friends just a few steps away at Paradise Beach Homes. Want to have your wedding in paradise? Contact Paradise Beach Homes at 850-916-0777 for more details. paradisebeachhomes.com
The Lee House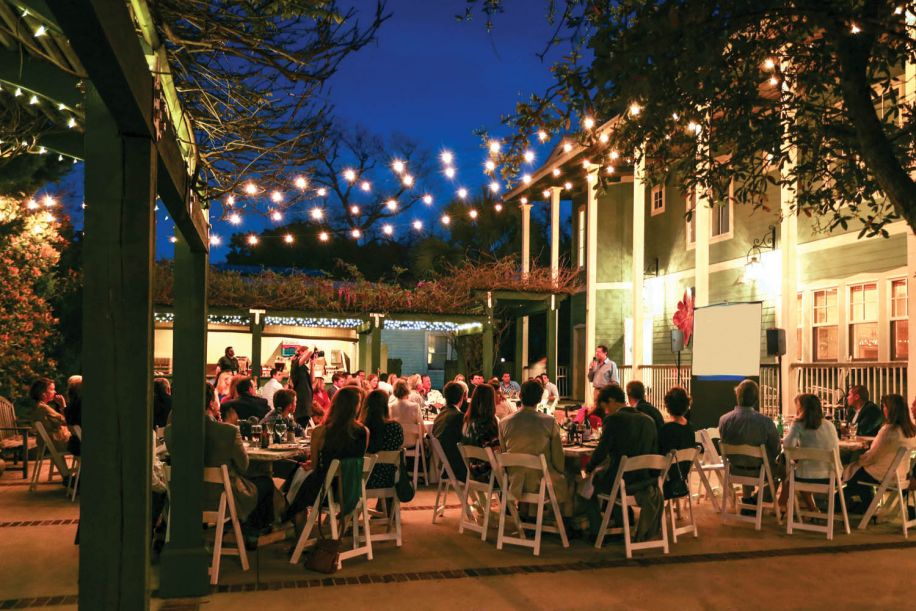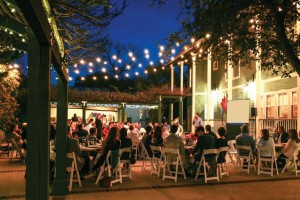 Downtown Pensacola, Fl
To complement the indoor event space at Downtown Pensacola's historic Lee House, the 30 by 40 foot Alcaniz Courtyard was designed with open-air weddings and receptions in mind. From very small to very large, Lee House is prepared to meet your wedding party needs with its covered porch area, outdoor bar, and a landscaped backdrop with six table and chair sets, as well as a casual seating vignette. The courtyard is ideal for an open-aired, charming garden wedding, and don't be shy about asking for additional tables and chairs if you have a big guest list. Should you choose to have your reception with Lee House, guests may move into the dining and living rooms for cocktail hour while the courtyard is transformed for dancing and reception entertainment under café lighting. leehousepensacola.com
Coldwater Gardens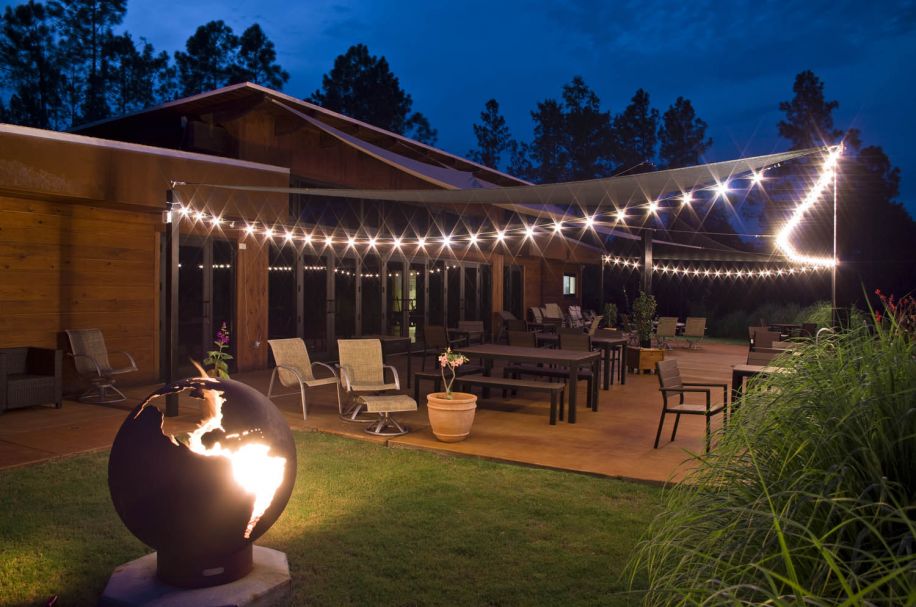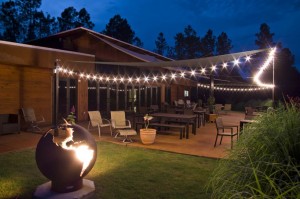 Milton, Fl
If being surrounded by Florida's diverse flora sounds like your dream wedding, then look no further than Coldwater Gardens. Smaller, intimate wedding ceremonies may be held on several private sandbar locations along Coldwater Creek. On the other hand, larger events may set up at the Coldwater Gardens event center—the Terrace. The Terrace patio can hold up to 75 guests and the lawn space may host up to a 30 by 100 foot tent or canopy. Amenities include 40 chairs, eight bar stools, 20 outdoor chairs with tables, 38 square chairs, an audio system for soft music, a 60" smart TV, a golf cart, one easy-up tent (10'x10') and much more. The Terrace patio features a unique, global fireplace made using Corten steel by Rick Wittrig from Fire Pit Art; it is also fueled by propane so it provides atmospheric lighting without producing smoke that might disrupt an event. Floral arrangements picked straight from Coldwater Gardens are available upon request for wedding events. For more information on events, call 850-426-1300 or email [email protected]. coldwatergardens.com
Portofino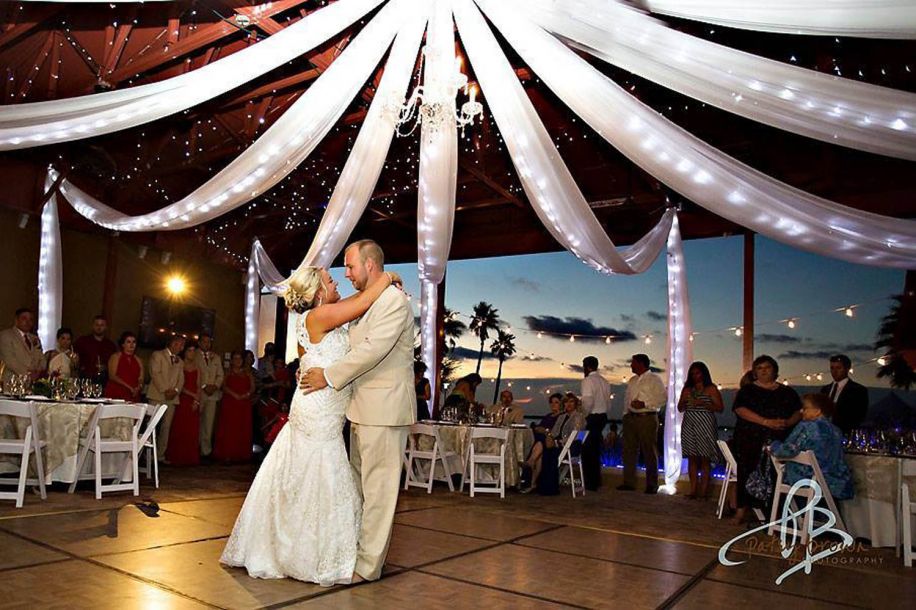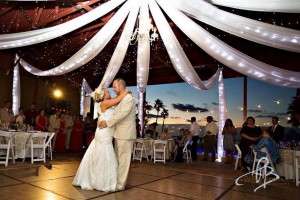 Pensacola Beach, Fl
Between the emerald waters of the Gulf of Mexico and the gentle shores of Santa Rosa Bay sits luxurious Portofino Island Resort. The 28 beautiful acres on Pensacola Beach offer up to seven locations for couples to get married at Portofino. Encircled by miles of unspoiled land and clear waters, the beach sets a serene background and makes for the perfect wedding and reception destination. Events at Portofino can host from 10 to 250 guests, depending on which venue you choose. Choices include Portofino's pristine beaches, the lower pool deck, Portofino Pavilion, Terrazzo Grille, Terracotta Restaurant, poolside cabanas, and Portofino I (a 63 foot catamaran that makes the ideal setting for an intimate wedding or cruise). Only one wedding per day is permitted at Portofino, which guarantees that you and your significant other receive the attention you deserve on your special day. Wedding packages include tables and chairs, linens, and flatware/stemware, as well as servers, bartenders, and other necessary staff who are willing to help set up and breakdown the event. Want a Portofino wedding? Contact w[email protected] or 850-916-3406. portofinoisland.com
Barkley House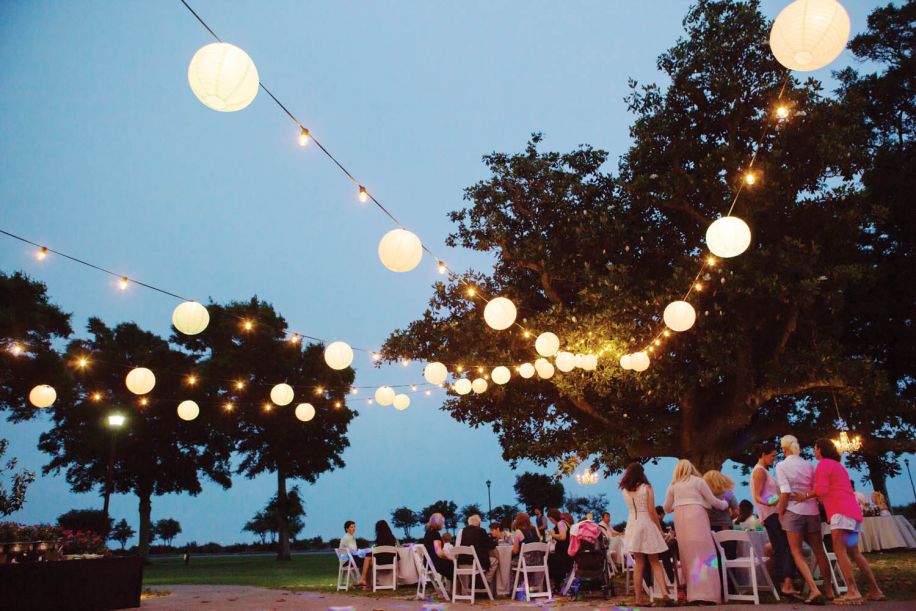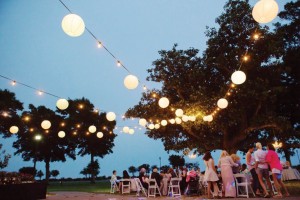 Downtown Pensacola, Fl
Overlooking Pensacola Bay is one of the city's last remaining and best-preserved examples of a 19th century high house—Barkley House. Hundreds of weddings have been hosted at this historic venue, which offers both indoor and outdoor options for ceremonies. Go for a classic indoor setting with heart-pine flooring and vintage furniture throughout, or step outside for a formal event under tents. Up to 75 standing guests may fit inside Barkley House, while more than 300 guests may be accommodated with seating on the lawn. A wrap-around porch catches bay breezes and provides a vantage point overlooking the landscaped and manicured grounds. The large pergola shaded by oaks makes for an idyllic ceremony scene. Barkley Houses offers Southern charm and sweetness that is sure to make your day an unforgettable experience. Thinking of booking with Barkley? Contact coordinator of public functions Casey Campbell at either [email protected] or 850-595-5985 ext. 107. historicpensacola.com/rentals
Pensacola Country Club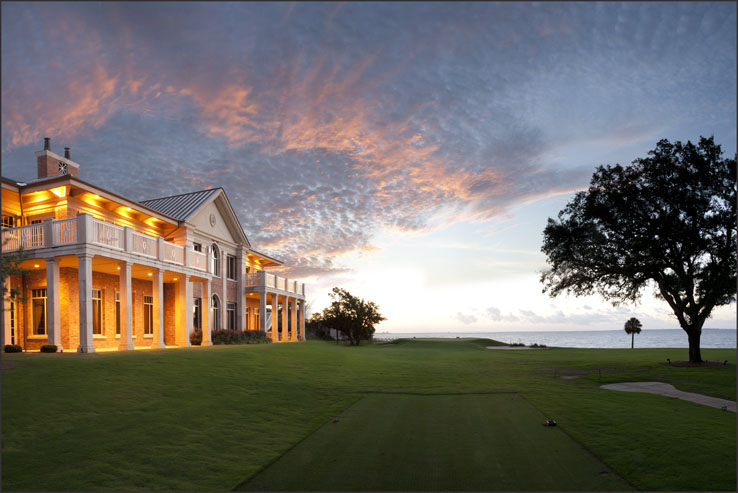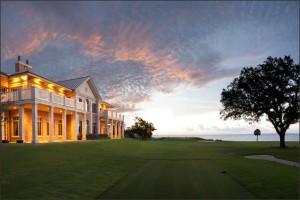 Pensacola, Fl
As the oldest private golf club in Florida, Pensacola Country Club has hosted weddings and special events for more than 100 years. The various options for where to conduct your ceremony include the 18th hole of the golf course, which combines a majestic view of the Pensacola Bay with towering oaks and a captivating backdrop of the clubhouse. Ceremonies can also be held off the dock for a "bay-ueatiful" scene. On the protected inlet, you'll find natural scenery like magnolias and palms, and you might even catch a glimpse of dolphins bobbing in the water. Indoor options include having a ceremony in front of the clubhouse's 1902 marble fireplace, or balcony ceremonies off the second story. Packages include dining chairs, tables, linens, glass and silverware along with fireplaces and outdoor furniture. pensacolacountryclub.com
Fountain Park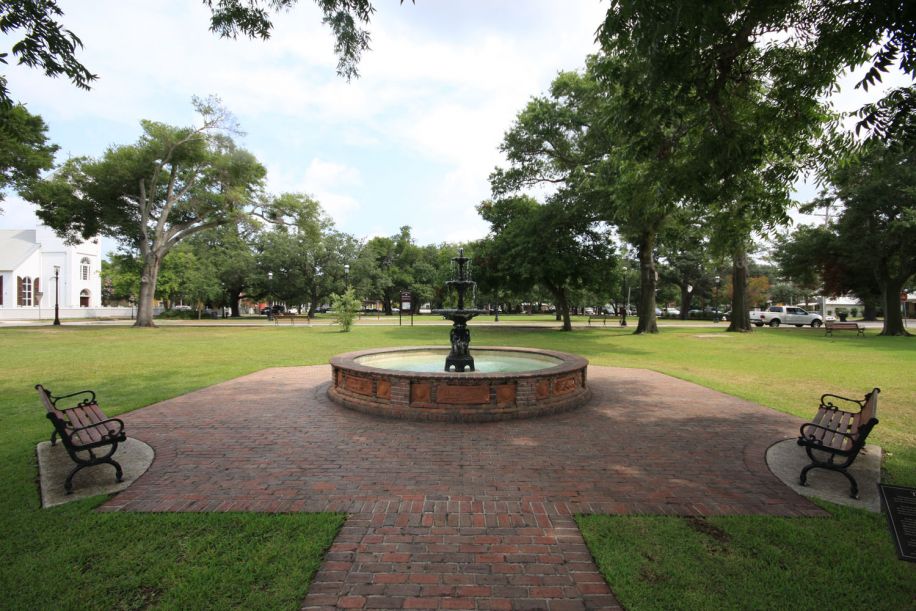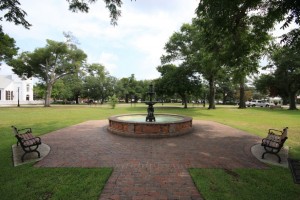 Downtown Pensacola, Fl
Nestled in the heart of downtown, just south of Seville Square, you'll find the perfect picturesque park for your outdoor wedding—Fountain Park. Invite up to 200 guests to join you in the park for your special day. The park's namesake and symbol is the seven-foot-high, three-tiered Fleming Fountain made out of iron and designed by artist John Yauger. The fountain makes for an interesting conversation piece, as well as a symbol of our area's history you might want to incorporate into your event (if you're from Pensacola, or you're a self-proclaimed history buff). The fountain's detailed panels tell the story of Pensacola and its people from the depiction of Blue Angels soaring over the Naval Air Station to shrimp boats drying their nets at fish houses near Fort Pickens. Considering sealing the deal at Fountain Park? Coordinator of public functions Casey Campbell would be happy to address your inquiries at either [email protected] or 850-595-5985 ext. 107. historicpensacola.org
Holland Farms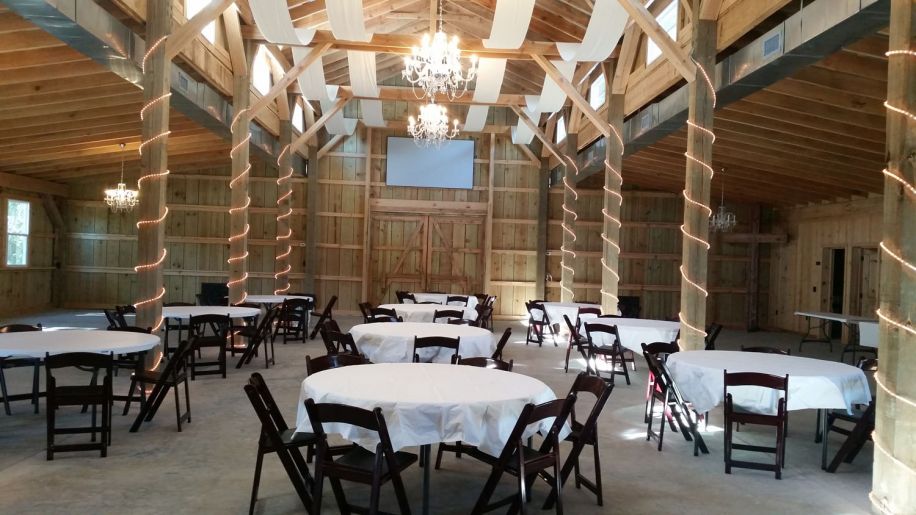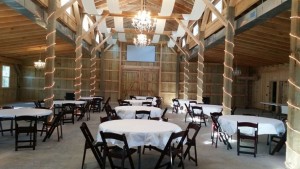 Milton, Fl
You may have heard that Holland Farms is "The Nuttiest Place Around" Pensacola, because of its origins as a family owned and operated peanut farm. Today, you'll find more than peanuts at the farm: in fact, last year in October the Hollands constructed a barn called Heaven's Trail for special occasions like wedding ceremonies and receptions. Surrounding the barn is a beautiful field of sunflowers, which makes for a great backdrop for wedding photo shoots. Tables and chairs, which can seat up to 200 guests, are provided. The climate controlled barn is made of southern pine wood and has an elevated loft overlooking the ground floor, a loft which is perfect for pre- and post-wedding photos. Although the barn has plenty of windows and natural lighting, the cathedral-like high ceiling has classy chandeliers for additional lighting, which can be decorated in white drapery for wedding events. To make for your own fairy tale wedding, you can even request for a horse and carriage to usher you down to the barn when your special day comes. For more information on rental rates contact BJ at 850-675-6876, or email your inquiries to [email protected]. hollandfarmsonline.com
5 Eleven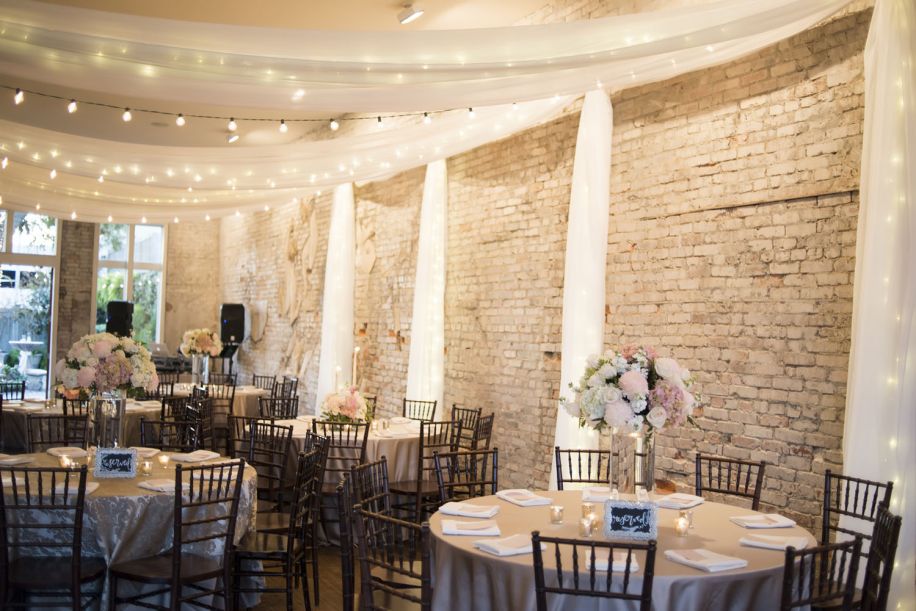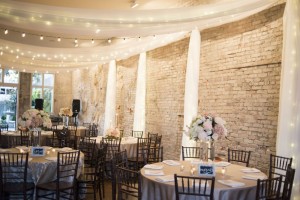 Downtown Pensacola, Fl
What's as hip as the happening Downtown Pensacola? The popular event space at 5eleven, of course. You can spot the 120-year old building on South Palafox Street, conveniently nestled between downtown's bustling SoGo District and Palafox Wharf, so your wedding party can roam and take in the sights and sounds of the heart of our city after the ceremony concludes. Part of the building's charm is its history, including the original brick walls of the 5eleven's interior, which set the scene for an elegant dining area ideal for receptions. As many as a dozen windows facing outward to Palafox from 5eleven's exterior allow for photogenic, natural lighting and ambiance. Between the peaceful outdoor patio, private courtyard and lawn, there's more than a few options for you and your significant other to choose from for your ceremony. Your wedding package includes 125 mahogany chairs and 22 tables but, for an added fee, you may request additional lighting, an arbor, and heaters to add the finishing touches to your event. Are you set on 5eleven? Get the scoop on 5eleven weddings by contacting Mary Price at 850-380-6219 or [email protected]. 5elevenpalafox.com
Hilton Sandestin Beach Golf Resort & Spa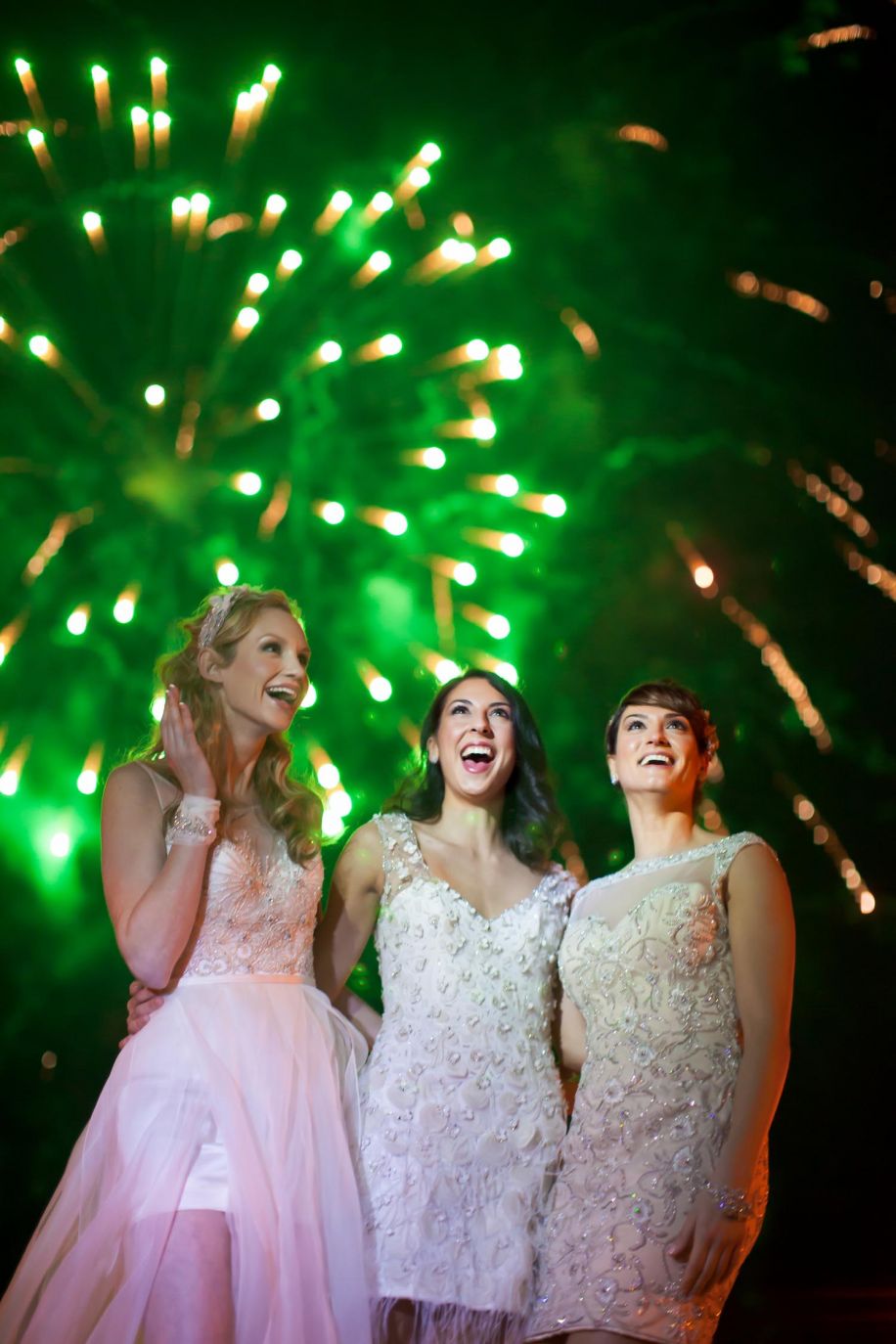 Miramar, Fl
For over a dozen years, Hilton Sandestin Beach Golf Resort & Spa has helped couples have the perfect beginning to their happily ever after. From the beach to the ballroom, Hilton Sandestin Beach really does have it all: three grand formal ballrooms (Emerald, Coral and Coastal), three decks (Sunrise, Barefoot, Sunset) with expansive Gulf of Mexico views, and a private beach with east, center and west access points for a total of 925 square feet of sugar-white sand. You can have anywhere from 80 to 700 guests, depending on where you choose to host your ceremony. Can't get over your worry of increment weather? Fret no more: Hilton Sandestin offers complimentary backup space for your wedding to ensure your plans don't meet with any kinks. Moreover, Hilton Sandestin boasts 602 spacious accommodations, the most award-winning spa on-site, six dining venues—including an AAA Four Diamond restaurant, as well as abundant resort recreational options all within proximity to the area's best attractions, so your ideal wedding can happen all under one roof. Want a smooth sailing Sandestin wedding? Call wedding and special events managers Erin Story and Carol Juneau at 850-267-9600. hiltonsandestinbeach.com
Pensacola Museum of Art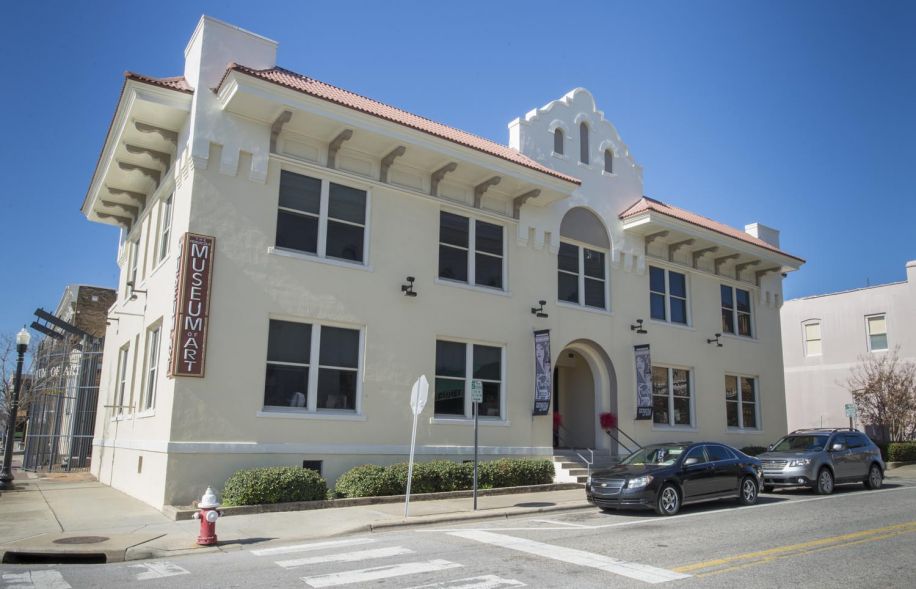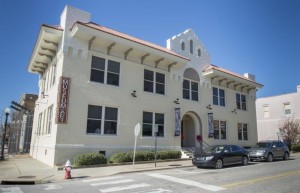 Pensacola, Fl
Marrying an artist, or simply want to be surrounded by the finest works of the area's top-notch artists? Then Pensacola Museum of Art might just be the artsy wedding location for you. Choose to host your wedding in any one of the five galleries in the PMA building, where artwork is constantly changing every two to three months. Now's the time to plan: is an exhibition by your favorite artist coming up? Consider making arrangements so that your special day coincides with the time when your favorite exhibition, or artist, will be featured. The museum can hold more than 300 guests and the high ceilings give a very open layout for event planning. Lighting can be adjusted for events, and the museum offers its sound system along with tables and chairs free of cost. Want to know more about weddings at PMA? Reach out to executive director Raven Holloway at [email protected] for more information on wedding events and rental rates at the Museum. pensacolamuseum.org
The Club at Hidden Creek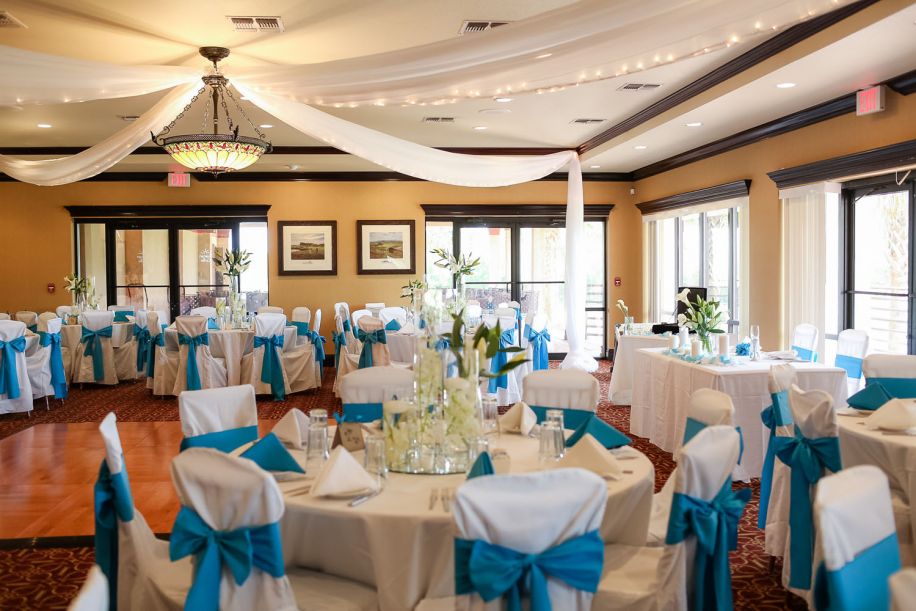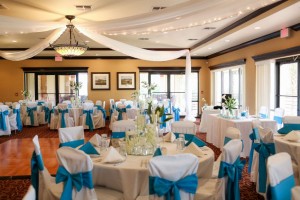 Gulf Breeze, Fl
Go for a wedding experience to remember at one of Pensacola's not-so-hidden secrets: The Club at Hidden Creek. For over 20 years, The Club at Hidden Creek has hosted close to 15 to 20 weddings per year. The venue boasts for an ideal photo op spot, since the rolling golf course makes for a beautiful backdrop during sunset. Fit up to 175 guests inside the Hidden Creek pavilion for outdoor wedding ceremonies. The all-inclusive venue hosts ceremonies and receptions in addition to providing catering and bar options. The club provides everything for your wedding party, including linens, dance floors, tables chairs, and locker rooms for getting on your best appearance for that walk down the aisle. All the couple needs to do is bring the decorations of their choice. In fact, on-site chef Jesse Sproles is more than willing to cater to specific dietary restrictions and will go as far as to cook family recipes to make your event all the more memorable. For more details on booking the wedding of your dreams at Hidden Creek, contact event coordinator Patricia Cardet at 850-939-4606 or [email protected]. theclubathiddencreek.com
Tiger Point Golf Club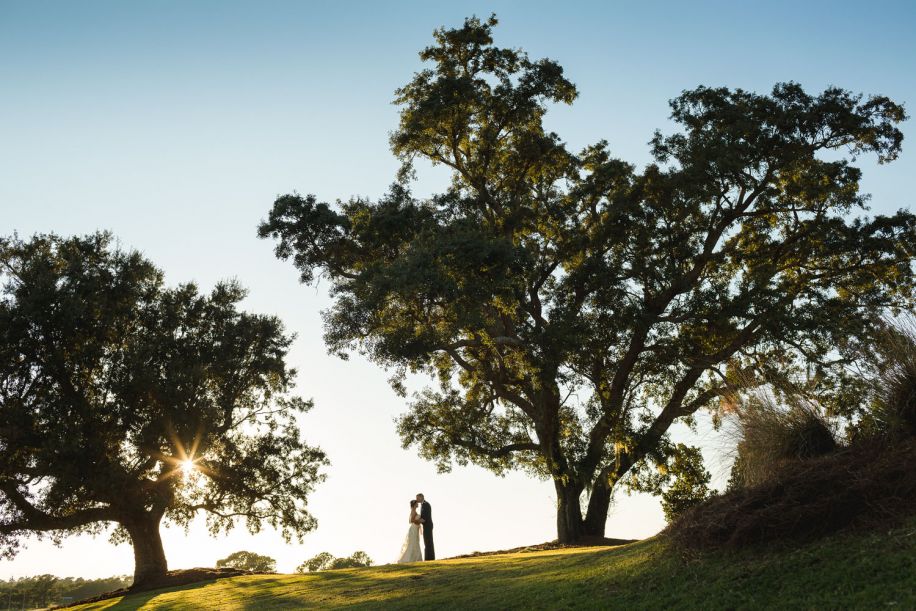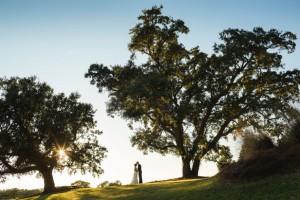 Gulf Breeze, Fl
Tiger Point Golf Club has the venues and staff to make your dream wedding come true. There's the open-air and covered pavilion, which holds over 100 guests and overlooks acres of green and a waterfront view. For smaller weddings, there's Tee Box 4, which makes for a beautiful waterfront wedding surrounded by wetlands and the lush, green golf course. Last but not least is Tiger Point's most popular wedding site among the grand oaks, which has a 180 degree view of the water and can hold up to 100 spectators. If you prefer to adopt the motto "less is more" when it comes to planning and décor, then you'll fall in love with the venues at Tiger Point Golf Club, which require little decoration thanks to the location's natural elegance. tigerpointgolf.com
Pensacola Lighthouse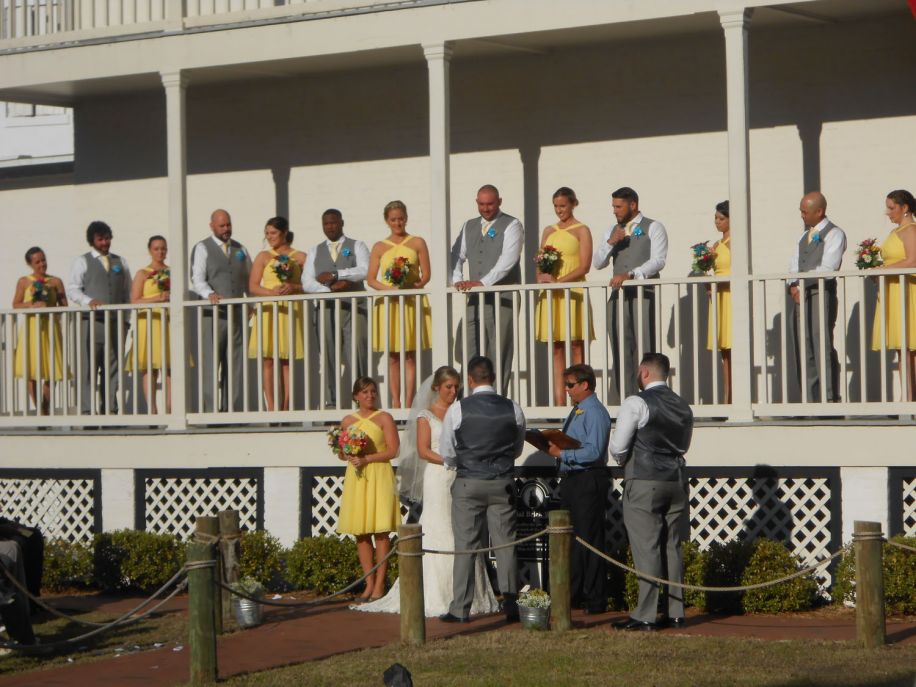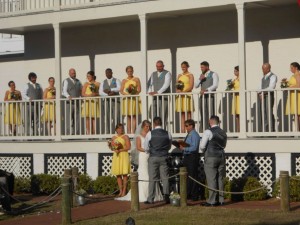 Pensacola, Fl
Looking for a venue that's a little different than all the rest? Consider one of our city's signature landmarks, the Pensacola Lighthouse. Smaller parties of 15 to 20 people may head to the very top of the Lighthouse for a special wedding experience that offers a breathtaking view of Pensacola Pass (where Pensacola Bay meets the Gulf of Mexico) along with three Spanish forts, the historic Navy Yard, and the picturesque Pensacola skyline. Afraid of heights, or have a larger wedding party? Don't fret: larger parties can set up at the equally beautiful setting of the Lighthouse lawn and porch. To commemorate your experience, you'll receive a unique memento and piece of history—a brick from the Lighthouse keeper's walkway. Don't have an officiate? Ask one of the Lighthouse keepers to dress in their uniform and officiate your marriage. pensacolalighthouse.org