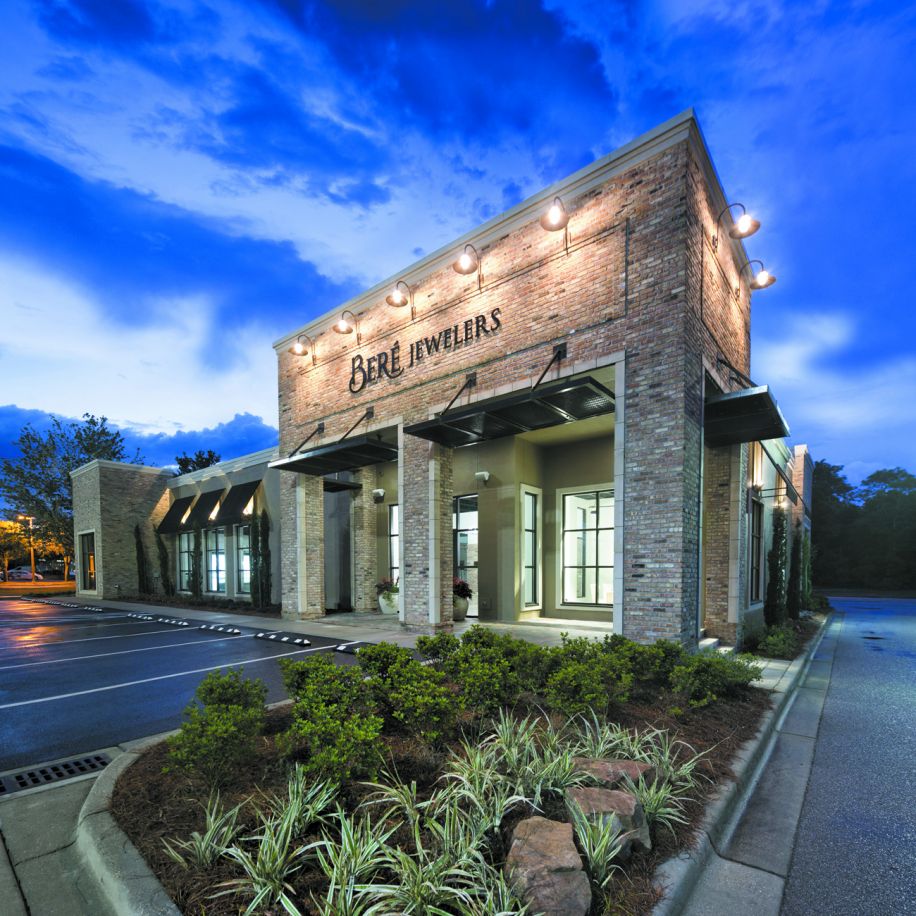 By Jenn Cole
Diamonds and emeralds and rubies—oh my! Draft beer and merlot and champagne—oh my! Bere' Jewelers new flagship store offers an amazing assortment of baubles and bubbles all under one roof. The goal: take the intimidation out of jewelry shopping. At Bere's new location, you'll find big screen TV's, a children's room filled with toys, and an interactive zone to find out exactly where and how your diamond came out of the Earth.
The new 7,350 square foot store is full of gorgeous gems and plenty of surprises. Walk through the doors and you'll instantly feel the ease of a coastal-casual experience. Look to the left and you'll see the Military zone, where an aviation theme is the backdrop for the giant selection of watches—everything from the exclusive Breitlings to more affordable, but equally exquisite, timepieces. This is where you'll also find beer on tap and a big screen TV, where owners Barry and Laura Cole promise to hold Saturday game days. Yep, football and beer and watches and diamonds—plenty of sparkling diamonds.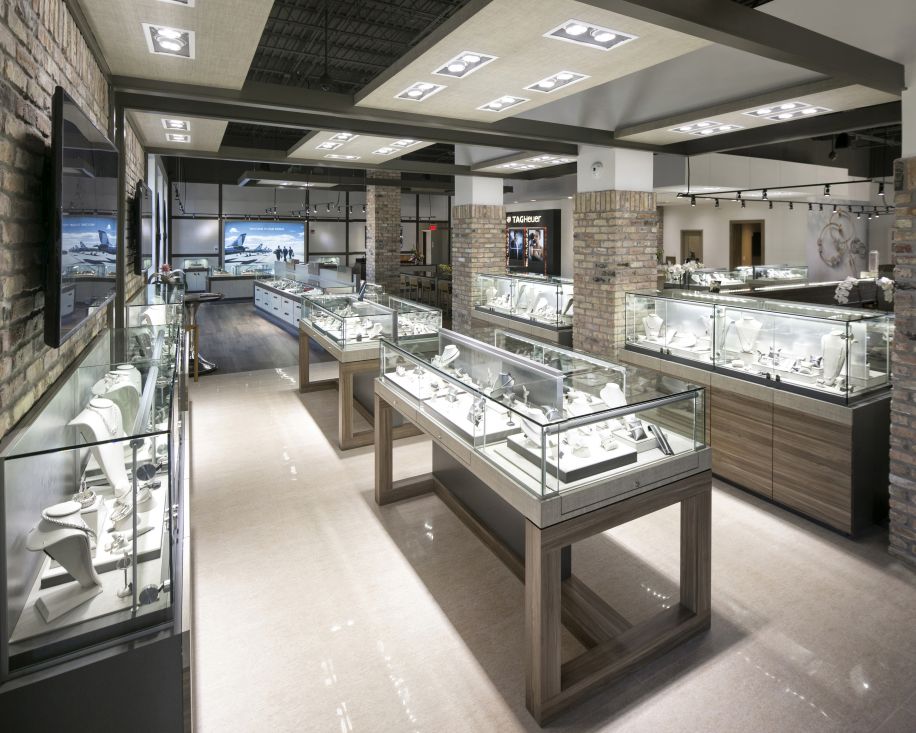 Speaking of diamonds, look right as you enter the store and you'll find the first interactive Forevermark zone in North America. Forevermark is DeBeer's high-end diamond collection. The interactive display resembles a chess board—choose a piece that says, "Responsible Sourcing" and instantly you'll see a short video on how the diamonds you are buying were mined. Or choose "We Give Back" and see how the company is planting trees in mining areas. There are also electron microscopes through which clients can view the unique serial number and Forevermark logo on each Forevermark diamond.
Other surprises include a relaxing lounge area, the children's room, and a community table with iPads where customers can do their own credit applications in private. Financing then becomes easier and less intimidating. The whole store is centered around giving customers an experience, not just offering fine gemstones.
Barry and Laura Cole say opening the new store was, "meant to be." For years, the couple enjoyed dinner at the Bonefish Grill on 12 Avenue. They'd park at the furniture store, looking in the windows, talking about how the space would make the perfect jewelry store. Then, they started making plans to build a new home, but fate took a turn—the furniture store, Luxe Interiors, closed and the space went up for sale. The Coles immediately put a halt to their house plans and dove into plans for the flagship Bere' store. They hired a designer and architect. They wanted to think outside the jewelry box, so to speak.
Don't get me wrong, you'll still find everything that makes a jewelry store a jewelry store. Experienced jewelers can create a custom piece for you or reset your grandma's favorite ring. You can get your jewelry repaired, polished, and appraised. You can have your watch batteries replaced and your necklace clasps changed to make them easier to put on. Experienced staff can guide you in your selections. One salesperson has been with Bere' since she was 16, while others started with the original store three decades ago.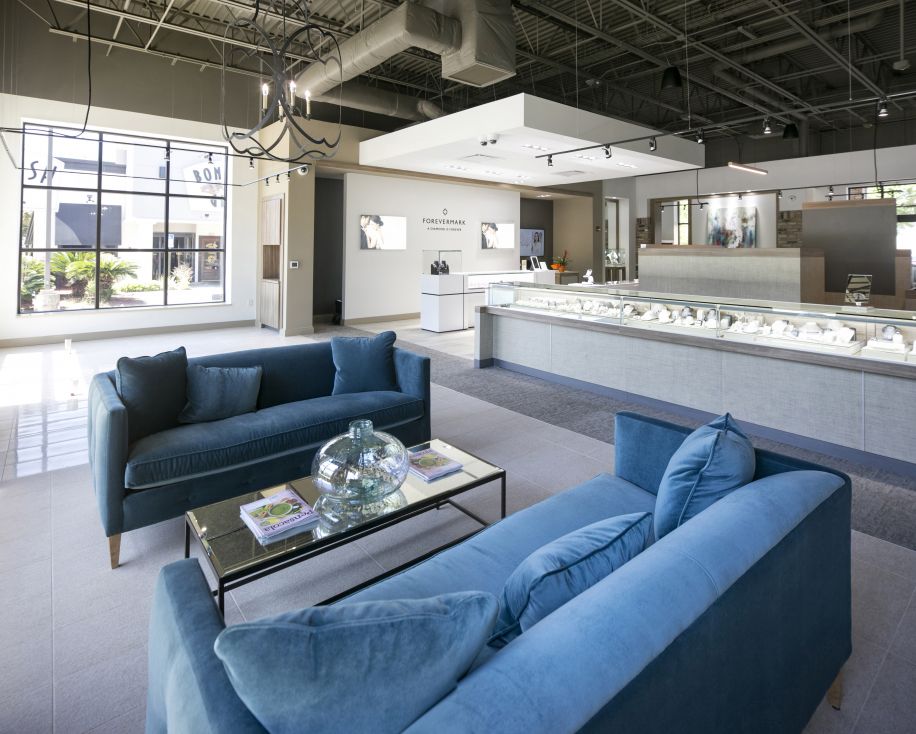 Bere' boasts a 31-year history in Pensacola. It all started with a teenager looking for a part-time job. Barry Cole walked into Cordova Mall and began filling out applications. Ray Jones, a manager at Zales, took the young man under his wing. As a natural salesman with a love of people, Cole found his passion. Within a few years, Barry and Ray each saved up $10,000. They found a local banker to loan them another $25,000 and the dream began. But a huge question remained: the pair struggled with what to name their fledgling store. After throwing around ideas, they settled on a combination of their names—Barry and Ray. Bere' Jewelers became a reality and thousands of local folks now have their own Bere' stories—engagement rings, graduation gifts, Mother's Day show-stoppers, the list goes on and on. In 2005, Jones passed away and the Coles bought his share of the business.
The Bere' story also includes decades of giving back. From Autism Pensacola to Covenant Care to the Gulf Coast Kids' Home, Barry says giving back is "the right thing to do." If you make your way to local charity events, you'll often find a donated piece of Bere' jewelry—an auction piece, given out of love to help raise money for a wide range of local charities. "It started with local schools. We found when we supported the kids, the parents supported us." The new store offers brand new ways to give back. "Look to the community table," says Laura Cole. "It's the perfect location to host events, wine or bourbon tastings, trunk shows, private parties," she said, noting that part of the money raised goes right back into the community. "Kids tug at our hearts" say the Coles. The Cole's two boys were raised here and the oldest plans to join the family business after college.
You'll find Bere' Jewelers at 5033 N 12th Avenue. It's next to the Bonefish Grill and still a stone's throw from Cordova Mall, where 31 years ago two men met and the idea of Bere' Jewelers was born. Today, it's a place where everyone is welcomed and where customers can help shape a store to fit their own needs.