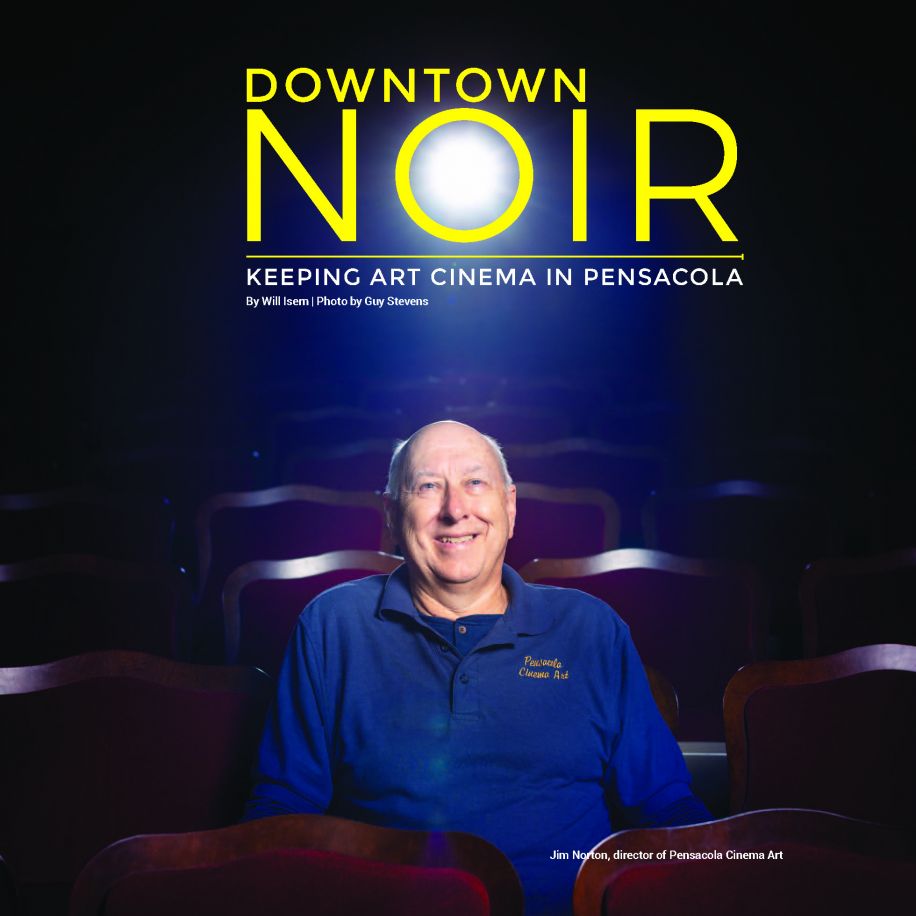 By Will Isern
On a recent rainy Saturday in downtown Pensacola, a group of about 40 people gathered in the first floor of the Bowden Building behind the T.T. Wentworth Museum to watch a rock-climbing documentary.
The film, Free Solo, has not received a wide release, but the moviegoers that Saturday were able to see it thanks largely to the efforts of one retired snowbird named Jim Norton.
Norton spent a career buying and renovating old theaters, including the Gulf Breeze Cinema 4, which Norton opened in 2004 and sold when he retired in 2012. That theatre eventually closed under new ownership, but Norton stayed in the area.
"In the probably 10 years that I owned Cinema 4, the biggest request I had was will you show movies in downtown Pensacola," Norton said.
Today, as head of Pensacola Cinema Art, Norton does just that. Norton began Pensacola Cinema Art in 2015, showing art films and documentaries at properties owned by the University of West Florida Historic Trust including the Voices of Pensacola building, the Museum of Commerce and the Bowden Building. The group is also behind the Pensacola Film Festival and the classic movies series at the Rex Theatre.
Pensacola Cinema Art is a small operation ¬– just Norton and a handful of volunteers – but the project has gained traction in the last year. Soon, Norton will have a permanent home for Pensacola Cinema Art in the newly renovated Studer Community Institute building on Garden Street. With a dedicated screening room and ample parking, Norton believes the group can achieve a regular schedule showing one film per week.
"To be successful we need to draw people from Pensacola Beach, Gulf Breeze, Navarre," Norton said. "Now they know we'll be in one venue and they know they can come downtown and they can park. Our goal is to show first run art films year-round on a weekly basis. We've been operating 3-4 years but we haven't been able to do that yet but with this new space I think we should be able to."
The movie-going experience at Pensacola Cinema Art is stripped down to the very basics. There's no popcorn, no fancy projection systems and no online reservations. The audience at an average screening is about 25 people. Tickets are just $5 at the door.
The whole operation is possible because of Norton's connections in the film industry. He works with small film companies to get custom releases of films that otherwise wouldn't see distribution in Pensacola. The ticket sales basically cover the cost of getting the films.
"None of us get paid but it's fun and it's starting to grow a little bit," Norton said.
Norton said he was inspired to start Pensacola Cinema Art because he saw that the city had developed a rich cultural scene, but still lacked art cinema.
"That's one of the reasons I stay at it is that downtown Pensacola has everything else it wants," he said. "There's a lot of live performance at Vinyl and the Saenger, but it didn't really have art cinema and now its one additional thing we have that will help the community grow."
Pensacola Cinema Art's next screening will be a partnership will the Pensacola Opera to show the 1968 adaptation of Romeo & Juliet at the Rex Theatre on Jan. 15. You can find more information, including the cinema's schedule at PensacolaCinemaArt.com.