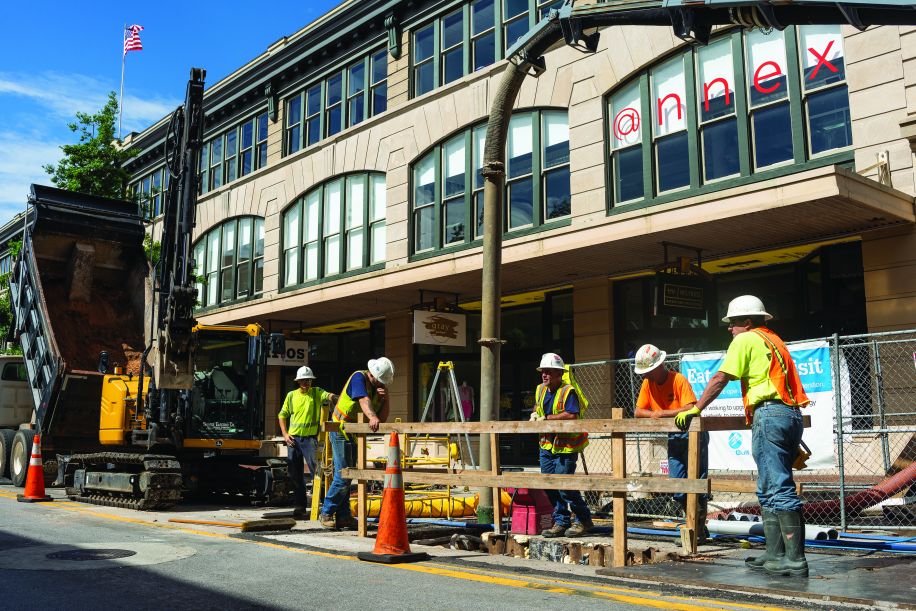 The Gulf Power construction project that has clogged Palafox Street in downtown Pensacola in recent months is scheduled to last another three years, but work will soon shift to nighttime hours in hopes of alleviating congestion and reducing the impact to downtown businesses.
Gulf Power began work to install an entirely new power grid throughout downtown in March 2018. It's an $86 million project aimed at modernizing downtown's aging power grid and mitigating the risk of severe power outages. With fenced off streets, noise and traffic detours, the work has created headaches for visitors and business owners in the city's premier entertainment district, but is necessary accommodate further growth downtown, Gulf Power representatives said.
"Basically we are rebuilding and replacing our downtown network, and all of the network is underground," said Gulf Power's regional manage for corporate external affairs Rick Byars. "It's been there for over 70 years, so it's at the point where any day we could have what we call a catastrophic failure on the system and, if that were to occur, we'd lose power or would have to take any means necessary to restore power … So we're not tearing it out, we're building a brand new system next to the old system."
Gulf Power crews moved on to Palafox Street in March. The resulting construction noise and traffic disruption has left some downtown business frustrated.
"I think the biggest thing as a business is lunchtime is popular, and I feel like the lunch crowd that comes down, pops in stores and grabs their lunch is really missing right now because they don't want to sit and hear noise their whole lunch," said Indigeux Denim Bar owner Katie Bosso.
In hopes to alleviating some of those frustrations, Gulf Power has agreed to shift the Palafox work to overnight hours and to avoid weekends. Beginning in early August, crews will work from 10 pm to 10 am Sunday through Wednesday. The shift comes at an additional $1 million cost to the company. Downtown stakeholders welcomed the change at a meeting with Gulf Power representatives in July.
"Right now the way it's going at daytime, 100 percent of the retailers open hours are being adversely affected," said downtown property owner Deborah Dunlap. "Seventy-seven percent of the restaurant hours are being adversely affected, and 44 percent of the bars are being adversely affected. When they go to this schedule, the bars will only be affected 22 percent of their open hours; the restaurants almost zero, and the retailers almost zero."
Working through the night will require crews to use floodlights to illuminate the project area and Gulf Power said construction noise could be more pronounced in the quiet of the night.
"We know we're going to be disrupting some sleep patterns," said Byars.
The next phase of work will begin in August on Garden Street at the intersection with Palafox. Gulf Power hopes to be off the first two blocks of Palafox Street by December, said Byars. The project will move to portions of Government, Intendencia and Palafox streets in front of the Escambia County government building in 2020. Work in 2021 and 2022 is not expected to include excavation and should be less disruptive, said Gulf Power.
"We're just trying to get the worst part of it out of the way first," said Byars.