By Kelly Oden | Photos by Steven Gray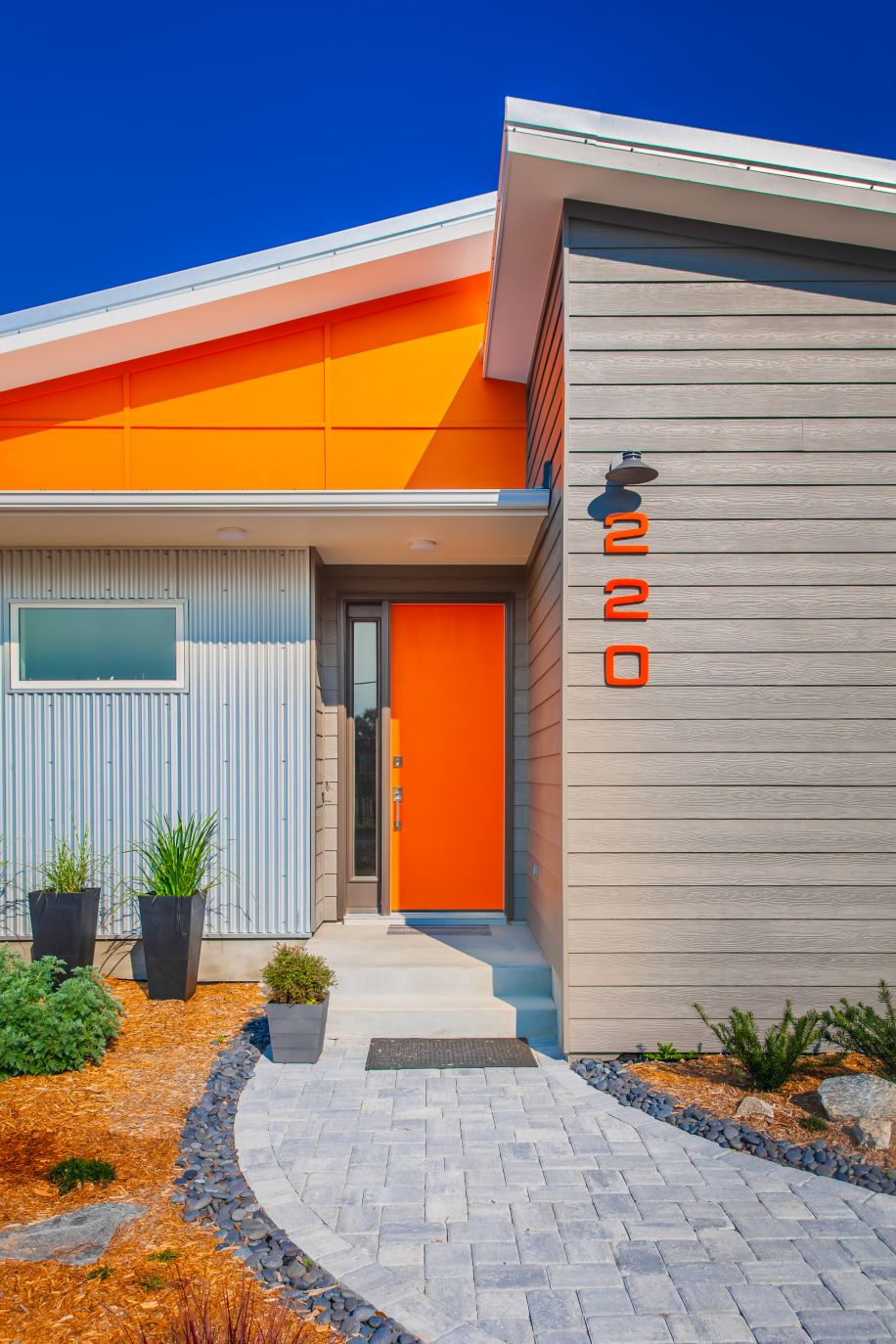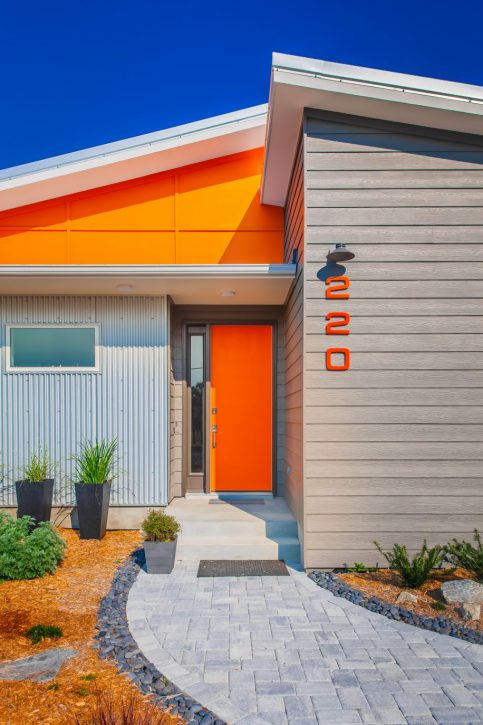 For more than two decades, Carl and Patti Wernicke lived on a 12-acre spread on Garcon Point. While they loved the quiet peacefulness of the point, as they grew toward retirement age, they realized that the upkeep and tall steps to their home just weren't conducive to comfortable aging. At the same time, downtown Pensacola was in the midst of a cultural renaissance—brimming with restaurants, shops, a growing population and plenty of activities with easy walkability.
The Wernickes decided that downtown was the place to be, so they bought a lot on South D Street and began planning their dream retirement home. Must-have elements for the couple included plenty of natural light, environmentally friendly materials and energy efficient systems as well as great outdoor space.
With the help of local architect Dean Dalrymple of architectural firm Dalrymple Sallis and local contractor Bontrager Builders, the couple succeeded in building their dream home—a modern, eco friendly urban cottage that requires minimal upkeep and creates minimal environmental impact.
Design Elements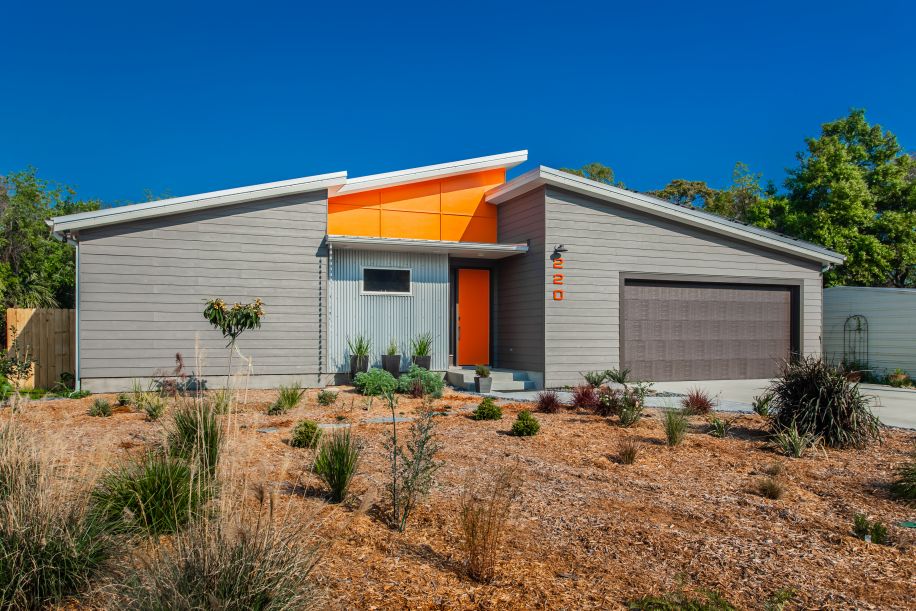 Energy efficiency was extremely important to the couple for both environmental and cost saving reasons. To that end, the home features a number of energy efficient and eco-friendly design elements and materials.
The 30-year metal roof, spray foam insulation and Hardie-board siding all make the home very low maintenance and air-tight. Outdoor rain collection systems, Low E glass, LED lighting and a garage heat pump that recycles the hot air to heat the water all combine to keep power usage and environmental impact low.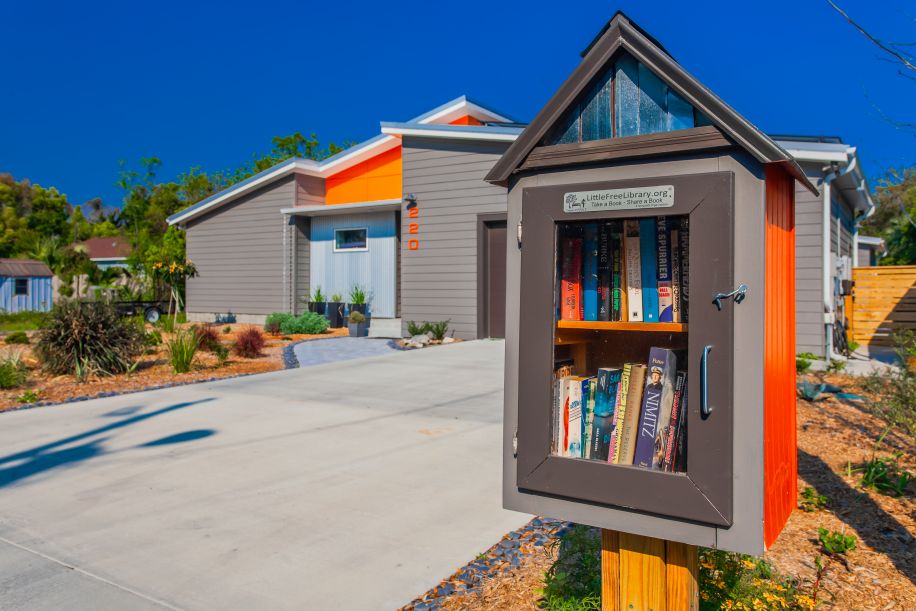 The two most unique features of the home, in terms of efficiency, come from Florida's most renewable resource—the sun. The 36 solar panels mounted to the garage roof provide 10.4 kilowatts of solar energy—enough to power the entire house and leave the homeowners with a zero dollar power bill. In fact, they actually produce excess energy, which Gulf Power pays for in the form of a credit.
Additionally, the interior of the home features three solar tubes—these are similar to sun lights, but they use frizzle lenses to amplify and distribute natural sunlight, often eliminating the need for lamps or other lighting.
Ease of maintenance was also important to the couple and the polished concrete floors throughout the home make cleanup easy while adding to the modern vibe.
Exterior Landscape and Design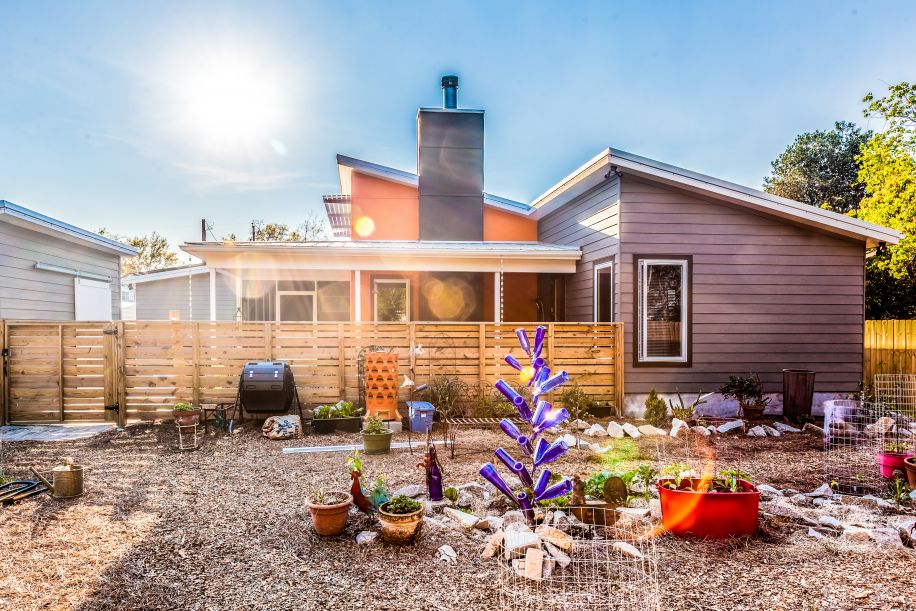 The couple chose a no grass front yard landscape.
"We didn't want grass. Not only are lawn mowers environmentally offensive, but we also didn't want to be out here mowing grass. Everything in the front yard is either native or adapted—Florida friendly—low maintenance, low irrigation, no mowing."
They filled empty spaces with mulch and pavers to create an attractive and eco friendly landscape design—complete with a little free library designed to match their home.
The backyard features a paved patio, rainwater storage barrels, an outdoor shower and a large garden complete with a greenhouse. The mostly edible garden has been planted with plenty of fruit trees—including lemons, limes, oranges and figs as well as blackberry and blueberry bushes. Multiple raised garden boxes offer room for growing Brussels sprouts, broccoli, snow peas, kale and more. Again, this space is completely grass free using scavenged pine straw and free mulch from ECUA.
A large screened in porch offers year round outdoor comfort and was an absolute requirement for the couple.
Kitchen + Dining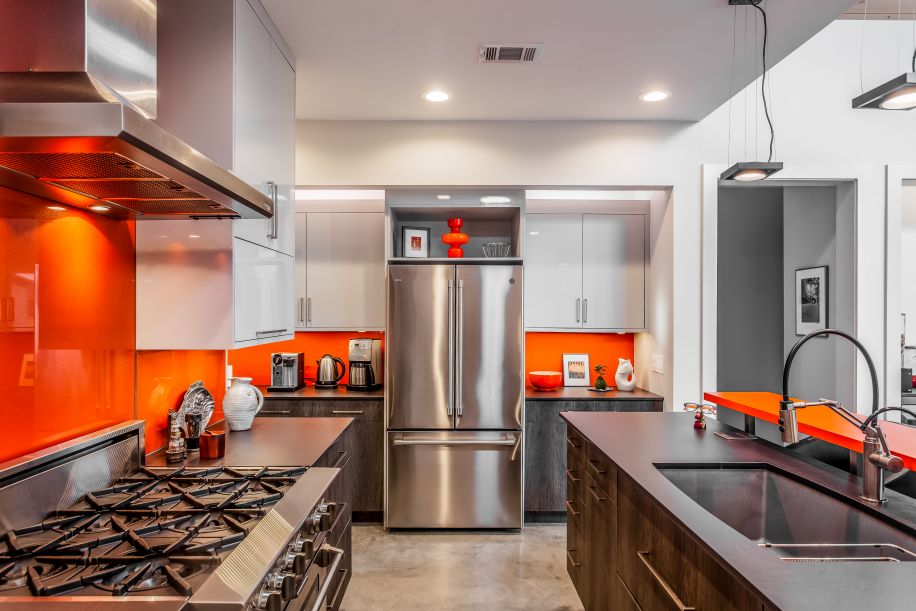 While the kitchen may be small by some standards, it packs a punch both visually and in terms of space utilization. The clean, high gloss cabinets in a pale grey and an accent wall and breakfast bar in bold, modern orange combine perfectly with black Dekton countertops and stainless appliances. The couple's one big splurge—a six-burner stainless steel gas range anchors the space and creates a chef kitchen vibe. The large walk in pantry keeps the clutter contained and provides a place to hold small appliances, family heirlooms and larger dishware.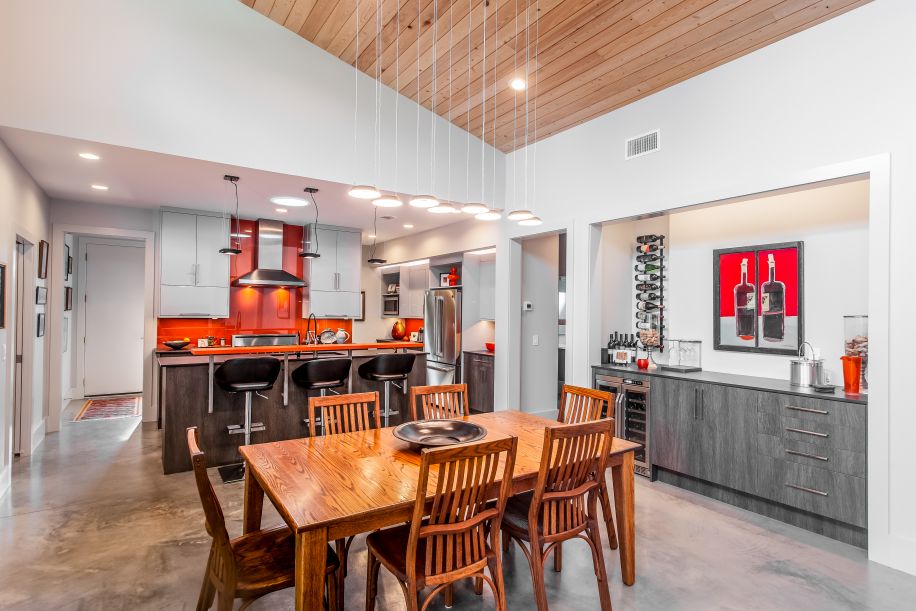 Both the dining room and the living are natural extensions of the kitchen. A matte black multi-pendant modern light hangs above the dining table. A small sideboard features a wine cooler, plenty of cabinet space and a serving area for large gatherings.
Living Room
The wide-open living area creates an urban cabin vibe with the wood burning fireplace, modern furnishings and ethnic sculptures. The entire space—from dining to living room–features a wall of sliding doors and upper windows that create bright, natural light and offer a great view of the patio. The cypress covered slanted ceiling creates an open and earthy aesthetic while the modern lighting, bold pops of color, local art and modern furnishings add to the downtown urban vibe.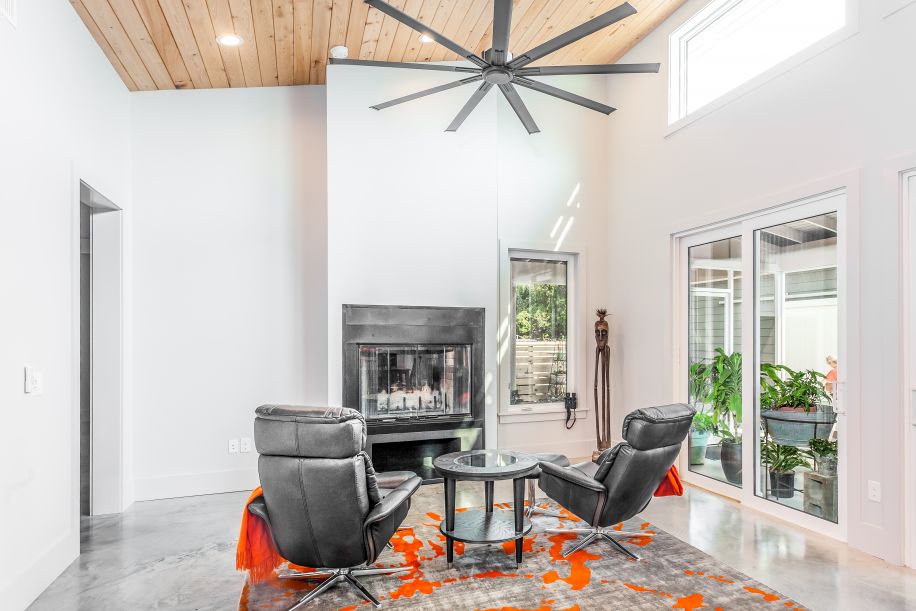 "We definitely wanted a wood burning fireplace," Carl said. "To me, fire is a wonderful thing. They change constantly and you get to mess with them. You can occupy yourself for a long time with a fire. A lot of people are going to gas and they've come along way with those, but to me, they are just kind of soulless."
"We designed it with wood storage at the bottom because we have a tendency to scatter the wood all over the place otherwise," Patti explained.
Media Room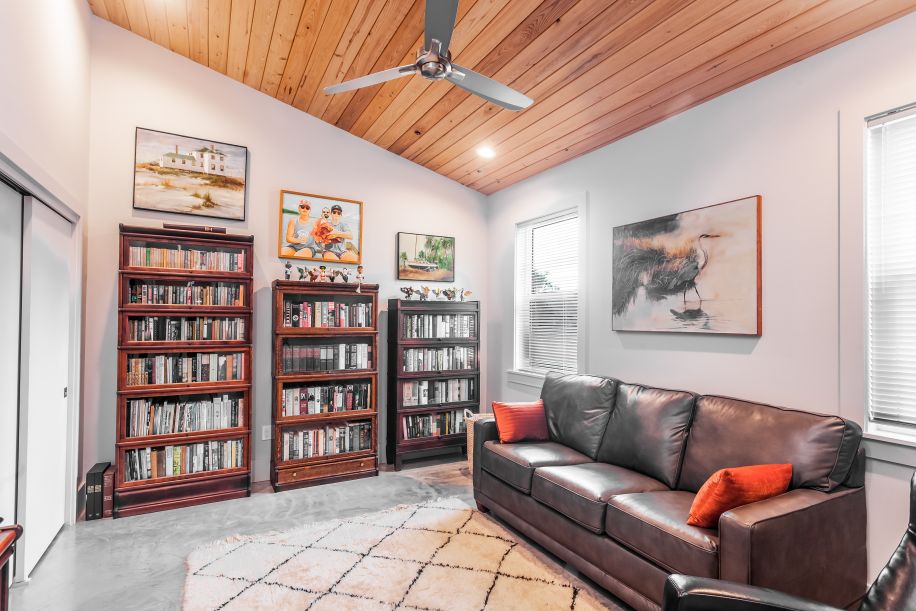 While the house could technically be a two bedroom, the Wernickes use the second room as a media room and library. The couple does not like televisions in the living area, so they created a separate space to Netflix and chill or to entertain their grandchildren. The media room also houses their collection of Wernicke barrister bookcases—a design invented by Carl's great grandfather, Otto Wernicke, in the 1800s. The bookcase patent was eventually sold to Global and then to Macys. More local art spans the media room walls.
Master Suite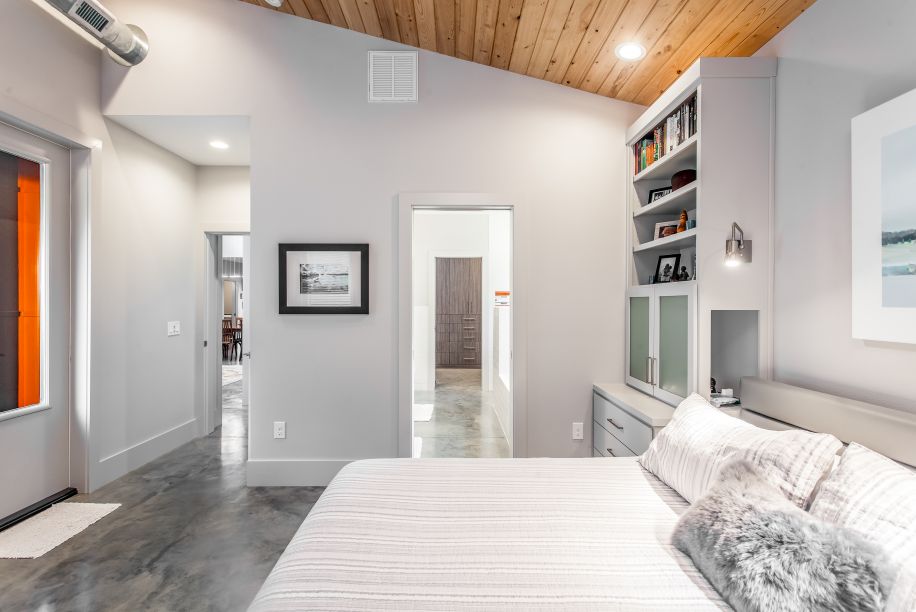 Built in bedside tables with frosted glass cabinets and tall bookshelves keep everything neat and tidy. The cypress ceiling continues through the master bedroom. Art by local artists Bill Billingsley, Maria Houck and Virgil Flynn adorn the walls.
The master bath is a sanctuary of clean lines and open, light filled space. The free-floating double vanity is topped with Quartz countertops. An oversized Whirlpool tub sits below a large window and the spacious open shower was specifically designed with no glass to be hassle free. A generous walk-in closet offers floor to ceiling shelving and cabinets. Solar tubes in the bathroom and closet ceilings create plenty of natural light.