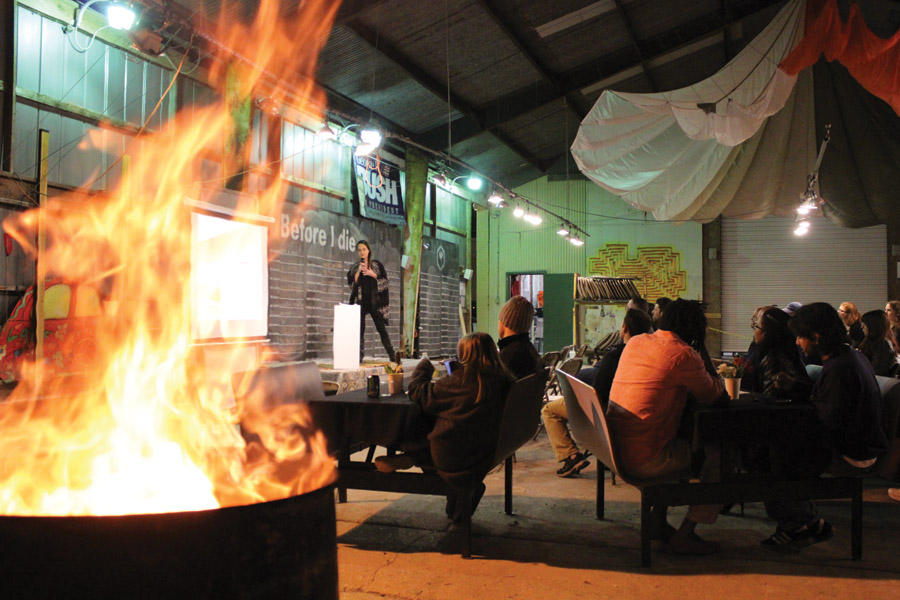 Lovers of the spoken (and written) word rejoice: Pensacola is in prime poetic form, offering many outlets for you to hop on stage and share with the audience your wordsmithy and creativity. In honor of National Poetry Month, we've explored the town to find out just where you can share your epic expressions in both traditional and performance poetry, as well as pun-piled comedic poetry and the art of PechaKucha. Whether you're a poet and know it, or you just like to watch the wordplay unfold, become one with the Downtown Crowd and celebrate the spoken word with Pensacola Poetry, Poetry Bistro, PechaKucha nights and beyond.
PechaKucha
"When thinking about the spoken word we usually associate it with poetry," said Felipe Muñoz of PechaKucha Pensacola. "But, I believe above anything else, the definitions of poetry are about communication of critical thinking and the rationalization of emotions. PKN provides a space for people to engage and express themselves to an audience of avid listeners and creative thinkers. So, in that way, PKN celebrates the spoken word because it serves as a platform for those willing to share their words."
Who doesn't like some meaningful "PechaKucha" (or chit-chat)? PechaKucha Night, popularly referred to as PKN, has been running quarterly in Pensacola since November 2014. The event is free and open to all people, and, according to Felipe Muñoz, PKN is all about connections—of ideas, of people, of relationships and community. For a total of seven stage minutes, every presenter has the opportunity to share 20 images or slides of his or her choice at 20 seconds each. Don't worry about sounding or appearing professional; you don't have to be a pro to PechaKucha. Ready to PechaKucha? Look for the next PKN at First City Art Center on the evening of May 14. Follow PechaKucha Pensacola on Facebook, email your inquiries to [email protected], or visit their website at pechakucha.org/cities/pensacola.
Pensacola Poetry
"For many, open mic night is a family event where parents bring children to expose them to art and creative expression," said Charles McCaskill, one of the hosts for Poetry Pensacola on the first Tuesday of every month. "However, regardless of subject matter, nothing is censored. Its vital that each person feels comfortable to say whatever they need or want, because the stage is a safe place. It's a place where people of all backgrounds, ethnicities and religions can come together and express their hopes, fears, desires and doubts, and at the end every one claps."
Pensacola Poetry is a group for creative thinkers, which has been around in one form or another since 2008, showing support not only for poets but a wide mixture of local talent and style. Although the group places emphasis on the performance side of poetry, the open mic at Sluggo's brings together traditional and performance poets along with artists who bridge the gap between music and the spoken word. You never know who you might meet, since our very own poet laureate of Northwest Florida Jamey Jones has been known to take the mic. Look for the Pensacola Poetry crowd in the back of Sluggo's every Tuesday night, and don't be shy about signing up for open mic when the list opens around 6:45 pm. Follow Pensacola Poetry on Facebook to view the latest readings or find out how you can get involved in open mic nights.
Poetry Bistro
"The events I do are geared around socials," said Patrick Hudson, founder of Poetry Bistro. "My idea was to create an environment where people could come together, hear local artists and find other talented folks, while at the same time enjoying good food and drink."
You might have heard Patrick Hudson at Seville Quarter's Comedy Zone nights, but today Hudson is on a new mission: he's bringing all his comedic experience to table as the lively host of Poetry Bistro nights held once a month at either It's Personal by Sheila in Downtown Pensacola or The Event Room in Fort Walton. Why the name Poetry Bistro? Because all attendees are welcome to bring their own beverage of choice, plus they have the option of dining on food catered to the event. There's all the makings of a bistro, from sipping spirits and gorging on grub, while you listen to words of aspiring and accomplished poets. Perhaps one of Poetry Bistro's most prominent featured artists was HBO Def Poet Asia Simpson, who took the stage on April 2. Follow Poetry Bistro on Facebook to keep up with upcoming events and social, or call Patrick Hudson at 850-610-2660 for more details.
Other places to get inspired:
Seafood Sunday Social
Poetry open mic during musical intermission
First Sunday each month
The Fish House (600 S. Barracks St.)
850-610-2660
West Florida Literary Federation
Poetry Open Mic
Third Tuesday each month
Pensacola Cultural Center (400 S. Jefferson St.)
sites.google.com/site/wflfonline