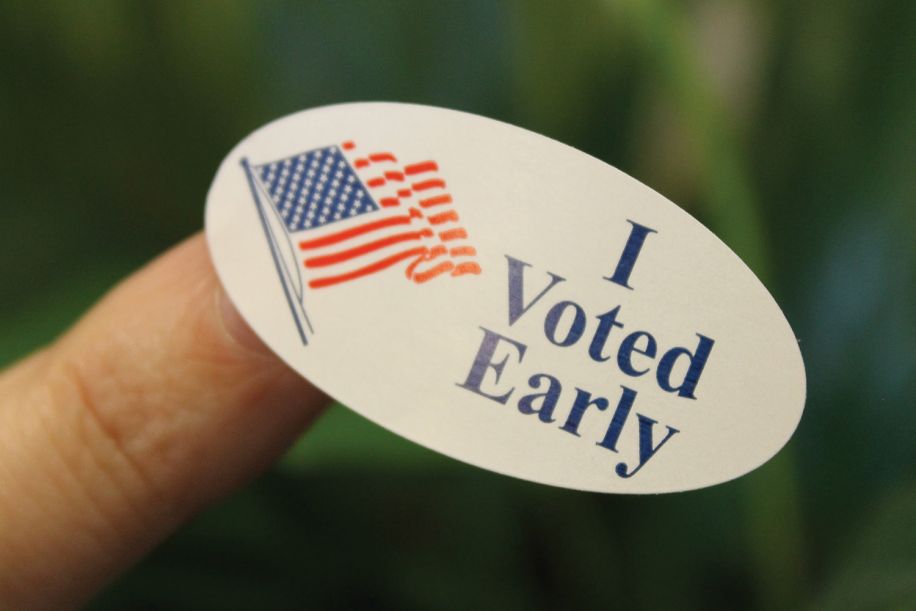 Have you voted? Sometimes it's a question we dread to hear, but the answer is important regardless of your party affiliation. While the presidential primary election is on our minds this March, it is essential to realize there is more to voting than submitting your ballot for president every four years on Election Day.
There are three main ways to vote in Escambia County and Florida: absentee voting, early in-person voting, and voting on Election Day.
In Florida, there is a "no excuse" absentee voting, which means anyone can vote via mail without needing an excuse for the absence, such as deployed military, out of county, or cannot come into a poll location due to hospitalization. A total of 26 percent of citizens chose to vote by absentee ballot in the last presidential election in 2012.
The first votes counted are absentee votes in which the election worker team separates ballots from envelopes then submits to a tabulator.
Early in-person voting will occur at seven locations in Escambia County for a total of eight days, starting March 5, for a total of nine hours per day from 8 am to 5 pm. There are differences between counties on the days and hours of voting, since state law leaves the decision up to individual supervisors in each county. At least eight days with a minimum of eight hours a day must be allotted for early voting, beginning on the tenth day and ending on the third day before the presidential election. There were 29 percent of Escambia County voters who chose to cast their ballots early in the most recent presidential election in 2012.
At the end of the early voting period, thumb drives are removed from the DS200 tabulators and then read into an electronic port manager where the results are accumulated. The team does not touch the results, and, in fact, they sign sworn statements to make sure they do not peek at any of the submissions.
Election Day voting will take place this year on March 15 from 7 am to 7 pm at 79 voting locations in Escambia County. In 2012, a total of 45 percent of voters chose to cast their ballots on Election Day.
"As a community, we get really excited in the Presidential Primary Election year and more people vote," said Sonya Daniel, Deputy SOE of Administration at the Escambia County Supervisor of Elections Office. "But, people don't always realize that the decisions to pave roads, build schools, libraries, parks and more, all of it is determined by the local races: general elections in August and November, which occur in off years between presidential elections. Being an active part of the process is more than just voting for president every four years."
On Election Day, tabulators accumulate votes throughout the day. Once the polls close, a secure wireless modem communicates data back to the Supervisor of Elections Office where it is stored until all votes are received and the canvassing board certifies the results.
Looking at previous presidential elections in Escambia County, perhaps the most relevant statistics to compare to this year's election are from the 2008 presidential election, because both Democrats and Republicans had opportunity to vote in 2008. In the 2012 presidential election, Barack Obama was unopposed within the Democratic Party, which meant only Republicans had the chance to vote in the Presidential Primary for the candidate they wanted to represent their party.
In 2008, there was a total of 80,000 ballots cast in Escambia County and votes were a little over 53 percent Republican and 39 percent Democratic. The remaining 7 percent of votes were nonpartisan.
As far as equipment goes, Florida has its own certification program while a lot of states rely on federal certification. There are three systems certified in Florida and Escambia County has digital scan tabulators (DS200 and DS850), an electronic poll book (EViD), and a ballot marking device (AutoMARK) that became a requirement after the 2004 elections in which reforms required that Florida have a device that was fully accessible to persons with disabilities.
Okaloosa County just started using the electronic poll books, or EViDs, this election cycle.
In the case of duplicate voting, or when a person tries to vote twice, if they go to a polling place after voting via absentee ballot, then EViD will deny access to the voter by letting them know "Sorry, you already voted." The flip side is also true, so if you go to a polling place and vote then try to send in an absentee vote, the tabulator will not accept your ballot because it will recognize that you already voted based on the information gathered from the statewide voter database.
So what can you expect when you go to the polls? Be prepared to present your photo/signature identification (e.g. driver's license, passport, military or student ID) to an election worker, find your name located in the electronic poll book (EViD), confirm photo ID and signature before you are issued a voting pass, which is turned in at the ballot table before your ballot is issued. You then take it to the privacy booth where you submit the ballot to the DS200 Tabulator and receive an "I Voted" sticker.
The AutoMARK uses a digital scan ballot which allows voters with disabilities the option of a touch screen or audio headset function to mark their ballot. The screen also has large-print capability and adjustable screen contrast for better viewing.
Those who do not have an acceptable photo and signature identification at the polls may vote a provisional ballot, which must be approved by the county canvassing board—who compare your signature on the provisional ballot to the signature on your voter registration record. If the signatures match, your vote will be counted. The canvassing board is composed of the Escambia County Supervisor of Elections David Stafford, as well as members of the Board of County Commissioners and a county judge.
"One common misconception is that election workers are volunteers," said David Stafford, Escambia County Supervisor of Elections. "That's not true, all election workers get paid. When you're doing something as critical as an election, if 20 percent of people working behind the scenes don't show up you're in a world of trouble. Still, we tend to see people not in it for the money. The election workers do it because they see it as a way to contribute to fellow citizens and help fulfill their civic duty."
There are between 500 and 600 election workers employed in Escambia County. Some general responsibilities of the election workers include setting up the polling place before 7 am opening, dealing patiently with the public and co-workers, performing assigned duties, and working with other poll workers to pack up materials and machines after the last voter.
The different election worker titles are as follows: clerk, EViD supervisor, EViD operator, ballot issuer, equipment operator, and poll deputy. Poll workers, also referred to as election workers, can work anywhere from 14 to 16 hour days during an election year. The workers attend a minimum of two hours of training about 45 to 60 days before every election.
Planning for the primary election can begin as soon as the previous primary has concluded, so to some extent the Supervisor of Elections Office began planning for the 2016 presidential election soon after the 2012 election. However, preparations kick into overdrive about 120 days prior to the presidential election.
Part of that planning process stems from voter education and outreach programs, spearheaded by Brandi Ziglar and Sonya Daniel, for adults and children alike.
They have found the most diligent group of voters are seniors from ages 66 and up.
For that reason, the Supervisor of Elections Office team tries to piggyback on events hosted by the Council on Aging and they go to senior dining sites to talk with seniors about updating their signatures (since signatures change as we get older). Sonya and Brandi also bring the AutoMARK to show seniors how to use the machine, which especially helps those with shaky hands fill out the ballot on a touchscreen interface that can be erased if an individual makes a mistake, or doesn't mark an area clearly.
Sonya and Brandi have gone to elementary schools to help children participate in voting through the Sunshine State Reader Program (SRP), which runs through second to fifth grades. The children read a minimum of five books from a list of a dozen books given to them by the teacher, and if they finish enough of the books, they can vote for a favorite. The goal is to incorporate voter education by printing ballots similar to what adults in the children's life will use on Election Day. The children also become familiar with voting equipment, such as the EViD, DS200 Tabulator, and AutoMARKs—the latter of which is used for special needs students.
"We put our Escambia County youths through mock voting for two reasons," said Brandi Ziglar, communications specialist at Escambia County Supervisor of Elections Office. "First is so they get familiar with voting equipment and it's not intimidating when they get older. Second, it's a fun and engaging activity, which encourages kids to read so they can vote on a favorite book."
Thanks to the grant provided to the Supervisor of Elections Office by the Help America Vote Act, many of the voter registration drives and voting events can be done with no cost to the schools.
As for high school, the Supervisor of Elections has gotten involved by helping assist with high school SGA elections, as well as homecoming and prom court elections. Again, the idea is the same: to expose students to the same type of ballots, voting booths and equipment used in real elections. Plus, 16 to 17 year olds can pre-register to vote.
"What many people don't realize is that 16 to 17 year olds can pre-register to vote," said Brandi. "So, we host voter registration drives at high schools, so those teenagers can pre-register to vote. The week of their 18th birthday, Mr. Stafford signs a letter saying, 'Happy birthday, you are now official registered to vote in Escambia County'."
In addition to voter registration drives at Escambia County schools, the Supervisor of Elections sets up a table for voter registration outside of their office (213 Palafox St.) every month on Gallery Night from 5 to 7 pm. They also attend local events, such as those hosted by the Pensacola Symphony, as well as Ice Flyers and Blue Wahoo games to promote voter awareness. The office has also partnered with Pensacola NAS to make sure military members are registered voters and have updated addresses.
Sonya and Brandi were also excited to announce that they attend every naturalization ceremony, including the most recent ceremony on Feb. 19, which occurs five times a year. According to Sonya and Brandi, the naturalized citizens are the most excited about registering to vote for what is usually the first time in their lives.
"With all of our outreach efforts, the 18 to 25 year olds have more registered than any other age group but they are less likely to vote," said Sonya. "This is why we've put emphasis on having actual voting experiences early on in elementary schools and now high school. We feel like if we can get younger members of the community to be part of that process then they are inclined to stick with it."
For the new year, consider taking an interest in the local races and add voting to your list of resolutions. To update your voter information, or learn more about the Supervisor of Elections Office and ways to get involved, visit escambiavotes.com.