Food Trucks at City Hall
Some of us may remember that back in 2014, food trucks were featured at City Hall as a part of a six-month pilot program to see how the mobile meal businesses fared. While the debate over food trucks may not be over, we have to admit that one of our favorite parts of 2016 was witnessing a major milestone for these mobile businesses: on Jan. 7, food trucks began operating in the City Hall parking lot according to a rotating breakfast, lunch and dinner schedule. Our hearts (and our stomachs) couldn't have been more overjoyed to discover that some of our favorite foods would be featured from the eclectic tastes of Nomadic Eats to the Mediterranean flavors of Hip Pocket Deli and everything in between.
Jefferson Parking Garage Mural
How could we pass up including the massive mural depicting icons specifically for (and from) our community as a favorite of 2016? The 3,000-square-foot mural was hand-painted by Evan Levin and Ashton Howard on the Jefferson Parking Garage east wall to be enjoyed by generations to come. The two artists completed this major undertaking during the first days of fall and throughout Foo Foo festivities. In fact, if you didn't go check out the work in progress, you missed out on seeing the artists in action during a special live painting event. But, don't worry: you've got all the time in the world to travel down to Jefferson and feast your eyes on this permanent installation that's here to stay.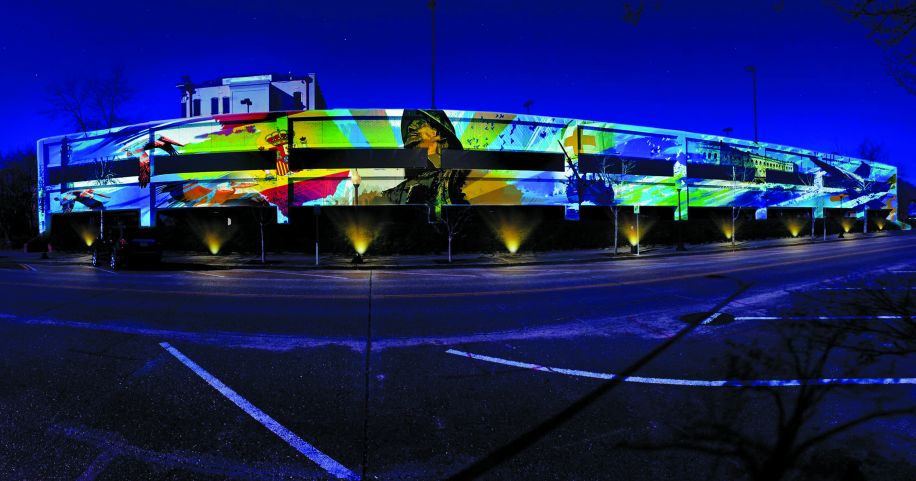 Trader Jon's Exhibit at T.T. Wentworth
Many native Pensacolians might recognize the name "Trader Jon's" from the popular destination bar that was located on Palafox Street in Downtown Pensacola, which was named after its owner: Martin "Trader Jon" Weissman. Trader Jon's was known for being the waterhole for Navy pilots, for its celebrity guests ranging from Larry King to John McCain, as well as for Trader Jon's massive collection of Navy memorabilia. Although the bar closed in 1998, nearly two decades later the UWF Historic Trust has brought Trader Jon's back. That is, as an exhibit on the second floor of the T.T. Wentworth Museum. We've enjoyed our first glimpse and encourage any one who hasn't already to experience the eclectic, eccentric atmosphere of the iconic bar through the museum's recreation of the interior, showcasing more than 10,000 items.
Hello, Dolly!
Pensacola was graced by the presence of Country-music legend and iconic actress Dolly Parton, who visited the Pensacola Bay Center as part of her Pure & Simple touring show in November. We had a "Coat of Many Colors" to keep us warm during the cool, autumn evening and fans enjoyed a little piece of Dollywood here in Pensacola. It was her first major tour in over 25 years, and she choose to share her biggest hits with our community. Of course, while we sang along to her golden oldies, Dolly delighted fans by playing songs from her new double-disc album, "Pure & Simple."
Inaugural UWF Football Season
After all the hype for the inaugural season, from the reveal of football uniforms and jerseys to the first scrimmage games last year, it's no surprise that the Blue Wahoos Stadium sold out all seats for the first-ever home game played by the University of West Florida's Argonauts in their inaugural 2016 season. The Argonauts are the premier Division II college football team in our area and they did not disappoint in the first home game of the season: they won against opponent Missouri S&T with a score of 45 to Missouri's score of 28. More than that, the team won over the hearts of thousands of Pensacolians who were proud to root for the hometown football team.
Ice Flyers 2015-2016 Winning Season
Although many professional league hockey teams and players go through their entire careers without seeing a win at the President's Cup championships, in the 2015-2016 season we witnessed the Pensacola Ice Flyers bring home the President's Cup for a third year! But, beyond the pride we feel for our Pensacola hockey puckers, the crowd always has fun with the players during festive Theme Nights like the annual Weiner Dog Races; each year the cute pups at are brought to the rink to help the team raise funds for a great cause—the Pensacola Humane Society.