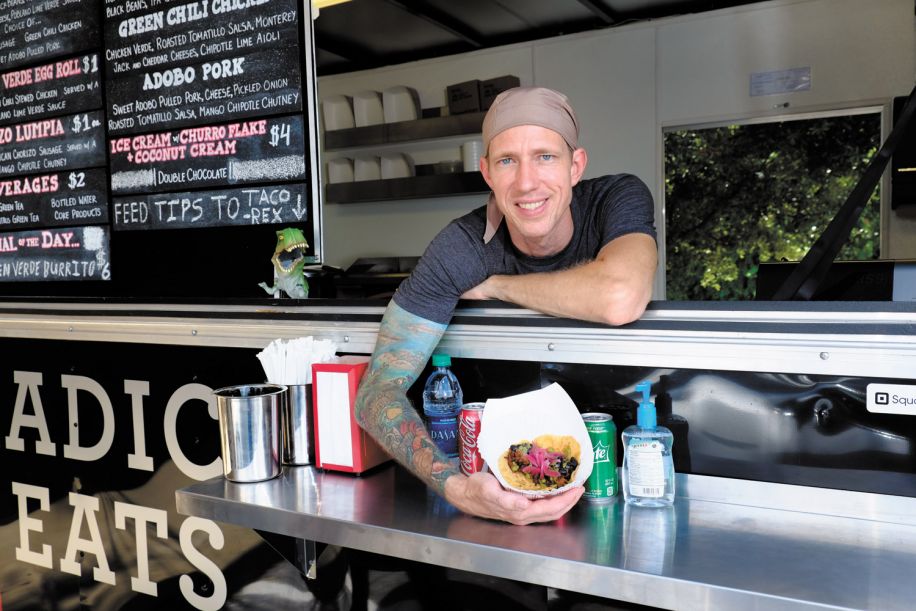 If you haven't already noticed, there's a movement taking place in Downtown Pensacola: food trucks are teaming up with Pensacola Cooks Kitchen and City Hall to feed the city.
Since Jan. 7, a dozen food trucks have signed up with Pensacola Cooks Kitchen to secure their spot at the City Hall parking lot in Downtown Pensacola (W. 222 Main St.).
It's all thanks to a string of efforts by City Hall and Pensacola Cooks Kitchen, as well as Councilman Larry B. Johnson (who invited food trucks last year to set up at his Azalea Cocktail Lounge). The food truck initiative also owes its smooth sailing to Denise Shelton from Pensacola Cooks Kitchen, who is in charge of coordinating food truck schedules and making sure the trucks have a city business license and meet requirements for fire safety inspection.
Food truck owners interested in joining the initiative can contact Denise Shelton via email at [email protected].
Although a six-month pilot program for food trucks in Downtown Pensacola concluded on Nov. 15 in 2014, the food truck initiative at City Hall this year is not a drill. City Hall is showing support for the initiative by ensuring the mobile meal makers have a static spot to set up, and, at the same time, the City is showing they have listened to the people of Pensacola who have wanted to see food trucks come to downtown.
Although the food truck ordinance on the streets has been turned down for the second time in four months, there are several supporters within City Hall, as well as the community at large. With these wheels rolling up to City Hall, and demonstrating they can respect fellow business owners, we may yet see a change in the decision on a food truck ordinance.
While City Hall originally wanted to have the parking lot open 24/7 to food trucks, Shelton believed it would be most beneficial to owners to come during certain hours, especially the rush of lunch hour, since the lot did not receive enough foot traffic during dinner times to make it feasible for food trucks to remain stationary from breakfast to dinner. Typically, food truck owners seek out more populated areas, especially areas where there are community events like Gallery Night.
"The schedule will continue to be adjusted," said Vernon Stewart, the City's public information officer. "Mainly, we want to ensure people are aware of food trucks at City Hall and that Mayor Hayward is in full support of progressing with the food truck initiative. Food trucks are what the people want and it just makes sense for downtown."
For the month of March, food trucks will only be serving lunch Wednesday through Saturday, except on Fridays when breakfast is served.
Schedule
Wednesdays: Bellybusters, Old King Colbert
Thursdays: Cajun Meat Train, Pensacola Cooks Mobile Kitchen
Fridays: Beachy Barista (Breakfast), Busy Bee and Fresh Fruit Infusions (Lunch)
Saturdays: March 5 – Old King Colbert, March 12 – Pensacola Cooks Mobile, March 19 – Bellybusters, March 26 – Nomadic Eats