By Tanner Yea
The urban homeless population has always been significant in our city, and in recent years they have come under scrutiny from the city of Pensacola through laws that hinder the underprivileged population. Many city residents see the issue in a different light, and strive to help the homeless whenever they can – along with having fun at the same time. One of these people is Bubbs Harris, who has created the Feeding the Urban Homeless Community Fest (FUHC Fest).
Harris is a comedian and a father of three who has a history of throwing benefit shows and food drives. "I'm kind of a stubborn person and I was dead set on doing the biggest, best benefit I could conjure up. Luckily, I've been in the local music and entertainment scene for over a decade, so I started sending messages."
The homeless community of Pensacola has always been very personal to Harris, as he said he had been in their shoes before. He noted the most difficult part is that once a person becomes homeless, it is often very difficult to climb out of the situation without outside help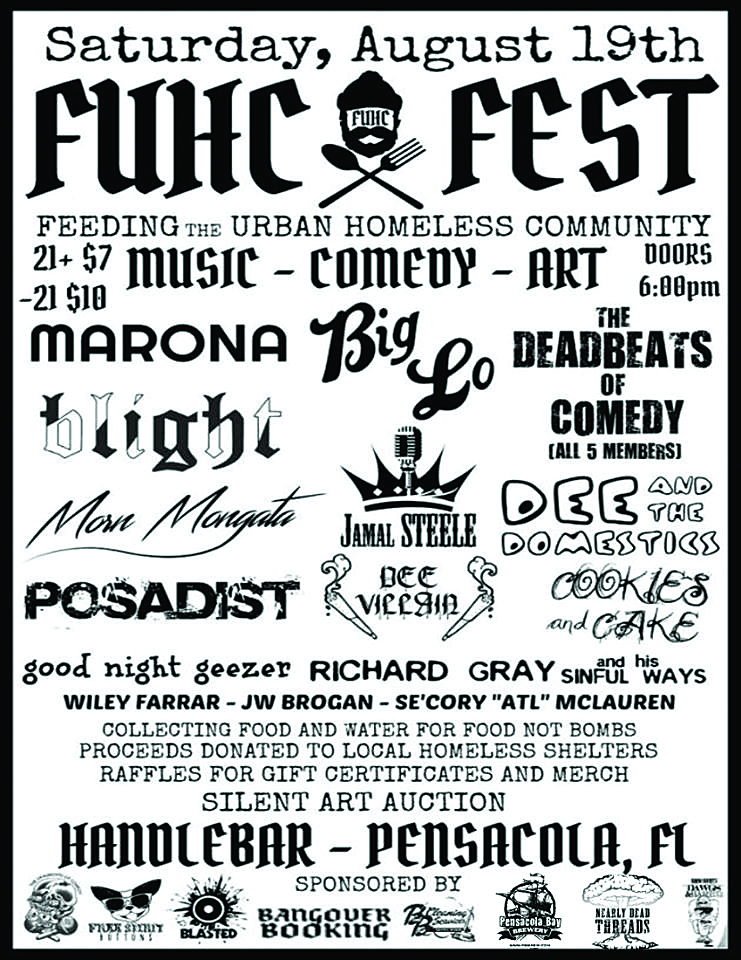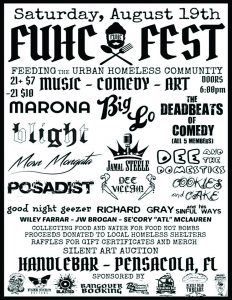 .
The benefit will run all evening on August 19, and will feature a variety of acts and events – including comedy, art and music.
The Deadbeats of Comedy, a group of comedians who tour around the Southeast and which Harris is the founder, will be performing. "We've all worked together in one form or another, but never all five of us in one place at one time," said Harris. "It's going to be crazy!"
The Deadbeats include JC Ratliff, Patrick Cunningham, Kurt Keller and Lance Adams. Other comedians performing include Wiley Farrar, J.W. Brogan and Se'cory "ATL" McLauren.The musical acts span across genres like rock, hip-hop, metal, indie, folk, pop and more. Bands such as Marona, Big Lo, Blight, Morn Mongata, Posadist, Jamal Stelle, Dee Villain, Dee and the Domestics, Cookies & Cake, Good Night Geezer and Richard Gray and His Sinful Ways will perform.
"There's a common respect and bond between the local comedy and music scenes, and we often come together for mixed bills," said Harris. "Once word got out about it, I had to start picking acts from tons of people who reached out."
There will also be a silent art auction with pieces by Harris, Justine Hamel, Famous Gabe and more. On top of that is a raffle offering prizes of tattoos, gift certificates and band merchandise. Harris said they are trying to keep the entire event as fun and interactive as possible in order to raise all they can for the cause at hand.
All proceeds from the event will go towards local homeless shelters in order to provide beds and clothing for those in need, while all donated food and water items will go towards Food Not Bombs Pensacola. Harris believes that the best approach to take to help lessen the homeless population is to support charity organizations such as Food Not Bombs, Manna Food Pantries and local shelters who have direct contact to those in need.
"These are human beings – probably with better stories than we could ever tell – and they need help, not hate. If we can't get the city to take notice and help devise a solution, we will start our own movement and do it ourselves," said Harris. "Make no mistake, almost everyone involved is not wealthy by any means. We are regular people – artists, mothers, fathers, musicians, humans. We want to help, and we are going to by pulling together and calling in favors."
Harris not only believes in helping others, but he believes in tracking where the money goes. He plans to release updates on social media as to what the donations and money are going towards in order to have a sense of accountability for the funds.
There are also big plans for the future of FUHC Fest, as Harris wants to do a similar event in Mobile in the fall.
He also hopes to do a yearly FUHC Fest in Pensacola to allow it to grow.
"I'm completely blown away by the response so far, I never expected that. I hope we draw a great crowd and get all kinds of walks of life together to do some good," he said.
FUHC Fest is set for August 19 at The Handlebar, located at 319 N Tarragona Street. Doors open at 6 pm and the show starts at 7 pm, with admission being $7 for 21+, and $10 for 20 and under.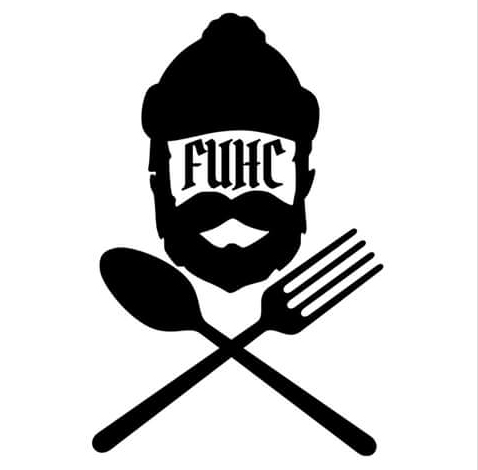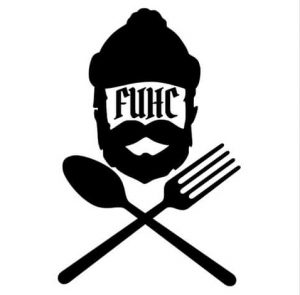 How to Get Involved:
Food and Water Donations: Contact Bubbs Harris at [email protected] or via Facebook to donate any nonperishable food or water. These items will be accepted at the Handlebar the week of the show as well.
Monetary Donations: Send via PayPal to [email protected], with FUHC in the note box. These donations can also be dropped off at the show.