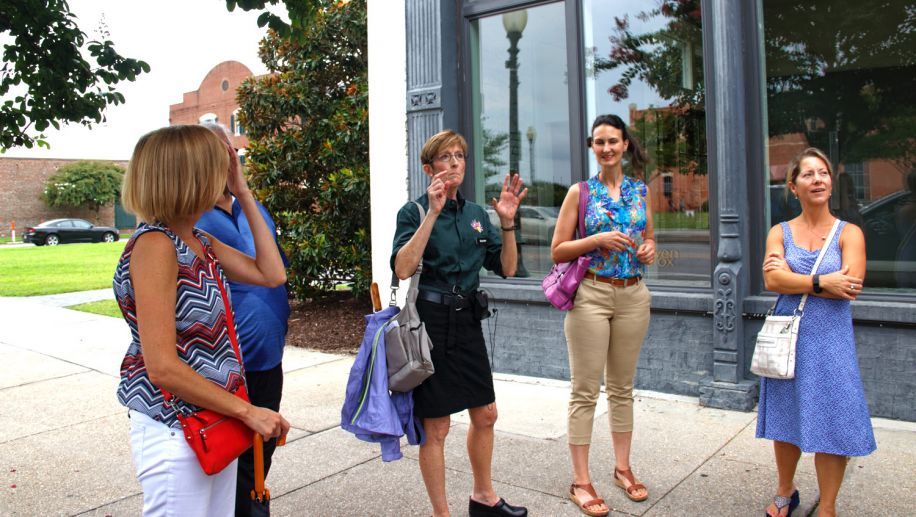 "Good food is good food," said Hunter May, Go Retro's trilingual tasting tour guide. "No matter if an award-winning chef prepares it, or your granny."
Perhaps no truer words have been spoken, and they are especially true of Go Retro's new Tasting Tours that were launched in August. These tours offer way more than a history lesson: they offer all the first-class flavors that one could ask for at 14 of the finest foodie paradises in Downtown Pensacola. But, that's not to discount the fact that you're bound to discover interesting tidbits about Pensacola's past whether you've lived here all your life or you're just passing through.
"I want everyone to get an idea of Pensacola history starting back to 1559 and highlighting significant episodes and changes in our city's past," said Hunter. "There's layers upon layers of history here. Every time I talk to locals, marvelous stories come up, mostly true I hope, and I'm hoping I'll learn new stories to share as our tours grow."
Although tasting tours are new to our area, the idea to bring them to Pensacola arose from tour guide Hunter May's many visits to the cities of New Orleans, Chicago and Boston—where tasting tours run rampant. Hunter is no stranger to the tour guide business either. She led tours on the backs of bicycles through vineyards in France for six years.
Although Hunter has suggested what each restaurant might serve to those in Pensacola's Tasting Tour groups, chefs ultimately decide what dishes they'll be preparing for you. But, don't fret: with chefs like Gus Silivos of Skopelos and Irv Miller of Jackson's Steakhouse, there's no way you could be disappointed.
However, you can expect certain restaurants to offer their special staples like the Cuban sandwich at Hub Stacey's, O'Riley's tasty take on the Irish boxty (deep-fried mashed potatoes), and the Mitchell's family gumbo recipe at Seville Quarter.
Depending on the venue, you might be seated at the bar, a private room, or have free reign to explore.
For the Palafox Tasting Tour, you'll meet your group in the New World Landing parking lot and carry on from Skopelos to Bodacious Olive, Adonna's, Dog House Deli, O'Riley's before the tour concludes at Jackson's Steakhouse.
The Historic Seville Tasting Tours meets first at the Fish House then takes tourists from there to Hub Stacey's, Seville Quarter, Dolce Gelato and Pensacola Bay Brewery.
Beginning at the Perry House, the Market Day Gourmet Tasting Tour will lead you through the food and fare of Palafox Market before ushering you to the Bodacious Olive, Joe Patti's, Ever'man Cooperative Grocery and Cafe, and ending on a sweet note at Chrisoula's.
Each tour can accommodate up to 16 people and runs for three hours, which accounts for time to sit and enjoy the tapas-sized sample from each restaurant, as well as the time it takes to travel at a leisurely stroll between stops.
So, go on: explore the first-city flavors of Pensacola like never before on tasting tours that will keep you coming back for more.