Capt. Katie Higgins, the newest pilot of the Blue Angels—and the first who happens to be a woman—has been taking to the skies as part of the team for over six months now. She has experience flying in both combat and demonstration situations and is beyond proud and humbled to represent the Marine Corps in this way. She has won Air Medals, numerous unit and personal awards, and has accumulated more than 1,000 flight hours. Her journey to pilot the Hercules C-130 transport affectionately referred to as Fat Albert is proof that anyone—man or woman—can live their dreams with the right amount of talent and hard work. Business Climate spoke to her about her life as a Marine and as the first female pilot to represent the jet-fueled pride of Pensacola.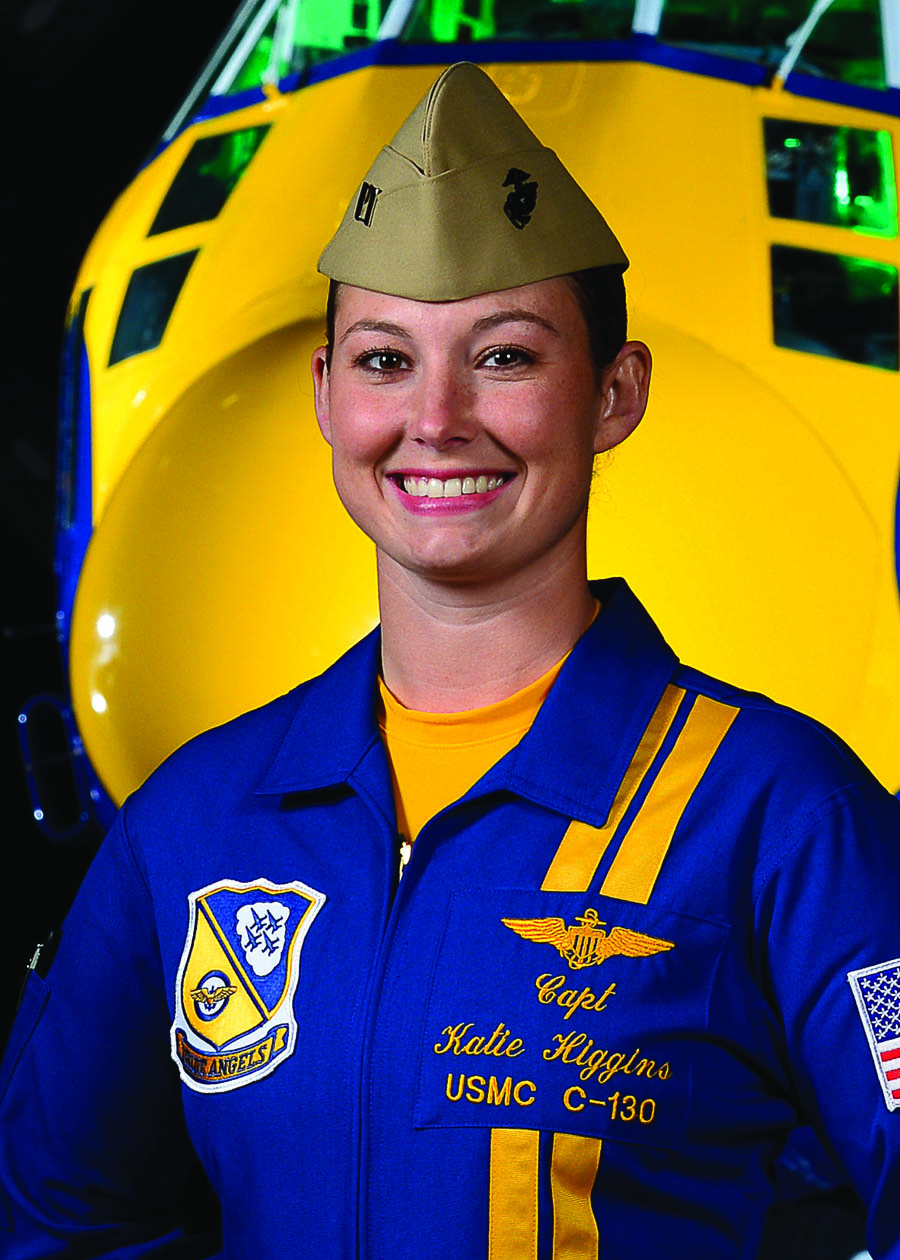 Tell me about your background.
I was born in Jacksonville, Fla. and I moved around my whole life. My father was in the Navy up until I was in college, so I was a military brat. I even lived overseas in Japan for a couple years. I attended the United States Naval Academy and graduated in 2008, and then I went on to get my master's degree at Georgetown University in 2009. I then reported to the basic school, which is a course that all Marine Corps officers have to go through. I finished that in November of 2009 and moved down to Pensacola to start my flight school training.
I was in Pensacola and Corpus Christi for the majority of my training and I got my wings of gold in October 2011. And then I reported to NCAS Cherry Point North Carolina, which is the home of the Second Marine Aircraft Wing where I learned to fly the KC-130J Hercules and I reported to BMJR 252, which is the C-130 squadron the east coast. I trained there and I deployed twice, once to Afghanistan for seven months from January to August of 2013 and then I turned around and did another deployment that started in Spain but ended up in the Uganda from December 2013 to May 2014.
Then I came back stateside and put in my application to the Blue Angels and got accepted in July 2014. I reported in early September of 2014.
What's the application process like to be a part of the Blue Angels?
There's definitely a very long, stringent process. In addition to the paper application that you have to do—which includes a picture, essay, letters of recommendation—you also have to attend two of the shows where you go to the briefs and social events that they have. You have to go to at least two shows that are all Friday, Saturday and Sunday.
Then if you're selected as a finalist, they fly you down for the Pensacola Beach show for a week. During that week, you get measured for your flight suit in the event that you're selected, you take your official picture in the event that you're selected, and then you also have a formal interview. That's one of the most intimidating things that you have to do, because you're in the Blue Angels Ready Room that has all their awards and everything. There's this big long table with 16 officers and you're sitting at the end of the table. They're all asking you very, very difficult questions, as they should be. We're on the road 300 days out of the year with each other. They're trying to find the right person for the right job for the right team. So it definitely is very intimidating. And then at the end of that week, you fly back to your fleet job and then you call in to the boss at a certain time and he tells you if you made the team or you didn't. It's definitely nerve-wracking.
Did you always want to fly with the Blue Angels?
I was exposed to the Blue Angels at a young age. I was in California off and on for nine years and the Blue Angels came and performed there a couple times for the Wings of Gold air show. So I was exposed to the Blue Angels and I knew what they were and I appreciated their dedication, professionalism, precision and flying.
As a Marine and as a C-130 person I thought it was pretty much a long shot to make the team. The guy who was the most influential in me actually applying was Maj. Dusty Cook who is currently on the team and is the head C-130 pilot. He was the one who influenced and encouraged me to apply. He thought that I would make a good fit for the team and it turns out that they selected me, so that long shot wasn't as long as I thought it was. It's definitely a great opportunity.
Do you find that flying Fat Albert is a different experience than some of the other planes you've piloted?
I've flown different planes before including single- and dual-prop aircraft very similar to something you'd see in the civilian sector. And then there's this C-130 that's equivalent in size to a 737 and has four prop engines on it. It's obviously a little less maneuverable than some of the other planes, but it's so versatile. What I absolutely love about the C-130 is we can do aerial refueling, aerial delivery, we can land in austere environments like coral, sand or dirt. We can drop battlefield illumination that is basically a really giant flare that comes out and lights up the battlefield for those guys on the ground. In Afghanistan I actually did close air support because we had a modification to the C-130 that fires Hellfire Griffin missiles. It's really awesome that it's so versatile and I get to do all these missions in this one aircraft.
You've been officially on the team for seven months. How is the dynamic of the team?
It's definitely great. These guys are so supportive of me; it's like I have 16 brothers and sisters in the officer corps and then additionally we have 130 total with our maintainers downstairs.
They're focused on their job, their work ethic is indescribable, and I think that's shown in their demonstration. If you have watched that jet demonstration, it's phenomenal what they can do with that aircraft. Without the maintainers and supply guys, that wouldn't be possible. So everyone works together to put on this beautiful show for the American people. It's amazing to be just a small part of that team.
How do you feel being the first female pilot on the team?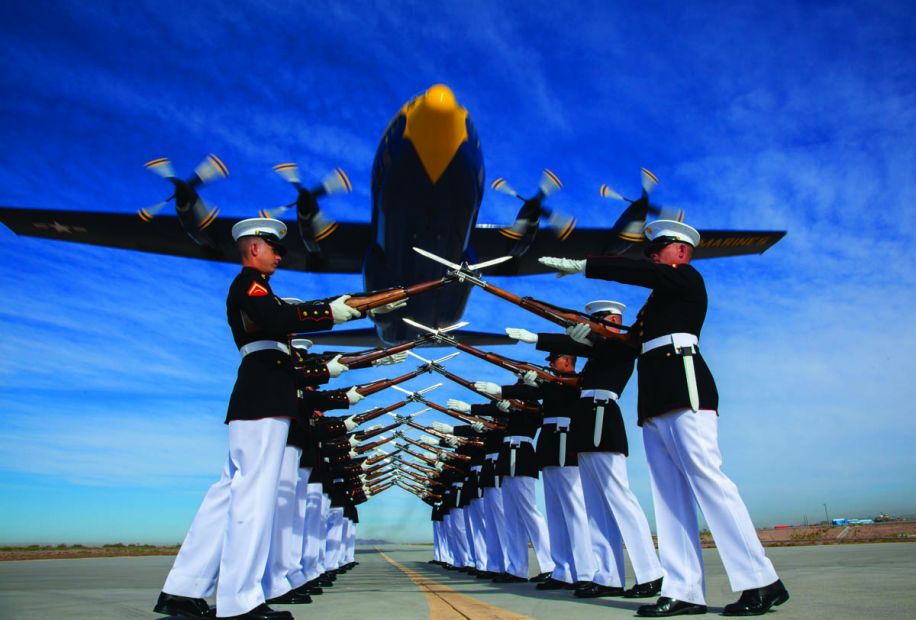 Well we have 20 women on the team. I'm not the first female Blue Angel by any means. I am the first female pilot to perform in a demonstration and it is a really great honor to be a representative of these strong, fully capable professional women on the team—and not only them, but also the women in the Marine Corps in general.
We have women stationed all over the world right now protecting our freedom. In the marine aviation side of things, we've had women be pilots since 1993. The female population in the Marine Corps represents about 6 percent. So we've been doing this for over 20 years now in the Marine Corps aviation sector. It just so happens that I can represent those women who are actually fighting the good fight and keeping watch right now overseas and there's no greater honor than that.
What advice do you have for women who are wanting to break into this traditionally male-dominated field?
The Marine Corps has been so supportive of me my entire career. I've not faced much adversity. I've been supported by my male counterparts the entire way. I would encourage women and men that you need to go out and do it. Women can do whatever they put their minds to. And men can respect the same thing. My message to both men and women is that women can do whatever they put their minds to.
What does the future hold for you?
I'd prefer to go back to my fleet squadron I was in. And if I can't get there, I'd like to get back to a C-130 squadron either on the west coast or overseas. I definitely want to go back and fly the C-130 and deploy again. I joined the military to help those guys on the ground and I'd love to get back and do what I've trained to do.
How do you feel about the media attention you've received?
It definitely is surreal. I really love the opportunity to talk about the women and the men who are deployed overseas—the ones in Japan and the Middle East and in Spain. It's nice to be able to tell their story, and that's essentially why the Blue Angels exist. It's definitely cool.
I want to just say that the Blue Angels are a team and we can't function without every single member of this team. I may be getting some attention right now. It's not about me, though. It's about the other females on this team. It's about the other 130 members total on the team. It's about the Marine Corps in general that's overseas, representing the military might and fighting for our freedom and doing humanitarian work. Beyond the Marines, there's the Navy, and beyond the Navy, there's all the military forces over there. I don't want the real story, which is the military deployed overseas, to be lost in my story. They're the real focus. They're the real heroes.