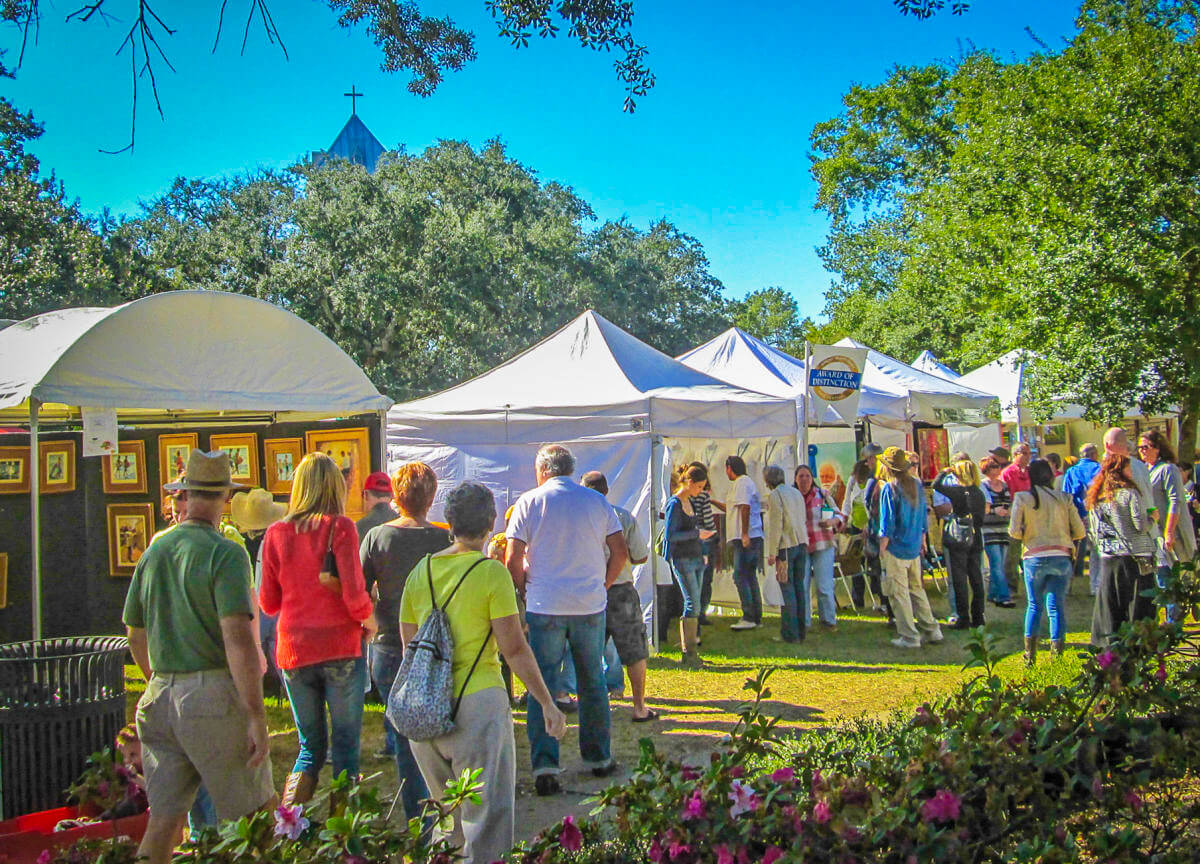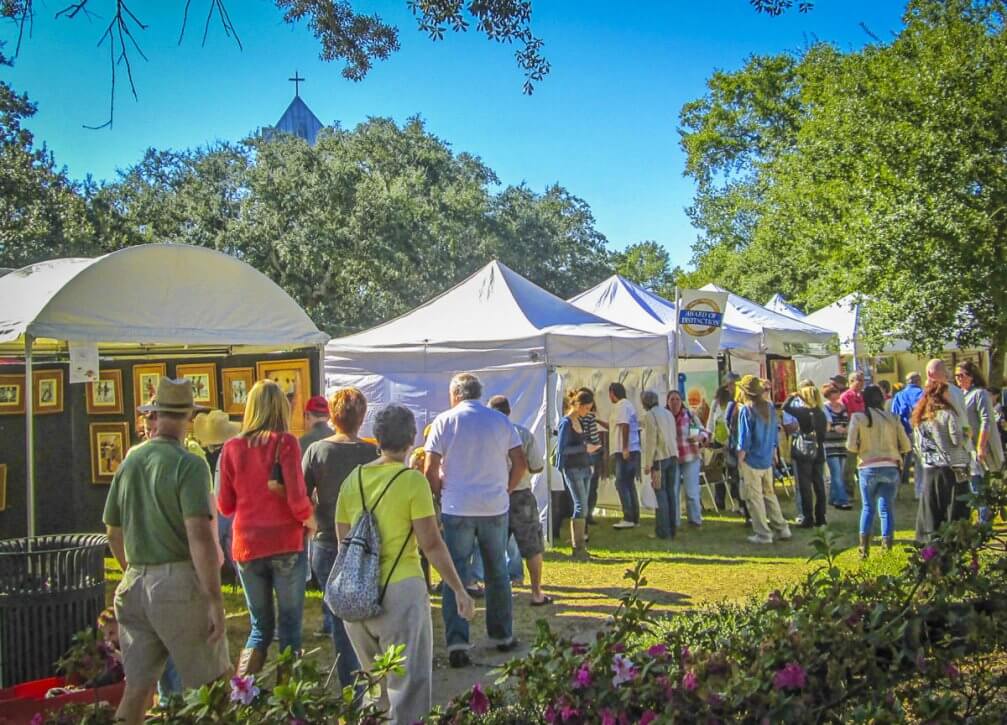 After an unfortunate cancellation in 2020 due to the pandemic, one of Pensacola's most beloved arts and culture events is back and stronger than ever. The seventh annual Foo Foo Fest will take over the streets of downtown Pensacola with its grand umbrella of 20 artistic and cultural events.
This 12-day celebration attracts both locals and visitors to downtown Pensacola for a series of culturally creative happenings and fun events of the highest artistic caliber—all with a touch of southern sophistication. ​​
One-of-a-kind performances, art exhibits in the streets and even film festivals, are all a part of this year's Foo Foo Fest.
While the festival showcases a wide range of events each year, it is traditionally rooted in three of the Gulf Coast's signature annual events: the Great Gulfcoast Arts Festival, the Frank Brown International Songwriters Festival and the Blue Angels Homecoming Airshow. This year's lineup also includes the STAMPED: LGBTQ Film Festival, Pensacola MESS Hall's Science of Strategy and the Gulf Coast Quilt Trail and DIY Paint Party.
"The committee is looking forward to an incredible and much-awaited 2021 Foo Foo Festival. The team has been working side by side with our festival grantees and Friends of Foo event organizers to ensure we put together two weeks of unforgettable events throughout Pensacola. As the fall festival city of the south, I am excited to see what these organizations have in store and for our community to have the opportunity to experience," Visit Pensacola Director of Marketing and Communications, Nicole Stacey said.
Festival organizers are taking all necessary precautions to ensure the health and safety of attendees with enhanced outdoor spaces to allow for ample social distancing.
This 12-day smorgasbord of arts, culture and historical events will be held at various venues and outdoor spaces throughout the city from November 4–15. So come downtown to get your Foo Foo on in the fall at some, or all of these great events. Visit foofoofest.com, or follow @foofoofest on social media, for updates and more information about this year's line-up of events.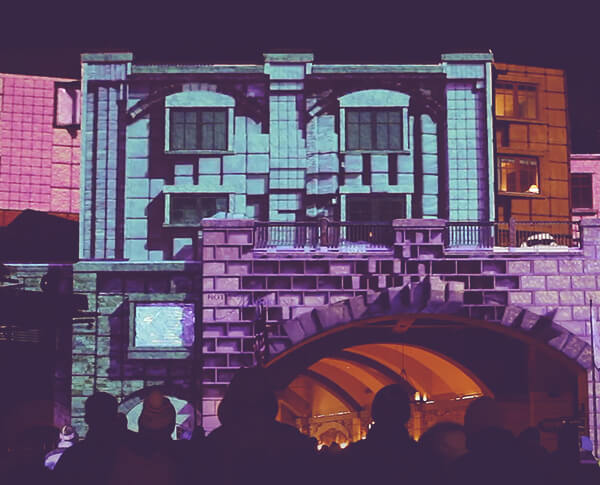 Son et Lumière – Sound & Light 3D Digital Projection
November 4-7 | Artel Gallery (223 Palafox Place) | FREE
Son et Lumière (Sound and Light) is a form of nighttime entertainment that is usually presented in outdoor venues of historic significance. This year, a digital projection mapping the old County Courthouse on historic Palafox Street will allow visitors to witness an interactive mashup of technology and history. Scenes, people and imagery from 200 years ago will come to life in a dazzling, interactive yet "undeniably modern" experience.
Great Gulfcoast Arts Festival
November 5–7 | Seville Square (311 E. Government St.) | FREE
The Great Gulfcoast Arts Festival is one of the United States' highest-regarded, most popular art festivals. This three-day, juried art show draws more than 200 of the Nation's best painters, potters, sculptors, jewelers, graphic artists and craftsmen to the destination each year. Live musicians are featured on the Main Stage with genres ranging from bluegrass to cajun, jazz to classical and more. Children also become artists at the Children's Arts Festival, with free fun geared toward children of all ages.
Pensacola MESS Hall Events
November 6, 11, 13 & 14 | 418 E. Wright St. | FREE
Pensacola MESS Hall's mission is to evoke creative problem solving, creativity and experimentation through STEM exploration. They aspire to develop a community of critical and creative thinkers of all ages who are inspired by and understand the basic principles of science. Join the Pensacola MESS Hall for events throughout Foo Foo Fest, including Games Garden, Games Unplugged Curiosity Day and Clue Murder Mystery with the Improbable Cause Mystery Theatre (ICMT).
Pensacola Children's Business Fair
November 7 | Palafox Market (121 North Palafox St.) | FREE
At the Pensacola Children's Business Fair, kids are the boss. In a unique one-day marketplace, young entrepreneurs between 6–17 years of age are challenged to develop their own handmade branded products, create a strategy and open business to real customers. These entrepreneurs will invest a portion of their profits into the community by giving back to their favorite charity's causes.
From Sea to Shining Sea: A Musical Salute to Service presented by Pensacola Opera
November 11 | Community Maritime Park Hunter Amphitheater | FREE
On Veteran's Day, the Pensacola Opera will host a complimentary concert to celebrate Pensacola veterans. From Sea to Shining Sea: A Musical Salute to Service will be set against the backdrop of Pensacola Bay on the Hunter Amphitheater stage at the Community Maritime Park. The Veteran's Day salute will feature four vocal soloists and the Pensacola Symphony Orchestra performing a variety of patriotic selections along with members of the Pensacola Children's Chorus, Pensacola Opera Chorus, Choral Society of Pensacola and University of West Florida music students. For complete details and to view the program, visit pensacolaopera.com.
STAMPED LBGTQ Film Festival
November 12-14 | Pensacola Cultural Center (300 South Jefferson Street) | FREE
STAMPED Film Festival is committed to giving Pensacola a deep cultural experience through unique films with a specific focus on the lesbian, gay, bisexual, transgender and queer (LGBTQ) community. Their goal is to promote awareness, inclusion and diversity, building a stronger and more open Pensacola. Guests will view highly vetted films from around the globe. The first day's ratings can vary from PG to mature, but the gears will shift on Sunday, November 14, for a full day of family-friendly viewing. "Family Day" will include a multitude of children's activities from face painting, balloon art, kid's snacks and heart-warming films for the whole family.
Jazz for Justice
November 14 | Seville Quarter | General Admission = FREE
Legal Services of North Florida will bring live music and high energy jazz to downtown Pensacola for its annual Jazz for Justice event. This year's lineup is jam-packed and will feature many returning favorites along with new artists like local band Entropy Machine, Fort Walton artist Nik Flagstar, Blues crooner and Mississippi native Ed Adams and Alabama's piano sensation, Pat Whitehead. Flow Tribe will once again headline the event, with frontman KC serving as emcee. Co-headliners for this year's event will be New Breed Brass Band and Tuba Skinny. Come out and enjoy an evening of jazz as New Breed Brass Band takes the vivacity and pizazz of the second-line brass band tradition to all new heights. For tickets and information, visit jazzforjustice.org.