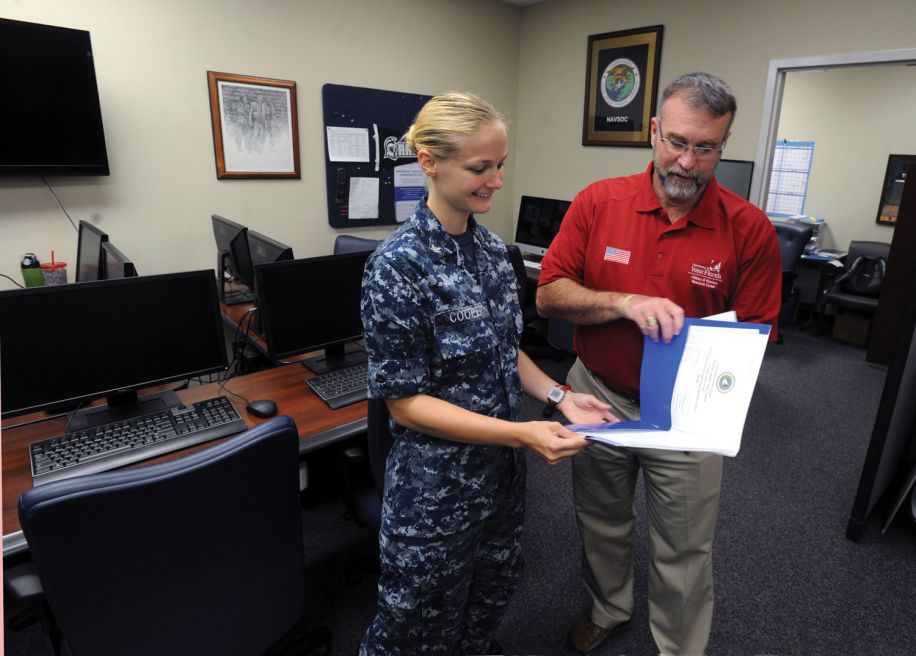 The often-unseen servants of our nation and protectors of liberty, the members of our armed services are also economic drivers and the catalyst for positive change in Northwest Florida. They perform their duties in service to our country, often without regard for self-fulfillment or family. But, when it comes time for our country to pay them back and allow them to stand at ease, the resources at their disposal are often hidden behind layers of bureaucracy and a backlogged system that often hinders more than it helps.
The impact of Florida's military economy is more than $70 billion. That number is expected to balloon to more than $100 billion by 2030. The state's 20 major military installations account for 758,000 jobs, including 61,000 active-duty service members and about 25,000 civilians who serve. The average wage per military job in Florida is $77,000, making the industry one of the most high-wage employers in the state. There are also about 1.5 million combat veterans in Florida, expected to increase to 1.9 million by 2030.
Locally, the Department of Defense is the largest economic engine in Greater Pensacola, according to Florida West Economic Development Alliance. Naval Air Station (NAS) Pensacola, Saufley Field, Corry Station, Naval Hospital Pensacola and Whiting Field are responsible for about $7.8 billion in economic impact. NAS Pensacola alone provides support to 89 DoD and 30 non-DoD commands. An enterprise of this scale means 27,631 uniformed and civilian jobs, $409 million in annual defense procurement spending, an average wage of $82,890 for military and defense positions, and more than 330,000 veterans in Northwest Florida alone.
With such a massive military presence in our region, you would think it would be a no-brainer that those whom the armed services protect would have their back financially once it was time to step down. Unfortunately, as many are aware, that is often the opposite of the case.
On any given night in our country, more than 50,000 veterans are homeless. Seventy-five percent of these heroes are wartime—mostly Vietnam-era—veterans. While there are nearly 1,500 Veterans Affairs facilities in the country, there is still a backlog of about 75,000 cases. Many veterans either commit suicide or turn to addiction when faced with the news that they will have to wait months to receive the mental health attention they need.
Fortunately, there is good news to be found in all this. Backlogged cases peaked in 2013 with 612,000, so the new number, while still regrettable, is not nearly as bad as it could be. This is in large part thanks to the White House and VA pledging to eliminate the backlog in 2015, as well as a number of state and local agencies working with community partners to help veterans in our own area.
The Panhandle Warrior Partnership is one such organization. The relatively new 501(c)3 is dedicated to ensuring every warrior and their family throughout the Panhandle has greater access to benefits and housing, use of the GI Bill for education,  help with employment and so on. Their four-step program, which involves connecting, educating, advocating and collaborating, has housed 39 homeless, enrolled 945 in educational programs, helped employ 495 individuals, enrolled 1,265 in VA healthcare, and registered 2,944 for VA benefits.
"Every vet's need is different and we take a very individualized approach to helping them," said Executive Director Dan Verda. "These people are often referred to us, at which point we learn as much as we can about their situation and need. Where do they live, where do they work, what are their goals?"
The Partnership then works to help each veteran accomplish those goals, whether it's to find housing or complete a degree and find work in a high-demand field.
"We also work to educate both sides of the equation," said Verda. "We work with the community to understand the vets' value and promote the importance of accepting these people with open arms. We of course work with the veteran to educate them on the resources available to them, then we work with them every step of the way."
Whether it is 90 Works, local veteran help centers, the University of West Florida, Pensacola State College, or other public service organizations, the Partnership is deeply entrenched in every level of every facet veterans could need.
"Our case coordinators will check back in with the clients and provide constant follow-up," said Verda. "Obstacles occur for these veterans and we want to be there to advocate for them."
Verda said the problem many clients face is the large amount of bureaucracy implicit in any big government organization. There are also a number of legal intricacies that veterans have to navigate. The amount of red tape means that inevitably some will get lost in the process. That is when it is all too easy to get discouraged.
"A lot of people don't realize just how hard it is to navigate," said Verda. "I liken it to doing taxes. If you just have one income and you're unmarried, it is very easy to file taxes. But if you recently sold a house, you own a small business, have kids who just moved out, and a spouse who works from home, you're going to want to hire a professional to do your taxes. We are those professionals for vets. They earned these benefits and we want to ensure they get them."
With just a ten-person staff, you would think it would be easy for the Partnership to get overwhelmed. Luckily, they have a very clear system of prioritization. If a veteran is either homeless or at risk of becoming homeless, that individual gets instant attention.
Another agency that also works hard for those who have sacrificed so much for us is the Military Veteran Resource Center (MVRC) on the UWF campus. Headed up by Marc Churchwell, the department has grown significantly since it first opened a little over four years ago.
Before its inception, Churchwell identified a big gap in assistance for navigating the GI Bill. He realized it would be advantageous to both clients and the university if there were an agency dedicated to helping veterans use those benefits.
"They often don't know how to use it or apply for it," said Churchwell, referring to the GI Bill provided to veterans to attend college on the government's dime. "We talked with advisors on campus and quickly built a support system for these individuals coming through."
It has been a huge monetary success for the university, accounting for about $6.5 million per year in revenue. At this point, about 25 percent of the campus population is military-affiliated.
The MVRC has since grown beyond its initial goals, though, and now offers guidance services, social work services, writing assistance and more.
UWF is one of the few institutions in the state that has an agency like this one. With Northwest Florida's strong concentration of military and veterans, it has been a great success, even drawing potential students from other areas of the state to our shores.
"I believe we've been successful because at the end of the day, we really are all about customer service," said Churchwell. "We work with these students as soon as they enter the door and offer a hands-on approach. If you need to go across campus to speak with an advisor, we will actually take you there. We don't want to lose them at any step along the way."
Churchwell is also working to establish a support network of different organizations called the Pensacola Veteran Support Organization Network. Right now, it is an email group through which clients are referred to partners in the area that can address a specific need.
Another big issue in veterans' lives is healthcare. Increasing costs and barriers to help are unfortunately a recipe for disaster, but Sacred Heart Health System is taking matters into its own hands. The organization recently announced a partnership to provide care through the Veterans Choice Program, giving veterans the choice to receive care at Sacred Hearts throughout the region.
Qualified veterans who face wait times in excess of 30 days at the VA or have to travel farther than 40 miles from their home can receive care from Sacred Heart doctors at 50 sites between Gulf Shores, Ala. and Apalachicola, Fla., according to a hospital press release.
"No population is more vulnerable and more deserving of our compassion and support than our nation's veterans," Susan Davis, president and CEO of Sacred Heart Health System, said in the release. "The men and women in our community who have sacrificed so much for us deserve access to high quality health care. Working together, we have every confidence that our Veterans Choice public-private partnership will advance care for our military veterans."
The Veterans Access, Choice and Accountability Act of 2014 established funding to pay for healthcare services provided to veterans by private healthcare providers. Through the partnership, Sacred Heart physicians and other caregivers are authorized to provide primary care, inpatient and outpatient specialty care, and mental health for eligible veterans outside of VA.
Veterans who qualify for VA healthcare can continue to receive care at a VA medical facility of their choice as they have in the past. The program will end when the allocated funds of $10 billion are used or no later than Aug. 7, 2017.
The VA is never going to work all the way through their backlog, by their own admission. Churchwell thinks this is due to the organization's sheer size.
"It affects so many lives that you can't just shut it down for a bit, work through the backlog, and establish better processes and procedures," said Churchwell. "It has to keep going."
And so does a regional approach to helping veterans. Through grassroots organizations like the Panhandle Warrior Partnership and more institutional solutions like the MVRC, we can continue to work together to fight for these veterans as they have fought for us.