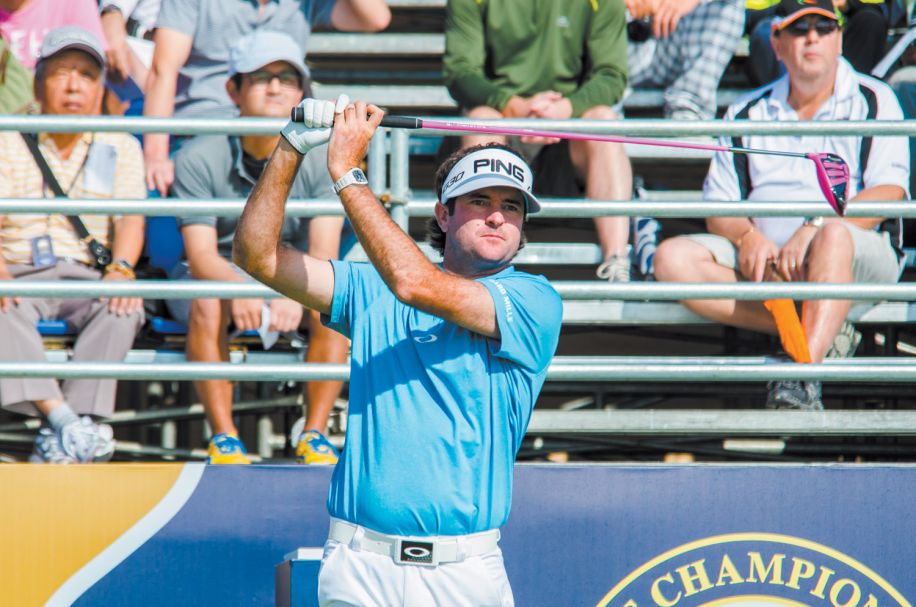 The pride of Pensacola, the genius of the green, Bubba Watson is known for his multiple green jackets and a larger-than-life personality, but the world will soon know him as an Olympian, too. He grew up in Bagdad, Fla., little more than a shot-making drive from his new business venture, Bubba's Sweet Spot, in the heart of downtown Pensacola. He began the beautiful game at age 6 and slowly developed his abilities through middle and high school before earning himself a golf scholarship to the University of Georgia. Since then, it's been title after title and PGA Tour after PGA Tour.
This accomplished golfer and good ole' Southern boy will be making his hometown proud in the Rio Olympics this year. Pensacola Magazine caught up with him to hear about his game, his legacy and more. Catch him on the Olympics broadcast Aug. 11 through 14 and 17 through 20.
Talk about your relationship with Pensacola.
I was born and raised here. The city has given me so much. Somebody sponsored junior golf tournaments when I was young so I could get exposure and learn. For me, it's about coming back. I'm thinking about my legacy so I'm trying to create jobs and make sure the city stays here for many, many years. This is how I want to come back and help the city that helped me. I'm not just a golfer. Golf has enabled me to do a lot of things, but I do have a passion for those other things.
How has the Sweet Spot been?
It's been amazing. We wanted the soft opening to learn. This is my first time in a real business. We asked for people's comments as far as what treats they like and what flavors they like. We're still learning, but we're headed in a good direction, the workers are enjoying it, and my mom hasn't yelled at me yet. Everybody is smiling and not one person is upset. It's just fun. When you look at trying to get people downtown and trying to grow the area, every big city around the world has a treat shop. This area, Palafox and Main, is a perfect location. I'm a kid at heart.
How do you feel about the Olympics?
In my own career, these are some big weeks coming up. I'm excited to play for my country. I know what a Ryder Cup feels like. I know what a President's Cup feels like. I played on the USA team in South Africa when I was in college, so I know what that feels like. There's going to be other athletes performing that I want to see. So I'll be a fan, and then when I get on the green I'll be a participant. It'll be amazing.
What do you feel the dynamics are going to be?
The Master's is pretty much a world level, but even this will be a different event. I'm going in there blind. I think it's going to be amazing. I can't wait to be there. I'm going to be a fan since this is the first time I'll get to be there in person.
Will you be watching Justin Gatlin?
For sure, I can't wait. As a 34-year-old, that's not supposed to happen in that sport. But he keeps impressing people. He does stuff you can't believe. I'll definitely be hanging out with him and talking to him. I've always said that Pensacola is so special. There are a million sports but so many greats come from here, like Emmitt Smith and Derrick Brooks. They mean so much to kids here. It's so special to me to be an Olympic athlete for them. Pensacola is a lot bigger than you think when you think about what we've created in the world of sports.
Any trepidation about the Zika virus? Are you bringing your family?
I have no concerns. We've adopted our kids, so we weren't worried about the birth defects. I'm not worried about the security concerns either. As soon as they said, "You're on the Olympic team," I was in. There's no fear on my side. I'm not bringing my family. They don't travel outside the U.S. because of time changes and the like. But mainly, I need my sleep. It's mainly about my sleep, so they'll stay here.
How's your game going?
Golf is a funny sport. It's all about emotions. If I get enough sleep, I can keep my emotions in check and stay focused. I've improved a lot over the British Open. My swing is where I want it. These have been some good weeks for me. I'm looking forward to competing.
I know you've appeared in a lot of humor videos for charity. Tell me about your philanthropic passions.
I'm passionate about kids in all levels, not just in sports. We've adopted both of our kids so obviously adoption and foster care are very big on my heart. Also, military. I want to do as much as I can do for military because of the freedoms they give us. I get to play golf because of that. Our country, I believe, is the greatest country in the world. Those causes are very important to me—kids and military.
Are you looking to form your schedule around majors or is it more important to you to win tournaments?
I believe that every tournament is a major. If there was a tournament here in Pensacola like there used to be, it would be a big deal for the city—both in terms of revenue and charity dollars. So every city we go to, it's a big deal. I want to win tournaments.
What would you like your legacy to be?
A good friend, a good husband, and a good dad. The trophies, those don't mean anything at the end of my life. It's the most important things that all of us need in our life—to be a good friend, a good person, a good parent, a good husband or good wife.
You are notoriously faithful to the brand that sponsors you. Speak a little about loyalty.
If you think about Pensacola, I was born here, I was raised here. There's some business that sponsored junior golf, my sports programs, and helped it be cheap, affordable or free for me to play in those events, so I want to give back to them. I'm loyal to Pensacola. Pensacola gave me my values. Pensacola has helped me become the person who I am, the golfer who I am, and now an Olympic athlete. Why not come back and try to help out? Someone has helped this city in the past, and that benefitted me, so now I feel it's my turn. Just like Lebron said, he was mature enough to go home. As soon as he said that, I knew I was mature enough to go home.
How do you feel the Olympics will help promote the PGA?
If we do it the right way, the world will be watching. The countries that are passionate about golf will see it and get behind it. That's the same thing that all the golf organizations want to do: they want to bring golf to the Olympics so the world can see it. It doesn't matter if you win a medal or not; it's about bringing the game global. I've learned a lot from Pensacola but I've also learned a lot from golf. It's taught me more than just how to play golf; it's taught me things outside of golf. It's taught me about life.