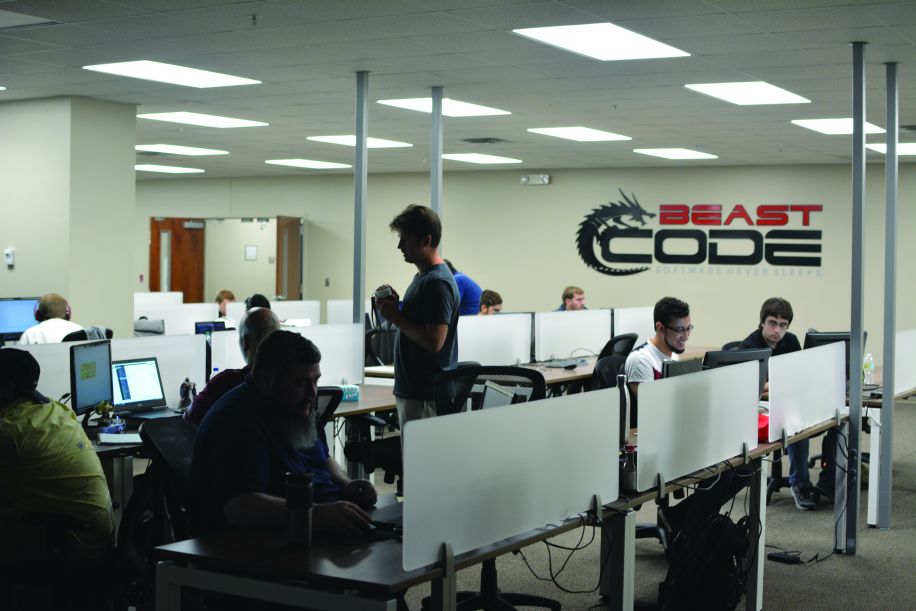 Imagine a ship. A big ship. A war ship. Now imagine all the different systems that ship needs to run. The propulsion, navigation, communications, power and defense systems, and the thousands of buttons, switches and levers to operate them. Finally, imagine trying to learn how these systems work and how to operate them yourself from a PowerPoint presentation or a printed manual. Sounds daunting, doesn't it?
Enter Beast Code, a Fort Walton Beach tech company whose twenty-something founder is on a mission to shake up the way the Department of Defense trains its warfighters. Harnessing its proprietary software, the young company creates "digital twins" of war fighting platforms like ships, planes and takes. These digital modes look and operate just like their real-world counterparts. Press a button or flip a switch in one of Beast Code's digital models, and you can see what the real-world effect of that action would be.
It's easy to imagine why such a model would be attractive to military institutions responsible for training the next generation of warfighters. And indeed it is. A digital twin developed by Beast Code of the Navy's most advanced class of guided missile destroyer, the DDG 1000, is being used at training facilities in San Diego, Rhode Island and Maine.
Beast Code's simulations, which can run on basic laptops and even tablets, are able to replace hundreds of hours of PowerPoint presentations and give sailors a nearly hands-on experience with the ship's systems.
The company's innovative modeling solutions have seen Beast Code grow from a seven-person startup with one contract in 2014 to a stable and growing company on track to hire its 100th employee by the end of the year. Long term, Beast Code hopes to create a digital twin of every DoD platform out there. Every ship, every plane, every transport vehicle, all of it. Doing so would make the company a major player in the DoD contracting world. Beast Code isn't the only company working in digital modeling, but their agility has given them an edge, said COO John Zimmermann.
"(We found success by) just being able to innovate, move fast and provide things to the customer that they actually wanted," said Zimmermann. "We would got to meetings and show something and they would say we want this or that, it wasn't uncommon for us to go back to the hotel that night and make changes and show them the next day. We are truly agile, being able to do things faster and cheaper than anybody out there."
Beast Code got its start when John's son Matt Zimmermann, then age 24, got frustrated with the slow pace of work and corporate bloat at a major DoD contracting company he was working at after graduating from the University of West Florida. Zimmermann got together with six of his friends and proposed that they break off to start their own company. The team agreed, Beast Code was formed and they stole away the contract they had been working on at the other company.
From there the company took on a series of small contracts to build a reputation, developing a suite of software applications aimed at modernizing DoD training and maintenance.
"We had probably three-and-a-half years of having to prove ourselves," said Zimmermann. "It took us a long time to get street cred, and like they say the only way to get it is to actually do something and prove yourself. Taking these small contacts at the beginning and doing really well on them has been our secret sauce."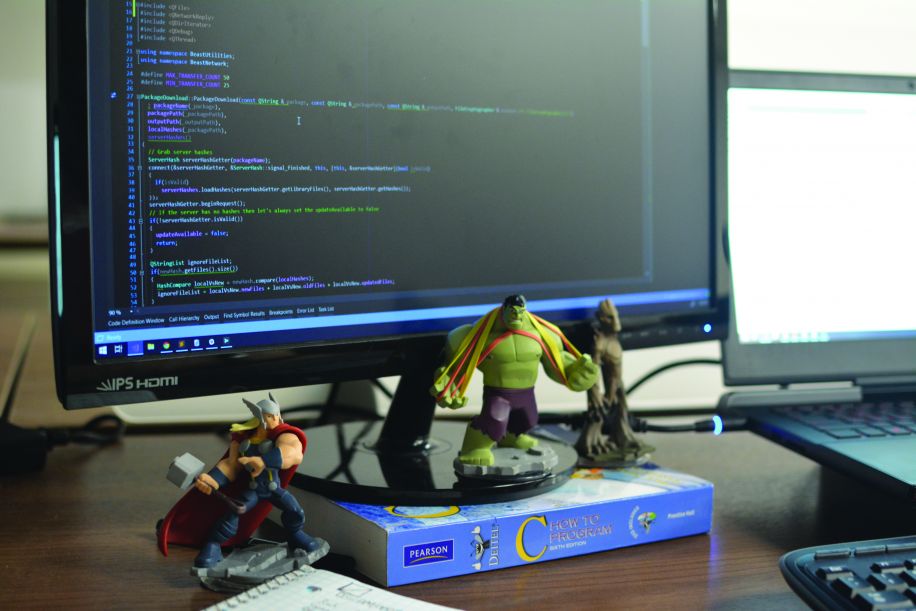 The culture at Beast Code is what you might expect to find in a Silicon Valley startup. There's no dress cod, Marvel comic posters adorn the walls, there's a gaming lounge, an onsite gym, and free snacks and beer. Many of the company's employees are local to Northwest Florida. Fifteen started as interns from the University of West Florida. One key employee was hired while still attending Niceville high school. Zimmermann said the company seeks out employees and values capabilities over credentials.
"When we go on a hiring surge, our secret is we're out there on LinkedIn, on Indeed looking for people, targeting people in the local area," said Zimmermann. "We treat it like we're looking for a new contract. You don't just sit back and hope people come in the door … Degrees are great, they show commitment and you do learn some of the basics, but we're not caught up on having a master's degree or going the typical route. Quite often we hire people but don't know the exact job they're going to work, only that they're going to help the company in some way."
Beast Code is part of growing cyber industry in Northwest Florida. With companies like AppRiver, Avalex, TechSoft, Hixardt, Navy Federal, Metova CyberCENTS, CSRA, Bit-Wizards, IRIS and Digital Boardwalk, as well as non-profit institutions like the Institute for Human and Machine Cognition and UWF Center for Cybersecurity, the Panhandle has developed, strengthened and diversified a cyber industry over the last two decades.
Beast Code helps to support that growth by sponsoring coding camps and hosting field trips for students at local schools. It's not lost on the company's leadership that a young person who visits their office in high school may come to work for the company one day.
"We're trying to cerate Silicon Beach, trying to recreate what they've done on the west coast right here in Northwest Florida," said Zimmermann. "We've got all the military bases to support it, there's tons of tech, we think we can replicate that and without all the hustle and bustle of what is it out there in somewhere like California."